Star Wars fans, you'll love the interactive changes to Google + more things you might have missed today
Pia Cayetano supports Duterte, Adele wants to work with Drake, and more.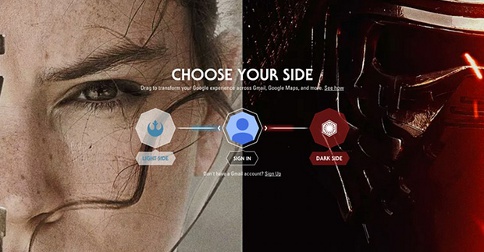 (SPOT.ph) Busy day, Spotters? We quickly recap 10 things you might have missed while you were off the radar.
1. Star Wars fans, you'll love the interactive changes to Google
This is probably the closest you can get to being part of the Star Wars universe. To get audiences even more pumped for the latest installment, Google now lets fans choose an alliance (Light or Dark), which launches a series of geeky and interactive features for selected Google apps across your devices. For instance, your Gmail will tranform into images that depend on your chosen side. Google Maps' Pegman (the orange guy that indicates where you are) will turn into either a Stormtrooper or a Resistance Pilot that helps you navigate to your destination. Even Waze is joining in on the fun with an upcoming C-3PO audio guide that will help you "find" R2-D2 and BB8 while you're on the road! More interactive features will be announced as the film's release date approaches.
2. Have Lovi Poe and Rocco Nacino broken up?
A series of cryptic Instagram posts from actors Lovi Poe and Rocco Nacino recently fueled rumors that the real-life couple have gone their separate ways. In an earlier interview, Rocco did not confirm their breakup but said that their misunderstanding didn't have anything to do with a "third party" or rumored "money issues." Meanwhile, Lovi posted a photo with her Beautiful Strangers co-stars (which includes Rocco) to commemorate the end of their soap. However, she remained mum on their current relationship status.
ADVERTISEMENT - CONTINUE READING BELOW
3. A Hey Arnold! TV movie is in the works
Good news, '90s kids! Nickelodeon announced that Hey Arnold!, the cartoon series that aired from 1996 to 2004, is returning to TV. Arnold's story will pick up from where the original series ended and answer unanswered questions like where Arnold's real parents are. "Kids who grew up on these characters are now of the age that they are having kids and families themselves," said Nickelodeon Group's president, Russell Hicks. The network executives have yet to reveal the release date of the TV movie.
4. Adele wants to do an official remix of "Hotline Bling" with Drake
CONTINUE READING BELOW
Recommended Videos
In some exciting music news, Adele revealed that she's a huge fan of Drake and that she wants to work with him on a "Hotline Bling" remix. "I love Drake. I love Drake so much," she said in an interview with Canada's eTalk. "I even got the coat that's in the video. I got it delivered the other day. I ordered it—the red one." As if to express his affirmation, Drake posted on Instagram a comic of what appears to be him and Adele together. We have our fingers crossed!
5. Australian named Phuc Dat Bich feels "honored" after name goes viral
An Australian man named Phuc Dat Bich (pronounced as Phoo Da Bi) made rounds on the Internet after complaining that his Facebook page kept on being shut down and that he's always being accused of using a false name. Bich uploaded a photo of his passport to prove that he's not lying—which earned him the support of many Internet users. The 23-year-old, who is of Vietnamese origin, thanked his growing 42,000 followers in Facebook. He wrote, "I'd like to mention that I am very grateful to those who have been supportive of certain names that populate in different cultures...I am glad and honored to be able to make people happy by simply making them laugh at something that appears outrageous and ridiculous. As an individual I hope I have played a part in brightening your days!"
ADVERTISEMENT - CONTINUE READING BELOW
6. Ahmed Mohamed's family demands U.S. $15 million after clock incident
You might remember Ahmed Mohamed, the 14-year-old student who was arrested after teachers mistook his homemade clock for a bomb. Although Ahmed has made headlines and rubbed elbows with plenty of important people (including President Barack Obama), his family is asking for U.S. $15 million in damages, as well as a written apology. The school district and the city have 60 days to comply before the family files a civil lawsuit.
7. Sen. Pia Cayetano supports Duterte despite SET vote
Sen. Pia Cayetano threw her support behind the presidential bid of Davao City Mayor Rodrigo Duterte, despite voting in favor of flunking the disqualification case against Sen. Grace Poe at the Senate Electoral Tribunal (SET). Duterte announced earlier this week that he has finally decided to pursue the presidency due to the SET's decision. Cayetano explained that her vote was based on her appreciation of the case and does not reflect her decision on who to support in the 2016 presidential race. "Mayor Rody Duterte has been, and always will be, my candidate for president," the Senator said. "We may have different opinions on the SET issue but I have the utmost respect for him and my brother, Sen. Alan Cayetano. I believe they can do great things for this country and I will passionately campaign for them for president and vice president."
8. QC court convicts Jason Ivler of murder
A Quezon City court has found Jason Ivler guilty of killing the son of a former Palace undersecretary in a road rage incident in Quezon City six years ago. Ivler was sentenced to reclusion perpetua (a prison term of up to 40 years) for the murder of Renato Ebarle Jr., who died in a traffic altercation. Ivler, who is a nephew of folk singer Freddie Aguilar, was arrested in 2010.
ADVERTISEMENT - CONTINUE READING BELOW
9. 50 Quotes Worth Thinking About From Pinoy TEDx Talks
If you're not familiar with TEDx Talks, Justin wants to know: What do you mean? No, really, these are Filipinos sharing local insights and lessons on the global stage. If you feel like you don't have enough time to catch up on all the TEDx sessions, we've tried to make it easier for you with these 50 nuggets of wisdom from Filipinos that you can use in life.
10. 10 More Expressions People Need to Stop Using
Language is always evolving, and that's a good thing! But when an expression catches on, people tend to overuse it...and then it gets really annoying. Here are 10 more expressions that need to stop. Immediately.
Share this story with your friends!
---
Help us make Spot.ph better!
Take the short survey
Load More Stories