Matthew Perry and Courteney Cox are reportedly dating + more things you might have missed today
John Lloyd Cruz on new breakup rumors, a throwback from the Spice Girls, and more.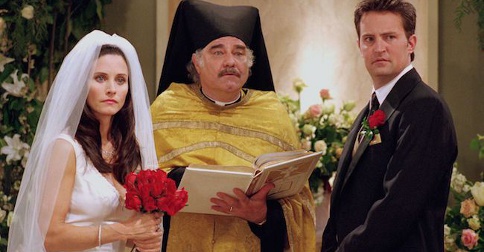 (SPOT.ph) Busy day, Spotters? We quickly recap 10 things you might have missed while you were off the radar.
1. Matthew Perry and Courteney Cox are reportedly dating
It's a dream come true for Friends fans everywhere. According to Perez Hilton, Matthew Perry and Courteney Cox—better known as Chandler and Monica—are dating in real life. Rumors say that they have been "hooking up" but aren't in a rush to call it a relationship just yet. Both actors have yet to confirm the reports but for now, we'll happily pretend it's true.
ADVERTISEMENT - CONTINUE READING BELOW
CONTINUE READING BELOW
Recommended Videos
2. John Lloyd Cruz reacts to new breakup rumors
Real-life couple John Lloyd Cruz and Angelica Panganiban were once again the subject of breakup rumors after they weren't seen together the past few weeks. In a press conference for his MMFF movie, he clarified that they haven't split, saying, "It's a work season for us. It has been for quite a while mula ng mag-soap siya. Ngayon lang siya nakakuha ng break dahil kailangan sa istorya nila, ako naman [pumunta] sa New York [kasi] may tinatapos ako na pelikula." He also said that he and Angelica still have no plans of tying the knot, saying, "I'd like to believe na it's going happen as organic as it's happening in my head."
3. Bar Rafaeli arrested in Israel for tax evasion
According to multiple reports, supermodel Bar Rafaeli has been arrested in Israel for alleged tax evasion. Officials charged her for failing to disclose the money she earned abroad from modeling, as well as non-cash payments acquired from modeling deals. She was also accused of failing to pay taxes for her apartment in Tel Aviv. Both Rafaeli and her mother were charged and banned from leaving the country for 180 days.
ADVERTISEMENT - CONTINUE READING BELOW
4. Sporty Spice's performance of "Too Much" will give you major throwback feels
Even though Melanie C has long been done with the famous jogging pants-and-sneaker combo, the Spice Girls singer has proved that her vocal chords are still as powerful as ever. Melanie C brought back the Spice Girls' single "Too Much" with an acoustic rendition on BBC Radio on December 16. One thing's for sure: Sporty Spice still has it! Oh, and it's making us miss Spice Girls a lot!
5. Mother Teresa to be made Catholic saint in September
According to Avvenire, the official newspaper of the Italian Catholic Bishops' Conference, Mother Teresa of Calcutta will finally be made a saint of the Roman Catholic Church in September 2016. Mother Teresa is a Nobel Peace Prize winner who dedicated her life in service of the poor. She died in 1997 at the age of 87 and was beatified in 2003 by the late Pope John Paul. Avvenire reported that the second miracle attributed to the intercession of Mother Teresa (which is required for canonization) is the unexplainable healing of a man suffering from a deadly brain disease. The newspaper said the man recovered after his family prayed to Mother Teresa, leaving doctors clueless as to how it happened.
ADVERTISEMENT - CONTINUE READING BELOW
6. You won't believe how much Kendall Jenner makes for her Instagram posts
According to magazine CR Fashion Book, Kendall Jenner leads the pack of young models who earn quite a lot of money from posting on Instagram. "Kendall Jenner, Cara Delevingne, and Gigi Hadid, in descending order—are currently valued between U.S. $125,000 and U.S. $300,000 for a single post [for a product] across their portfolio." said the article.
7. Putin praises "bright and talented" Trump
It's not often that the Russian president praises anyone, but on December 17, President Vladimir Putin had positive words for U.S. Republican presidential aspirant Donald Trump. "He's a really brilliant and talented person, without any doubt. It's not our job to judge his qualities, that's a job for American voters, but he's the absolute leader in the presidential race," Putin said after his annual press conference in Moscow. "He's saying he wants to go to another level of relations, closer, deeper relations with Russia," Putin added. "How can we not welcome that? Of course we welcome that," he added. In October, Trump told CNN that he thinks he would get along with the Russian President "very well."
ADVERTISEMENT - CONTINUE READING BELOW
8. Poe camp says COMELEC should also accept Grace's "honest mistake"
Following the poll body's decision to accept Davao City Mayor Rodrigo Duterte's Certificate of Candidacy (COC), the camp of Sen. Grace Poe said that they are counting on the Commission on Elections (COMELEC) en banc to also give favorable consideration for the Senator's error in her COC for senator back in 2013. The case against Duterte is based on the error in PDP-Laban's original presidential bet Martin Diño's COC which states that he is running as a candidate for Pasay City instead of for president. Poe's camp has insisted that she started residing in the Philippines permanently in May 2005, and that the entry in her COC for senator in 2013 was "an honest mistake." The said COC states that she has been a resident of the Philippines since November 2006—making her a few months short of the 10-year residency requirement to be qualified to run for president.
ADVERTISEMENT - CONTINUE READING BELOW
9. 10 Places to Get Picture-Perfect Crepe Cakes in Manila
There's something classy about crepe cakes. Maybe it's the careful preparation or its minimalist look. Layers of thin, soft crepe with luscious cream are so photogenic without requiring over-the-top icing and crazy designs. Here are 10 Instagram-worthy crepe cakes around Manila.
10. SPOT.ph Guide: Where to Celebrate Christmas 2015
Christmas is the perfect excuse to stop counting calories and spend time with your loved ones. Whether it's a hearty buffet or a much-needed staycation, we round up places where you can celebrate this holiday season.
Load More Stories