Ateneo releases statement on historical revisionism
Meanwhile, the University of the Philippines' Philippine Collegian questions the long-term benefits brought by People Power.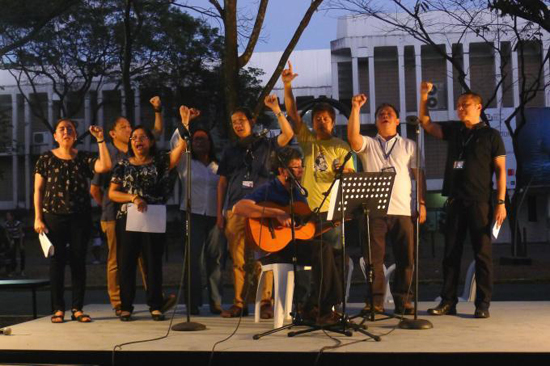 ADMU faculty members, from left to right: Ms. Melai Abao, Dr. Marita Guevarra, Dr. Bobby Guevarra, Dr. Lou Melegrito, Dr. Benjamin Tolosa, Atty. Jimmy Hofileña, Mr. Percy Chavez, Dr. James Simpas and Mr. Rene San Andres (Photo from ateneo.edu)
(SPOT.ph) The Ateneo de Manila University has on March 1 released a statement against the historical revisionism apparently putting a positive spin on the Marcos dictatorship. Vice presidential candidate Ferdinand "Bongbong" Marcos' has kept an unapologetic stance about the Martial Law years and has insisted that "past is past." There are also those who have maintained that the people who suffered human rights violations during the Marcos administration "brought it upon themselves."
Ateneo de Manila University (ADMU) teachers and formators signed a statement confirming their stand. Included is their promise to hand down stories of the injustices committed during the Marcos regime. "For as long as we remember and share these stories, we believe that future generations of Filipinos will learn the lessons of the years of struggle leading to the overthrow of the dictatorship during those historic days of the People Power Revolution in 1986."
ADVERTISEMENT - CONTINUE READING BELOW
Meanwhile, the essay "In Defense of the Millennials" published on February 27 by the University of the Philippines' Philippine Collegian asserts that millenials should not be accused of being unappreciative of the effects of the People Power Revolution, because despite successfully removing the late Ferdinand Marcos from power, the uprising failed to rid the country of the "structures that made [the Marcoses'] rule possible. "The trappings of democracy were restored, but farmers remained landless, wages remained low, prices of basic commodities and utilities remained high. The elite few remained firmly in control of our economy and government."
Visit Ateneo de Manila's website to for more information about the statement. Go to the Philippine Collegian's website to read more of "In Defense of the Millennials."
Load More Stories