2016 Election Primer: The Basics That You Need to Know
Can you vote even without biometrics? What time do precincts open? We list some answers.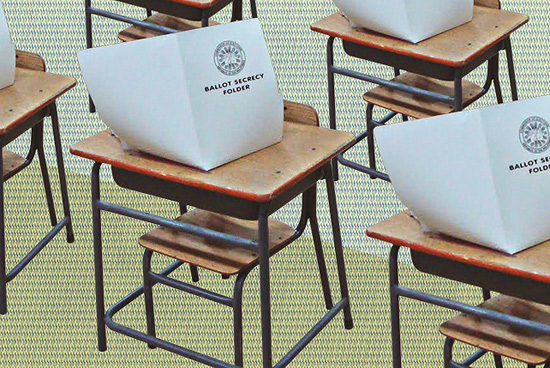 (SPOT.ph) Election day is fast approaching. Got an idea what to do on May 9? Here's a quick overview of what's going to happen.
Be aware of what to expect on May 9.
Is May 9 a holiday? Although no official announcement has been made, past elections have been declared as non-working and no-school days.
What time do precincts open and close? The polling places will be open from 7 a.m. to 5 p.m. This means you have 10-hour time frame to drop by and cast your vote. Commission on Elections Chair Andres Bautista also says that there's a 30-minute grace period before closing: This means that people who are within 30 meters from precincts at 4:30 p.m. would be allowed to vote even if they arrive at the station after closing time.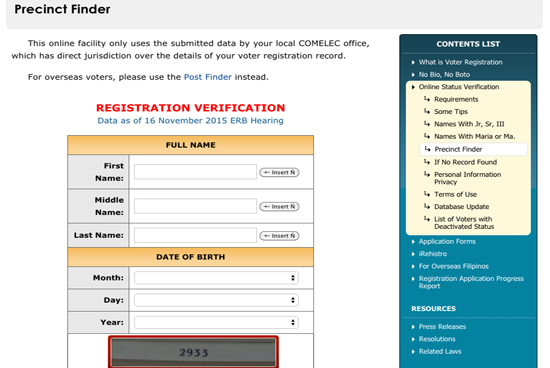 The Commission on Elections' (COMELEC) online status verification is all kinds of awesome. There's no need to call the local COMELEC office for your registration record—answers to all pertinent questions can be found online. Simply fill out the form, and it will give you your voter information, registration details, as well as the map to your voting center. If you can't find your information even after trying variations for your Ma., Jr., or III, simply take a screencap of the page and submit it to a link provided.
ADVERTISEMENT - CONTINUE READING BELOW
What if it shows there that you have incomplete biometrics data? If you're a registered voter with incomplete or corrupted biometrics data, you can still vote. You'll have to update and complete your record at a later date, though.
What if you have no biometrics data at all? You can't vote, unfortunately. If you check the Precinct Finder, it will show your deactivated status.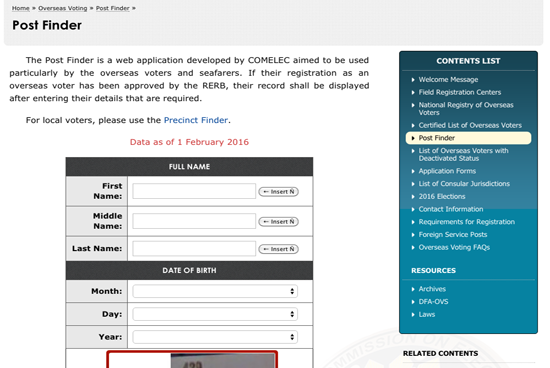 CONTINUE READING BELOW
Recommended Videos
An overseas voter? Use the Post Finder.
If you want to check if you can vote, you can head over to the Certified List of Overseas Voters and see if the Resident Election Registration Board has given you the approval to vote. If you want to go straight to your name without going through a list, just use the Post Finder, which works pretty much like the Precinct Finder.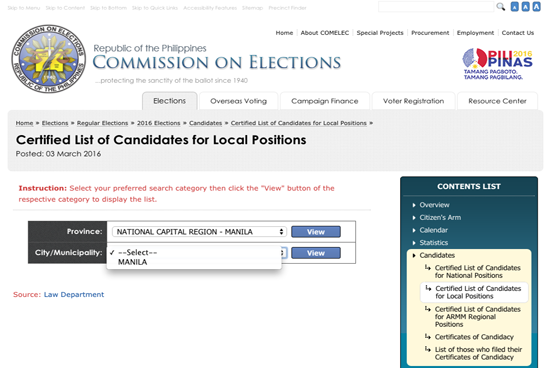 ADVERTISEMENT - CONTINUE READING BELOW
The spotlight may be on the national candidates, but good governance starts at a local level. In case you're not aware of the local line-up, you have an online certified list of candidates for local positions to educate yourself. Just choose your province, the city or municipality, hit "view" and there you have it—a list of candidates gunning for mayor, vice mayor, and councilor. Now you can go stalk them and see what they've been up to.
Check the presidentiables' platforms and see which one you think the country needs most.
To help you make up your mind, for your president at least, here are just some salient points of the candidates' plans of action:
Miriam Santiago: Generate jobs and reduce poverty, improve the investment climate, implement tax reform.
Mar Roxas: Continue Daang Matuwid, create jobs, expand the K-12 and CCT (conditional cash transfer) programs
Rodrigo Duterte: Fight against crime and corruption, promote economic progress through federalism, push for equal opportunities
Jejomar Binay: Make more investments in infrastructure, invite foreign investors, ensure faster action
Grace Poe: Fight malnutrition, combat drugs, work on ease of doing business especially for small and medium enterprises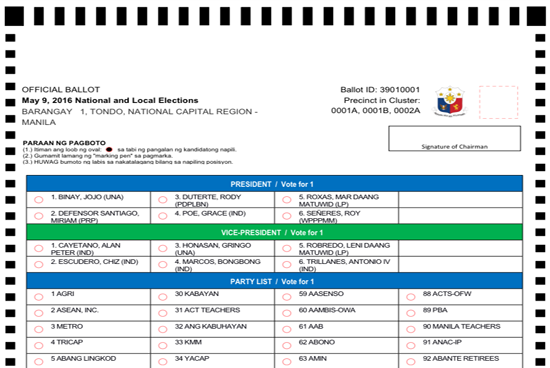 ADVERTISEMENT - CONTINUE READING BELOW
Familiarize yourself with how the official ballot looks.
The sample template is fairly straightforward. During the February 13 mock elections, some ballots were rejected due to an oval not being fully shaded as well as unintentional marks made by a participant. Now you know what to do: Practice your shading skills for now and make your ballot as clean and tidy as you can on voting day. Oh, and make sure that your ballot is being fed vertically—not horizontally—into the machine.
Share this story with your friends!
---
Help us make Spot.ph better!
Take the short survey
Load More Stories