UPDATED: The SPOT.ph Guide to Metro Manila's P2P Buses
Your comprehensive cheat sheet to all the available routes.
UPDATED, October 2, 2018—(SPOT.ph) The Premium Point-to-Point Bus Service was launched in 2016 in an effort to convince people to leave their cars at home and ease the traffic congestion happening every day along EDSA. The Point-to-Point (P2P) bus service is a public utility vehicle sub-category that offers commuters another safe, comfortable, and reliable mode of transportation. It allows shorter travel time, as buses depart on a fixed schedule and travel directly from the terminal to the drop-off point.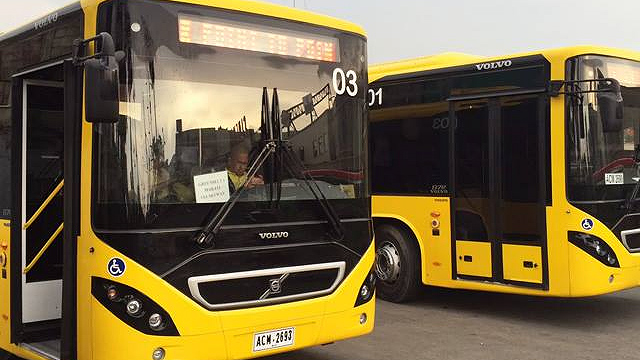 It first started as a holiday project in partnership with Fröehlich Tours in January 31, 2016 under a special permit issued by the Land Transportation Franchising and Regulatory Board. It then expanded to four more routes by April 25 of the same year.
Several more P2P routes have become available around Metro Manila, with many of them serving areas like Alabang and Antipolo. Here's your complete and updated guide to conquering the Metro through the P2P system. Keep this bookmarked because we'll be updating it regularly!
EAST
SM Cherry Antipolo to Greenbelt 5 (Makati) and vice versa
Bus company: RRCG Transport
One-way fare: P80 (Standard), P64 (Discounted) 
Availability: Monday to Sunday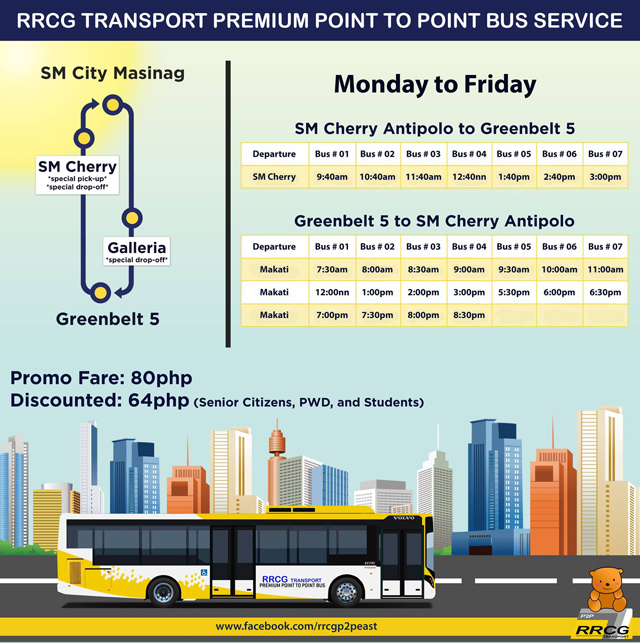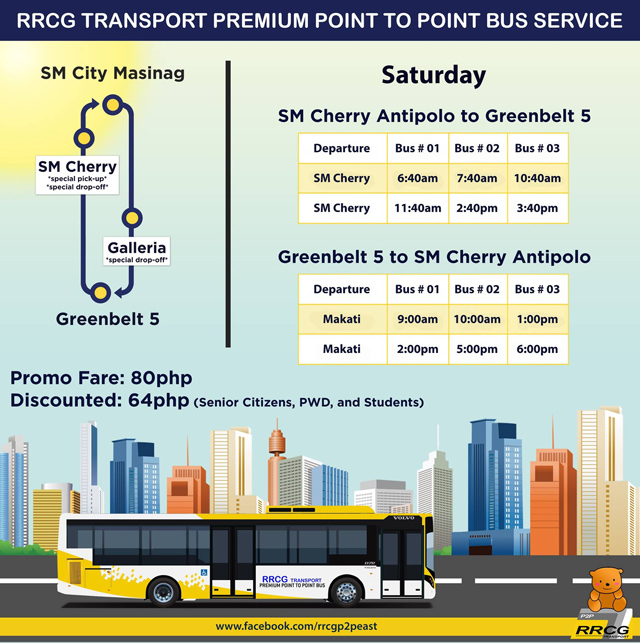 Robinsons Place Antipolo to Robinsons Galleria (Quezon City) and vice versa
Bus company: Lingkod Pinoy Bus Liner
One-way fare: P50 (Standard), P40 (Discounted)
Availability: Daily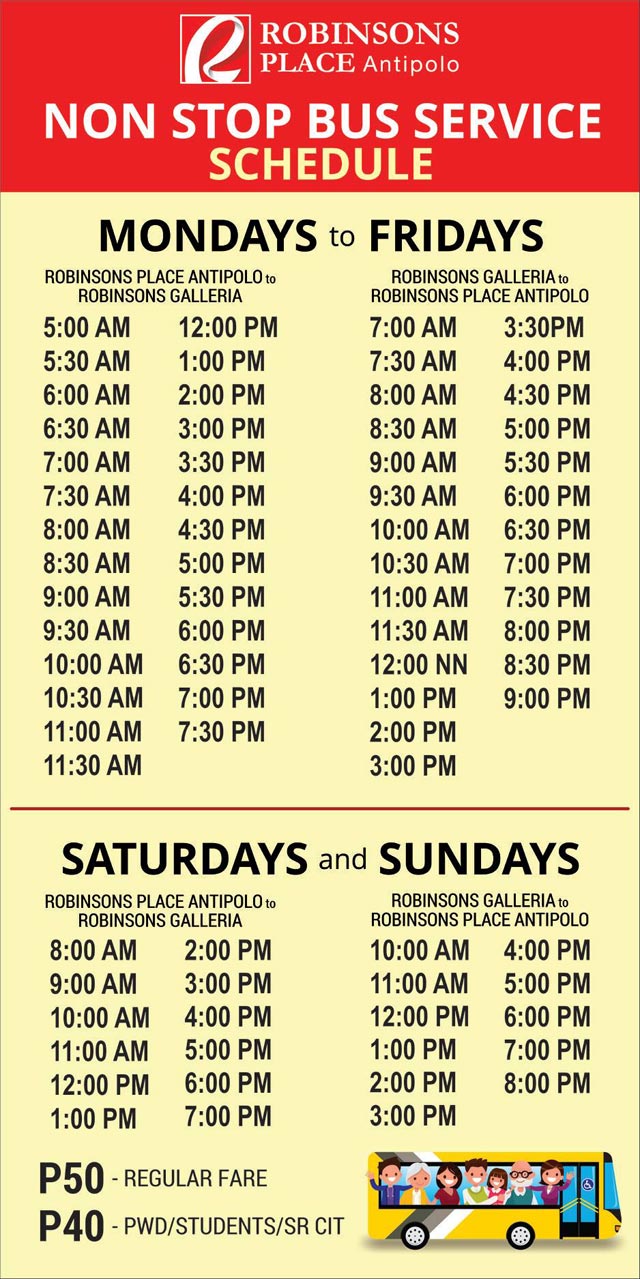 SM City Masinag (Antipolo) to Greenbelt 5 (Makati) and vice versa
Bus company: RRCG Transport
One-way fare: P80 (Standard), P48 (Discounted) 
Availability: Monday to Friday
ADVERTISEMENT - CONTINUE READING BELOW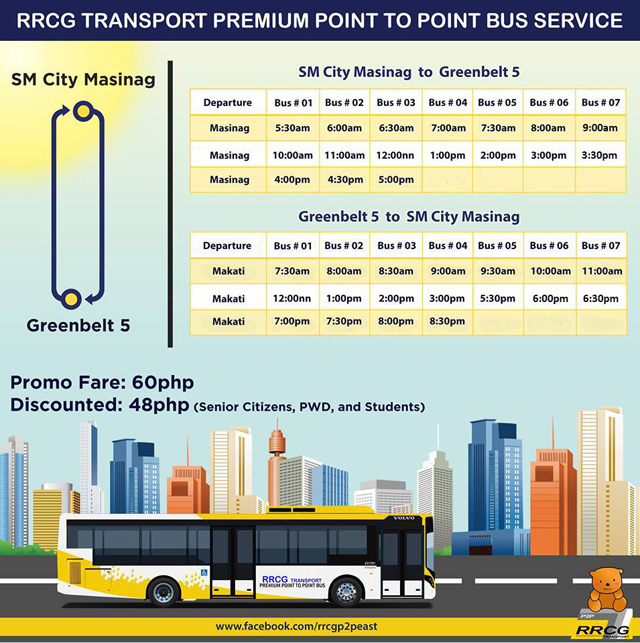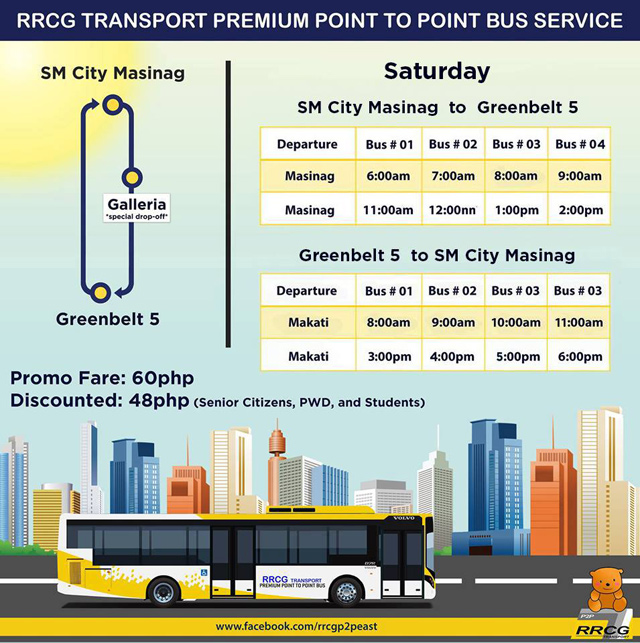 Robinsons Place Antipolo to Robinsons Galleria (Quezon City) and vice versa
Bus company: RRCG Transport
One-way fare: P50 (Standard), P40 (Discounted)
Availability: Monday to Saturday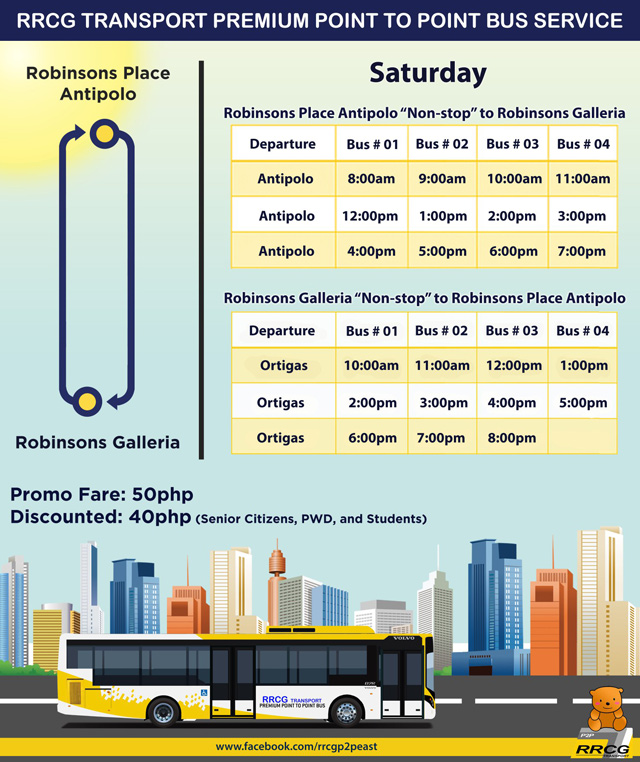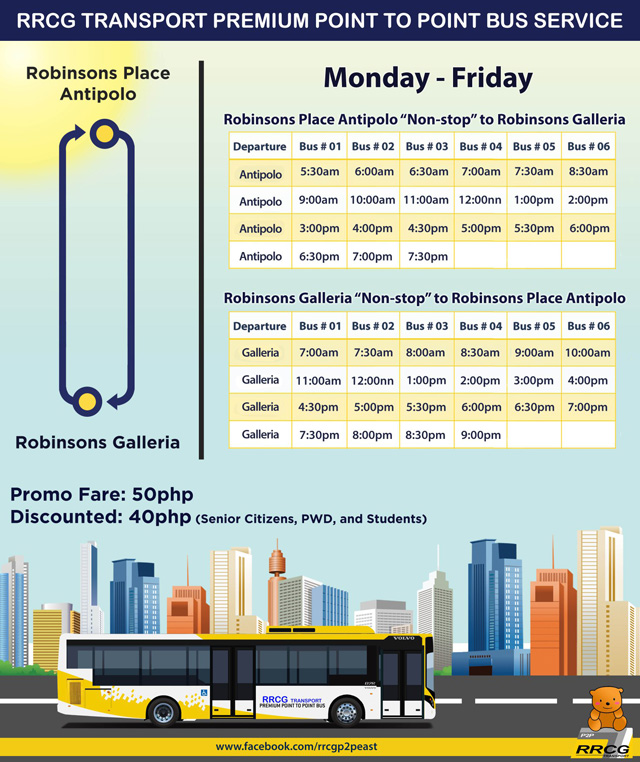 SOUTH
NEW ROUTE: Alabang Town Center (Muntinlupa) to Lawton (Manila) and vice versa
Bus company: N. Dela Rosa Liner
One-way fare: P180 (Regular), P80 (Discounted)
Availability: Monday to Friday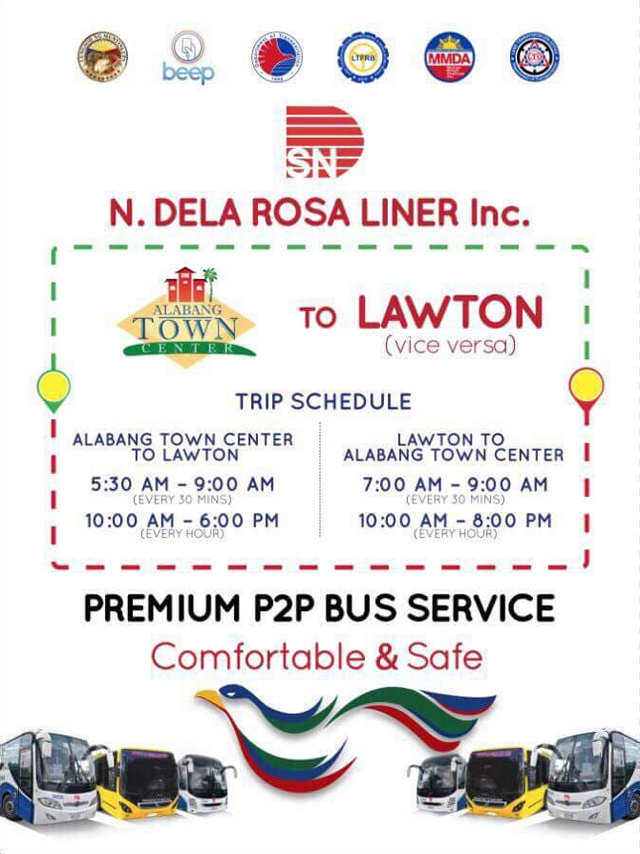 Vista Mall Daang Hari (Bacoor, Cavite) to San Lorenzo Place (Makati) and vice versa
Bus company: Metro Express
One-way fare: P110
Availability: Monday to Friday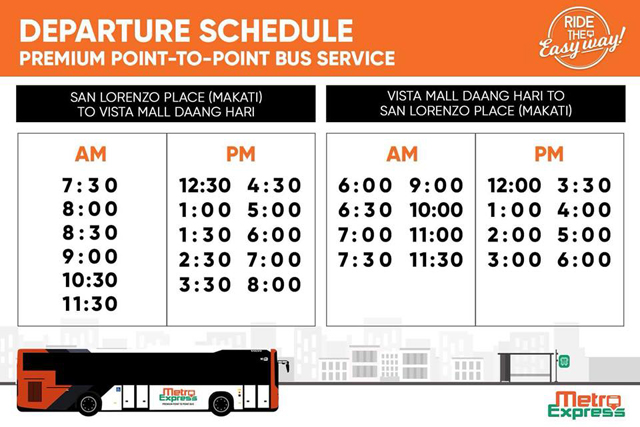 NEW ROUTE: Camella Dasma Highway (Dasmariñas, Cavite) to San Lorenzo Place (Makati) and vice versa
Bus company: Metro Express
One-way fare: P150
Availability: Monday to Friday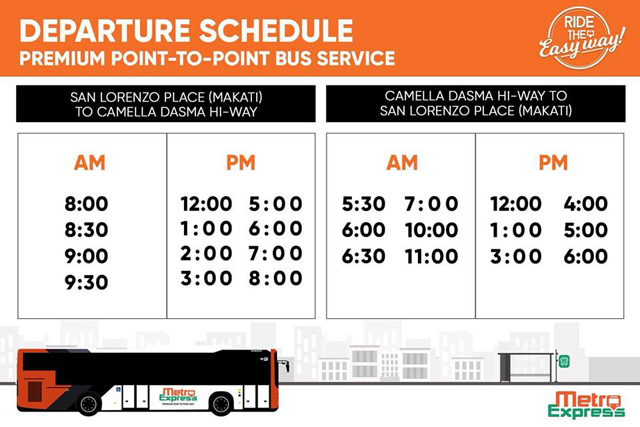 Camella Dasma Highway (Dasmariñas, Cavite) to Starmall Alabang (Muntinlupa) and vice versa
Bus company: Metro Express
One-way fare: P45
Availability: Monday to Sunday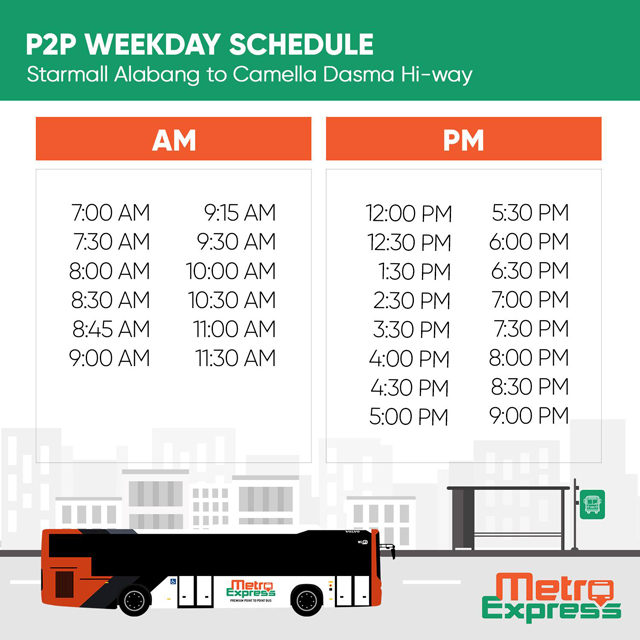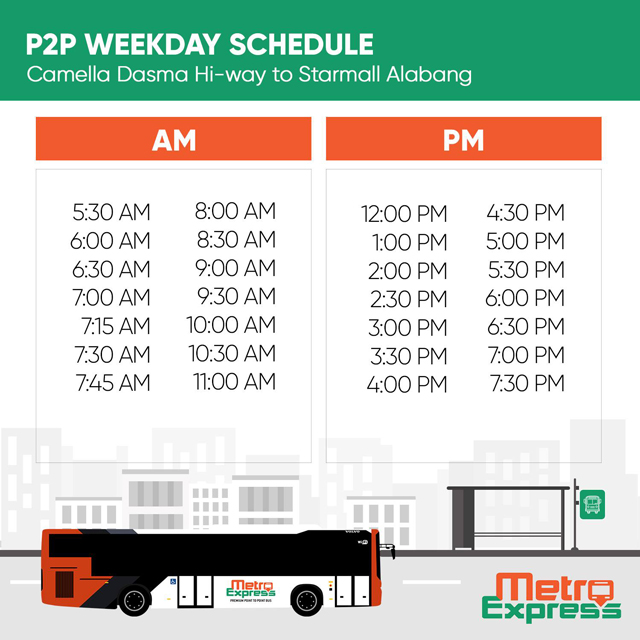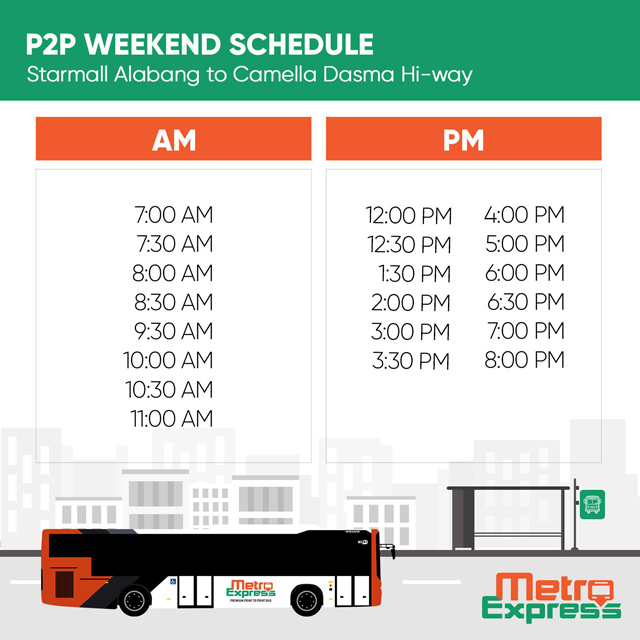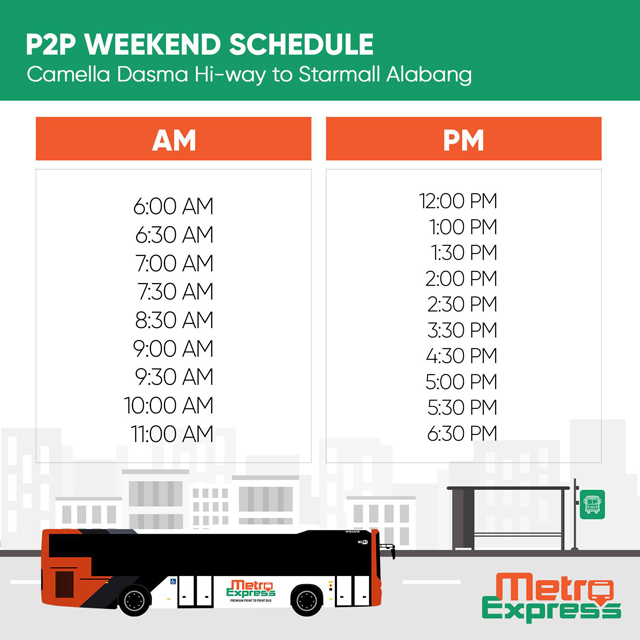 Vista Mall Daang Hari (Bacoor, Cavite) to Starmall Alabang (Muntinlupa) and vice versa
Bus company: Metro Express
One-way fare: P35
Availability: Monday to Sunday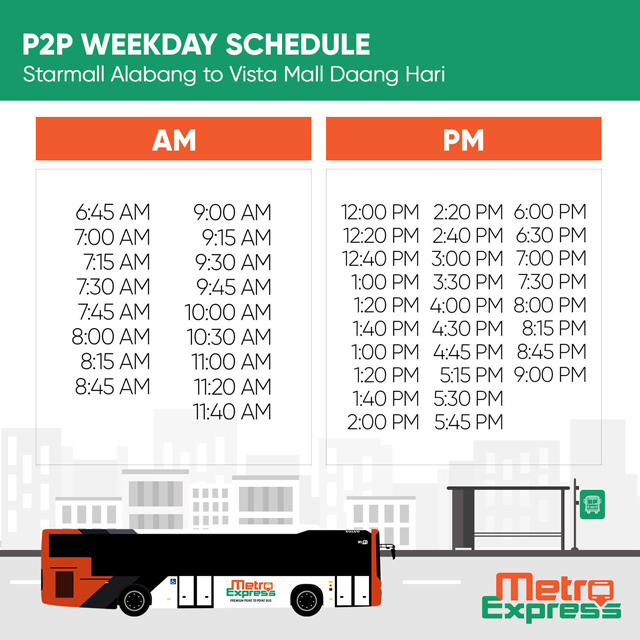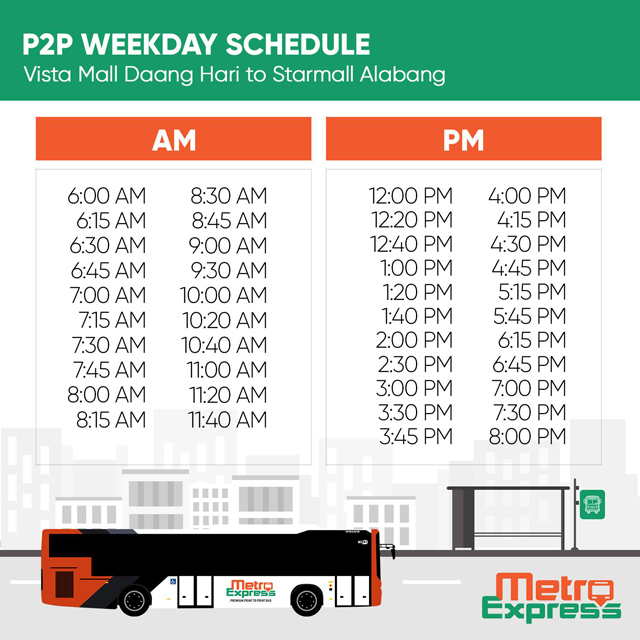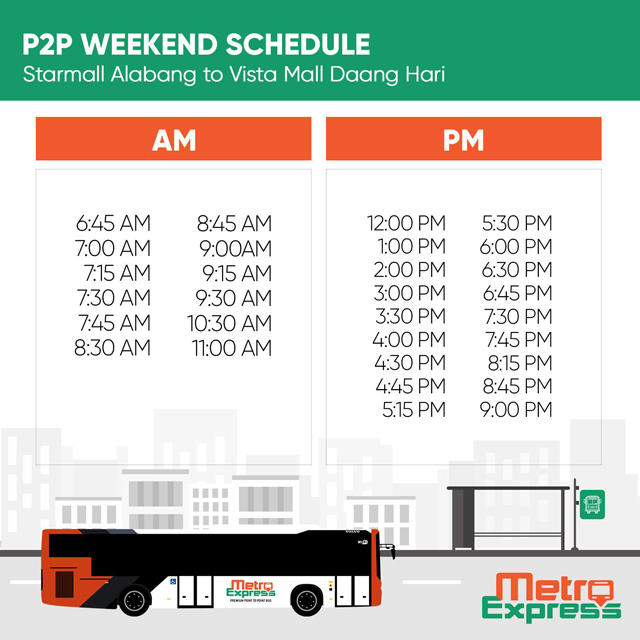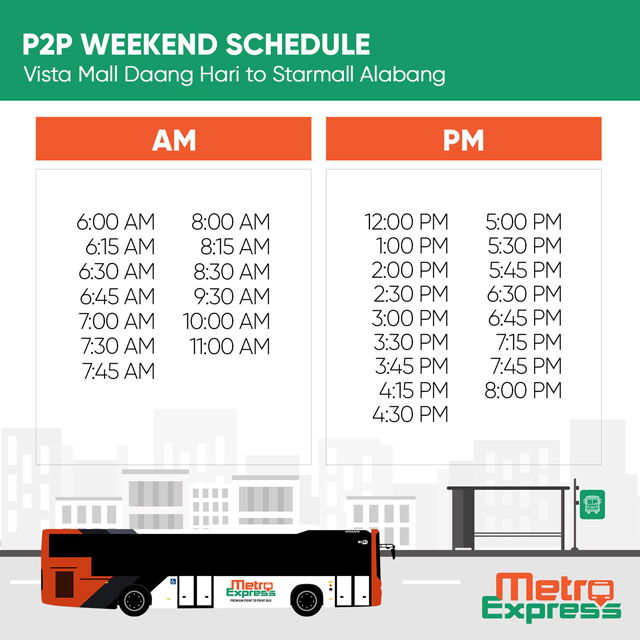 Alabang Town Center (Muntinlupa) to Ayala Malls the 30th (Pasig) and vice versa

(Suspended as of September 3, 2018)

Bus company: RRCG Transport
One-way fare: P80 (Standard), P64 (Discounted)
Availability: Monday to Friday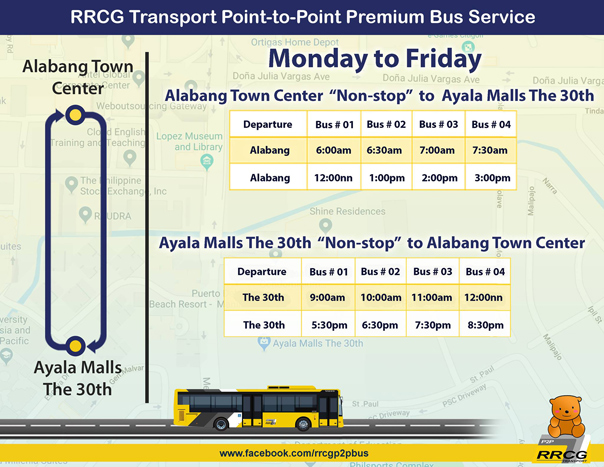 Ayala South Park (Muntinlupa) to Greenbelt 5 (Makati) and vice versa
Bus company: RRCG Transport
One-way fare: P100 (Standard), P80 (Discounted)
Availability: Monday to Friday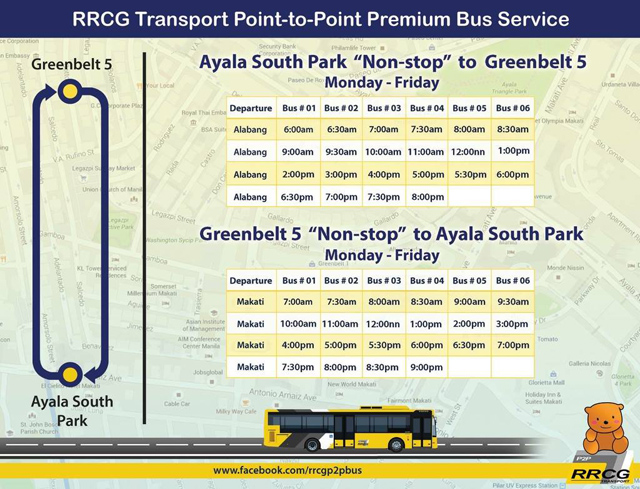 Alabang Town Center (Muntinlupa) to Greenbelt 1 (Makati) and vice versa
Bus company: RRCG Transport
One-way fare: P100 (Standard), P80 (Discounted)
Availability: Daily
ADVERTISEMENT - CONTINUE READING BELOW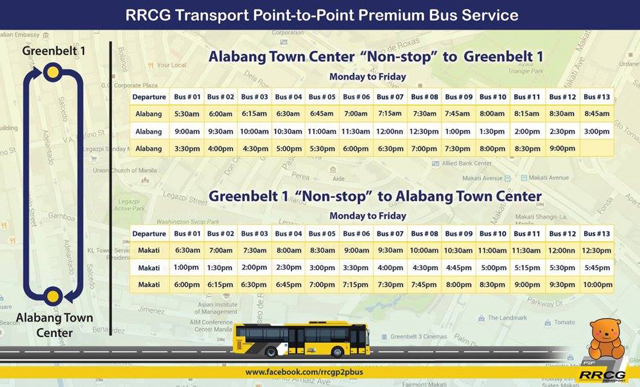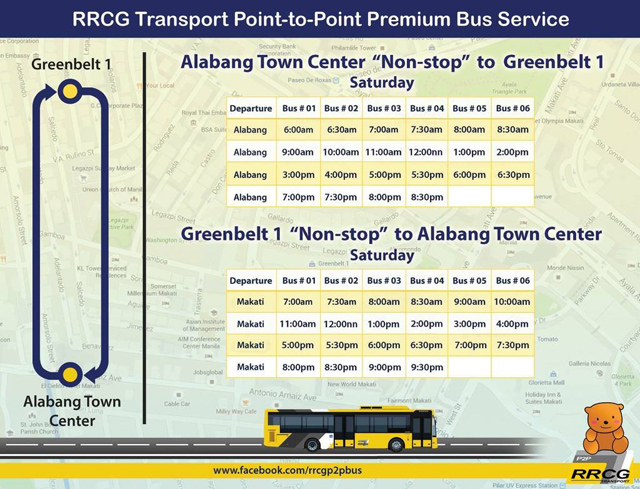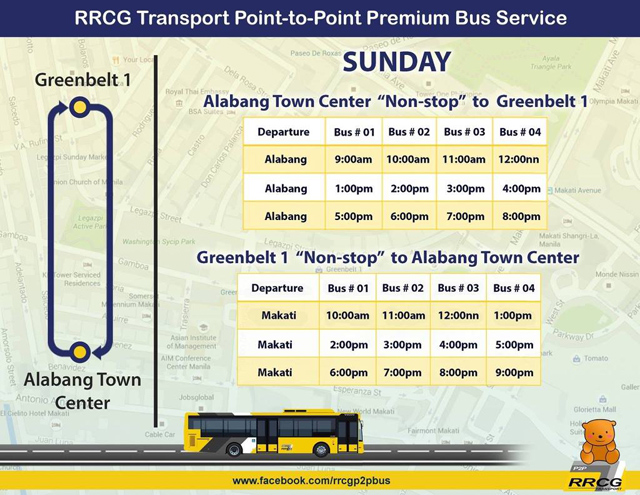 Alabang Town Center (Muntinlupa) to Market! Market! (BGC) and vice versa
Bus company: HM Transport
One-way fare: P100 (Standard), P80 (Discounted)
Availability: Monday to Saturday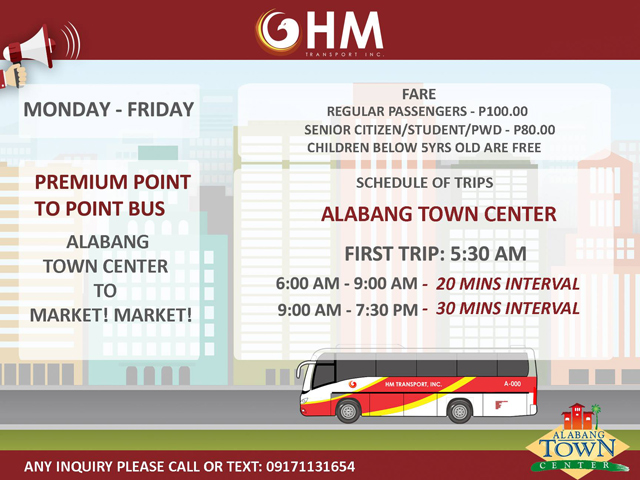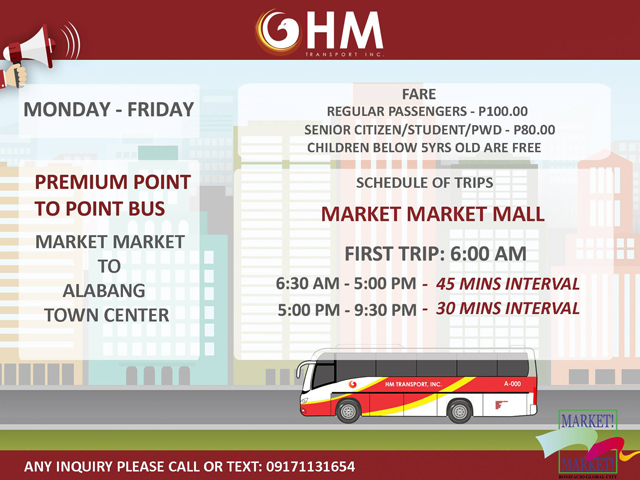 Alabang South Station (Muntinlupa) to Market! Market! (BGC) and vice versa
Bus company:HM Transport
One-way fare:P100 (Standard), P80 (Discounted)
Availability: Monday to Saturday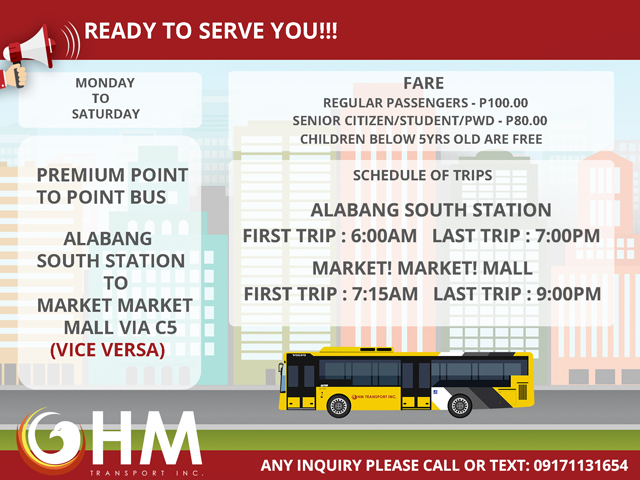 Sucat Interchange (Parañaque) to Glorietta 3 (Makati) and vice versa
Bus company: Delta Neo Solutions
One-way fare: P100 (Standard), P80 (Discounted)
Availability: Monday to Friday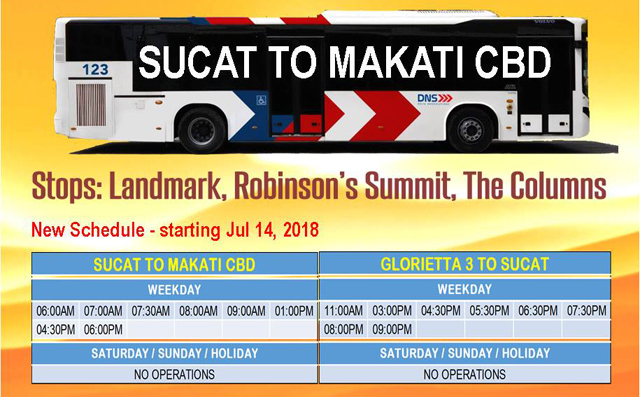 NORTH
Robinsons Place Malolos (Bulacan) to North Avenue (Quezon City)
Bus company: Precious Grace Transport Services
One-wayfare: P80
Availability: Daily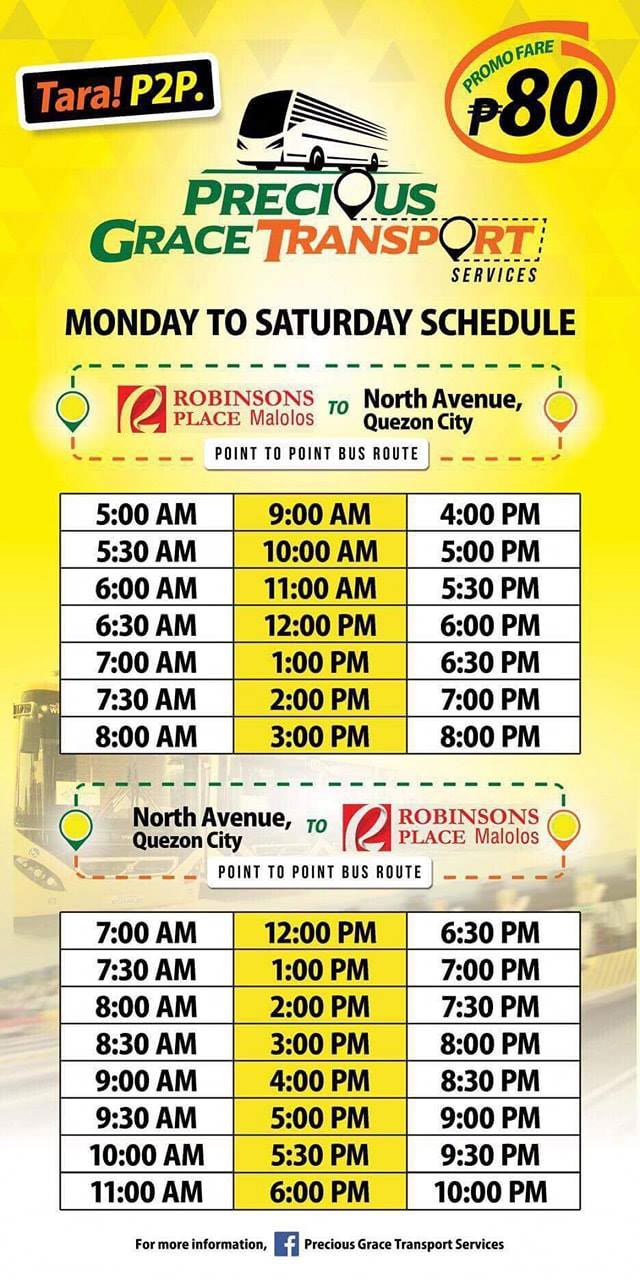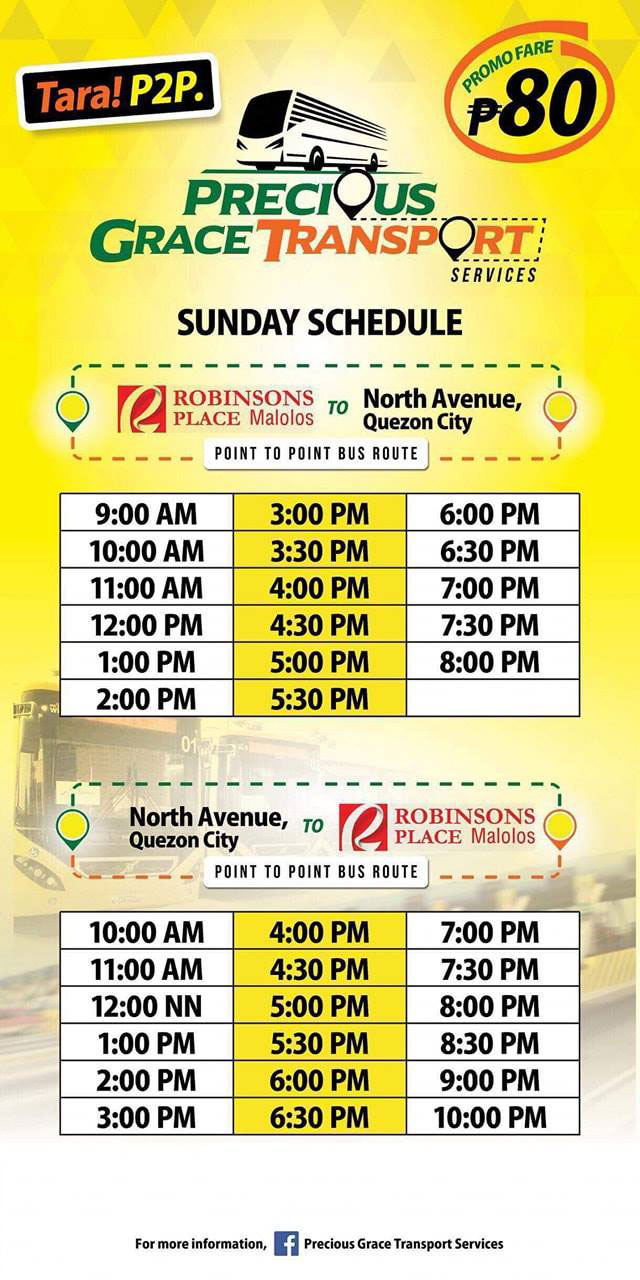 Sta. Maria (Bulacan) to Trinoma (Quezon City)
Bus company: Precious Grace Transport Services
One-way>fare: P70
Availability: Daily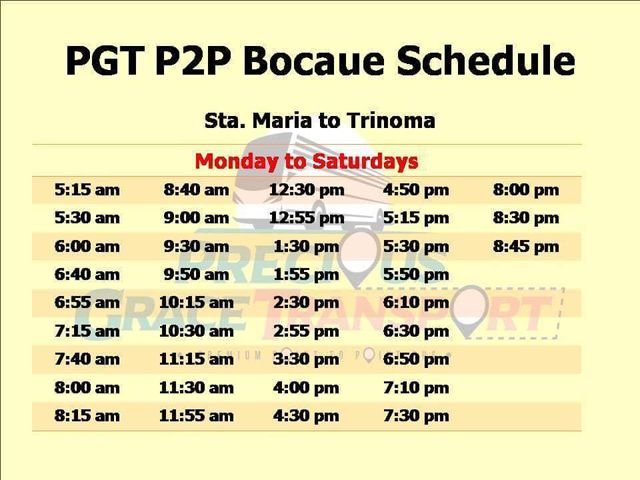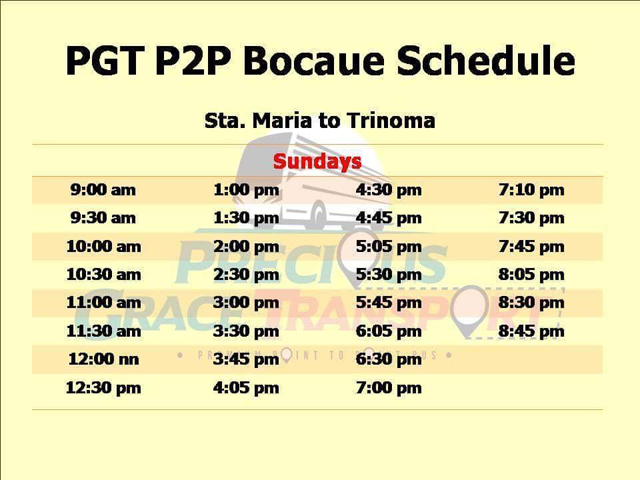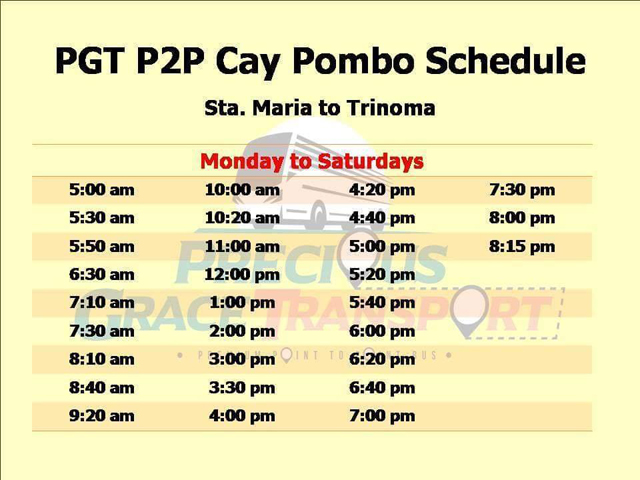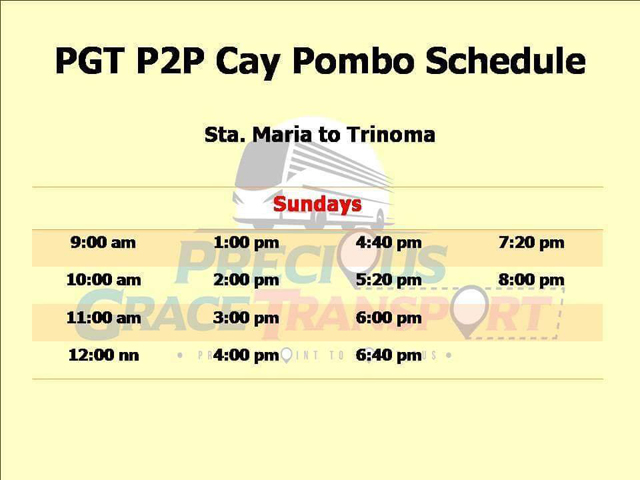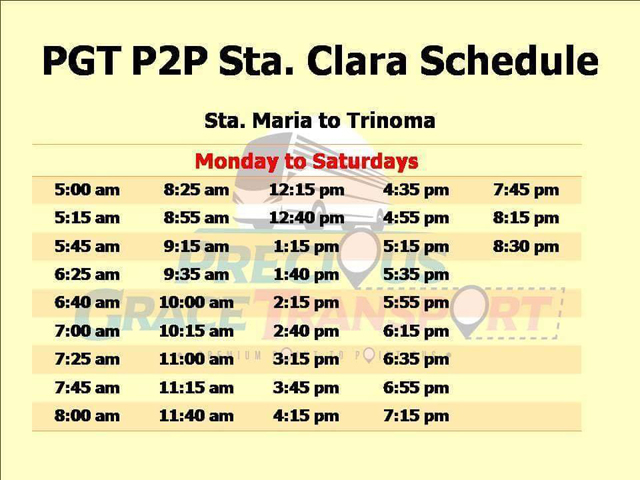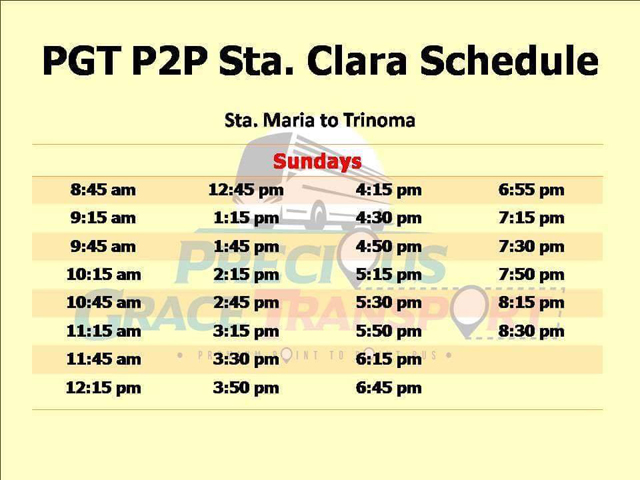 SM North (Quezon City) to SM Megamall (Mandaluyong) and vice versa; Trinoma (Quezon City) to Ayala Center (Makati) and vice versa
Bus company: Froelich Tours
One-way fare: Trinoma - Ayala Center: P95 (Regular), P70 (Discounted); SM North - Megamall - P65 (Regular), P50 (Discounted)
Availability: Monday to Friday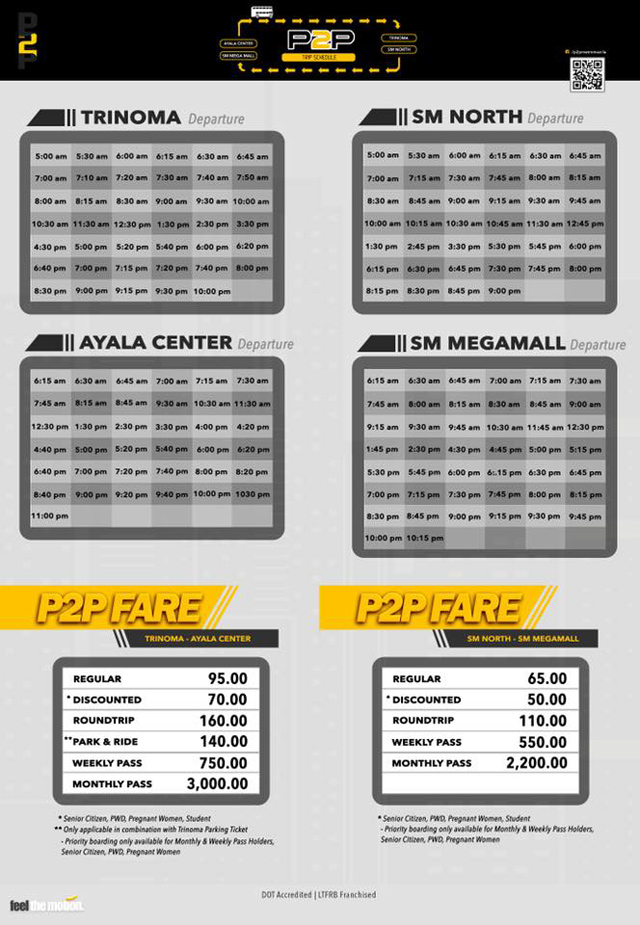 Weekend Double Deck Tours
Bus company: Froelich Tours
One-way fare: Trinoma - Ayala Center:P75 (Regular), P60(Discounted); SM North - Megamall - P50(Regular), P40(Discounted)
Availability: Saturday to Sunday
ADVERTISEMENT - CONTINUE READING BELOW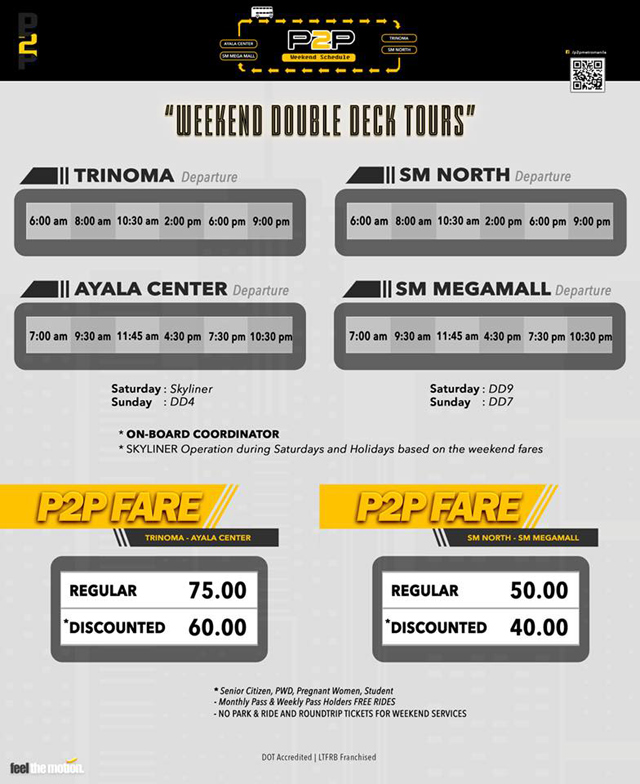 Trinoma (Quezon City) to Ayala Center (Makati) and vice versa
Bus Company: Froelich Tours (Skyliner)
One-way fare: P100(Regular), P80(Discounted)
Availability: Saturday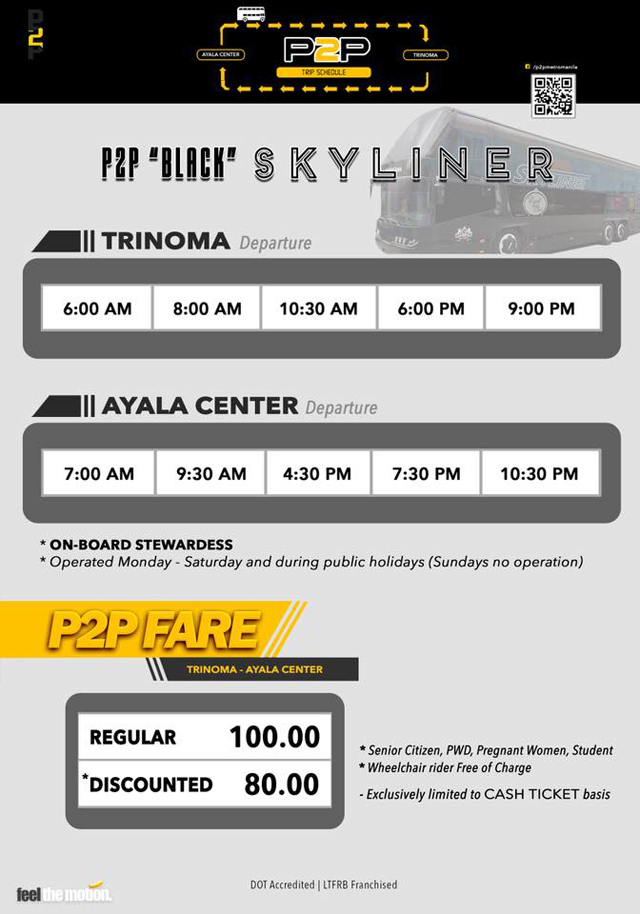 Robinsons Novaliches (Quezon City) to Glorietta 3 (Makati) and vice versa
Buscompany: Lingkod Pinoy Bus Liner
One-wayfare: P100 (Standard), P80 (Discounted)
Availability: Monday to Friday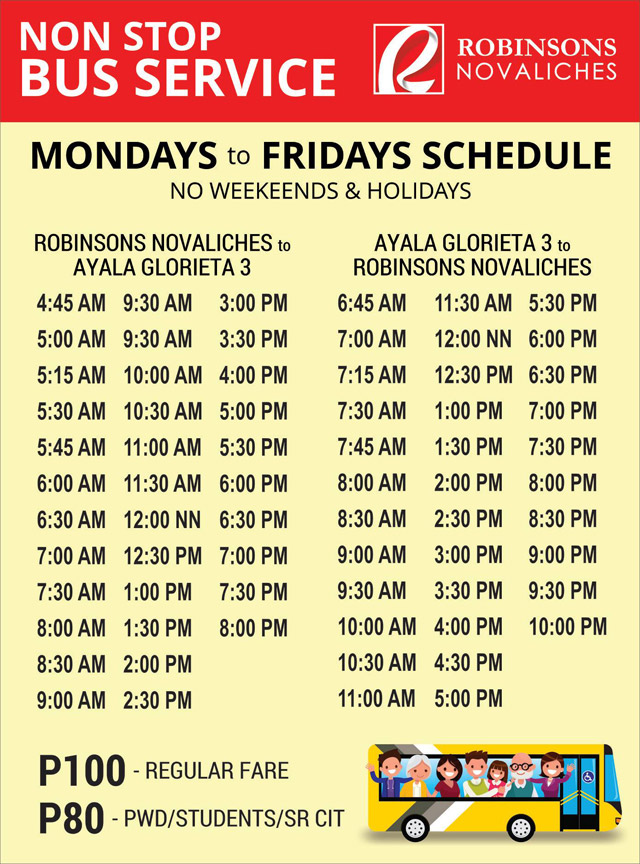 Eastwood Mall (Eastwood) to Makati CBD and vice versa
Bus company: Delta Neo Solutions
One-way fare: P100 (Standard), P80 (Discounted)
Travel time: One hour
Availability: Daily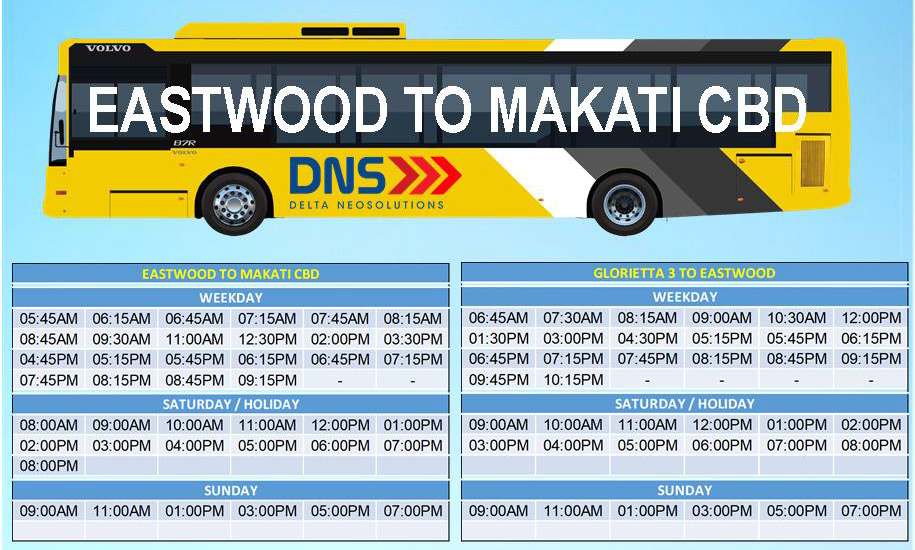 UP Town Center (Katipunan) to Glorietta 3 (Makati) and vice versa
Bus company: Delta Neo Solutions
One-way fare: P100 (Standard), P80 (Discounted)
Availability: Daily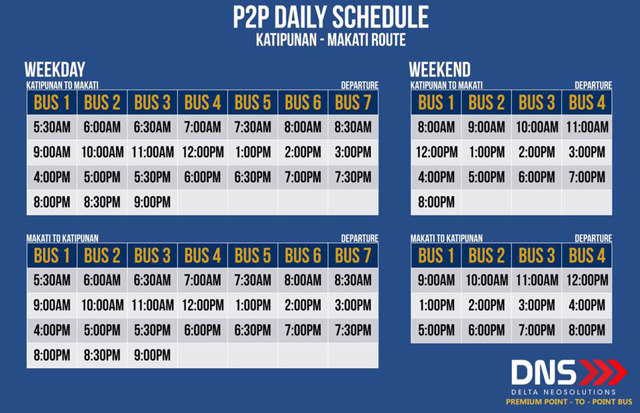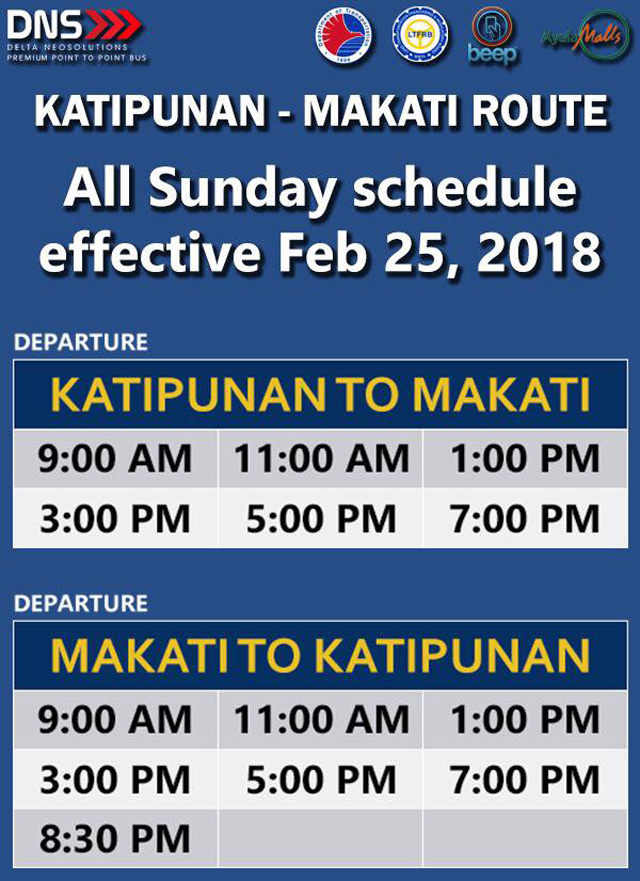 Robinsons Galleria (Quezon City) to Glorietta 3 (Makati) and vice versa
Bus company: HM Transport
One-way fare: P30 (Standard), P24 (Discounted)
Availability: Monday to Friday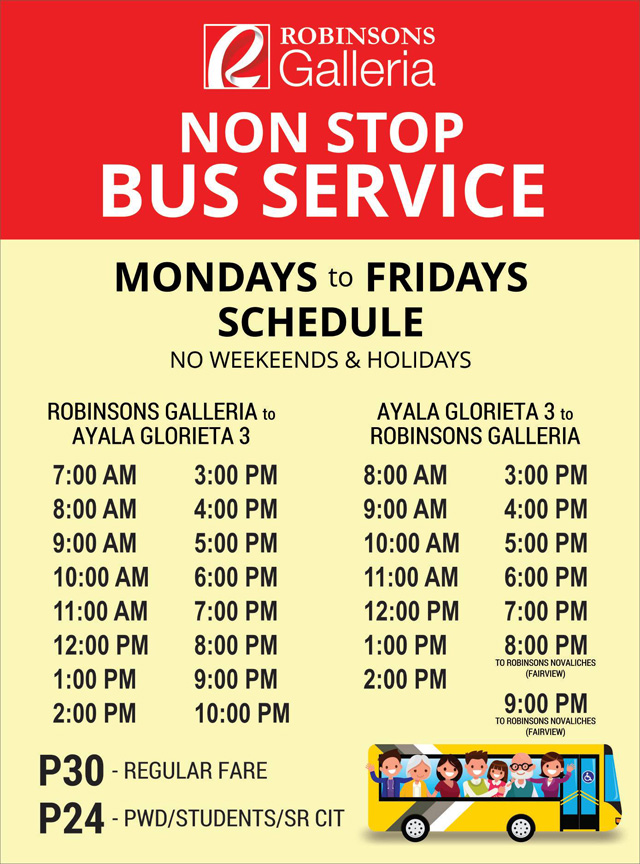 CLARK
Robinsons Galleria (Quezon City) to Clark (Pampanga)
Bus company: Genesis P2P Bus Service
One-way fare: P250
Availability: Monday to Friday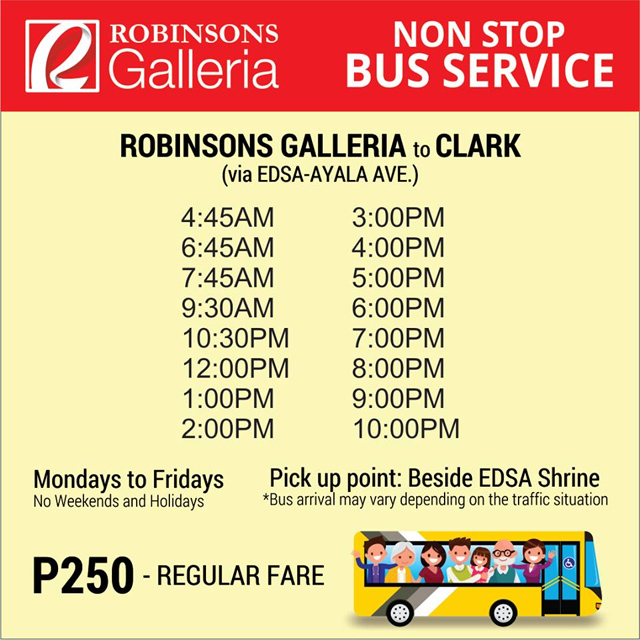 Ninoy Aquino International Airport (Pasay) to Clark International Airport (Pampanga) and vice versa
Bus company: Genesis Transport, Inc.
One-way fare: P350
Availability: Daily 
ADVERTISEMENT - CONTINUE READING BELOW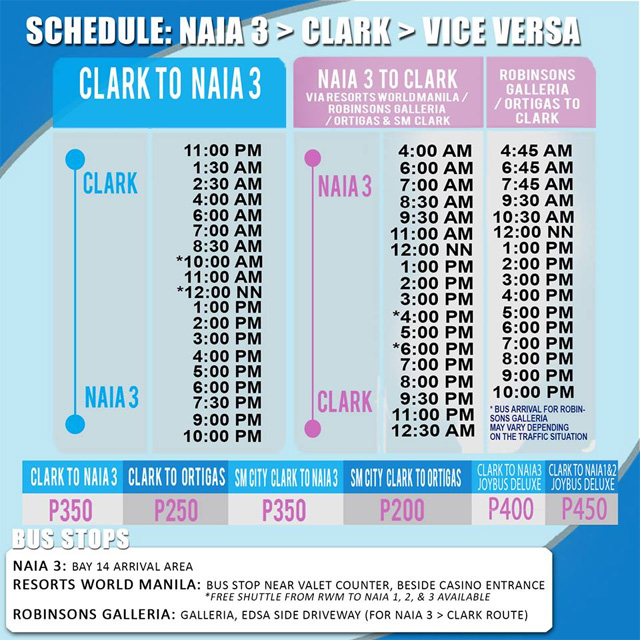 NINOY AQUINO INTERNATIONAL AIRPORT (NAIA)
Robinsons Galleria (Quezon City) to NAIA (Pasay)
Bus company: UBE Express
One-way fare: P70
Availability: Daily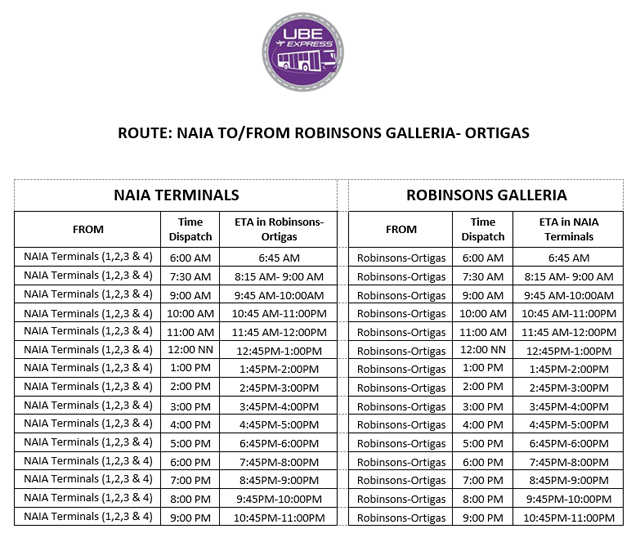 Araneta Center (Quezon City) to NAIA (Pasay)
Bus company: UBE Express
One-way fare: P100
Availability: Daily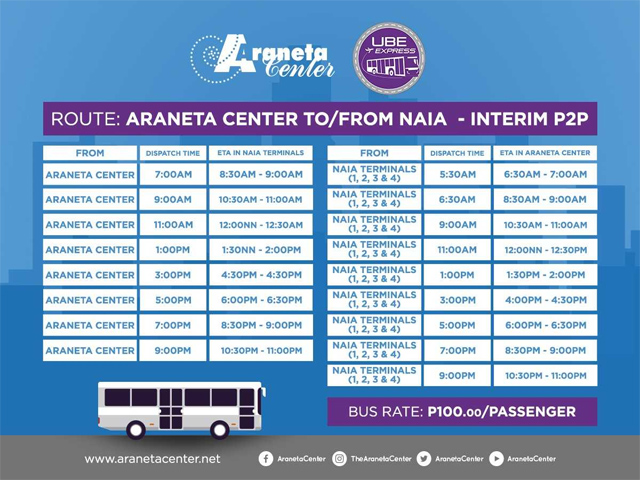 Makati/Manila/Pasay to NAIA and vice versa
Bus company: UBE Express
Availability: Daily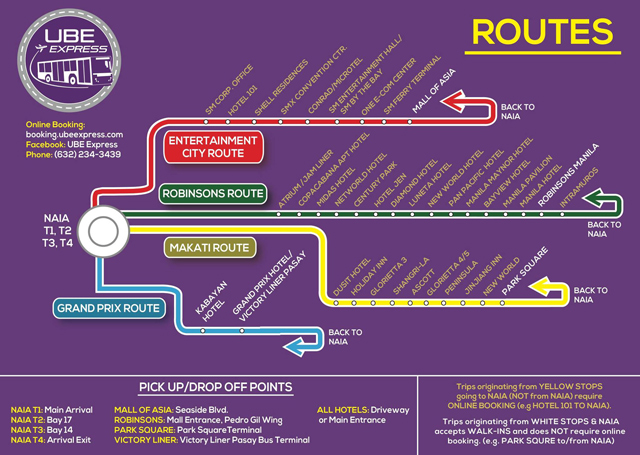 Load More Stories