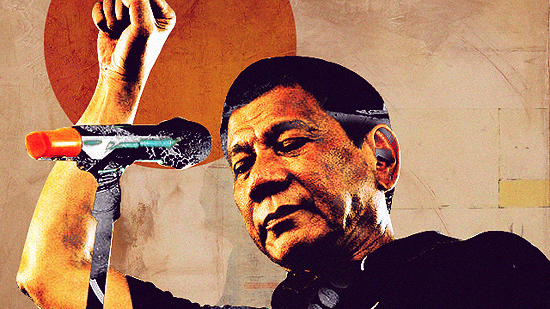 (SPOT.ph) I don't remember a time when Rodrigo R. Duterte wasn't a mayor, congressman, or vice-mayor of Davao City, my hometown. But I do remember a time when the subdivision where I used to live was a dumping ground for dead bodies. I remember when people would smoke inside malls and restaurants. I remember when warring clans or drunk groups would have fistfights and even fire guns at bars and drinking spots. I remember when I'd be half excited and half scared during New Year's Eve when everybody would light up fireworks and firecrackers. I remember when classes would have to be cancelled every time there were heavy rains because there was flooding in the neighborhood. Even if there was never any typhoon in Davao. And I remember when we had to find ways to rush a family member to the hospital because there were no ambulances available.
ADVERTISEMENT - CONTINUE READING BELOW
All these changed in my 34 years of existence. Davao is no longer known as a warzone. Davao has a strict no-smoking ordinance, a liquor selling curfew, a strict ban on fireworks and firecrackers among many other ordinances and bans deemed as "KJ" by some. Davao has a better drainage system and better infrastructure. And Davao has a world-class FREE emergency and disaster response system. I feel safe and I am proud to say I am a Davaoeño.
Did I support, campaign for, and vote for Duterte because of these? Yes and no. Would I have voted him if I didn't grow up in Davao? Honestly, I think not.
I believe there are two kinds of people who supported and voted for Duterte: those who have lived in Davao or have experienced how good we have it here and those who are mystified by Duterte and Davao and are raring to have this mythical person do the same for the rest of the Philippines.
I belong to the first group, obviously. Had I not known Duterte and how he did things here in Davao, I would not have supported him. I am not the type to be mystified and be in awe of somebody so brusko, so proudly macho, so annoyingly stubborn. I would have probably rolled my eyes every time I would hear him speak. He does not seem intelligent or capable enough to become President. He still seems incompetent to many. If I had not witnessed his leadership, I would doubt him every step of the way.
CONTINUE READING BELOW
Recommended Videos
Luckily, I was raised in Davao. I have seen how his leadership transformed our simple city into one with a thriving economy, a must-visit tourism destination, a city of disciplined citizens. These are the reasons I supported and voted for him. I never liked the guy, to be honest. Half of the time (most of the time, actually), I don't agree with him. But I chose him anyway because I could see that his heart is in the right place. He is not a politician. He is a public servant. He does not see himself as a leader, but as a servant of the people. He decides not according to what will serve his interests, not according to what will make him popular or rich, but to serve the interest of the people he serves. He is, in the truest sense of the word, a servant leader.
Even if I do not and would never regret supporting and voting for him, there is a part of me that questions his every word, his every step. I feel like it is my duty as a #PartnerforChange that he should be made accountable to every Filipino, whether they voted for him or not. As a member of the Media Central Team of his campaign, I feel responsible (to a certain extent) if he succeeds or fails as President of the Republic of the Philippines.
More than a month into his Presidency, what can I say? I feel uncomfortable. I agree with some of his decisions, but I disagree with most.
ADVERTISEMENT - CONTINUE READING BELOW
I see the wisdom of his war against drugs. But I do not know yet if I approve of it all. There is no doubt that the proliferation of illegal drugs is one of the biggest problems of our country. What I am not quite sure of is if the so-called war on drugs follows due process all the time. I am no lawyer, so I wouldn't really know. I do not doubt that the administration knows what it is doing.
What unsettles me the most is how apathetic the administration seems to be on the murders of many people. These are Filipinos murdered in their own country. Yes, the body count might actually be lower when compared to figures in past administrations. And yes, most of these might be victims of drug cartels. It doesn't mean though that these numbers do not matter. Every number stands for one Filipino, somebody's child, mother, father, or friend. Every life matters.
Moving forward, I hope the war on drugs expands to anti-drugs programs that are sustainable and more humane. One that seeks to rehabilitate and reform rather than shame and imprison, or worse, kill.
I have very high expectations from President Rodrigo Duterte and his administration. Progressive social welfare, fair taxation, a rich agriculture industry, a robust economy, an improved public education system, better and affordable healthcare for all, a reliable mass transit system, more infrastructure and highways, and sustainable programs designed to improve the quality of lives of every Filipino. These sound like lofty ideals but I am confident that the President can make it happen if he wills it so. His political will is one of his strongest characteristics.
ADVERTISEMENT - CONTINUE READING BELOW
Specifically, I hope that the programs and ordinances that have been successful in Davao, should be implemented in the entire country. Better reproductive healthcare for all and anti-discrimination should top the list on the President's legislative agenda. And yes, a centralized 911 system that works should be implemented in all cities and provinces.
I, for one, am looking forward to a shift to a federal system of government. This is one of the major reasons why I voted for Duterte.
If there is one thing the administration should improve on, it is that they should listen more to their critics. They are not all that bad. The administration should not be like past administrations. Learn to listen more. Do not think that your way is the only right way. This is a government by the people, from the people, for the people, after all.
I did not support and vote for Duterte because he is the best or most deserving. Not because I idolize him, nor do I believe in everything he says. I supported and voted for Duterte because I truly believe he is what the Filipinos need and what this country needs to move forward. He makes us uncomfortable and that is totally okay. It means we have woken up from stupor. It means we are thinking, caring citizens of the Philippines. But being uncomfortable and doubtful is not enough.
If I were to give President Duterte a rating on his current performance, I'd give him a B. He has done well and has exceeded the expectations of many, but I know he can do even better if he pushed himself and his people more. If pushed by the Filipino people, Duterte can do more, can do better. After all, he was able to transform Davao City into what it is now. Not because he is almighty and all powerful but because he led by being a servant. He listened to the people.
ADVERTISEMENT - CONTINUE READING BELOW
I remain doubtful if he will be successful as president of the Philippines. I think he will not be able to deliver on all his promises. But I also believe he will do his best to fulfill all his promises or he will die trying. I trust his heart is in the right place and he will work to the best of his ability to serve the Filipino people. I trust him. I remain hopeful.


Share this story with your friends!
---
Help us make Spot.ph better!
Take the short survey
Load More Stories