Cebu is the "worst city to drive in" according to Waze
How about the whole country?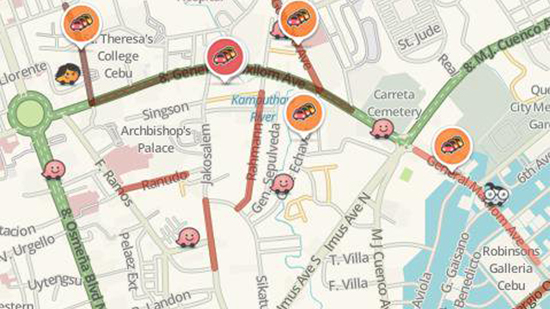 (SPOT.ph) We all think the driving situation in Metro Manila is bad enough, but it seems like Cebu City has the worst in the world according to a traffic navigation app. Waze has ranked Cebu City as the worst place to drive in based on its 2016 survey where millions of the app's users participated from 38 countries. Out of 186 areas, Cebu City came in last with an index rating of 1.15 out of 10.
Criteria was divided into six categories namely:
1. Traffic – Density and severity
2. Quality – Road quality and infrastructure
3. Road Safety – Density of accidents, road hazards and weather
4. Driver Services – Access to gas stations and easy parking
5. Socio Economic – Access to cars and impact of gas prices
6. "Wazeyness" - Happiness and helpfulness of the Waze community (as measured by reports "thanked" by other drivers and driver moods selected within the app)
Other areas in the country included on the list were Manila which ranked 170th and Angeles City in Pampanga which ranked a bit better at 147th.
ADVERTISEMENT - CONTINUE READING BELOW
Meanwhile, the Philippines was ranked as the second worst country in terms of driving in the entire world. It scored an overall index rating of 3.13 out of 10 and was listed next to El Salvador which ranked at dead last.
On the other hand, countries like the Netherlands, France, and the United States topped the list as the best places to drive in. In 2015, Waze labeled Metro Manila as having the "worst traffic on Earth" based on the same survey.
Load More Stories