Wait, did Duterte just compare himself to Hitler?
Yup, he went there.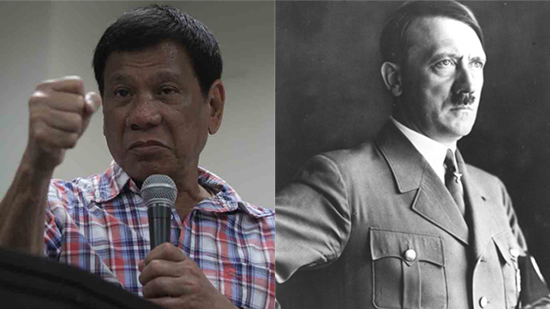 (SPOT.ph) When President Rodrigo Duterte said in January 2016 "My god, I hate drugs. And I had to kill people because I hate drugs," he wasn't kidding. Inquirer.net says there are 1,166 suspected criminals who have been killed since June 30. Because of this alarming number, the Senate started a probe on the alleged extrajudicial killings, with Sen. Richard Gordon replacing Sen. Leila de Lima as chairperson of the Senate Committee on Justice and Human Rights.
ADVERTISEMENT - CONTINUE READING BELOW
CONTINUE READING BELOW
Recommended Videos
On September 26, Gordon called out Sen. Antonio Trillanes IV for using "harsh" words against the president. "Harsh words such as mass murderer are uncalled for. That is reserved for Hitler; that is reserved for Stalin, that is reserved for the president of Cambodia, Pol Pot," he said. Well, it seems that Duterte doesn't agree. Upon his arrival in Davao City from an official visit to Vietnam in the morning of September 30, he reportedly said via GMA News Online: "Hitler massacred three million Jews. Now, there are three million drug addicts...I'd be happy to slaughter them...At least if Germany had Hitler, the Philippines would have...You know my victims, I would like to be, all criminals, to finish the problem of my country and save the next generation from perdition."
Duterte, magpapatupad daw ng kamay na bakal tulad ni Hitler at pagpapatayin ang milyun-milyong pusher, user. #SuperBalitaSaUmagaNationwide

— DZBB Super Radyo (@dzbb) September 29, 2016
Adolf Hitler was the leader of Nazi Germany from 1934 to 1945. His extremist views on the preservation of the Aryan race led him to order the massacre of millions of Jews. Based on the following reactions on Twitter, Filipinos aren't too happy with the president's comparison of his war against drugs to the Holocaust.
ADVERTISEMENT - CONTINUE READING BELOW
Andanar: "..he said WHAT"
Abella: "bes sayo na 'to"
Andanar: "hala ako na naman???"
Abella: "bato bato pik na lang"https://t.co/WlP0rhPsiu

— free hugs + art crit (@AtomSiraullo) September 30, 2016
How will they get out of this one?
/facepalm
/headdesk
/AndanarPlsExplainhttps://t.co/WaIoEtOJdp

— Ina (@pissedachios) September 30, 2016
He really has a lot of explaining to do.
One theory why Hitler was so cray was that he had syphilis. Are we to assume Duterte has the same too or maybe something that's worse? ????

— The Darwin Awards (@DarwinAwardsPH) September 30, 2016
What could it possibly be?
Duterte just walked into that one. Either he compared Jews to drug addicts, or reduced racial cleansing to anti-crime actions.

— Nik (@iwriteasiwrite) September 30, 2016
That's not easy to retract.
After "challenging" God, Duterte now disparages the Jews.

Truly, he idolizes Hitler.

— filipinas (@naynab15) September 30, 2016
Hitler once said, "I believe today that my conduct is in accordance with the will of the Almighty Creator."
Our Glorious Leader compares his drug war to Hitler's Holocaust. The Godwin gloves are off https://t.co/QZhVS6hDGm #rodrigoons

— alan c. robles (@hotmanila) September 30, 2016
In Internet speak, Godwin's Law says "As an online discussion grows longer, the probability of a comparison involving Nazism or Hitler approaches 1"
My german husband who used to laugh at my comparisons of duterte and hitler is now seriously saying there are a lot of similarities. A LOT.

— isabelle matutina (@shinematutina) September 19, 2016
This is frightening.
Duterte is a modern day Fascist in the mold of Spain's Franco and Italy's Mussolini who associated themselves with Germany's Adolf Hitler

— Minyong Butete (@MinyongButete) September 30, 2016
Is he using their playbook?
So, tama nga that Duterte is PH's Hitler. ???????????? Congrats, Philippines! May movie na to after 5 yrs.!

— Ayrackobama (@ayrackobama) September 30, 2016
Who will star as Duterte?
Duterte...gandang gawan ng pelikula to. Hitler na jason bourne pa. Tapos cia kalaban. Naku gandang plot sa movie to. Guest ung 16M zombies.

— raymond dob (@raymonddob) September 30, 2016
Train to Busan plot twist!
Load More Stories