Coolest Offices in Manila: Cebu Pacific gets a bright makeover
This carrier's fun airline experience flies straight into its new digs.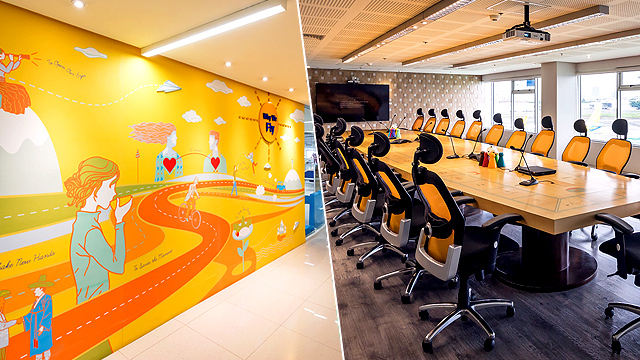 (SPOT.ph) When Cebu Pacific Air started over a decade ago, it was a little known company that was making its name among big names. "Everything was scrappy and organic," reminisces Candice Iyog, VP for Marketing and Distribution. It was precisely this grassroots culture and mentality, however, that took the airline to where it is today. Known for its witty one-liners, flash sales, and friendly prices, Cebu Pacific has made its mark through its innovative, entrepreneurial culture. "From our very first office in Pioneer, to our last office where everything was cramped, up to today, we make it a point to get things done. We're not maarte!" she laughs.
ADVERTISEMENT - CONTINUE READING BELOW
Despite the move two years ago to a multi-storey building along Domestic Road, the new office designed by Architect John Yuyucheng, which houses about 1,000 employees, is non-intimidating and maintains the friendly, bright atmosphere that's shaped the brand. "We wanted to keep the same cultural elements by having spaces that allow people to talk and collaborate." There are barely any solid walls in the office because transparency is key. Cebu Pacific's consistent open door policy is a theme that recurs in each of its spaces.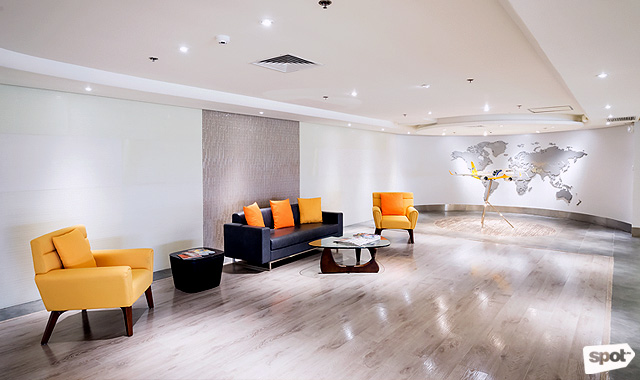 ADVERTISEMENT - CONTINUE READING BELOW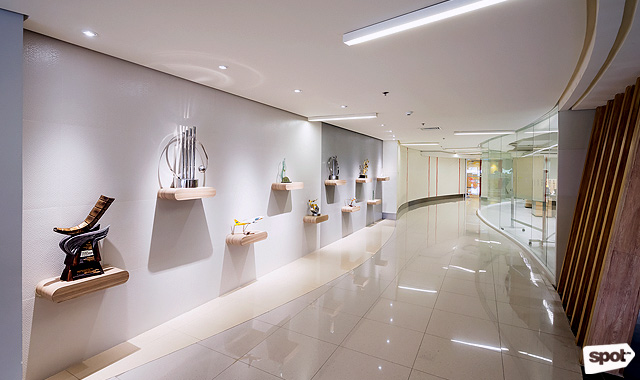 Nowhere is this more evident than on the building's fourth floor, where a well-appointed lobby and a gallery of all the company's model planes and awards front an unassuming corner of desks where the head honchos sit. The spotlight here is not on the top management, but rather on the history and accolades brought on by the work of the company as a whole.
ADVERTISEMENT - CONTINUE READING BELOW
The areas are undulating and curved, using a mix of warm wood paneling and glass. Straying away from straightforward hallways and hard edges, the space mimics the warm, friendly tones of many modern airports.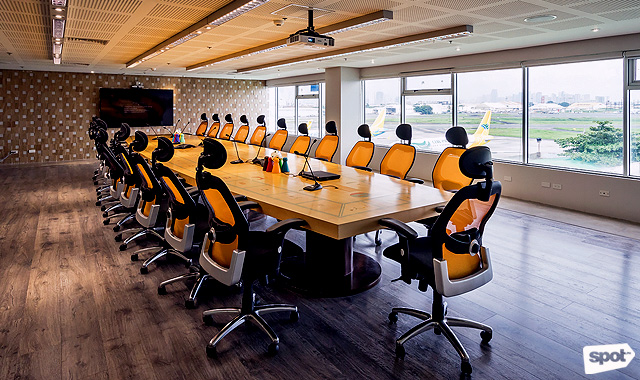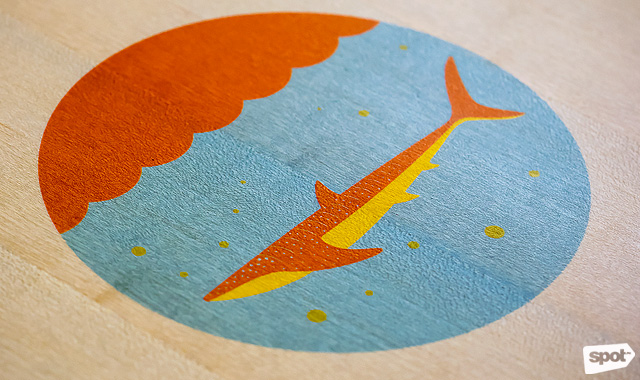 ADVERTISEMENT - CONTINUE READING BELOW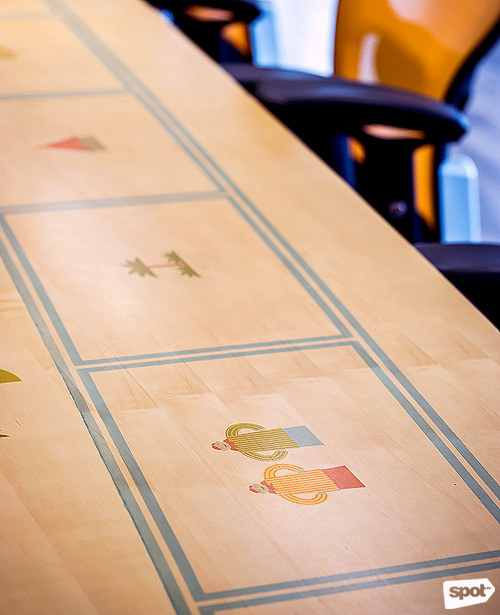 The fun and casual atmosphere carries on in the fourth floor boardroom. Whereas most big organizations have state of the art technology, Cebu Pacific goes the other way and plays on the room's title. Boardroom translates into a room that houses possibly the country's biggest board game—a 24-seater conference table is decked with an actual board game based on Cebu Pacific's many local and international destinations. Designed by agency Studio Dialogo, the graphics inspire other colorful embellishments in the room—giant dice and multi-colored tokens scattered through the entire stretch of the table.
ADVERTISEMENT - CONTINUE READING BELOW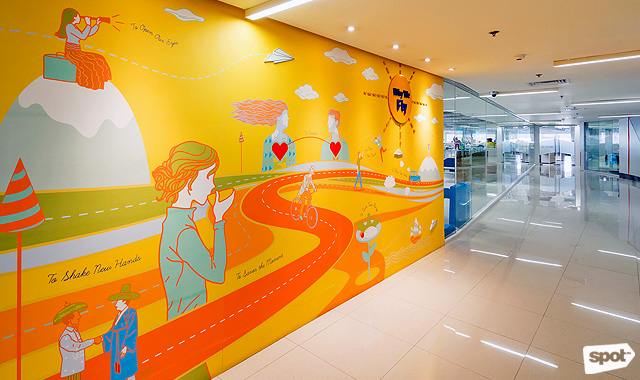 Murals are scattered all over the office space, bringing in the signature yellow that people have come to associate immediately with the brand. One of the most pertinent messages is "Why We Fly," found on the fourth floor office area. The youthful approach to travel is captured in the Studio Dialogo-designed mural, which highlights the meeting of minds, tasting new things, blazing trails, finding oneself, opening one's eyes, shaking new hands, savoring moments and connection.
ADVERTISEMENT - CONTINUE READING BELOW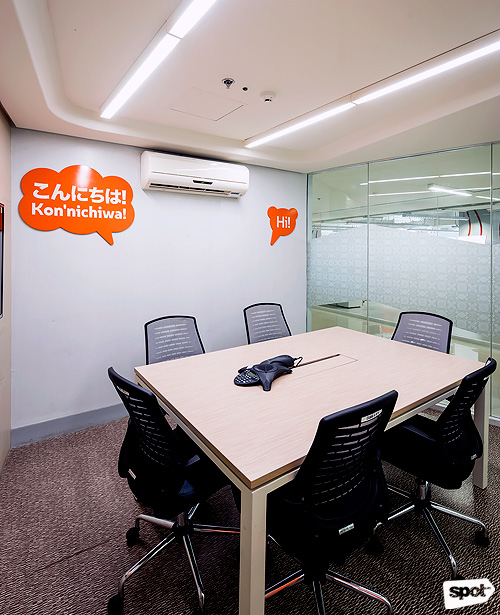 Following the travel theme of the company, each meeting room is named after a destination the carrier flies to. Rooms on the ground floor are named after local spots, and going up every floor takes you farther and farther away. Each meeting room is decorated with fun phrases from the country's own language as well—providing the space with a pop of fun and vibrancy.
ADVERTISEMENT - CONTINUE READING BELOW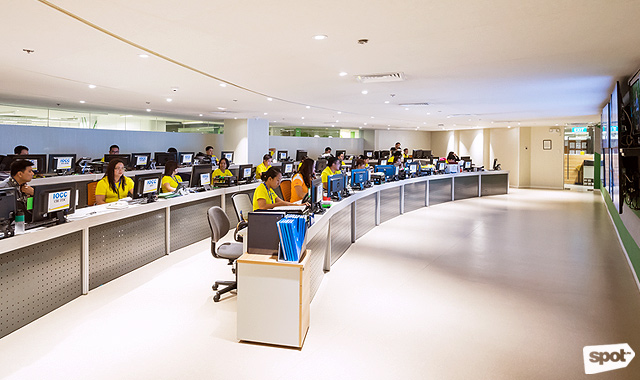 The heart of Cebu Pacific's 24-hour operations is the control center, which holds a host of screens all monitored by different departments round the clock. The curved room offers everyone a good view of the all-important screens, and also works well with the curvilinear spaces that permeate through the entire building.
ADVERTISEMENT - CONTINUE READING BELOW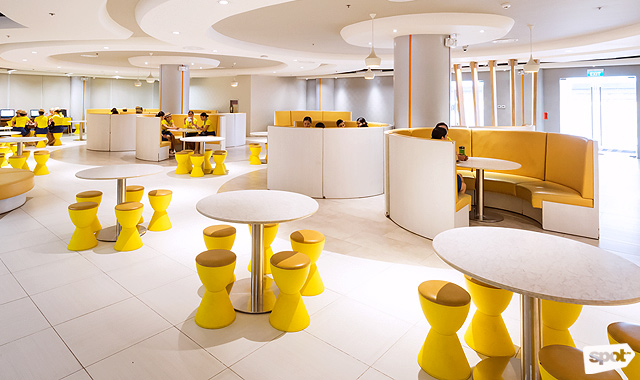 Flight attendants, cabin crew and pilots all run through the lounge before their flights. With a fully automated system that allows them to sign in, check the weather, and get all the pertinent information necessary for a flight, the room is bustling especially during high traffic times of the day or night. Crew members also get a chance to unwind, relax, and have a bite before they're shuttled from the lounge's exit straight to the nearby airports.
ADVERTISEMENT - CONTINUE READING BELOW
Cebu Pacific's new office is a testament to the brand's growth—from a small carrier to one of the busiest services in the country. It's refreshing to see, however, that despite the airline's fast rise, its spaces still live and breathe the culture of fun, innovation, and entrepreneurship it has cultivated from its humble beginnings.
Photos by Toto Labrador
CONTINUE READING BELOW
Recommended Videos
Share this story with your friends!
---
Help us make Spot.ph better!
Take the short survey
Load More Stories