10 Classic Philippine Brands and Their Surprising Origins
Biscuits, ham, makeup, and more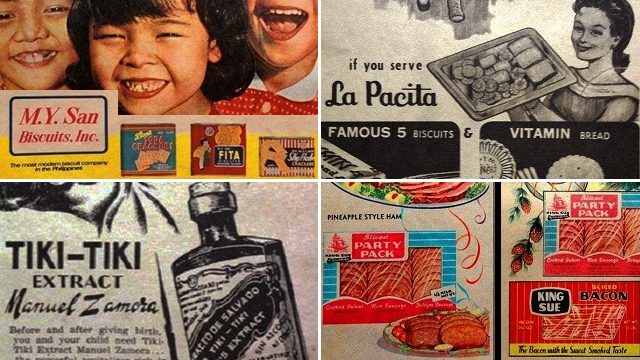 There's a history behind everything, and this is especially true for Philippine products we've grown to love over the years. Filipinos know them only by their brand names, oblivious to the fact that coming up with such names took creativity, serendipity, or both.
Let's rediscover some of the most fascinating "behind-the-scenes" stories that gave birth to well-loved classic Filipino brands.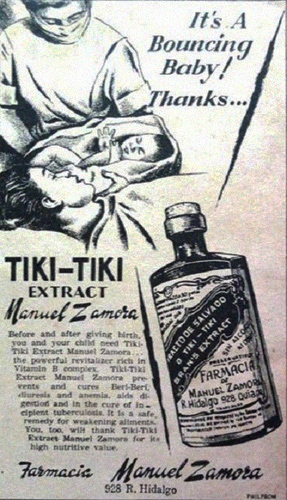 Tiki-Tiki (1909)
The founder of the vitamin formula that prevented infantile beri-beri was Sta. Cruz-born Manuel Zamora (1870 to 1929), a chemist-pharmacist who produced a stable version in 1909.
The result is a liquid vitamin supplement known today as Tiki-Tiki. It is so named because it was made from tikitiki extract, which is the local term for rice bran, the byproduct of the milling that includes the seed coat and grain fragments.The extract is an excellent source of Vitamin B1, now known as thiamine, and has a higher amount of protein than polished rice.
ADVERTISEMENT - CONTINUE READING BELOW
During the American colonial period,  tikitiki was credited with saving thousands of Filipino babies from the dreaded beri-beri, after the Bureau of Science in the Philippines ordered its production. It is said that pharmaceutical giant Parke Davis made Zamora an offer to buy the rights to  tikitiki, but he refused.
Today, Tiki-Tiki is produced by Unilab, under different brand names (United American Tiki-Tiki, Tiki-Tiki Star, Drop and Syrups).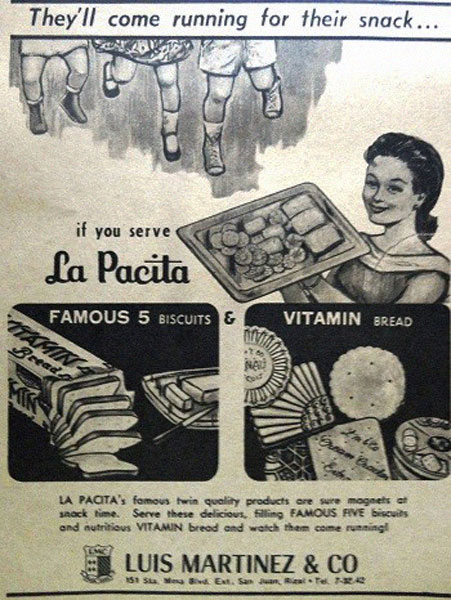 CONTINUE READING BELOW
Recommended Videos
La Pacita Biscuits (1921)
The Fabrica de Biscochos Y Dulces Biscuits Especiales was established in 1921 by Luis Martinez at Progreso St. (now J. Eustaquio) in San Juan. From this bakery came the very popular La Pacita brand of assorted biscuits, which was named after his wife Pacita.
Luis Martinez & Co. produced five kinds of La Pacita biscuits that included Cream Filled Cookies, Club Crackers, Chees-Et,  Tostados (Prima), and Camachile (baby finger cookies), which became favorite in-between meal snacks, pasalubong treats, and baon. L. Martinez and Co. also produced Vitamin Bread.
ADVERTISEMENT - CONTINUE READING BELOW
La Pacita Biscuits were heavily advertised in the '50s and '60s. In 1970, the founder's son Felicisimo took over the management and the company was rechristened F. Martinez and Co., Inc. The product line expanded with the addition of Pacensia, Butter Cookies, Raisin Cookies, and new product launches for Snax and Supreme Flakes.
The 90-year-old company was acquired by San Miguel-Purefoods in 2014.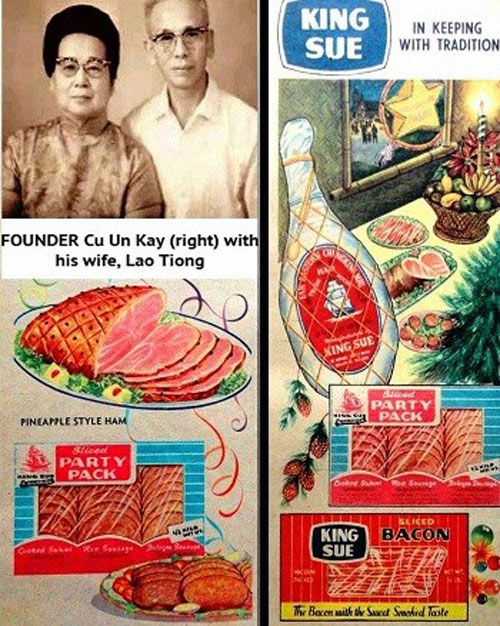 King Sue Ham (1930)
The ham and meat products that have come to be associated with festive celebrations for the past 85 years all bear the KING SUE name. The brand name comes from "King," the family founder's surname and "Sue," pronounced Su-weh, the Fookienese word for "small."
When Fookien native Cu Un Kay went to Manila to look for a cold storage facility for a possible ham business, he met a German national who taught him how to cure hams and other deli products. Cu thus began looking for ways to improve his products—his traditional bone-in Chinese ham product, for example, was cooked only in aluminum ware and three adobe stones.
ADVERTISEMENT - CONTINUE READING BELOW
King Sue products—from sausages, bacons, cold cuts to sweet hams—were specially prepared at the King Sue Ham and Sausage Factory in Caloocan. They were heavily advertised in weekend magazines beginning in the early 1960s. Today, King Sue has even Filipino favorites like corned beef, tocino, and sisig.
M.Y. San Biscuits (1935)
In  1935, a group of enterprising Chinese brothers took over the Escolta Ice Cream Parlor, turned it into a restaurant and started serving baked crackers, biscuits, and cookies, along with the regular snack fare. These turned out to be popular items in the menu.
Mar Yu San led his brothers in running the business, until the restaurant gave way to the construction of the Crystal Arcade. The Mar family, however, continued to produce an assortment of wholesome biscuits that would be incorporated into a company called M.Y. SAN Biscuits, Inc., after the enterprising Mar Yu San.
ADVERTISEMENT - CONTINUE READING BELOW
M.Y. San's  early products became instant favorites—Lion Soda Crackers, Fita, Skyflakes, Butter Cookies, and Graham Crackers. By the 1980s, it was the most modern biscuit factory in the Philippines. In 2001, Nissin Monde, the food company known for producing Lucky Me Noodles, acquired the biscuit pioneer, to become Monde M.Y. SAN Corporation.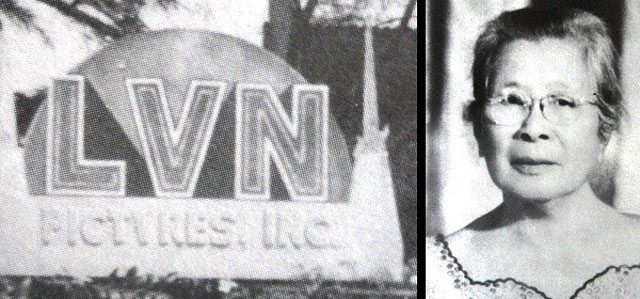 LVN Pictures, Inc. (1938)
LVN Pictures Inc. is known as the Philippines' Metro-Goldwin-Mayer for being a premiere studio with the biggest stars under its contract. It was established in 1938, and the founding partners led by Dña. Narcisa de Leon, Carmen Villongco, and Eleuterio Navoa Sr.  gave the first letters of their surnames to the biggest film studios in the Philippines—hence, L-V-N.  
At its peak, LVN became a worthy rival to Sampaguita Pictures. The studios occupied a large parcel of land straddling P. Tuazon Boulevard, C. Benitez and St. Peter Street in Cubao. The LVN Gate, with the initials of the studio, became a landmark in the area.
ADVERTISEMENT - CONTINUE READING BELOW
In July of 1939, LVN released its first offering, the movie musical Giliw Ko (starring Fernando Poe Sr., Ely Ramos and Mona Lisa), which became a blockbuster hit that year. It also launched the first Filipino color film in 1941, Ibong Adarna.
Its stable of stars included Rogelio and Jaime de la Rosa,Mila del Sol, Norma Blancaflor, Lilia Dizon, and Rosa Rosal, among others. In 1961, LVN ceased film production and shifted to offering post-production services up until 2005. The expansive LVN lot is now being developed into a condominium.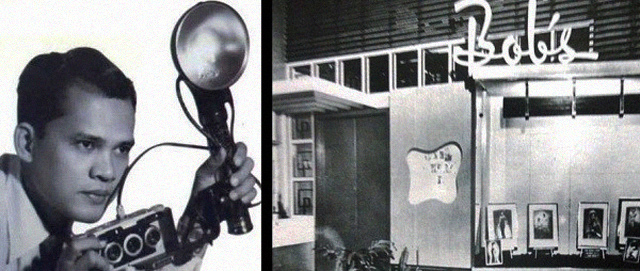 Bob's Studio (1946)
If you've come across glamorous portraits of high-society personalities, chances are they were taken by the country's premiere studio, BOB'S Manila. It was derived from the name of the founder, now hailed as the dean of salon photography, Pablo Razon (1913 to 2013) of Pampanga.
His nickname was actually "Pabs," but American clients would often mispronounce it and call him Bob instead. In 1946, when it was time to rebuild his business, he chose a spot along Rizal Avenue near the Manila Grand Opera House and named it BOB'S Manila.
ADVERTISEMENT - CONTINUE READING BELOW
Word got around of the classy portraits he was making and soon, his services were being sought after by prominent Filipinos. His client list reads like a who's who of Philippine crème de la creme—Quirino, Roxas, Magsaysay, Garcia, Marcos, Ramos, Aquino-Cojuangco, Concepcion, Araneta, Oppen.
National queens Gemma Cruz, Cristina Matias, Cynthia Ugalde, and Edita Vital had their sittings at BOB's, and his photos of stars like Rosa del Rosario, Rogelio de la Rosa, and Leopoldo Salcedo appeared on magazine covers. Bob also married one of his models, "Covergirl" winner, Virginia Warne.
Bob Razon's heirs have kept his business going at their M. Adriatico office-residence after his death.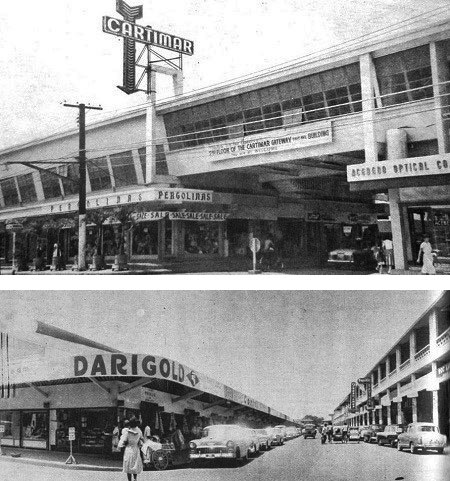 Cartimar Market (1956)
In 1956, Cartimar Market in Pasay opened to wide acclaim and was hailed as the city's most modern and best-laid out shopping center. Owned by the prominent Oppens family, it was managed by Ernesto Oppen at the time of its inauguration.
ADVERTISEMENT - CONTINUE READING BELOW
Cartimar was derived from the combination of the first syllable of his parents-in-law, CARlos Cuyugan and wife, TImotea Lichauco, and only daughter, MARgarita, whom Ernesto wed in 1937.
Sitting on 2.5 hectares of land bounded by Taft Avenue in front and Leveriza Street at the back, Cartimar boasted of parking spaces along the wide Cartimar Avenue, which spanned 12 meters. It had eight buildings which housed over 1,000 stalls.
Cartimar became a shopping haven in the '60s, frequented by wealthy Makati people for fresh fish and produce. One could go in their Sunday's best to shop for footwear, novelties, and the latest fashion trends.
In the '70s to '80s, it was Manila's coolest place to find imported PX goods, and the go-to place for bicycles and pets in the '90s. By then, Greenhills and Greenbelt had already established themselves as alternative go-to shopping places.
For sentimental reasons, Cartimar has loyal customers who continue to patronize what a 1955 magazine once described as "the best-looking shopping market where one can shop leisurely, conveniently...and in style."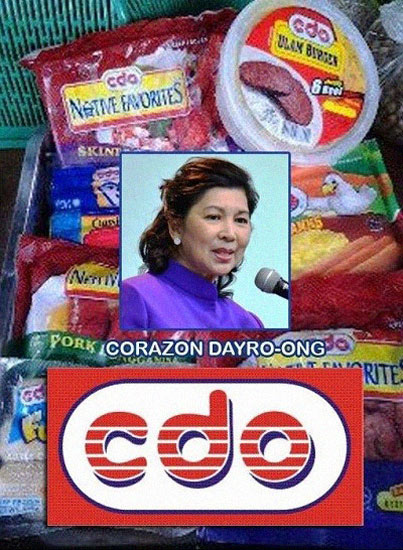 ADVERTISEMENT - CONTINUE READING BELOW
CDO Meat Products (1975)
One of the leading Filipino meat processing companies, CDO began in June of 1975 as a small, backyard business of housewife Corazon Dayro-Ong.
She introduced the idea of serving homemade skinless longganisa to her family. When her friends started placing orders for them, Ong decided to venture into longganisa-making in her Valenzuela home, using a P60,000 bank loan. It was the start of an enterprise that would grow into a giant corporation producing tocino, sausages, hams, bacon, tuna, hamburger patties, loaves, and sweet preserve, marketed and sold under the brand "CDO," the founder's initials.
In 1981, Foodsphere Inc. was registered and the company became CDO-Foodsphere Inc. CDO was retained as the flagship name of its food products.
The company recovered from a fire that gutted the processing plant and was back on its feet in 1990. The first CDO TV ad broke in 1995, generating attention and sales, and making the CDO name known nationwide. The company introduced innovations with the Spanish-inspired dish called 'carne norte' and San Marino corned tuna.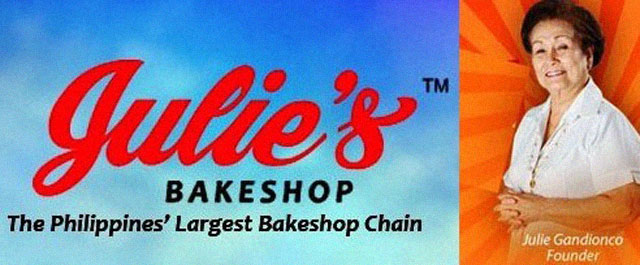 ADVERTISEMENT - CONTINUE READING BELOW
Julie's Bakeshop (1981)
Julie's Bakeshop was founded in Cebu by an intrepid housewife who was not even a baking enthusiast!
On January 6, 1981, Julia Gandionco, already an operator of three canteens, ventured yet into another business—a bakeshop. Her eldest son Bobby convinced the modest Julie to name her bakeshop after herself, and so, Julie's Bakeshop was on its way.
Her bread products—baked in full view of customers—were warmly received and widely patronized. Just half a year after opening her first shop, she opened a second store, which then grew to 10 in three years.
Franchising allowed the business to expand nationwide, beginning in 1998, boosting the number of branches to 210 by 1999. Today, Julie's Bakeshop continues to serve and improve classic baked goodies as well as offer new bread varieties.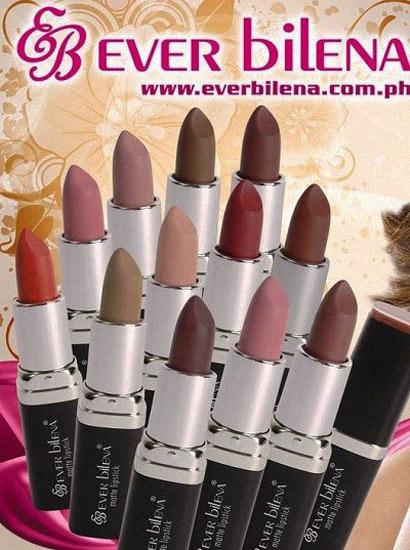 Ever Bilena (1983)
From a single proprietorship business selling nail polish in 1983, Ever Bilena has grown into a nationwide business with a full cosmetic line, thanks to the visionary founder, Dioceldo Sy.
ADVERTISEMENT - CONTINUE READING BELOW
Ever Bilena is a combination of English and Chinese words. "Bile" is the Chinese term for 'beautiful' and "Na" means 'lady.' Ever Bilena, thus, means "ever beautiful lady."
By 1985, the brand has grown into a full cosmetic line (more than 1,000 products), with over 200 beauty consultants in its department store outlets. Along with its business success, Ever Bilena became a household name with beauty products known for quality and affordability.
Read the full article, "15 Classic Philippine Brands and Their Surprising Origins," on Filipiknow.net. Minor edits were made by the SPOT.ph editors.
Share this story with your friends!
---
Help us make Spot.ph better!
Take the short survey
Load More Stories