10 Funniest Reactions to the Philippines' New Tourism Ad
What do you think?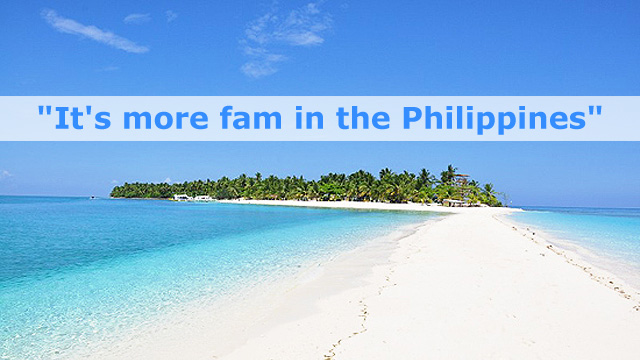 (SPOT.ph) When the Department of Tourism announced in September 2016 that the agency is ditching the "It's More Fun in the Philippines" campaign which was launched 2012, people weren't too happy. Tourism Sec. Wanda Teo also received feedback from an international tourism official saying that it was "a good slogan" and just needed an "upscale."
ADVERTISEMENT - CONTINUE READING BELOW
Fast forward to January 26, 2017: The new tourism ad was rolled out through the Department of Tourism Facebook page and Tourism Undersecretary Kat De Castro's Facebook account. Produced by McCann Erickson, it features the words of well-known travel blogger Jack Ellis, "When you're with Filipinos, you're with family" and answers the question posed by Teo in November 2016, "Why is it more fun in the Philippines?"
"You focus on the traits of the Filipinos. Other countries also have beaches, places to go shopping or eat, but Filipinos are different, you have to show that so we focus on that now," she explained about the new campaign "When with Filipinos."
As expected, this change got mixed reactions from the public. We round up some of them.
#WhenWithFilipinos extra rice is free in any restaurant. pic.twitter.com/oor0buvyvJ

— lemon????//prime (@koala_prime) January 26, 2017
So, when travelers come to the PH they'll be greeted by magical mammies living the forest handing out food?

— Nik (@iwriteasiwrite) January 26, 2017
Akala ko Cornetto ad. DoT pala hihi

— Cookie (@demimorales_) January 26, 2017
"It's more fam in the Philippines"

— Jonathan de Santos (@desamting) January 26, 2017
#WhenWithFilipinos hear English, they Nos BLEEEED WHO AGREEE WITH MEEEEE GRAMMAR RAMMAR! (wrong grammars) Also, you'll be happy we're jokers

— 1D Fan Art ????? (@Gaeb_1D) January 26, 2017
It also got a bit political for some.
Guys, bisita kayo sa pilipinas. Mababait kami dito. #WhenWithFilipinos unless drug addict kayo, papatayin naman namin kayo.

— nico quejano (@nico_quejano) January 26, 2017
Bato: Ako mismo, gustung-gusto ko nang sakalin yan, Your Honor.

UHM #WhenWithFilipinos na ba? JK

— Monica (@moki_doki) January 26, 2017
When you're with Filipinos, make sure he is not a police or your family is in danger. https://t.co/Q68Ipn4qxP

— don r. b. (@donthebasher) January 26, 2017
Plus comments on gender sensitivity...and other things.
#WhenWithFilipinos ampupu. Bakit hindi #WhenWithFilipinas? Dating site na 'to.

— My MVP (@MyMVP_FEU) January 26, 2017
don't know, pero ang lakas maka-sex tourism ng #WhenWithFilipinos. Pero let's wait and see until the whole thing is rolled out

— nico quejano (@nico_quejano) January 26, 2017
What else can you add to the statement "When with Filipinos..."? 
ADVERTISEMENT - CONTINUE READING BELOW
Recommended Videos
Load More Stories