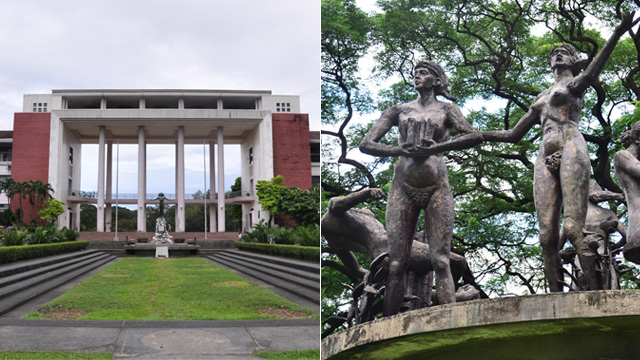 (SPOT.ph) In a university council meeting held on March 20, University of the Philippines - Diliman's assistant, associate, and full professors voted to change the current General Education Program to require fewer general-education subjects for students. The change would decrease the previously required 45 units of general-education subjects to a minimum of 21 units (or seven classes). This new program is set to be implemented starting academic year 2018-2019.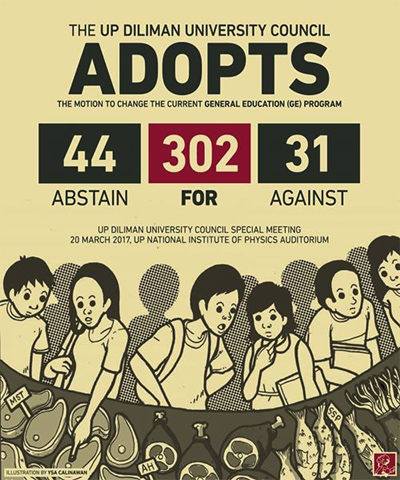 The University of the Philippines' (UP) General Education (GE) program is one of the distinctive features of the state school, gaining a reputation as one of those "Tatak UP" qualities every student graduates with. Whether you're an Engineering major, an Astrophysics major, or a Philosophy major, you go through the shared experience of delivering an extemporaneous speech for Comm3 (Practical Speech Fundamentals), writing a term paper for Eng 10 (College English), and memorizing chemical formulas for NatSci1 (Foundations for Natural Science).
ADVERTISEMENT - CONTINUE READING BELOW
From the old General Education Program (implemented in 1986) to the Revitalized General Education Program (implemented in 2001), UP has always been keen on providing holistic education to all its students by offering a good and equal mix of subjects from the three strands: Arts and Humanities, Social Sciences and Philosophy, and Math, Science, and Technology.
In other universities, the General Education program is customized according to the course you're taking. De La Salle University, for example, requires more basic math subjects for its Business and Science majors; and more humanities subjects for its Education and Liberal Arts majors.
Diliman is the last of the state university's campuses that voted on this important decision, with the others already agreeing to follow the Commission on Higher Education's memorandum to push for a revised general education program. As an autonomous unit, the state university is not required to follow this but it seems that proponents of the motion argue otherwise.
Mostly faculty from the science and engineering units, they point out that too much time is wasted preparing speeches and writing papers, rather than focusing on more practical skills in science and technology. There's also the idea that these are things that students can learn anyway in Senior High School under the current K-12 program. This battle between the humanities and the sciences has always been there, but it's now suddenly at its most intense, especially with the Philippines trying to follow the globalization trend. But is giving up a holistic curriculum really the way to do it?
Do we really need all those humanities subjects? A few academics weigh in.
Napoleon Casambre (Professor, UP College of Social Sciences and Philosophy)
"What good are you as a doctor, engineer, lawyer, etc., if you have no humanity?"
Gina Apostol (AB English '84, UP College of Arts and Letters, Novelist)
"I learned to think at UP, and the General Education curriculum made me into a novelist. It made me into a writer who can hold her own anywhere. It distresses me to think that the university will fail even one child, one student from the provinces, like me, who arrives at the university not knowing exactly who she could be—but now without the bulwark of its tough and extended humanities curriculum to point her to the myriad possibilities that create not only engineers but also artists, not only scientists but also philosophers. The rigorous General Education program of the UP is a boon to the country."
Fremielle Lim (Faculty, De La Salle University College of Science - Chemistry; PhD Student, University of Newcastle, Australia)
"I think writing and critical thinking is the most important part na kailangan pag-aralan. For example, I'm doing research but we need to know how to write our research as if we're telling a story. However, we may need to reconsider the social sciences. Here in Australia, undergraduates don't need to take subjects they don't need in their degree. If you're an engineering major, you don't have to take sociology, literature, and history so you can focus on your major subjects. Some GE subjects can be removed and some can be retained."
ADVERTISEMENT - CONTINUE READING BELOW
Sec. Judy M. Taguiwalo (Department of Social Welfare and Development, former UP Faculty Regent)
"What does the General Education Program contribute to our students' intellectual growth? THIS: a broader view of society and social relationships, a historical understanding of phenomena, and the development and sharpening of a critical viewpoint."
Bienvenido L. Lumbera (National Artist for Literature, UP Professor Emeritus)
"The utilitarian justification behind the move to reduce the GE requirement reduces the UP graduate to a mere technical school product. The UP graduate precisely stands out among the professionals turned out by other institutions of equal merit because his education has 'weight,' meaning that he has undergone rigorous backgrounding on the culture of his country and people."
Mel Garcia (Faculty, De La Salle University College of Science - Chemistry)
"Arts and humanities are important subjects even for a science major. These provide form and offer context and relevance to science."
Elena Rivera-Mirano (Former dean, UP College of Arts and Letters)
"Our nation is in dire need of citizens well trained by years of general education for GE conceives of the mind, not as an empty vessel to be filled with useful information, but as a cutting edge tool with which to discern, to analyze, to imagine the possible and to exercise the critical. It is not limited to information that will be useful in one's chosen profession but is necessary for intelligent living in an increasingly complex, rapidly changing world."
Reuel Aguila (Professor, UP College of Arts and Letters - Filipino and Philippine Literature)
"Mahigpit daw akong magturo ng GE subject (noon pa man). DAPAT LANG. Tinitingnan ko kasi ang GE subject bilang pantulong upang maging tao ang estudyante; hindi isang nag-aral lamang para sa pansariling pag-asenso; hindi isang turnilyo ng isang malaking makinang tinatawag na kapitalismo. Tinitingnan ng maraming estudyante ang GE subject na palaruan para mamulot ng mataas na grado; na hindi nila ito kailangan upang umasenso sa kabuhayan (yon na nga ang punto, nagiging halimaw sila para lamang mabuhay; nawawala ang pagkatao). At, may mga guro rin namang ang pagtingin sa GE subject ay minor subject lamang o pagkakataong mamudmod ng uno para maging sikat sila. TAE NINYO. Lalo ngayong pitong subject na lang ang GE sa UP. Lalo kong titiyaking, magiging tao kayo...at hindi maging Tae."
Luis V. Teodoro (Former dean, UP College of Mass Communication)
"Men and women are not just lawyers, engineers, or doctors. They're also citizens who are called upon to express informed views on public issues and human beings who have to interact with people from various sectors and even cultures. That is why grounding in the social sciences and the humanities is a necessary element in authentic education."
Pecier Decierdo (BS Physics '05, UP National Institute of Physics, Science Communicator)
"We are a curious species. We want to know. We also want to improve the way we do things. These urges and many more are expressed in the sciences. But we are also an emotional species. We grapple with the joys and pains of the human condition. The humanities try to deal with these aspects of our being.
ADVERTISEMENT - CONTINUE READING BELOW
Neither our drive to know nor our capacity to feel is more human than the other. That's why I don't think saying that either the sciences or the humanities are more important than the other is a mistake.
We also now know—using the methods of science, in fact—that supplementing one's STEM education with a strong humanities program improves the one's appreciation for the role the STEM fields play in society. The world needs more, not fewer, scientists and engineers who have a good grasp of the humanities. And vice versa—we need more scholars in the humanities, and also artists, who understand the power of the sciences to transform human society."
Jimmuel Naval (Professor, UP College of Arts and Letters - Filipino and Philippine Literature)
"Kailangan nating maging tao at hindi robot."
Carmen Amarra (Professor, UP Institute of Mathematics)
"I just want to let you know that not all STEM faculty subscribe to the view that the humanities and social sciences are expendable in the struggle to meet the demands of industry. There are those of us who are appalled by and ashamed of the conduct of our colleagues, and deeply regret the tone and outcome of the whole exercise. It is, if anything, a strong argument in support of an even more intensive GE program—one that will force a student to confront knowledge beyond anything they can ever hope to encounter in their tiny corner of academia, and one that will remind them of their smallness before all human learning. I am afraid that we in engineering and the sciences have become so enamored of our respective fields that we have forgotten that other types of knowledge and skills exist, that these also require time and effort to develop, and that despite the difficulty of quantifying outcomes these are very much worth that time and effort. Some of us (too few, sadly) do realize the limits of our disciplines, and that certain values—such as critical but respectful engagement with views different from one's own, and openness to compromise—can only be learned within a humanities and social science context. On behalf of my fellow STEM faculty who share these sentiments, and for whatever it's worth, I offer my deepest apologies to you and to all your colleagues for all that has transpired. We are humbled by the civility and graciousness of CAL and CSSP faculty in the face of such disrespect. We cannot hope, by ourselves, to undo or significantly minimize the damage we believe this decision, and the process by which it was arrived at, has wrought, but we promise to try, in our respective programs, using what little influence we have, to preserve what we can of UP's liberal education."
Some quotes taken from UP Sagip GE Facebook Page.
Erratum: The first version of this article said that students were included during the university council meeting. This has been corrected.
Share this story with your friends!
---
Help us make Spot.ph better!
Take the short survey
More Videos You Can Watch
Load More Stories