Mission in Bataan
A tribute to the fallen soldiers of the Bataan Death March.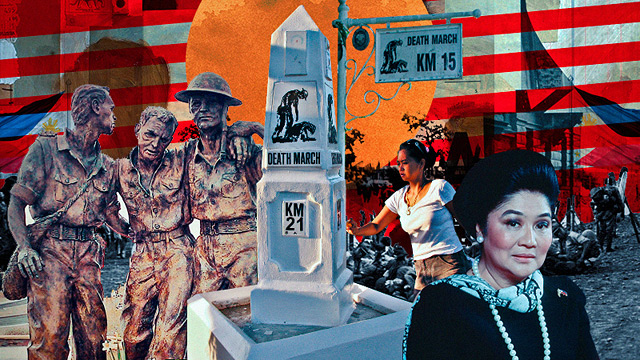 (SPOT.ph) Each of us is born indebted to history in some way. We are here and we live our lives because someone made it possible. Each of us has an unbreakable attachment to our native soil where our finest sentiments were born and we will gladly die to preserve it for the next generation. It is the familiar lands and open skies in which we first saw the light of day and drew our first breath that owns us.
ADVERTISEMENT - CONTINUE READING BELOW
CONTINUE READING BELOW
Recommended Videos
Nowhere is that more apparent than the struggle for freedom here in the Philippines during World War II when Filipinos and Americans stood against the tide of an overwhelming force that was dominating great Armies, causing them to fall like dominoes all across Asia, except for one.
Americans were serving in a foreign country but the Filipino youth, unknown to them, were about to embark into the arms of a destiny of self-sacrifice in the defense of his right to his home, to the independence of his country and the safeguarding of the law that protects his dignity as a man.
Vigilance is something which must be transmitted from one generation to another through words, teaching, and through visible reminders. Some of those visible reminders are the Death March Markers situated in Bataan, Pampanga, and Tarlac along the path of the Death March. They are silent reminders to today's youth of their debt to their fathers and grandfathers who stopped the Japanese Army, not with overwhelming force nor overwhelming armaments, but overwhelming courage and a will to save their country and you, still unborn.
ADVERTISEMENT - CONTINUE READING BELOW
The Markers are the gravestones of not individuals but an Army. An Army that demonstrated to the world what free and freedom-loving people can do, even grasping a victory within a defeat. We stand in need of something to remind us how a man may be lifted above himself by his sheer force of will.
There are no words to describe the hell our soldiers endured. One prisoner-of-war proclaimed that "Hell is not a place, it's a condition." What can one do as an individual to remind today's youth of their debt? One way is to visit Battleground Bataan. There are visible reminders everywhere, many of which are the Death March Markers, all 138 of them. They are silent reminders of a terrible past that simply cannot be forgotten without terrible consequences.
Tangible reminders of that struggle are important. They say, we were here, as you are here. You're welcome. Make my death count for something. I leave that responsibility to you. Please do not forget me, my sons.
ADVERTISEMENT - CONTINUE READING BELOW
It is therefore why I am here in this county—to add my honor to your honor for these remarkable men who are buried, some with their names and some without.
We have inherited our freedom and their misfortunes. They go hand in hand. Your grandfathers loved you before you were born and left you a great legacy. Thank them with your actions. It is incumbent on you whether you realize it or not.
The Original Death March Markers were erected in the mid-1970s by Imelda Marcos and placed approximately one kilometer apart to mark the path of the Death March.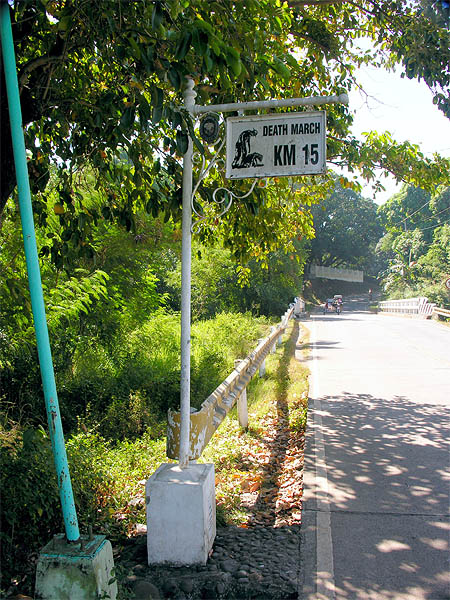 ADVERTISEMENT - CONTINUE READING BELOW
Original version of Death March Marker erected in the mid-'70s. This is the only one remaining and is located in Cabcaben, Bataan.
Over the years, these Markers began to disappear, one by one.
Tourists began taking the small sign atop the pole as souvenirs. Scrappers, trying to make a living, began to cut the poles with hacksaws and pass them on to scrap dealers. Eventually in the late '90s, concerned citizens became alarmed about the large number of missing markers, and formed a group called Filipino American Memorial Endowment. This group decided new markers needed to be designed and erected. They had to be large, visible, and immovable. They raised sponsors for each marker and in the year 2000 and 2001, the markers were erected one by one. Dedications for our fallen soldiers were placed on the back side of each marker.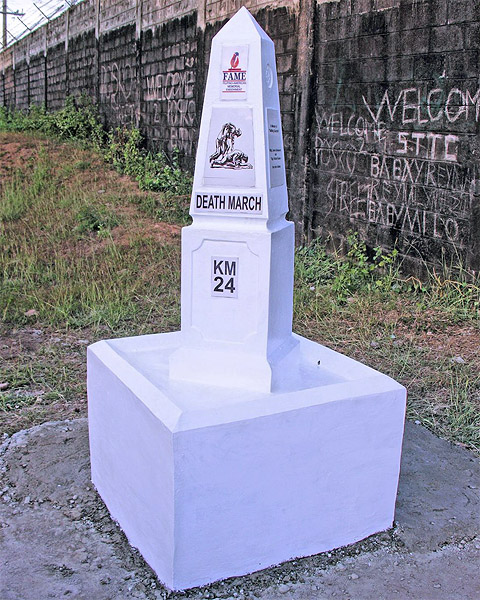 ADVERTISEMENT - CONTINUE READING BELOW
Newer version of the Death March Markers
Although these new markers could not be stolen by tourists or taken by scrappers, they did have some weaknesses. The hot and humid weather was hard on the painted surfaces and well as the tiles which were covered with decals containing the text and pictures on the obelisk atop the markers. The painted surfaces were also easily covered with mold, mildew, and algae, especially those placed under tress where sunlight never touched them. They became dusty and dirty due to the poor air conditions. They were also easily vandalized and were vandalized frequently. The fact that they were placed only a meter or so off the road, they were struck often by vehicles and later destroyed by road widening.
When I arrived in the Philippines in 2011, I noticed the poor condition that they were in and was saddened that these reminders of the Death March, which my father was part of, looked so bad. I therefore contacted Filipino American Memorial Endowment (FAME) and questioned them about the markers' poor condition. What I discovered was that it was not a matter of will to maintain the markers, it was a matter of money. The sponsors of these markers paid for them to be built but were not asked for pay for their maintenance. An oversight by FAME. Since FAME survives on donations, they just did not have the funds to continually maintain the markers. The greatest cost was labor and transportation to maintain the 138 markers. I then offered my labor if FAME would supply the paint. This was in 2012 and since then, my wife Rosalie and I have cleaned and painted the majority of these markers four times. I have been successful in getting GN power in Mariveles to maintain the first 11 markers in Mariveles and the Veterans of Foreign Wars in Angeles City to maintain the final seven markers between Capas and Capas National Shrine. It is a huge undertaking but a necessary one.
ADVERTISEMENT - CONTINUE READING BELOW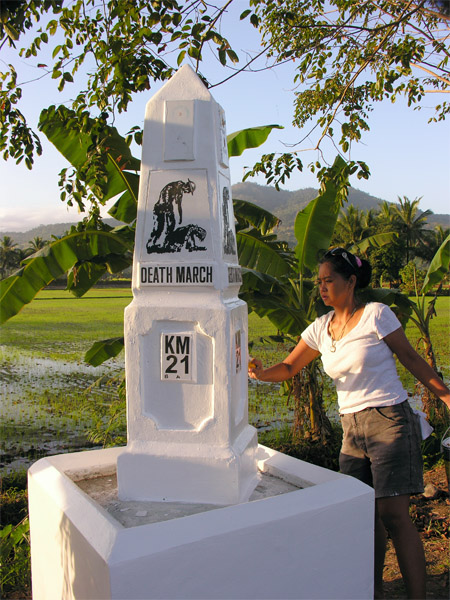 My wife Rosalie painting with Mt. Samat in the background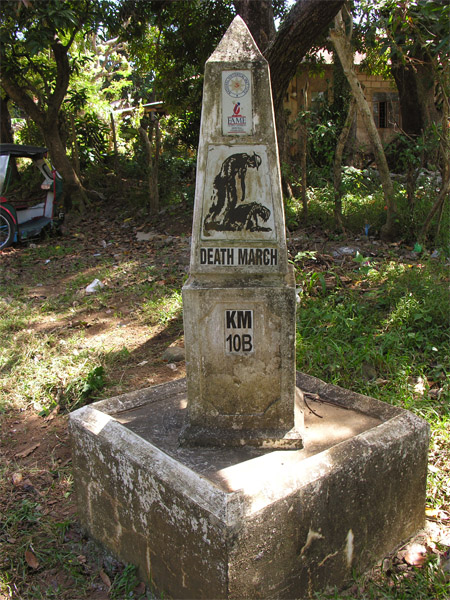 ADVERTISEMENT - CONTINUE READING BELOW
The condition of the markers when we started in 2012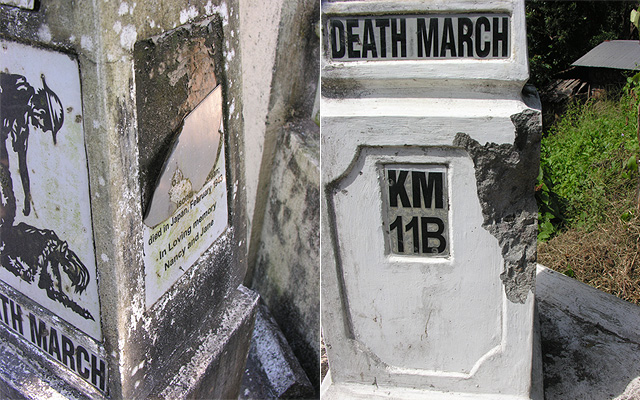 Disrepair
These types of repairs were expensive. Our largest expenditure was replacing markers that have been destroyed by vehicular accidents and road widening by the Department of Public Works and Highways. Each marker costs P35,000 to replace.
Donations are consistently down as interest in the war wanes and we struggle to meet our obligations to our veterans which these markers honor.
ADVERTISEMENT - CONTINUE READING BELOW
We have a website where one can donate and we sell commemorative United States Army Forces in the Far East coins depicting the men who were on the Death March and fought in Corregidor. These coins can be viewed on the website.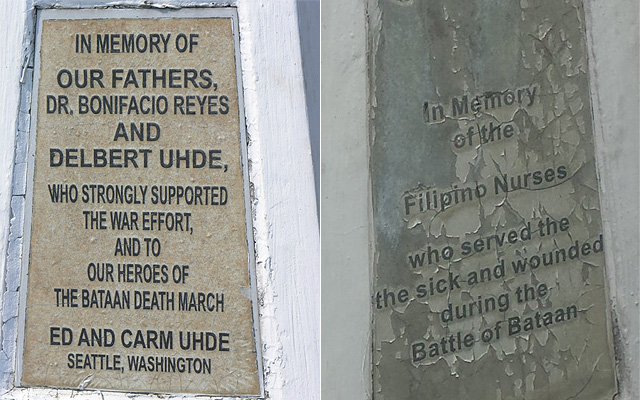 Dedications on the backside of the new Death March Markers
ADVERTISEMENT - CONTINUE READING BELOW
I am now a permanent resident of the Philippines and married to a wonderful Filipina. We are both dedicated to keeping these markers in good condition as long as we are physically able. I am nearing 70 years old and the next round of painting may be my last. It has been a labor of love and it will break my heart to see these memorials to valiant men degenerate and become just part of the landscape. I hope that someone succeeds me and sees the value in honoring our heroes.


Load More Stories