(SPOT.ph) A consistent winner in annual World's Best Airport lists, Singapore's Changi Airport raises the bar yet again with its latest innovation, Terminal 4. What used to be considered its Budget Terminal gets a significant $980-million makeover with state-of-the-art facilities that are set to knock the ball out of the park. Terminal 4 (T4) aims to democratize the travel experience by giving fast and seamless service to all passengers, whether you're flying in first class or are on a backpacker's budget.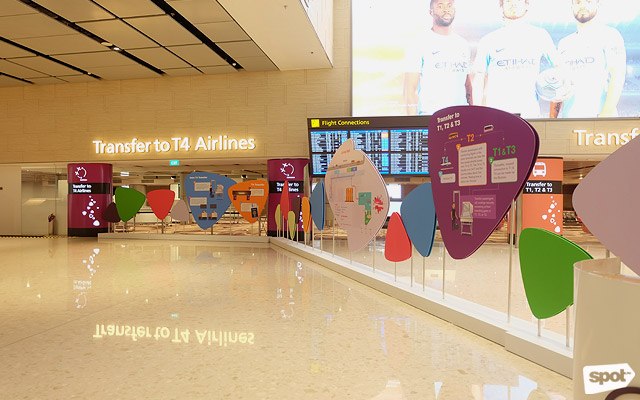 ADVERTISEMENT - CONTINUE READING BELOW
Singapore-based architects and master planners, Benoy—the same team behind the ION Orchard retail structure—brings a fresh point of view to airport design. With T4 as its first foray into airports, Benoy provides a vibrant, fun, and functional plan to the forefront—exactly the vibe the Changi Airport Group wants to emulate in its latest terminal. Think boutique hotel as opposed to a massive, homogenous structure. T4's 225,000-square meter space houses character, personality, and unique charm.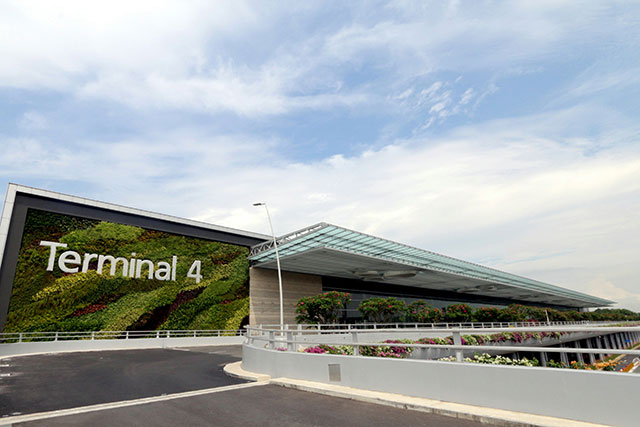 ADVERTISEMENT - CONTINUE READING BELOW
Recommended Videos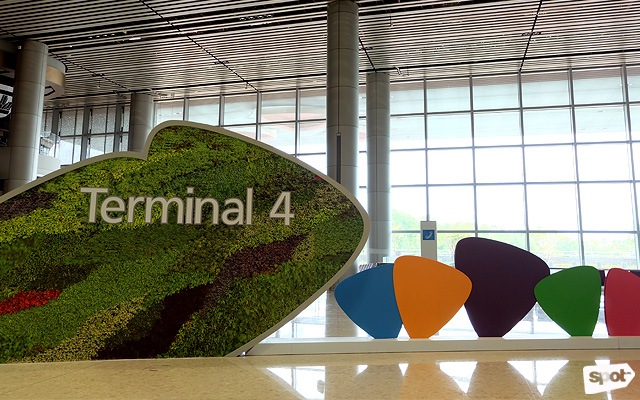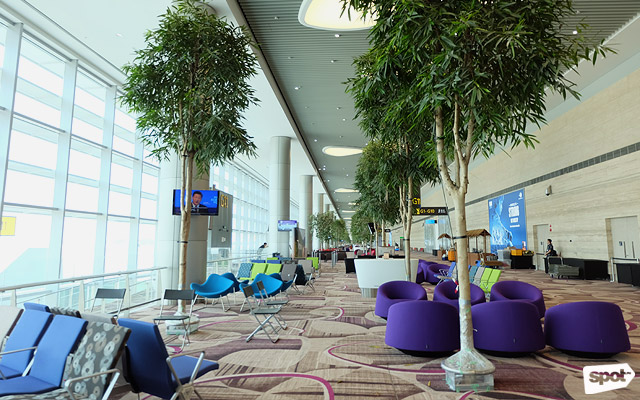 ADVERTISEMENT - CONTINUE READING BELOW
Green Screen
Driving up to the departure area of Terminal 4 takes you right by its green wall—a virtual tribute to the exceptional flora and incredible greenery of Singapore. Changi employs a special horticulture team that keeps T4 teeming with plant life. Nothing is artificial here, and trees that dot lounges and boarding gates (also known as the "Boulevard of Trees") are equipped with automatic misters that keep them well-nourished 24/7.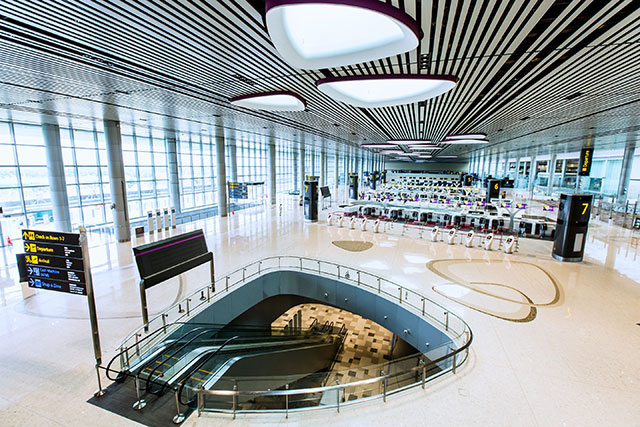 ADVERTISEMENT - CONTINUE READING BELOW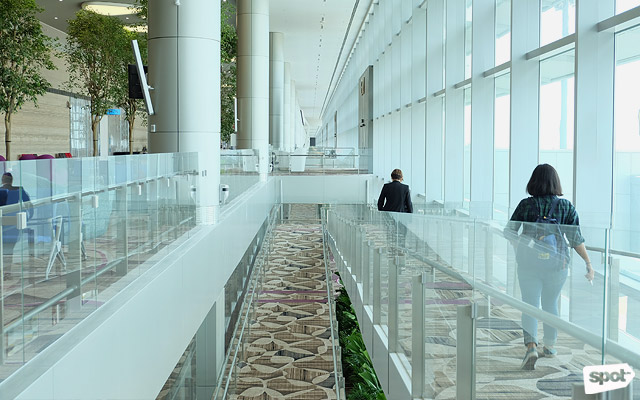 Full-On Transparency
T4 is the first airport in the world to bring complete transparency to the travel experience. Through the glass wall of the departure area, people can say goodbye to family and friends and see them all the way through to the boarding gates and the runway. A feature the Changi Airport Group fondly calls "The Longest Goodbye," it's a subtle design element that humanizes and softens the airport experience.
ADVERTISEMENT - CONTINUE READING BELOW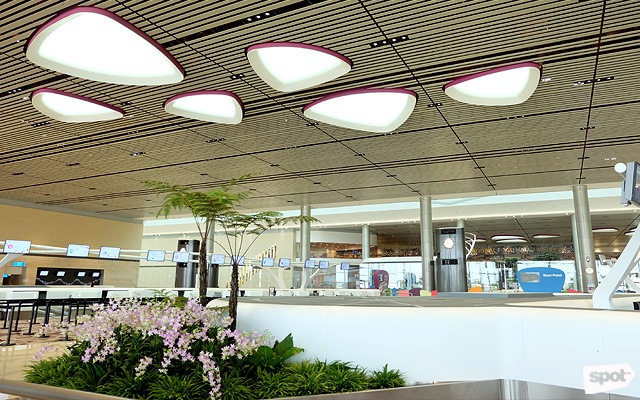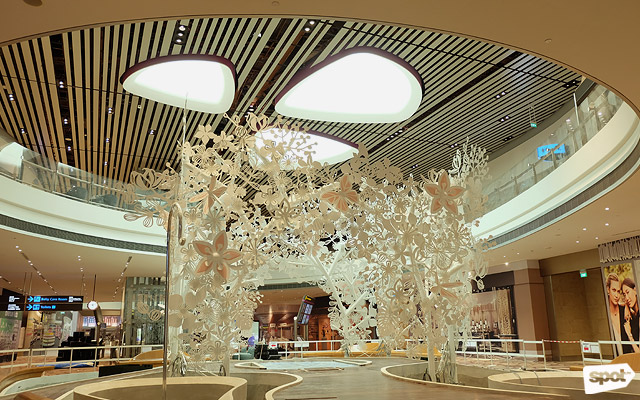 ADVERTISEMENT - CONTINUE READING BELOW
Flower Power
One can't help but notice the petal motif that permeates through T4's floors, walkways, ceilings, and structures. A modern reinterpretation of Singapore's esteemed orchid, the shape sets the tone for T4's architecture. No sharp edges with everything rounded, curved, and organic—the petal motif brings a sense of friendliness to the airport: a quality sorely needed when tired and stressed out travelers are going through the motions of checking in, going through security, and stopping at immigration.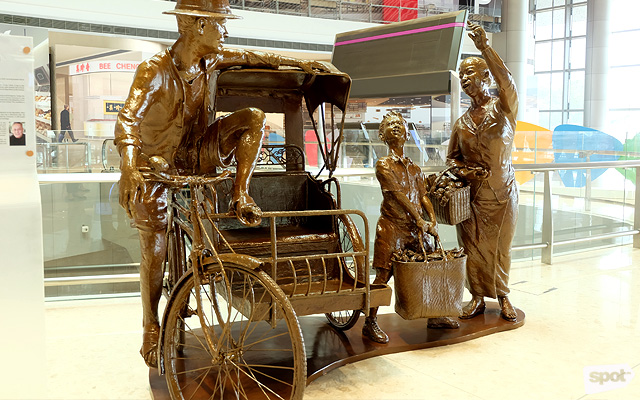 ADVERTISEMENT - CONTINUE READING BELOW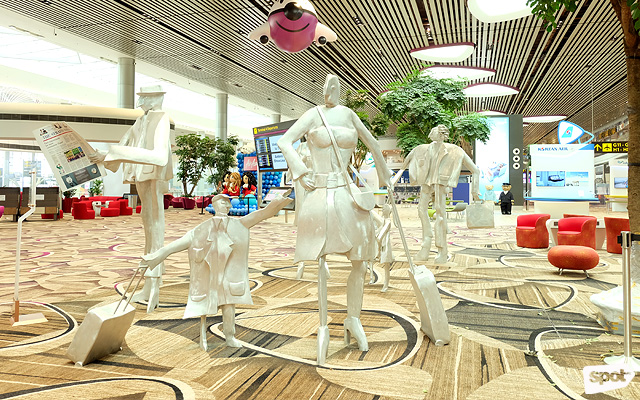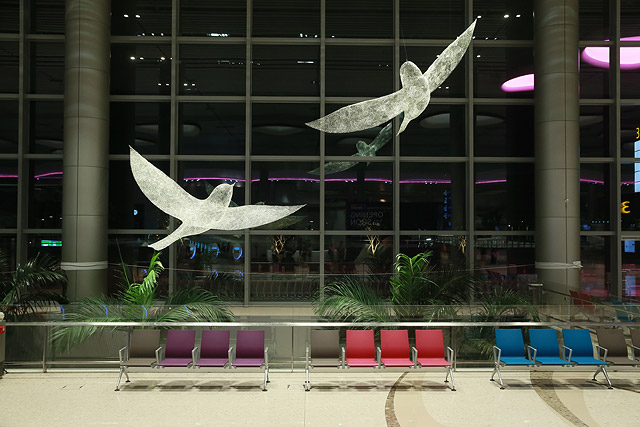 ADVERTISEMENT - CONTINUE READING BELOW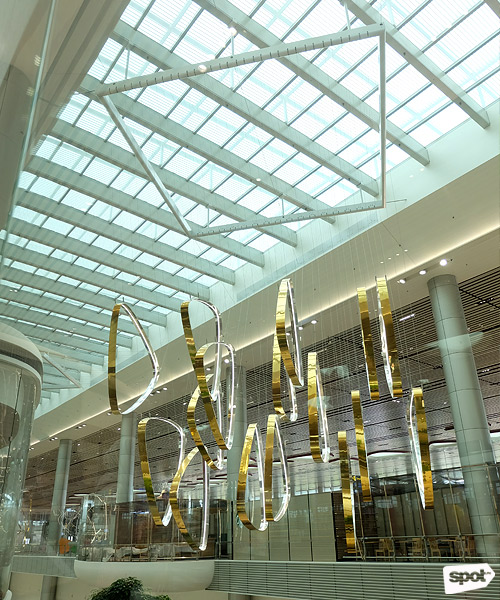 Art Abounds
T4 is replete with art installations created by artists all around the world. From hanging bird sculpture (Les Oiseaux, France) to Petalclouds, a large-scale collection of kinetic sculptures that gracefully shift from form to form. The kinetic sculpture dominates the galleria of T4, and gives a nod to multi-cultural collaboration with a German team of designers and programmers coming together with BAFTA awarded composer Ólafur Arnalds. If you keep your eyes peeled, you'll see pockets of art everywhere in the airport as you traverse the grounds from check-in to retail to boarding gates. Other landmarks are the charming rickshaw Ah Chek! at the departure lobby, and the Swiss-designed Traveling Family.
ADVERTISEMENT - CONTINUE READING BELOW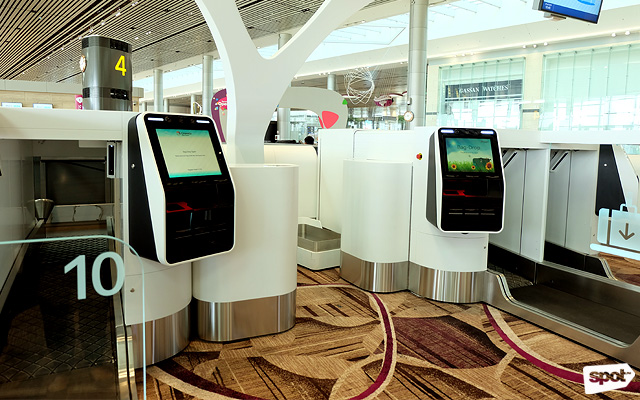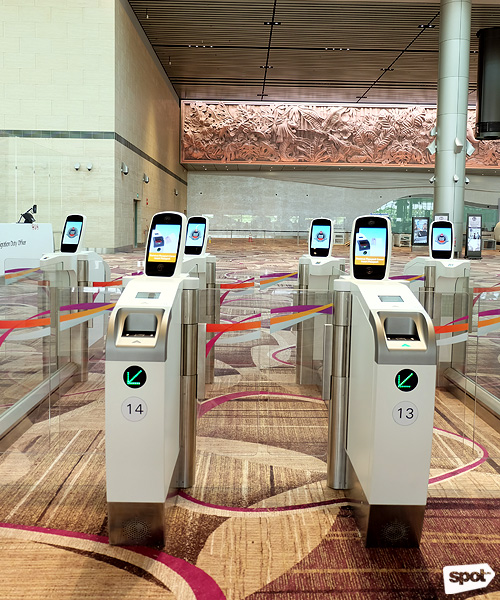 ADVERTISEMENT - CONTINUE READING BELOW
FAST Travel
Fast and Seamless Travel is the main feature of Changi's T4 with specially designed kiosks, bag drops, security, and immigration checkpoints that provide efficiency like you've never seen before. No more wrangling with queues, difficult passengers, and hold-ups. Everything is designed to be 'future proof,' allowing for all the steps travelers have to take to flow smoothly and hassle-free from end to end. (Automatic immigration gates, yes please!).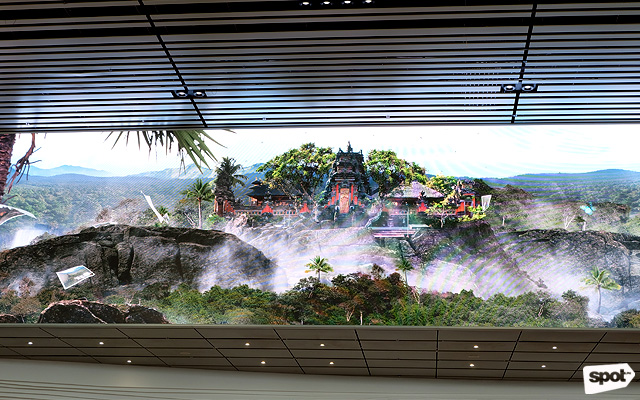 ADVERTISEMENT - CONTINUE READING BELOW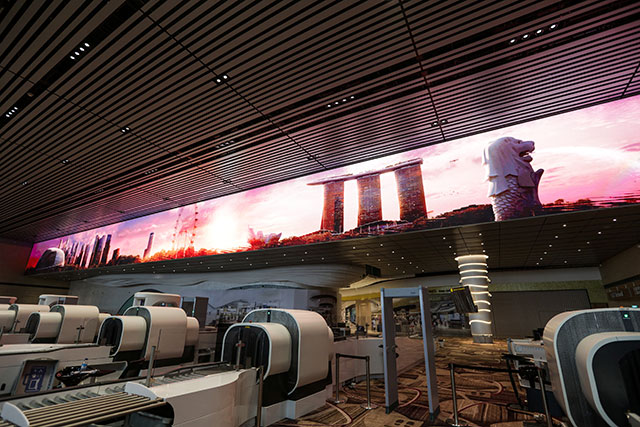 Showtime
T4 fully ups its game as far as entertainment is concerned. Passengers will want to get to the airport hours before their flight just to experience the immersive experiences T4 has to deliver. What looks like a wood paneled bas relief of Singapore's wildlife over the security checkpoint turns out to be a cinematic show set to calm people's nerves, keep the kids happy, and overall, provide travelers with a bit of relief before a long flight.
ADVERTISEMENT - CONTINUE READING BELOW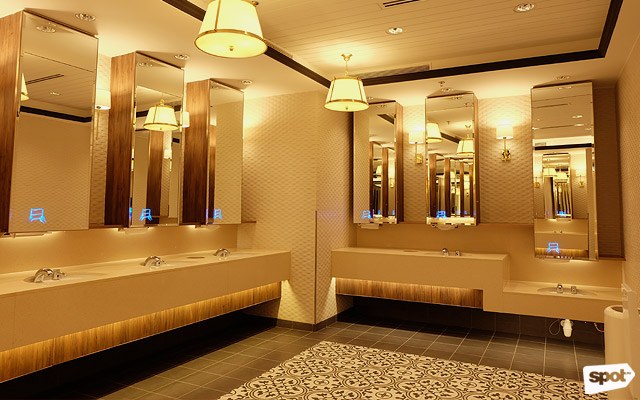 Toilets at the Heritage Zone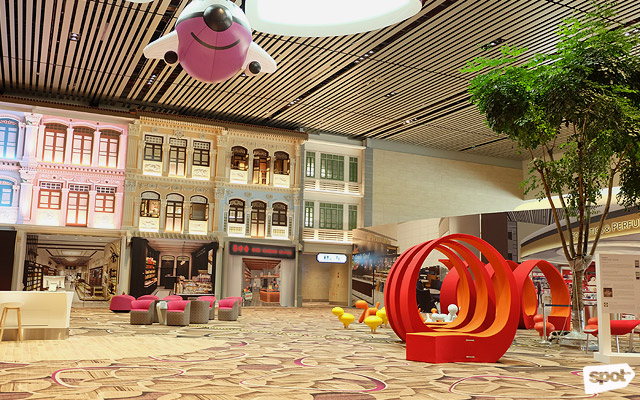 ADVERTISEMENT - CONTINUE READING BELOW
Heritage Happy Hour
The piece de resistance of the airport's retail hub is T4's Heritage Zone. Designed to take you on a historic tour of Singapore's famous shop houses, the central façade instantly transforms into a digital theater stage. Showcasing the whimsical and charming Peranakan Love Story, the short musical takes you back to 1930s Singapore via a love story between two shop house neighbors.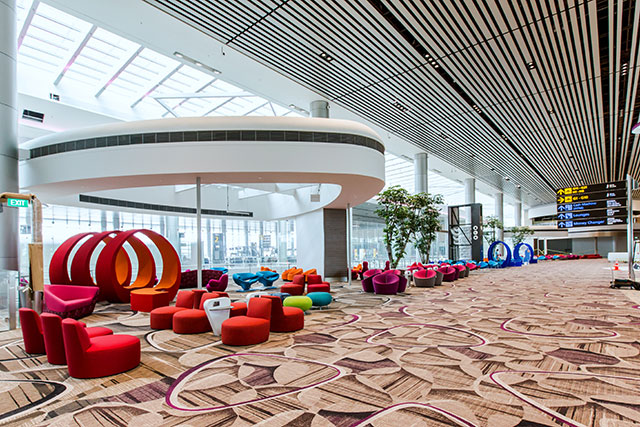 ADVERTISEMENT - CONTINUE READING BELOW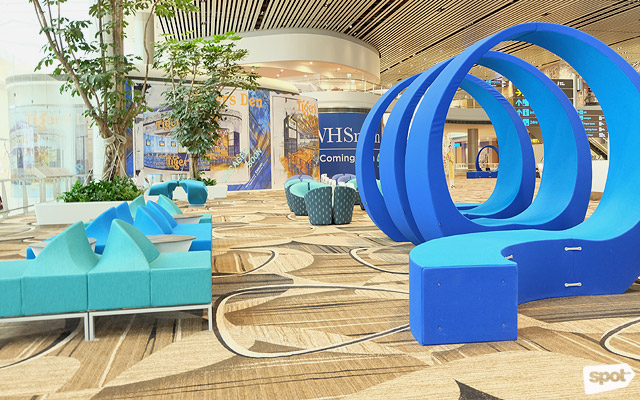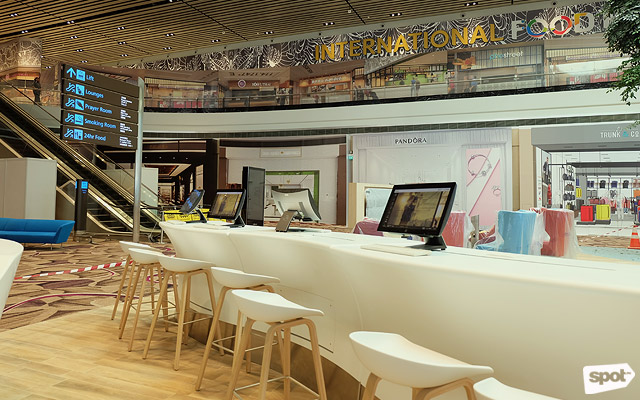 ADVERTISEMENT - CONTINUE READING BELOW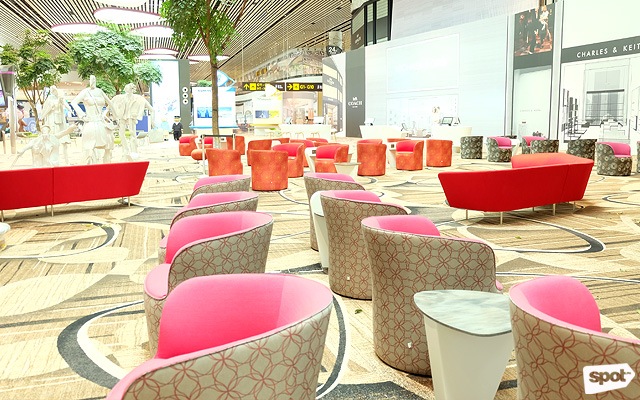 Five-Star Comfort
Whether you're sneaking a nap in one of T4's snooze lounges or are catching some shut eye right in the central lobby, the ergonomic and thoughtful accent chairs and lounges will provide weary travelers with ultimate relief. With vibrant pops of color (makes way-finding incredibly easy) and well-equipped seating (they come with charging ports), you can certainly rest easy as you wait to board your flight.
ADVERTISEMENT - CONTINUE READING BELOW
As T4 is set to open towards 2017's third quarter, people are given a sneak peek at the many ways travel can be made better, faster, easier, and yes—even more fun—in the future. Be prepared to add a half day to your Singapore itinerary, because T4 is an attraction in and of itself.
Cebu Pacific will be the pioneer Filipino airline to be flying into Changi's Terminal 4. Flights begin later in 2017. For more information, log on to Cebu Pacific's website.
Share this story with your friends!
---
Help us make Spot.ph better!
Take the short survey
Load More Stories