10 Memorable Classic Characters From Local Ads
Do you remember these old-school brand ambassadors?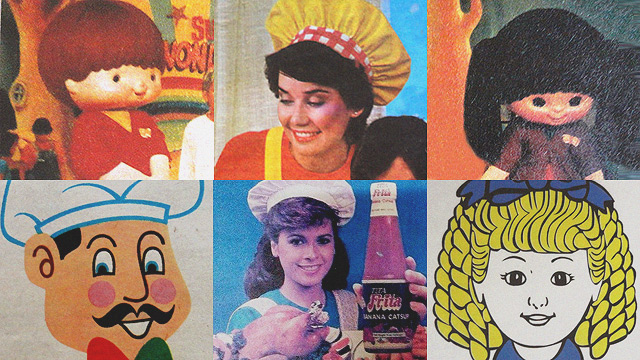 (SPOT.ph) There's been a lot of buzz over local commercials lately, from ads designed to make you want to head out to get some finger lickin' good chicken, or make you give in to hugot while waiting for your burger. But back in the day, it wasn't all about memorable lines or shareable videos on Facebook—brands relied on one standout character that would stick to viewers and have some sort of impact on their buying habits. Here are some of the most famous brand personalities that were once seen in households all over the country.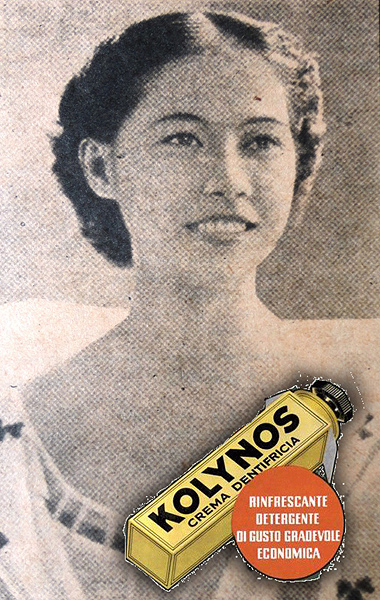 Kolynos Girl from Kolynos Toothpaste
By the 1930s, radio was a rising mass-market medium and companies had started using it extensively for product promotions. Kolynos Dental Cream, a toothpaste brand, held auditions for singers over KZRM to find its Kolynos Girl, a singing product presenter of sorts. A 13-year-old Cavite high schooler, Presentacion Bataclan, was picked to headline the program The Kolynos Hour. Dubbed as "Priscilla, the Kolynos Girl," she would later become the number-one radio personality of the Commonwealth Era. The Kolynos Girl became a household name, receiving over 200 fan letters a week and requests for autographs. She was paid P7.50 for the 15-minute daily show, which was a hefty salary at the time. The Kolynos Hour lasted for a good three years. The Kolynos Girl was the toothpaste Belle of radio at her likable best, her toothsome smile and 14-karat crooning voice popularizing songs like "Stardust," "I'm in the Mood for Love," "My Reverie," and "All the Things You Are."
ADVERTISEMENT - CONTINUE READING BELOW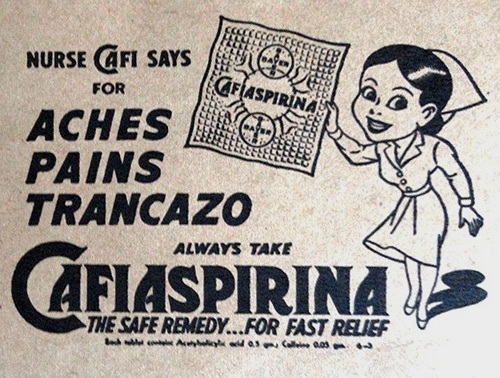 CONTINUE READING BELOW
Recommended Videos
Nurse Cafi from Cafiaspirina
Cafiaspirina was the pain-relief brand that rivaled best-selling Cortal in the 1950s. It was produced by Bayer, which gave the world aspirin. The name Cafiaspirina was derived from caffeine and aspirin, two ingredients in the tablets, which grew to become a popular pain medication brand in Latin American countries. To promote Cafiaspirina, an illustrated cartoon figure of a Filipina nurse began appearing in its print ads, most of which were drawn as comic strips. Nurse Cafi joined the league of comic characters like Kenkoy and Captain Cortal as brand figures to push products in the marketplace. The illustration of Nurse Cafi, finished in 1948 but only used in 1951 ads, shows her in a typical white uniform holding a giant Cafiaspirina tablet foil pack. She appeared not only in print ads but also on botica merchandising signs with the battle cry "Stop Pain! Feel Fine Again!"
ADVERTISEMENT - CONTINUE READING BELOW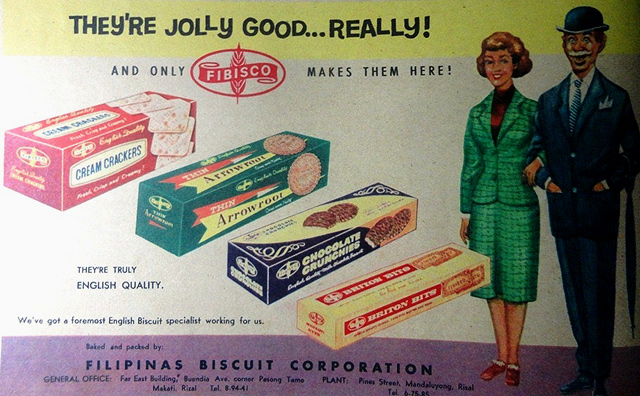 The Englishman from Fibisco Biscuits
Filipinas Biscuit Corporation, more commonly known as Fibisco, was established on January 23, 1959. The following year, Fibisco started producing biscuit brands that would become household favorites—like Choco-Mallows, Marie, Hi-Ro, Jolly, Butter Crunch, and Ginger Snaps. These were collectively marketed as "English Quality Biscuits" as they were produced using English-made machinery, set up by English consultants in the Fibisco Mandaluyong factory. The initial operations were even supervised by an English plant manager. As biscuits of fine quality were associated with the English, an "Englishman" character was introduced to drive home that point. The white-moustachioed Englishman, wearing a smart blue suit and a bowler hat, and wielding a cane, was featured in print and TV advertising.The Englishman breezed through the screen as its memorable jingle played: "Ho, ho, did you know? The Englishman makes Fibisco Biscuits. Ho, ho, did you know? We've got the Englishman here!" The Englishman, once a familiar figure to Filipino children, may be long gone, but his Fibisco biscuits are still around.
ADVERTISEMENT - CONTINUE READING BELOW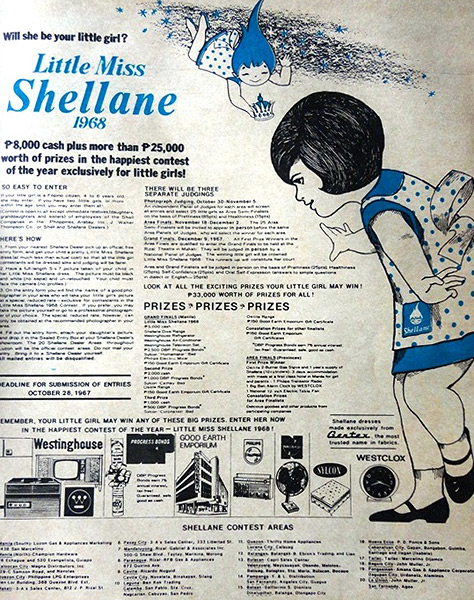 Little Miss Shellane from Shellane Cooking Gas
In 1966, Shellane Cooking Gas was introduced by the international fuel company, Shell, to the Philippines. A Shellane mascot was designed for the brand, depicted by an impish girl with her trademark hair sweeping upwards like a tongue of flame. The year afterward, Shellane launched the Search for Little Miss Shellane aimed at creating goodwill among Filipino mothers. Girls between four to six years old had to mirror the look of the Shellane mascot and had to be photographed wearing an official blue Shellane polka-dotted dress. From thousands of entries was chosen the first Little Miss Shellane, Joy Paguirigan. The contest drew a lot of buzz and led to a second edition in 1969. Arlene Arrieta emerged as Little Miss Shellane in 1969. One pert and pretty finalist was Tessa Prieto (now Valdes). After a hiatus of 44 years, the contest—now known as the search for Little Miss Solane—was revived in 2013 with the re-branding of Shellane as Solane.
ADVERTISEMENT - CONTINUE READING BELOW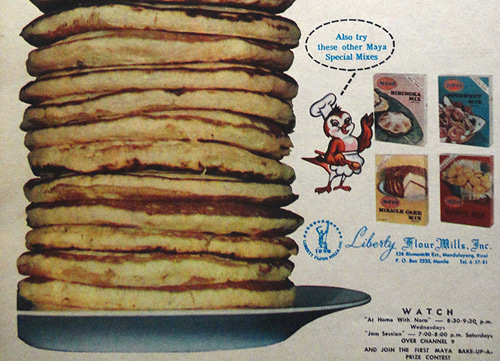 Maya from Liberty Flour Mills
One of the most successful flour brands from Liberty Flour Mills was the Maya brand of flour mixes. It was introduced in 1962, beginning with the hotcake mix which was met with much success. It was soon manufacturing cake mixes of all kinds, thus making home baking possible even for those who didn't own ovens. The name Maya was inspired by the former national bird—the Philippine maya, otherwise known as the black-headed munia. A small, chirpy looking brown maya bird was a constant fluttering presence in the brand's advertisements (in reality the local maya is born with brown feathers, which turn reddish-brown upon maturity). In 1995, it lost its title when the Philippine eagle was declared as the country's official national bird. The Maya line continues to thrive with its many product and flavor innovations.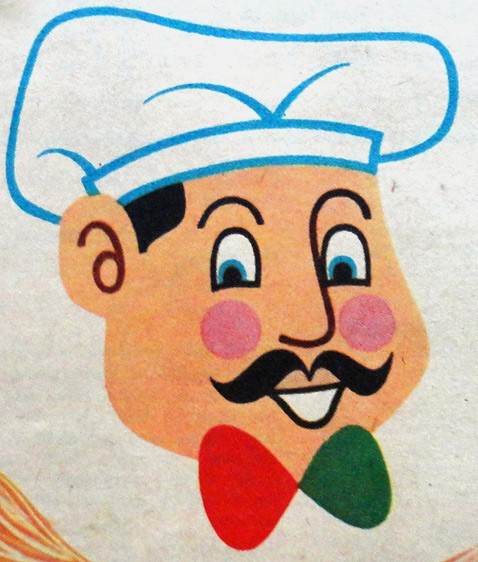 ADVERTISEMENT - CONTINUE READING BELOW
Papa Piccolino from Republic Flour Mills
In 1964, the country was introduced to Papa Piccolino, a jolly, portly Italian chef with his trademark mustache. He was the brand character for a new line of "Real Italian" boxed pasta products for dishes and soups. It was by Republic Flour Mills (now RFM Corporation), which ventured into flour manufacturing in 1957, even though wheat wasn't being grown in the Philippines. The name Papa Piccolino was reworked from the title of a 1953 hit song, "Poppa Piccolino." The brand was active throughout the rest of the '60s, its line expanding to include soups and pizzas. Papa Piccolino appeared practically in all print materials, but the novelty wore off as the '70s rolled in. Papa Piccolino was replaced with a real endorser, host-singer Pepe Pimentel, who more or less exuded the same chirpy, friendly vibe as the cartoon character.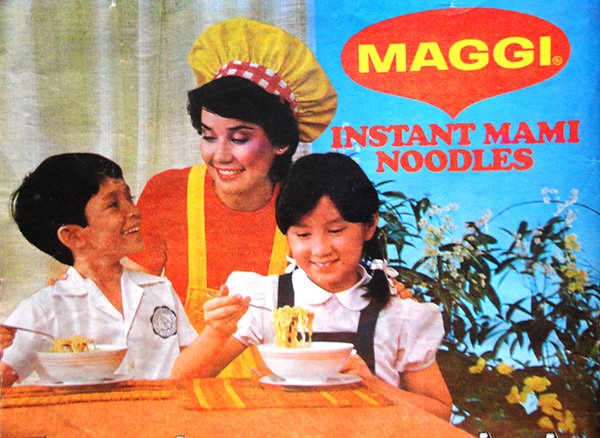 Tita Maggi from Maggi Food Products, Nestlé
ADVERTISEMENT - CONTINUE READING BELOW
In the late '70s, the Ace-Compton ad agency created an amiable tita character for the Nestlé client which was set to launch its new brand of instant noodles—Maggi Rich Mami Noodles. The result was an endearing kitchen personality in a red and yellow outfit known as Tita Maggi. The young, cheery image differentiated her completely from other female endorsers at that time who were either old, matronly, or caricatures. Cast in the role was the beauty-and-brains Maryknoll graduate, Carmencita "Menchu" Genato, who had been named one of the most Outstanding Coeds of the Philippines. The Tita Maggi campaign was well-received and in time, Tita Maggi began appearing in different ads for Maggi seasonings, mixes, bouillons, and flavored sauces. In her heyday, Tita Maggi was one of the most recognizable faces on TV, mobbed by hundreds of adoring kids and mothers wherever she went. There was a Tita Maggi Homemakers Club, and even a Tita Maggi doll to complement the long-running campaign.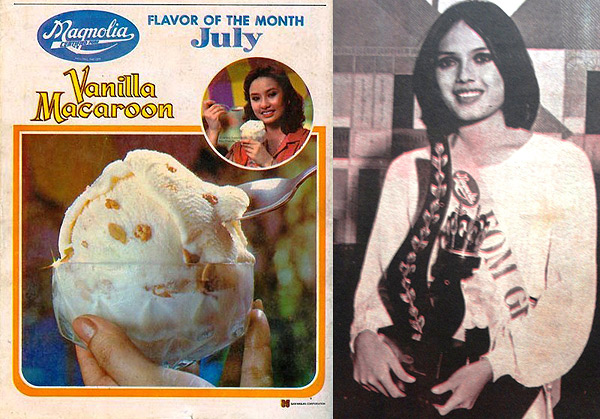 ADVERTISEMENT - CONTINUE READING BELOW
Miss Magnolia from SMC-Magnolia Dairy Products
One of the earliest searches for a "brand ambassador"—even before that marketing term was coined, was Miss Magnolia. It was a beauty-personality pageant conceived by San Miguel Corporation's PR arm to find a product endorser, spokesperson, and model for the Magnolia Ice Cream brand. The contest earned a measure of prestige as it attracted contestants from reputable schools who were as wholesome as the ice cream brand. The first Miss Magnolia—Vivian Avila—was selected in 1974. Miss Magnolia appeared regularly in Magnolia's "Flavor of the Month" print ads and TV commercials, became a recognizable face, and achieved instant celebrity status. The contest ran for six years, and the last winner, Dindin Lopez, was crowned in 1980. Her runner-up, Dina Bonnevie, became a well-known TV and movie actress.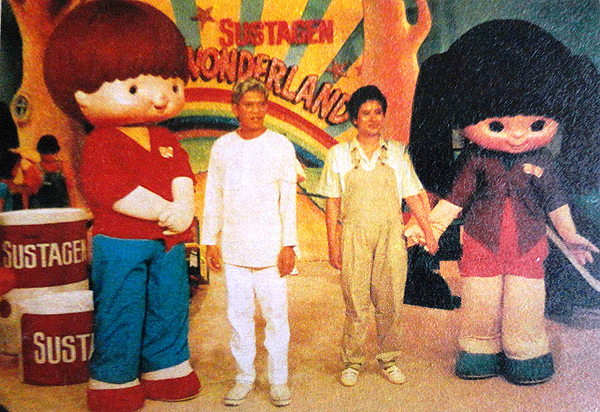 Susy and Geno from Sustagen
The adorable duo that drove Filipino kids to pester their mothers to buy cans and cans of Sustagen came to life in 1985. Susy and Geno were the marketing brainchild of Mead Johnson, the company behind the nutrition supplement, Sustagen. The Susy and Geno tandem, both embodiments of happy, healthy children, made Sustagen the number-one selling milk in the '80s. Susy and Geno not only appeared in countless TV ads, but also went on school and supermarket tours to perform, dance, sing, and promote the health benefits of the brand. They were the stars of their own Sustagen's Kiddie Club, which had over 45,000 members at its peak. The high cost of mounting these activities forced their temporary retirement, but by late 1990s, Susy and Geno staged a comeback. In 2013, Susy and Geno were seen again as adult mascots, leading separate lives and careers. This generated some interest on Facebook, where the drama of their reunion played out.
ADVERTISEMENT - CONTINUE READING BELOW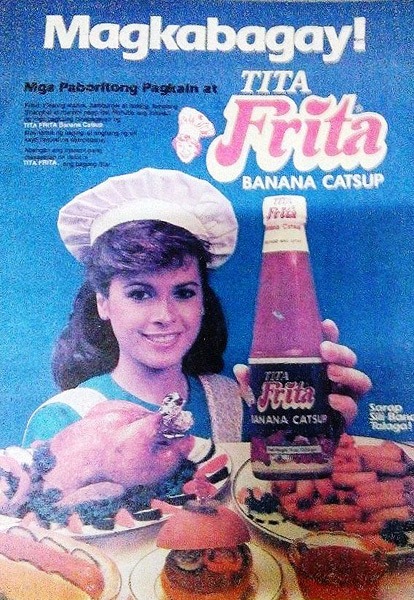 Tita Frita from Tita Frita Banana Catsup
As Nestlé's Tita Maggi was winding down her reign, another tita appeared on the ad scene as the brand name for a condiments line by Zest-O Corporation. The Tita Frita line included bottled tomato and banana ketchup, and hot sauce. To launch the new products, the company created a brand character in the mold of Tita Maggi—wearing a chef's hat and an apron over a colored shirt. They found the image of Tita Frita in Rita Avila, then a 24-year-old actress with two years of showbiz experience under her belt. She had dabbled in commercial modeling in her teen years. Surprisingly, the Tita Frita character took off when the ads aired, and so did Avila's career. Today, Tita Frita is no longer as extensively advertised, but Rita Avila, a.k.a Tita Frita, continues to enjoy her showbiz career.
ADVERTISEMENT - CONTINUE READING BELOW
BONUS: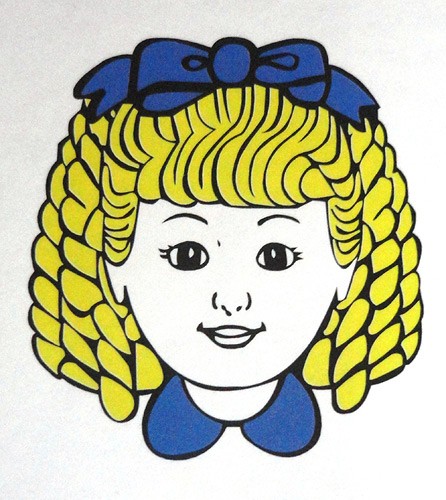 Goldilocks from Goldilocks Bakeshop
Once upon a time in 1966, sisters Milagros Leelin Yee and Clarita Leelin Go, with sister-in-law Doris, decided to open a small bakeshop along Pasong Tamo in Makati. A third sister, Maria Flor, suggested that they name the enterprise "Goldilocks," after the fairy tale character. The intention was to make it easier for children and their mothers to remember the bakeshop's name, and also because it suggested luck and prosperity. A Goldilocks image was created in the mid-1980s with the help of the store's ad agency—a standing figure of a girl with golden locks. In the mid-1990s, an industrial design agency streamlined the character, using just Goldilocks' face and a unique script specially created for the Goldilocks brand name.
Share this story with your friends!
---
Help us make Spot.ph better!
Take the short survey
Load More Stories