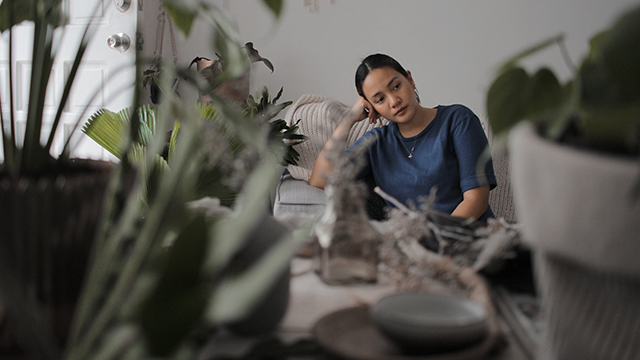 (SPOT.ph) A quick scroll on your Instagram or Facebook feed will show snippets of you or your friend's lives, from the food you just ate or the recent trip you went on. Some of those photos might even be a carefully laid out collection of things or a flatlay, and if it's cool enough then you'll probably get a few approving likes or emojis while at it. But while you have only probably done it for fun, there are those who have made a career out of their good eye for style, and professional stylist Kay Isabedra is one of those people.
Nestled within a compound of townhouses is a white building which Kay and her team of three who make up Gathered Creative Co. call their main office. It looks like a townhouse that was built in the '90s, as shown by its penchant for rounded corners and marble flooring, but it has aged well. It's been a little over four months since Kay, Gathered Creative Co.'s creative director, and the rest of her team moved in. Kay says that they're still on soft opening due to their lack of air conditioning and ongoing carpentry work, but they're hoping to be able to invite clients in as soon as they smoothen out their kinks. 
ADVERTISEMENT - CONTINUE READING BELOW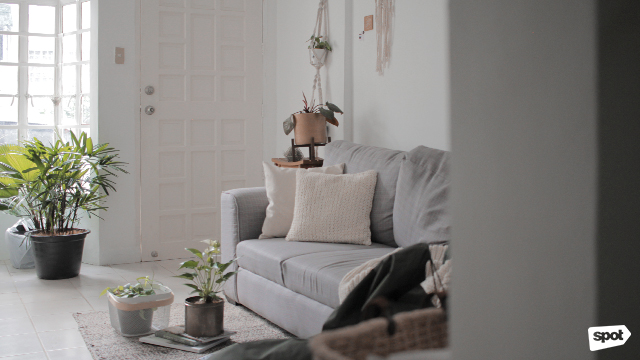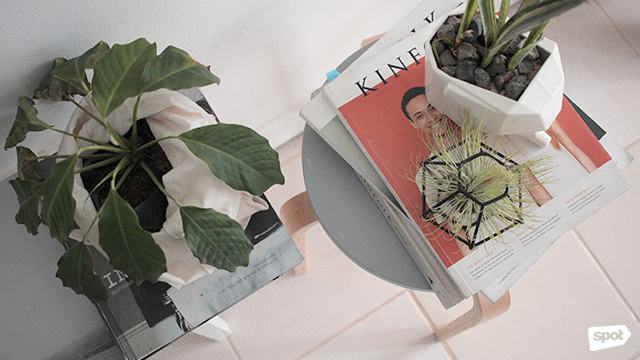 Kay apologizes for the mess of their office, jokingly asking to please not judge it by how it looks. Looking around, there's nothing negative to judge—despite the props, backdrops, and miscellaneous items they use for their daily work, their receiving area looks like something straight out of the pages of an issue of Kinfolk.
CONTINUE READING BELOW
Recommended Videos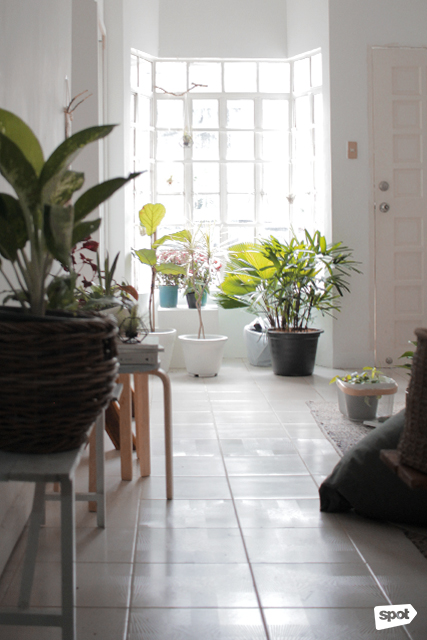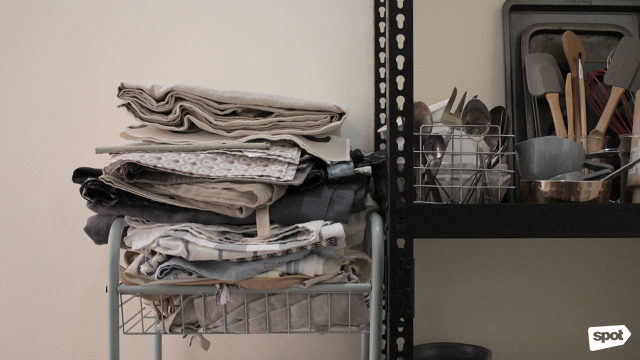 Kay's current love for hues of olives, blacks, whites, and muted colors shows in the townhouse's interiors. She shows us a book about decorating with plants, and she says that it's a new hobby. "I'm trying very hard to have a green thumb! It seems like the styling trend. I think it gives the set up a warmer or homey feel." Kay says. 
ADVERTISEMENT - CONTINUE READING BELOW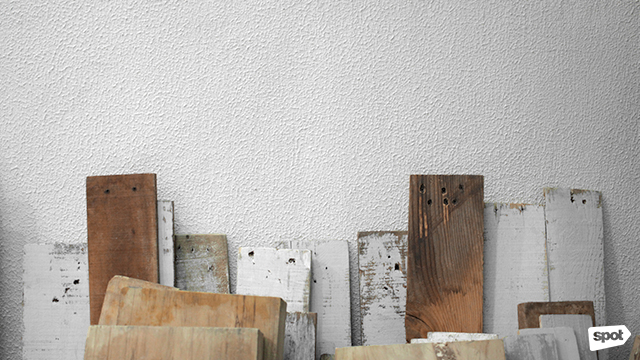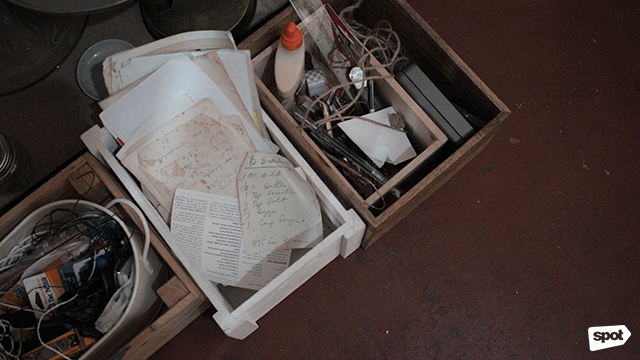 Their Pinterest-worthy office is an inviting space, but it doesn't give away what Gathered Creative Co. is as a business. "It's a creative studio that specializes in food, prop, space, and event styling," Kay says, quoting verbatim the description they have on their Instagram page, and one that they use when presenting to possible clients. Their IG feed is a mix of their commissioned work, practice mood board sessions, and glimpses of their office. One common thread runs through all the photos—an aesthetic that's purposeful, muted, curated, and undeniably beautiful.
ADVERTISEMENT - CONTINUE READING BELOW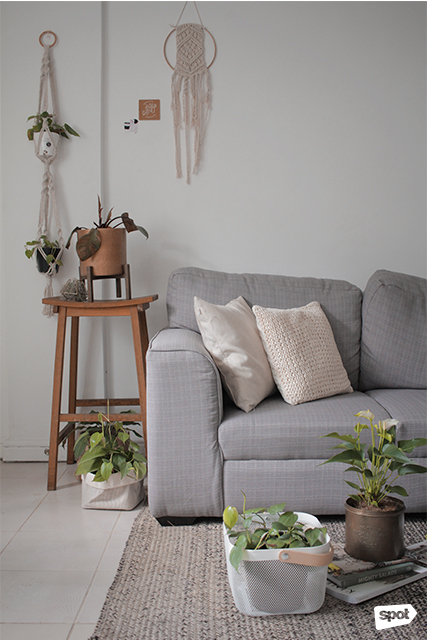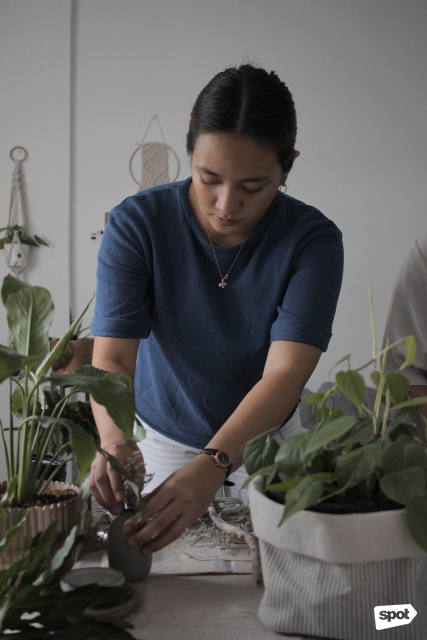 As its creative director (she's hesitant to call herself the owner, even if she is plainly that), Kay handles their IG accounts. But the aesthetic you see now in the feed hasn't always been that way. Much like any creative, it has evolved through time, especially throughout the four years that she's been styling. She laughingly says that becoming a stylist wasn't her main goal. "I resigned from my job in advertising. I was there for three years. After leaving, I started making handcrafted accessories by myself. I operated Gold Lock Army for a year and a half. I had a mid-life crisis, and eventually, I wanted to try something new again. Then this Filipina girl who was popular on Instagram was into flatlays, and she ordered a piece from Gold Lock Army. I looked at her profile, and saw that she has so many followers; she's into [these] black and white flatways. And she was following a lot of creative people on Instagram, and I stalked them as well. I got inspired, and decided to put up my own Instagram account."
ADVERTISEMENT - CONTINUE READING BELOW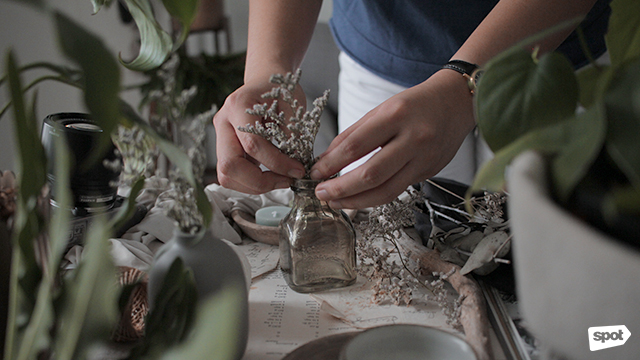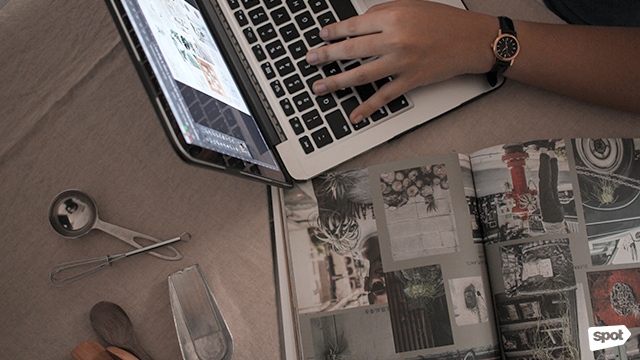 With what little money she had, Kay started purchasing small kitchen items to create her flatlays, and used what items they used at home. She would spend hours and hours looking at photos to see how they styled their shots. She wasn't much of a cook, but she wanted to do flatlays with food, so she styled whatever her breakfast was for the day to the best of her ability, or ended up buying small desserts, or pieces of bread to use for styling.
ADVERTISEMENT - CONTINUE READING BELOW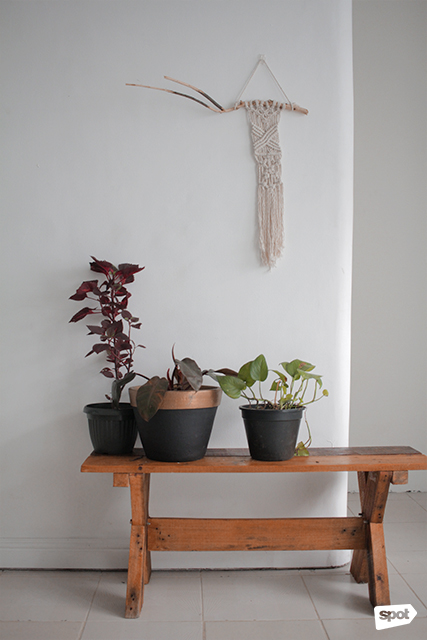 Kay didn't have an actual goal in mind when she started doing flatlays. For her, it was a hobby that broke the monotony of her daily grind; a hobby that made her happy. "At that time, I was thinking that I discovered a new hobby. So that time, it [was] also nice to [do something] different from my business. I knew a lot of stylists abroad [who were] turning it into an actual profession, but I had absolutely no idea how to go about it. The main goal was just to practice and create my own portfolio, and get in touch with creatives on Instagram."
Serendipity struck when a good friend of hers remembered her feed, and asked Kay if she wanted to style for a small company selling pressed juices. Kay agreed and loved the work and a different sense of fulfillment, and it made her want to seriously pursue styling as a profession.
ADVERTISEMENT - CONTINUE READING BELOW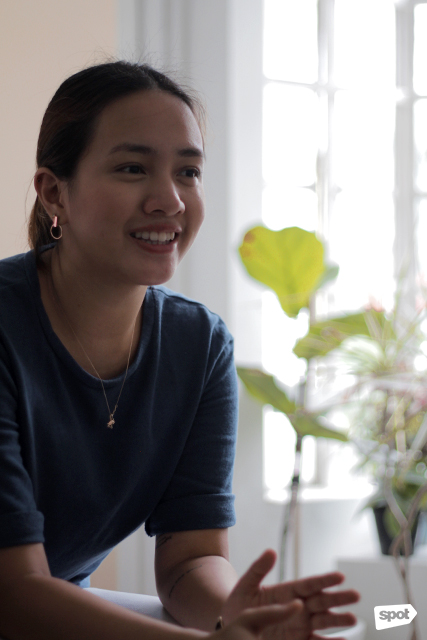 After a couple of small projects and taking a day job as a shopkeeper in Craftsmith Living, her big break came when she received a cold call from the art director of Good Housekeeping magazine asking if she could style their complete food editorial. It so happens that the art director was one of Kay's followers on Instagram. Kay says, "I was super intimidated [by] the people in the shoot. At first, I felt they weren't trusting me with the layouts, but after a few layouts, I was helping them out with the plating and the styling, eventually, they let me do it." Her big break led to much-needed exposure, which led to her working for not just magazine publications, but branching out to all things that needed styling—weddings, engagement shoots, corporate events, and products—Kay has been making it happen, and learning along the way.
ADVERTISEMENT - CONTINUE READING BELOW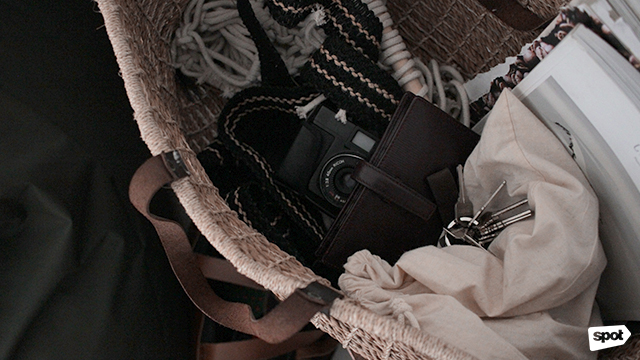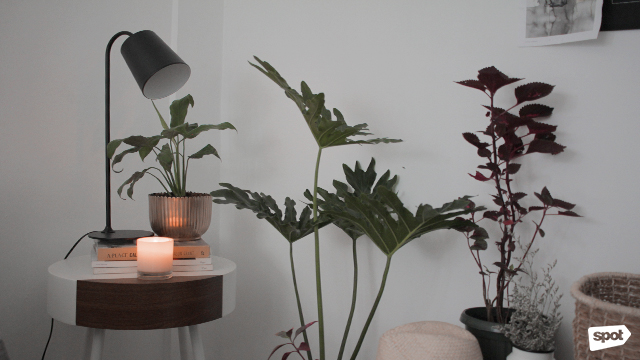 At 28, she finally felt confident enough to create her own styling studio, and Gathered Creative Co. was born—but it's still a work in progress. "With each project we get, we accomplish it to the best of our ability, but of course there will always be things we learn when we're working on it already. Every kind of styling—weddings, events, shoots—are all completely different. It's not as easy as just having the props and eye for it."
ADVERTISEMENT - CONTINUE READING BELOW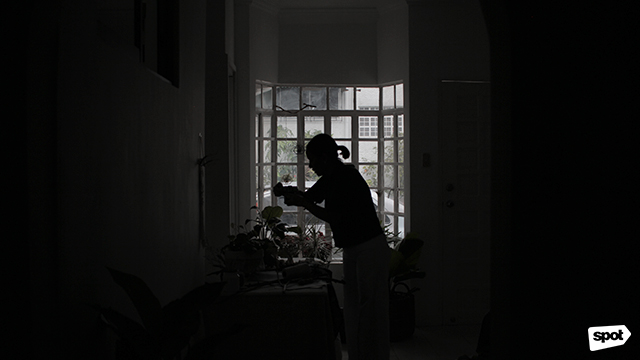 The clients they attract usually ask for the aesthetic that Kay is comfortable with, but they're always open to trying other things. "We're styling two weddings this year, one is more minimalist, and one is pastels. Yes we're promoting or portraying this muted aesthetic, but I think that's also the challenge is to how to meet halfway, cater to the client's needs, but retain a part of our core aesthetic. I think it's also fun to have clients like that, because it can get boring if it's all the same." Styling projects usually take the whole day to mount, which is all around exhausting and time-consuming, but Kay and her team take it all in stride.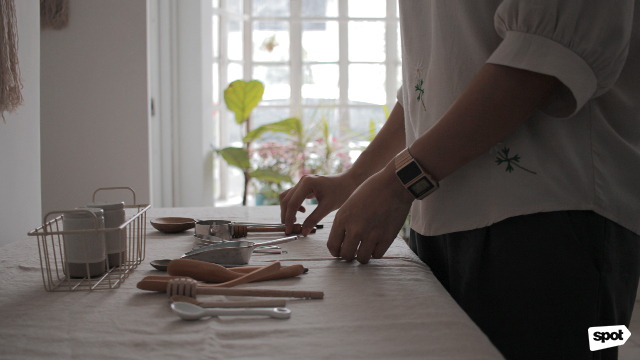 ADVERTISEMENT - CONTINUE READING BELOW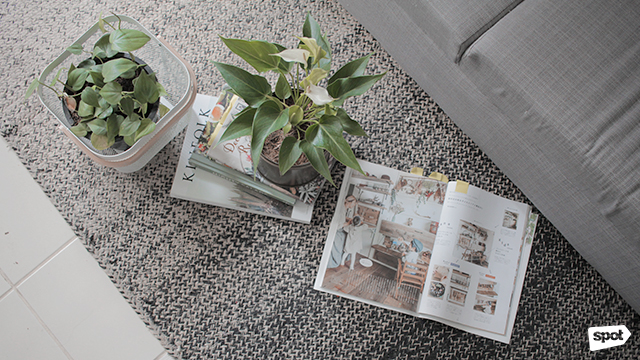 There weren't any events or shoots scheduled during the day we met her, since it was a Friday, and Friday for the Gathered team means no shoots. "Shoots usually last till late night or early mornings, so we don't want that [to] spill over to the weekend," Kay says. It's a slow day, but rather than be like a usual entrepreneur that feels jittery when there aren't any sales made or jobs done, Kay relishes the downtime. "It's really a conscious effort for me to not rush, to always remind myself to not rush. Maybe a part of slow living is being mindful of what you're currently doing. When we rush, we don't get to appreciate the beauty of the things we've been currently doing."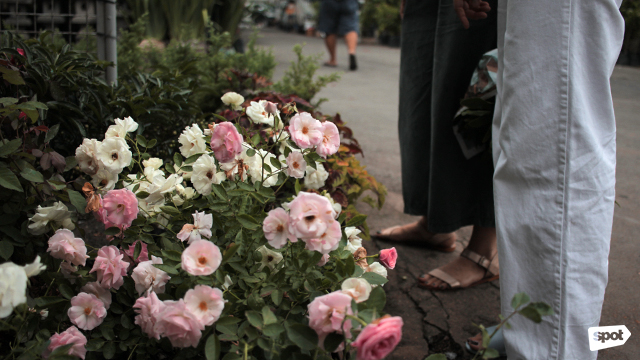 ADVERTISEMENT - CONTINUE READING BELOW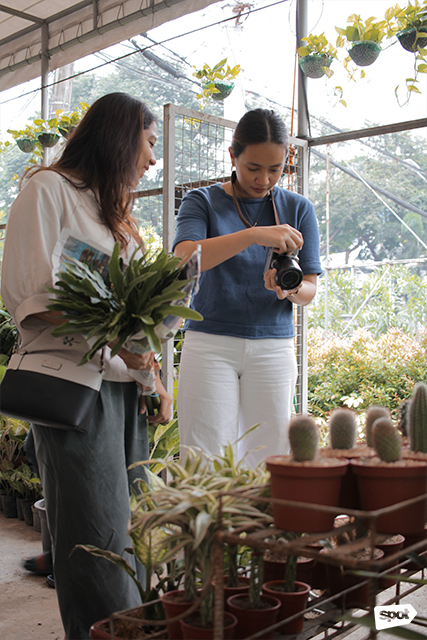 Kay and one of her teammates, Badeth, head over to Cubao to purchase some plants from Farmers Market. They intend to use it for the day's practice of a live mood board, something that Kay insists on doing every day, and is slowly teaching her team to do as well. "We usually go out, even if we don't buy anything. We just look for inspiration, just to see what the latest trends are. During client meetings, I usually present a digital mood board to give them an idea [of] how the event or prop styling will look like. But I still prefer using my hands and feeling the products, so I still like doing live mood boards."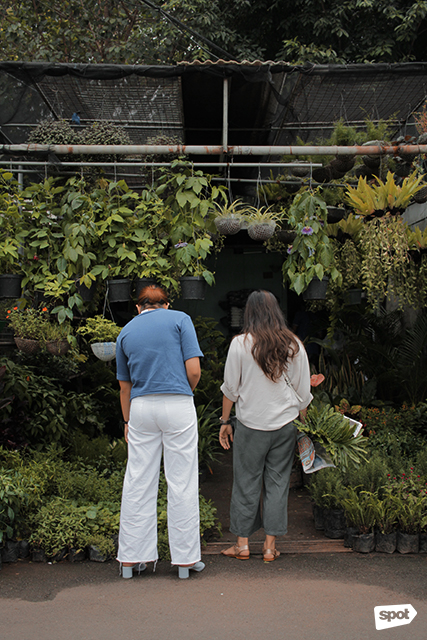 ADVERTISEMENT - CONTINUE READING BELOW
She gravitates towards greenery and succulents, both because of her preference for deep hues and because they need minimal care. "When styling, I always start with a color palette. Even when I dress up in the morning, I start with that. When I have a color palette, everything else follows suit."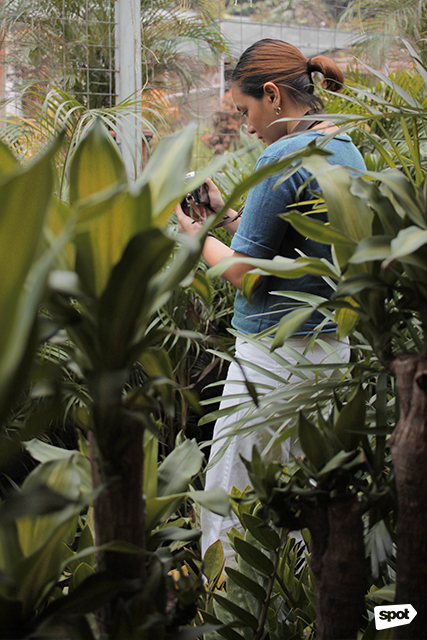 Back in the office, she and Badeth gather up potted plants from around their office, a couple of vintage pieces of paper, books, and a couple of their newly-bought plants. Kay walks us through her creative process; "I immerse myself in works of others. I like buying books; I still prefer coffee table books or magazines instead of web surfing. Right now I'm reading Real Artists Don't Starve, and other books about how to turn your passion into a career."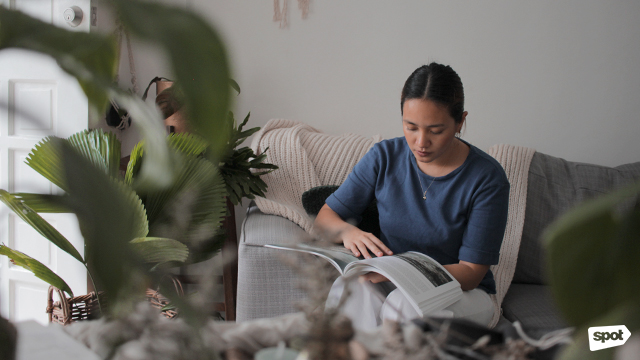 ADVERTISEMENT - CONTINUE READING BELOW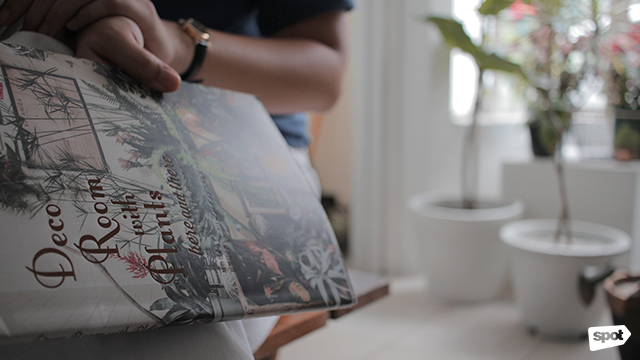 The mood board was all that Kay described to be her signature look—a penchant for olive, black, and muted colors, a color palette, and feels comfortable and warm. "We take it as it comes. For every project, we make mistakes and we turn it into a learning experience, and use it as an advantage," Kay says as she adds the finishing touches to the mood board, "Putting up Gathered is like an advocacy to pay it forward to the creative community, and hone more people to become stylists."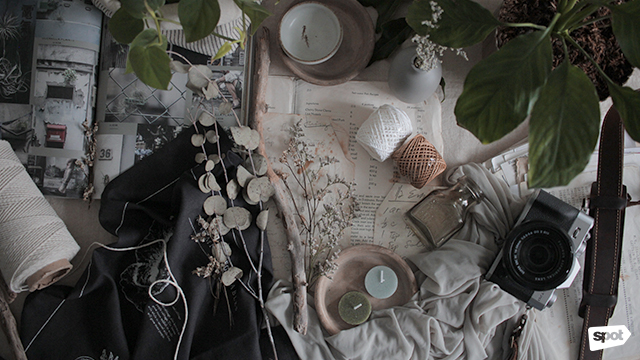 ADVERTISEMENT - CONTINUE READING BELOW
It's two in the afternoon when we finish the shoot, and the rain is beating down. When we ask Kay about what's in store for them for the rest of the day, Kay shrugs and smiles, saying that they were just going to hang out a bit, perhaps talk about the plans for their upcoming client presentations and projects. But all in all, they're going to enjoy the day, just the way it is—no rush, just letting the creativity flow.  
Photos by Elaine Villanueva
Share this story with your friends!
---
Help us make Spot.ph better!
Take the short survey
Load More Stories