(SPOT.ph) Despite being in the 21st Century, the subject of sex remains taboo in the Philippine setting. Sex education, the free distribution of condoms, and availability of other birth control options have all taken a backseat despite the approval of the Reproductive Health Law in 2012—which took more than a decade of lobbying and another five years to be signed for full implementation. Even more taboo: talking about intercourse in sex-same relationships.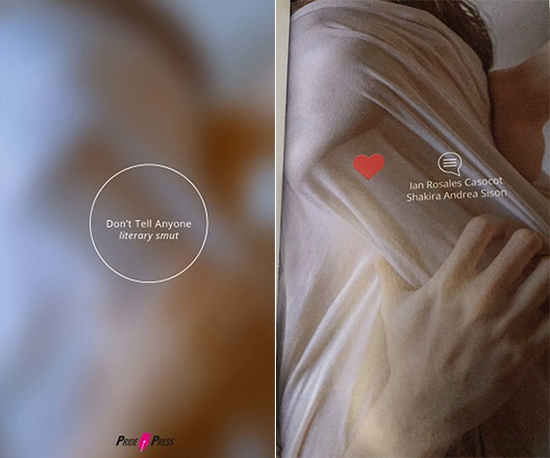 Cover and inside cover of Don't Tell Anyone 
Such is the status quo that surrounds the birth of Don't Tell Anyone, a collection of 12 erotic stories by award-winning Filipino writers Ian Rosales Casocot and Shakira Andrea Sison. It's been released under Anvil Publishing's newest imprint specializing in LGBTQ+ writings—Pride Press. It can be remembered that the same local publishing house also released Ladlad: An Anthology of Philippine Gay Writing, considered the first book in the Philippines to feature various gay voices through different forms of literature, published in 1994. The second and third installations were published in 1996 and 2007, respectively.
ADVERTISEMENT - CONTINUE READING BELOW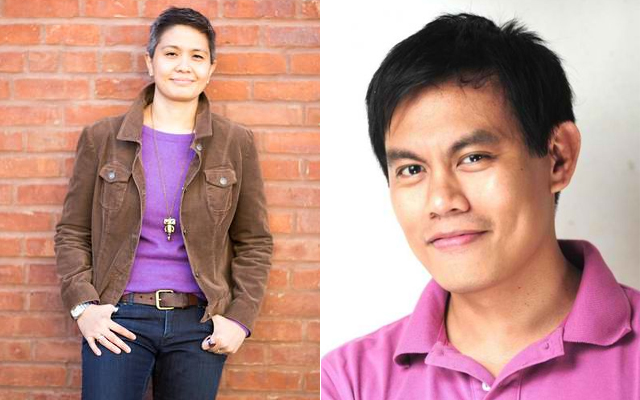 (L) Shakira Andrea Sison and (R) Ian Rosales Casocot
"While LGBTQ+ writing in the Philippines is far from new, I believe this is the first time that sex between same-gender partners has been written about in a direct way. While the legitimacy of same-sex relationships is a growing concept in people's minds, it's important to also include the reality that these relationships are not just deep friendships but are also romantic and sexual just like heterosexual relationships are," explains Sison, now based in New York City, in an interview with SPOT.ph.
Her series of stories collectively titled All My Broken I Love Yous illustrate the complexity of love and sex—from exchanging glances with a co-teacher you met at a bookstore to dealing with the struggle of LDRs; the politics and dynamics of lesbian relationships; and even bits and pieces of feminist discourse. All these concepts are tightly woven between steaming and detailed descriptions of one-night stands, the 10th and 24th orgasm, heart-racing sex inside a car, and other hot encounters—even the ones that end with a painful farewell ("I was crushed that the first term of endearment you called me was in the middle of a goodbye," says the first-person character in Sison's sixth story).
ADVERTISEMENT - CONTINUE READING BELOW
"I'd like to contribute to the image of the Filipina as a sexual being with valid tastes and desires. Writing about lesbian sex is already empowering as it eliminates men from the equation. By their mere orientation, my characters never seek a man's initiative or pleasure. Being able to write as a Filipina about Filipinas who seek zero approval or even attention from men has been quite liberating," the author adds.
The other half of the book, All the Loves of My Life by Casocot, delves into what it means to be gay in a rural setting in the Philippines. In his stories, we are introduced to 14-year-old Rodrigo as he toys around with the idea of sex on a road trip to Bayawan City in Negros Oriental, the boys of Rizal Street in Tanjay City, and the one who says "Don't fall in love with me, I will only break your heart." Much like Sison's last story, the Dumaguete-based novelist punctuates his series with a heartbreak: "You opened the gate, and when you shut it behind you, you stepped onto the pavement, paused for what seemed like forever, and walked straight on." With these emotionally driven tales, he proves that same-sex relationships, much like heterosexual ones, are a nerve-wracking mix of lust and love.
"In these times of uncertainty and looming dictatorship, it's never been more relevant to focus on writing about the lives of minorities as our rights and concerns disappear so quickly when the human rights of the majority are being disregarded. Divorce and same-sex marriage, for example, will sink further into the backseat when simple rights like due process are being undermined. Any representation of women and the LGBTQ+ community is much needed to make sure we are not overlooked as individuals deserving of the same protections as everyone else," Sison tells us.


ADVERTISEMENT - CONTINUE READING BELOW
When people in the fringes are getting silenced even more, it's always important to make a statement.
Don't Tell Anyone (Anvil Publishing, 2017) is now available in bookstores nationwide for P395. For international deliveries, log on to Anvil Publishing's website.
Share this story with your friends!
---
Help us make Spot.ph better!
Take the short survey
Load More Stories