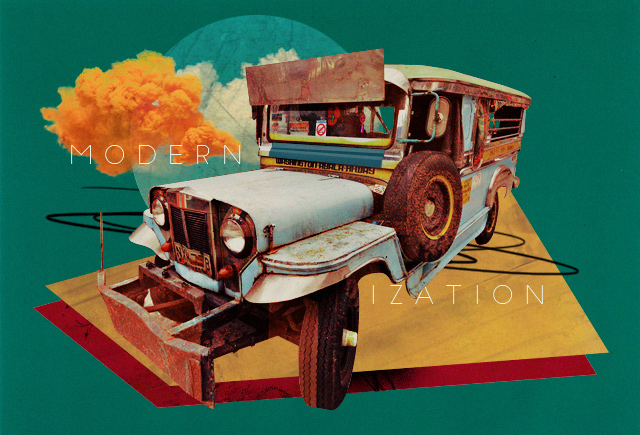 (SPOT.ph) The public utility vehicle modernization program of the government has generated much controversy recently, resulting in two days of work called off by no less than Malacañang. While many Filipinos relish the idea of commuting in shiny, brand-new vehicles, opponents of the program have argued that it promises higher fares, impoverished jeepney drivers, or (curiously) both. The conflict over proceeding with the program reveals the inextricable link between modernization of the actual vehicles and modernization of the public utility vehicle (PUV) business model. It is impossible to tackle one without the other, and while the dream of technologically-advanced public transport is exciting, far grittier work will have to be done in modernizing the PUV business model.
A Modernized Private System: The Omnibus Franchising Guidelines
In June, the Land Transportation Franchising and Regulatory Board issued the Omnibus Franchising Guidelines as the first step towards modernization of the PUV regulatory framework. The Omnibus Franchising Guidelines contains the following changes relevant to PUV business:
ADVERTISEMENT - CONTINUE READING BELOW
Routes will be determined by LGU-generated Local Public Transport Route Plans, as opposed to being proposed by franchise applicants. Upon receipt of these LGU plans, the Land Transportation Franchising and Regulatory Board (LTFRB) will select operators to serve the plans using an "open and transparent process." The exact mechanics of the selection process have yet to be determined, but the LTFRB has said LGUs may provide input on technical standards, such as desired emissions levels for vehicles.
Routes will be classified according to anticipated ridership. Higher-ridership and longer-distance routes will be served by larger vehicles, such as buses. Smaller, jeepney-sized vehicles will serve "collector" or "feeder" routes.
The LTFRB will be pushing for industry consolidation in order to eliminate on-street competition among operators and to achieve more efficient and coordinated fleet operation. Small, individual operators will be forced to merge and consolidate under a single legal entity in order to be eligible for a route franchise.
The Omnibus Franchising Guidelines aim to address a number of problems with the current system. First, by allowing LGUs to develop their own route plans, the LTFRB is allowing LGUs to provide input into the transport planning process, as opposed to waiting on private initiative. Second, a transition to larger vehicles on high-traffic routes will reduce the labor requirement to carry the same number of passengers per hour, translating to lower fares. Third, consolidating the number of operators should lighten the LTFRB's burden of supervision and enforcement in addition to reducing on-street competition among operators.
CONTINUE READING BELOW
Recommended Videos
While the Omnibus Franchising Guidelines propose improvements over the historical PUV regulatory model, some questions remain: First, though the guidelines are designed so that only large operators remain, some groups dissent and insist that single-vehicle driver-operators continue to be allowed. Second, even if small operators are able to consolidate, there is concern that many will not be able to afford the purchase of new vehicles, despite a financing package promised by government financial institutions. Third, even if operators are able to purchase new vehicles, they still bear the risk associated with earning money from fares: that ridership will not materialize as expected, or that fares will not be raised to secure their income.
Alternatives: Service Contracting
As an alternative, the government may reckon with service contracting to address problems not solved by the Omnibus Franchising Guidelines. Unlike full-on nationalization, the involvement of the private sector in service contracting should create a natural incentive to provide competitive service offerings, lest firms lose out on tenders entirely. Broadly, two models are used for public transport: net cost and gross cost contracting.
Net Cost Contracting
Under a net cost tendering system, the government defines routes, service levels, operating standards, and fares. Firms then study the commercial potential of a route based on how much they can earn versus how much it would cost to operate the required service, thus submitting a bid to the government of their required costs net of what they anticipate to earn from fares. A net cost tendering system was used to award the LRT-1 Cavite Extension PPP Project, and is the traditional model for tendering toll roads. Net cost contracting gives an incentive to the operator to increase income by marketing the service and promoting ridership of their route over competing routes and modes. A net cost contract can also enable the government to provide subsidy in a lump sum, which reduces risk associated with longer payment streams.
ADVERTISEMENT - CONTINUE READING BELOW
To bid for a net cost contract, a firm must project ridership on routes far in advance, and thus must be able to absorb significant financial risk from ridership. However, smaller firms, even those that meet minimum fleet sizes, will be at a disadvantage against firms with sophisticated demand modeling techniques. Firms with net cost contracts also bear the risk that competing projects—parallel roads or transport modes—will reduce their ridership. Some contracts protect operators against competition risk, to the detriment of the public.
Gross Cost Contracting
The government may also choose to award gross cost contracts. Under gross cost contracting, the government defines routes and operating timetables, which imply a requirement of bus-kilometers (bus-kms) that the operator must meet. Firms then bid for the contracts based on the fee they would charge the government per bus-km they are asked to provide. The government sets fares and collects the farebox as revenue. Gross cost contracting is used for buses in London, with Singapore and some Malaysian cities recently adopting the scheme.
In a gross cost system, firms are free from ridership risk, and are guaranteed to recover their costs even on low-ridership routes. The government can also subsidize the service by setting fares below what would be required to pay the operators' fees, paying the difference from other funds. The government can structure these contracts to fully pay for the purchase of new vehicles. Gross cost systems usually require a significant subsidy to run smoothly, at least in the initial stages. Authorities usually back up gross cost systems with reserve fund accounts to ensure operators are paid punctually.
ADVERTISEMENT - CONTINUE READING BELOW
Both types of contracting require the government to have technical expertise as a contract manager. However, these contracting systems allow for more assured service quality through contractual commitments. They can also be structured to meet the public's concerns for customer as well as operator welfare.
The Next Steps in Modernization
While the Omnibus Franchising Guidelines have not solved all issues in PUV modernization, their issuance represents significant progress over the traditional framework and will make a transition to a more advanced system much smoother. Whether the government will choose net-cost contracting, gross-cost contracting, or nationalization is something that must be resolved.
Many more issues remain even after an acceptable procurement structure is identified. In addition to determining a suitable risk-sharing arrangement, the government must also consider whether further devolution in transit planning authority is warranted. Should the LTFRB give more authority to LGUs to do their own public transport planning? How should the government procure service for urban "megacities" like Metro Manila, Metro Cebu, and Metro Davao? How much foreign involvement will be allowed? The Department of Transportation and LTFRB certainly have a full plate of issues to tackle in the upcoming debates on modernization. Change is coming, and transport regulators had best be ready to ride.
Robert Anthony Siy is a consulting transport economist who currently manages public transport projects in Pasig City.
Share this story with your friends!
---
Help us make Spot.ph better!
Take the short survey
Load More Stories