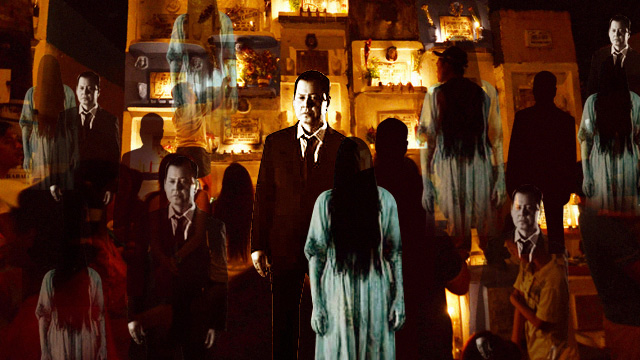 (SPOT.ph) For whatever reason, Filipinos just love the holidays, celebrations, and festivities—Christmas, New Year, the city's founding anniversary, a patron saint's birthday, Valentine's, the list goes on. And Undas (a.k.a. Araw ng mga Patay, Todos los Santos), our very own Halloween, is just one of the events that keeps us busy by the end of October. We list down things that only Pinoys do on All Saints' and All Souls' Day.
Cemeteries turn into camping grounds
Come October 31 (or earlier), Filipino families start pitching camping tents (or even huge ones that you see in parties) right beside the grave of their loved ones to prepare for an overnight stay. It's a huge plus if it's a lawn cemetery because you don't have to worry about hurting your back while looking after the dead. (They might wander around, you know?)
It's a week-long holiday, if you're lucky
Both October 31 and November 1 are declared as special non-working days to "strengthen family ties" and give the public more time to remember the dead. Some academic institutions declare the whole week as a school break since most people go home to the provinces to visit their relatives' graves. The not-so-lucky just use up their paid leaves and that's totally acceptable.
Visiting the dead a day early
All Saints' Day falls on November 1 and All Souls' Day falls on November 2, but for Filipinos, the whole three days (including October 31) are all part of the annual Undas. For some families, this means even going out of town if not all their relatives are buried in one place within the Metro.
ADVERTISEMENT - CONTINUE READING BELOW
Never forget to serve food to the dead
Filipinos have the age-old tradition of pag-aatang or offering food (atang) to a deceased loved one. It's usually a plate full of their favorite meal which is placed on the grave, in front of the altar, or in front of a photograph of the family member who passed away. Who knows? They might just miss their favorite sinigang up there!
Attending Halloween parties early in the week
Since a lot of people go out-of-town, parties—from office-initiated ones to smaller events, happen days before the actual Halloween night.
Lighting candles on the doorstep
By 6 p.m. on November 1 and 2, you'd see candles lined up on the doorstep of your house and your even those of your neighbors. It is believed that this guides dead souls towards the light and a brighter road on their journey to the after-life.
Playing with melted candle wax
A whole day in the cemetery can get pretty boring for a child (or even for you). So what better way to pass time than gathering all the melted candle wax into small balls?
Pangangaluluwa as our own version of trick-or-treating
American kids knock door to door to ask for candies in the evening of October 31, but Filipinos sing about souls and the purgatory while asking alms on the night of November 1. This is an old custom called pangangaluluwa, which is still practiced in the provinces up to this day.
It calls for a big family reunion
CONTINUE READING BELOW
Recommended Videos
May it be a grand Christmas celebration or a simple Sunday lunch, Filipinos just love getting together with the whole family. It becomes extra special on Halloween because even the dead relatives are with us. (Because reunions happen in cemeteries!)
Magandang Gabi Bayan's Halloween special
If you grew up in the '90s, you probably know of the yearly Halloween special of Noli De Castro's Magandang Gabi, Bayan. The news magazine program that focuses on investigative journalism is especially eerie on the Saturday before Undas as it features re-enactments of paranormal incidents and stories on the country's most haunted places. Even Kabayan's set design adds to the ominous atmosphere of the show.
Share this story with your friends!
---
Help us make Spot.ph better!
Take the short survey
Load More Stories