The Kris Aquino Channel: Why It's Got Everyone Hooked
In a country where almost every urban household has access to a TV, you'd seldom meet a Filipino who doesn't know Kris.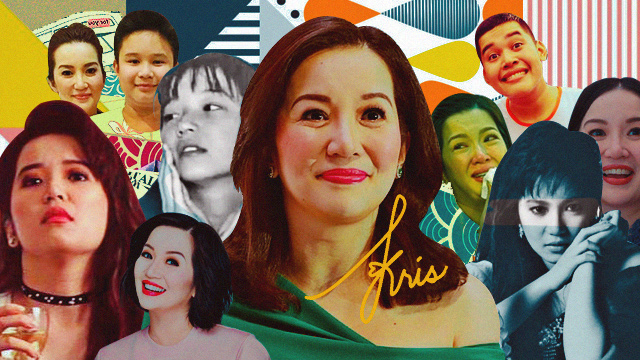 (SPOT.ph) When the first few notes of Reese Lansangan's "Exploration No. 5" hits, the Internet slows down to the song's easy pace. Office workers congregate around computers. Commuters whip out their cellphones and put on their earbuds. For a short while, the Internet ceases becoming a cesspool of hateful language spurred on by imagined political lines: It becomes the Kris Aquino channel.
ADVERTISEMENT - CONTINUE READING BELOW
Kris Aquino was the "Queen of All Media:" a person we were so used to seeing on TV all the time, the newsstands filled with copies of the Kris Aquino magazine. The record stores were selling copies of "Songs of Love and Healing" by the thousands, and her movies were certified blockbuster hits. She has practically endorsed almost every object and utility in the Filipino household. At some point, we were all consumers of all things Kris: and for someone who spent almost all of her 46 years in public life, that meant a lot of "all things Kris" meant her personal life, warts and all.
We were all witness to her romantic past, her personal tragedies, her multi-dimensional stories...to the point that a lot of people got sick of it. On top of being showbiz's Queen of Talk, Kris was talked about: in a negative light, way too often. Entire segments of showbiz magazine shows—and even prime-time news—were devoted to controversies surrounding her. Such issues would damn the career of many showbiz personalities, but not Kris: the Queen found herself a new calling on social media.
ADVERTISEMENT - CONTINUE READING BELOW
In a country with almost 50 million Facebook subscribers, it's hard to make an impact, much less a dent in the conversation. Bloggers and influencers in the country compete for the attention of a fickle digital audience, flooded by branded content from companies eager to cash in on the digital boon. But in a country where almost every urban household has access to a TV set, it's hard to meet any Filipino who doesn't know Kris. And that's part of what makes Kris so successful on digital.
Kris, as it seems, goes against the grain of sponsored content. Sure, you would see brands of all kinds making their way to a Kris Aquino video—whether it's Potato Corner, Chowking, Magnolia Chicken, the SM Store, makeup brands, or whatnot—but they're never there for the sake of a shoutout. Rather, Kris weaves these brands into her everyday routines, especially as an extraordinarily blessed mother of two. It seems that she is conscious of how people respond to advertising—how almost all of us ignore well-produced videos that scream "brand," or most advertising altogether—and how we would rather share it with each other. In a way, Kris defies the "branded" approach and lets us into her home, her travels, and into the many twists and turns of her mind. To watch a Kris video is to go beyond merely seeing a commercial: it is to experience it alongside her.
ADVERTISEMENT - CONTINUE READING BELOW
For that, Kris doesn't seem to try too hard to be relatable. The lot of us will never have a collection of vintage Chanel bags or be in the market for a P30,000 Christmas tree—much less put foie gras in our adobo—but somehow we can all relate. Despite all the blessedness that surrounds Kris, the essence of it all remains the same: a career woman, a mom who only wants the best for her children, a believer in the brands that help her at home. Like all moms, she won't hesitate to show the report card of her son and share her pride with the world. Like all tourists, she will look curiously at flowers and compliment cute frogs leaping about the pond. Kris can very well be the personification of all things "aspirational": a word that gets thrown around a lot in marketing meetings these days, but has never really found an embodiment.
ADVERTISEMENT - CONTINUE READING BELOW
Add to that every "tita" shriek that comes with finding a discount on glassware or an affordable set of clothes, and Kris—socio-economic statuses and privileges aside—becomes a person we can root for. The closed captioning of her videos makes it all spoofable and meme-worthy, but that's another story altogether.
And all this is done with Kris's signature candor: the laughs, the shrill exclamations, the babbling, the honest insights about values that she holds dear.
There was a time that mentioning Kris Aquino's name would elicit derisive comments about everything from her indiscretions to her "maarte" accent, her "taklesa" remarks, and even her signature laughter. Add a dose of political color to it, and Kris could have been the next cautionary tale in showbiz: that fame is fleeting, and someone in the public spotlight should always be wary of mistakes. But behind the calming tunes of her videos and the cheerful lookbooks is a determined woman to—in the words of her most ardent fans—conquer digital.
ADVERTISEMENT - CONTINUE READING BELOW
It's easy to dismiss a lot of Kris's successes in social media as a consequence of her privilege: after all, the bulk of online influencers today aren't scions of political families, nor have they had decades of experience in showbiz. They don't have the name recall, nor do they have the gravitas of someone who spent decades on talk television. But while it's unfair to compare a burgeoning fashion blogger to the entire Kris Aquino brand, the world of "viral videos" could probably learn a thing or two from KCA.
Recommended Videos
Load More Stories