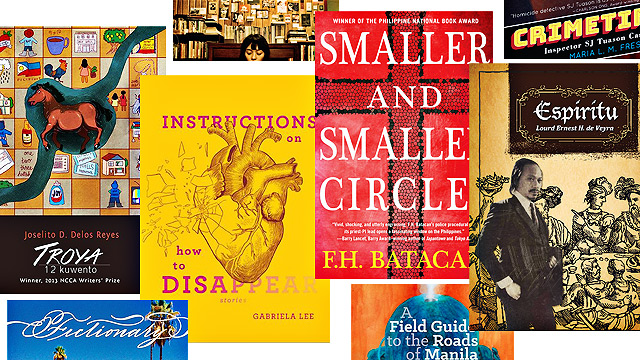 (SPOT.ph) [Ed's Note: This list was posted on social media by renowned writer Cristina Pantoja Hidalgo and is being published on SPOT.ph with permission.] Since some of us are already doing our gift shopping, or at least thinking of doing it, why not give a book for Christmas? I mean, instead of the usual cakes or pies, jars of pickled relishes or preserved fruits, queso de bola, leg of ham, bottles of wine or cognac, or baskets filled with some or all of the above. (Although if anyone wants to give me a fruitcake—particularly if it's soaked in rum—I'll take it!) You would be killing the proverbial two birds with one stone: you'd be making someone happy, and you'd be doing your bit to help strengthen our literature and our book industry.
When I brought up the idea with one friend, though, she said doubtfully, "Well... maybe if the person I need the gift for is the type that reads books, I might." On the other hand, another friend told me that, while he isn't exactly a great book reader himself, when someone gives him a book as a gift, he's really pleased. "I take it as a compliment," he said. "It means the giver believes I am a reader."
This list reflects my personal tastes and concerns, as well as my limitations. Hence, the writers in English far outnumber the writers in Filipino. And I have not included poets and dramatists. The reason behind this is my competence, or rather, my lack of it. I am a slow reader of Filipino, as colleagues who have sat with me in the teaching panels of the writers' workshops all know. For this I do apologize. And, though I have my favorite poets and playwrights (and a profound admiration for poetry and drama, particularly since I tried to write both, and failed miserably), I confess to having more fun reading fiction and nonfiction.
ADVERTISEMENT - CONTINUE READING BELOW
I've also decided to focus on work by the younger writers, with a single exception, Pete Lacaba. The books are mostly by writers on the cusp between Generation X and the millennials, and writers who are millennials themselves.
I haven't finished reading all of these titles yet, but I mean to, before Christmas.
Enough of the preambles and disclaimers. Let us begin.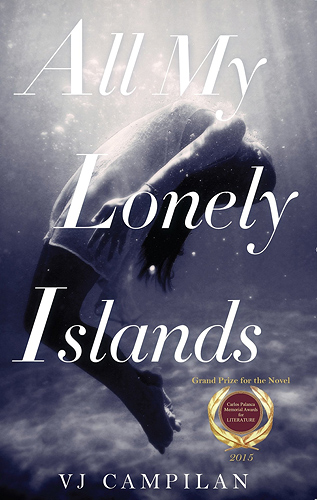 All My Lonely Islands (Anvil Publishing, 2017) by VJ Campilan
All My Lonely Islands is by VJ Campilan, whom her publisher describes as "a business writer by day and a novelist by night," adding that she has an MFA in Creative Writing. This novel, her first, won the Carlos Palanca Award in 2015. The lyrical "Prologue" introduces the reader to Crisanta and Ferdinand, and to a woman who has been unconscious in her hospital bed for a month. Crisanta speaks to the woman in her mind, shaping the words that will reveal the secret she shares with Ferdinand, and which she feels compelled to share with this woman who seems to be, not so much sleeping as slipping away. "Maybe this is a song to call you back. I am beside you now to ask you to come back out of the depths. Let us jump off this cliff together." It is a promising beginning. I'm midway through the novel now and am finding it truly engrossing.
CONTINUE READING BELOW
Recommended Videos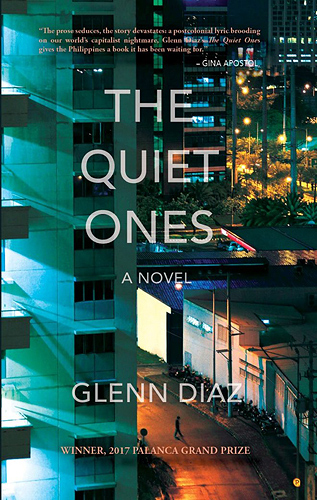 The Quiet Ones (Ateneo Press, 2017) by Glenn Diaz
I am familiar with The Quiet Ones by Glenn Diaz because I read it before it was published, as the Chair of the Palanca panel of judges which gave it the gold this year. Glenn tells me the book underwent many revisions since then. But I'm certain that whatever changes he made will not have diminished its power as a complex, intelligent, funny (its publisher describes it as "grimly humorous"), self-aware, quintessentially contemporary novel of the Philippines, written in a crisp, vigorous prose, its rhythm shifting easily from clipped and fast-paced, to leisurely and even languid, depending on which character the narrative is centered on. Nor will they alter its unlikely hero—a call center agent, who manages to pull off a money-laundering scheme with a bunch of his office mates (and is now on the run), who is gay, and has an American lover who happens to be a leading scholar in "urban placelessness." If I didn't have a horror of clichés, I'd call it a fable for today.
ADVERTISEMENT - CONTINUE READING BELOW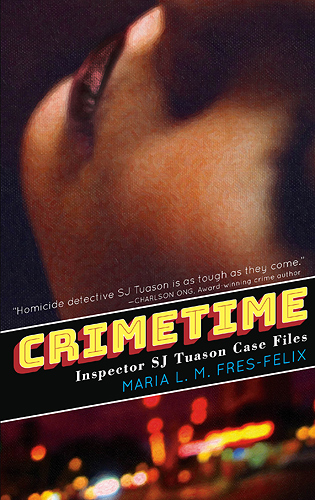 Crimetime: Inspector S.J. Tuason Case Files (Anvil Publishing, 2017) by Maria L.M. Fres-Felix Dada Fres
Crimetime: Inspector S.J. Tuason Case Files by Maria L.M. Fres-Felix Dada Fres is the author's first novel. Dada was my graduate student in the UP Creative Writing Program, and is, I think, an underrated writer, perhaps because she is not now connected with academe (which is where most literary writers are based). Her first two books, Making Straight Circles (Anvil, 2004) and Boy in a Platinum Palace (UP, 2014) did not receive the attention they deserved, given the author's level of accomplishment as a writer of fiction. She has won a number of national awards for these stories, and has also written award-winning stories for children and young adults. I am excited about Dada's new book, to begin with, because it is her first attempt at a crime thriller, a genre not many Pinoy writers have tried their hand at; and, then because her protagonist is a woman detective, which makes the book even more unusual.
ADVERTISEMENT - CONTINUE READING BELOW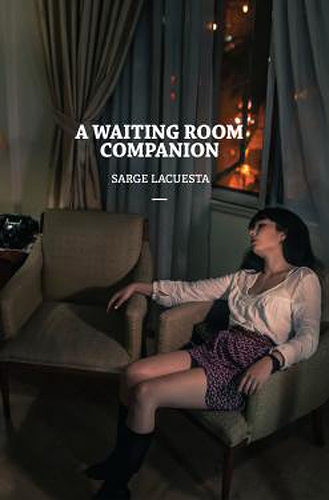 The Waiting Room Companion (Ateneo Press, 2017) by Sarge Lacuesta
The Waiting Room Companion is Sarge Lacuesta's first collection of creative nonfiction. His two earlier books, Life Before X (UP 2000) and White Elephants (Anvil 2005), both award-winning books. But the difference between his latest book and the earlier works goes beyond genre. The narrator/speaker/persona here is in the tradition of the sophisticated, urban, curious, self-deprecating man-of-the-world—created by Michel de Montaigne and sustained by his descendants down to Philip Lopate—who "essays" his observations with elegance and wit. But of course, he has the 21st-century cool, the pizzaz, the self-awareness, the irony, and the irrepressible Pinoy humor. But, now and then, he lets his guard down. So this volume is a wonderful mix of memoir, travel essays, short features, reportage, letters, meditation, reverie...in prose which is, by turns, crisp and pithy, enigmatic and laconic, wistful and lyrical, but always sharp, precise, and vibrant.
ADVERTISEMENT - CONTINUE READING BELOW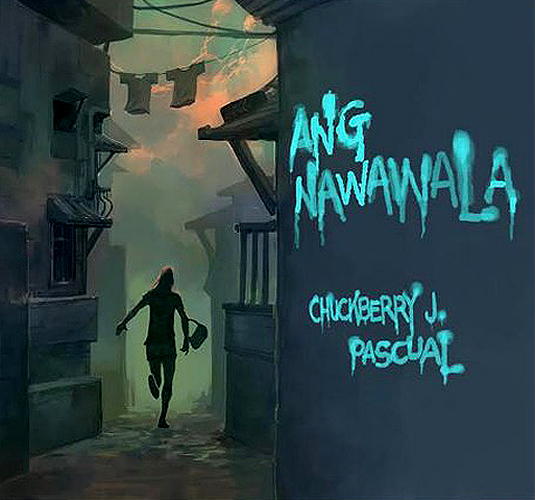 Ang Nawawala (Visprint, 2017) by Chuckberry Pascual
Chuckberry Pascual has published Kumpisal (UST, 2015), a collection of short stories, and Pagpasok sa Eksena: Ang Sinahan sa Panitikan at Pag-aaral sa Ilang Piling Sinehan sa Recto (UP, 2016), a scholarly study which combines literary criticism and ethnography. Forthcoming from UST is a translation of Miguel Syjuco's novel Ilustrado (Macmillan 2010), which won the Man Asian, and has been translated into more than 20 languages) into Filipino. Chuck describes his book as detective fiction. Filipino writers have only recently taken up this genre. Many of our earlier novels have a crime at their center, and the protagonist, though not really a detective, is trying to solve the mystery and catch the criminal, like Nick Joaquin, Edith Tiempo, Vicente Groyon. But these novels were really more interested in exploring other issues—the crime was simply a reason to embark on the exploration.
ADVERTISEMENT - CONTINUE READING BELOW
I expected Ang Nawawala to be standard detective fiction, since it consists of what the author calls a "story sequence" with a single protagonist, a barangay hall receptionist who is also a detective. But, I soon realized that the book is a comedy, its characters and situations, hyperbolic, the central character, a rather peculiar detective. In critic UZ Eliserio's view, "The mystery is why the fuck we put up with it," (referring to the grimness of life in the fictional barangay). But while the world it paints is somber, the fact is, the narrative is also, at times, hilarious. In the first story, the nawawala is, not just one bangus, but three, and the housewife, from whom they have been taken, suspects that the culprit is her neighbor's cat, so she expects justice. In the second story, the entire barangay's knives have gone missing. Is it satire? Is it farce? The combination of tragedy or pathos with comedy is a tough act, but it's one we Filipinos seem to take naturally to. It's fascinating to discover how Chuck pulls it off.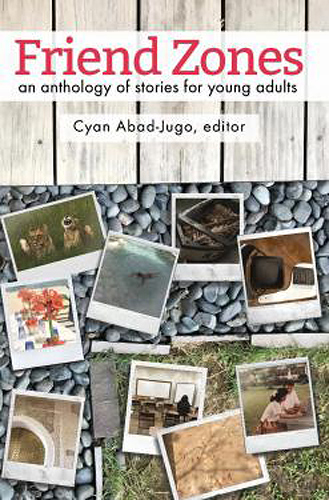 ADVERTISEMENT - CONTINUE READING BELOW
Friend Zones: An Anthology of Stories for Young Adults (Ateneo Press, 2016) by Cyan Abad-Jugo
Though it has obviously been put together for a specific market, I am convinced that Friend Zones: An Anthology of Stories for Young Adults edited by Cyan Abad-Jugo, has a broader appeal. Various modes are represented here: science fiction, fantasy, realism, horror, alternate history, etc. In "Be an Interplanetary Spy," by Luis Katigbak, which has only two characters (default mode for much of Luis' fiction), the girl is disturbed by the suspicion that her friend is slowly living more in the "Choose Your Own Adventure" books that he loves than in the real world. Nikki Alfar retells the story of Florante and Laura from the point of view of their women, in "The Secret History of Persya and Albanya," a clever feminist spin on the old tale. In "Circle of Friends," by Emil Francis Flores, the "attack" has happened, Tristan's friends have disappeared one by one, and he is trapped in his empty school, scrounging for food and consoling himself with the holograms of his friends for company. I thought this was the most chilling story in the collection, and yet it ends on a note of hope. The editor, Cyan (a former PhD student of mine at UP) deserves congratulations for her selection.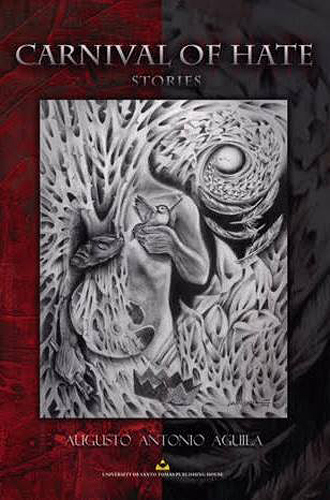 ADVERTISEMENT - CONTINUE READING BELOW
Carnival of Hate (UST Publishing House, 2016) by Augusto Antonio A. Aguila
Perhaps a good word to describe the stories in Augusto Antonio A. Aguila's new fiction collection would be "startling." These stories take us to unexpected places and do wicked things to our sensibilities. Unlike his first collection, The Heart of Need (UST, 2013), which is firmly in the realist mode, Carnival of Hate flirts with fantasy, but that is not the only aspect of it which startles. It is a rich imagination that devised these narratives, but it is one that moves with ease in dark places. This writer follows a different drummer, and is able to face down the monster without flinching. In fact, he seems determined to stare it down. There is little to mitigate the bleakness of these worlds, and no apparent redemption to look forward to. And yet Tots, a PhD in Literature, who teaches at the University of Santo Tomas, considers himself a Catholic writer. This, perhaps is the deepest source of tension in his fiction: the recognition of the compelling presence of the dark forces in this world, and the imperative claims of Faith. One reviewer calls the book "bold" and "brave," then adds, "At its ending, one is rendered speechless."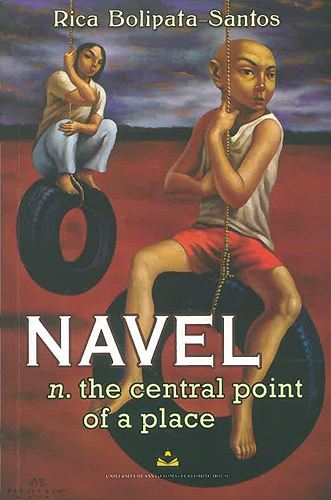 ADVERTISEMENT - CONTINUE READING BELOW
Navel n. The Central Point of a Place (UST Publishing House, 2016) by Rica Bolipata-Santos
Navel n. The Central Point of a Place is Rica Bolipata Santos' third collection of creative nonfiction. The first one, Love, Desire, Children, Etc. (Miflores Publishing, 2006) won the prestigious Madrigal-Gonzalez Best First Book Award, at a time when a collection of essays was not taken seriously as competition for short stories or poetry, let alone a novel. Her second book, Lost and Found (UP Press, 2010) is also a collection of short nonfiction, some of the pieces originally published in her column for the Philippine Star. Rica was a PhD student of mine in the UP Creative Writing Program, and I have written about the first two books in my study of the literary memoir by Filipino women, To Remember to Remember (UST, 2016.) This third book takes up the same themes: woman juggling the conflicting demands of raising a family, holding down a job, taking care of a special child, producing literary works, and surviving with honesty, courage, and dignity. And it is crafted in the same precise and graceful prose. Each of these essays is really a short memoir, written with the author's trademark candor and humor, even when she is dealing with topics that would make many women wince.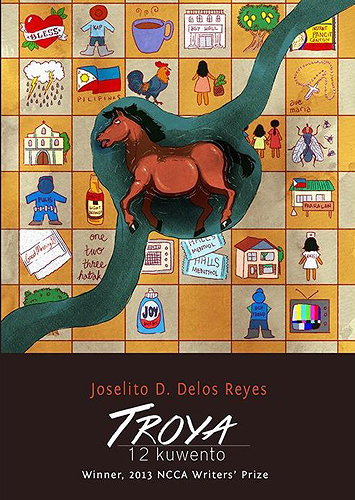 ADVERTISEMENT - CONTINUE READING BELOW
Troya: 12 Kuwento (Visprint, 2016) by Joselito D. Delos Reyes
If William Faulkner had his Yoknapatawpha County in Mississipi and Gabriel Garcia Marquez had his Macondo in Colombia, Joselito D. Delos Reyes has his Camanava in Luzon. The difference is that Camanava in Troya: 12 Kuwento is not fictional. It refers to the cities of Caloocan, Malabon, Navotas, and Valenzuela, and this is territory that Jowie literally knows like the back of his hand. His earlier books are Paubaya (UST Publishing House, 2014), a poetry collection, and iStatus Nation (Visprint, 2014), a collection of short essays, which were originally Facebook status updates—quick, droll observations and anecdotes about the contemporary scene. Both are award-winning works. In the latter book, what, at first reading might strike the reader as just light pieces, are, in fact, sharp social commentary. And this was the original purpose of comedy, as the 5th Century Greeks well knew. The awareness of social issues also underlies his poetry. So it is hardly surprising that when Jowie turned to fiction, this too would be a central concern. But, having read iStatus Nation, and having listened to him hold an audience in thrall with his humor and his dramatic flair, I want to listen to the different voice and tone which I shall encounter in his latest work.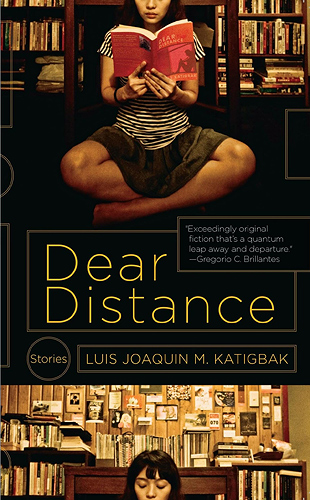 ADVERTISEMENT - CONTINUE READING BELOW
Dear Distance (Anvil Publishing, 2016) by Luis M. Katigbak
Dear Distance, by the late Luis M. Katigbak, was launched just one month after his sudden death. He was only 41. This was his third book. The first, Happy Endings (UP Press, 2000), was a collection of short stories, and the second The King of Nothing to Do (Milflores, 2006), was a collection of humorous essays. Reading his last tales today, it is easy to think that they were prescient, that they reflected a foreboding that the end was not far—"Afterlife with Astrid," for example, where the narrator talks to his friend, Astrid, who is dead, asking her what it's like after one dies, and she tells him, but forbids him to write about it; and "Tell the Sky," where the narrator is told by a mysterious seer that he has only eight stories to tell ("stories" here meaning untrue stories) and then, when he has only one left, having used up the seven by the time he is in his early 20s, he is told by the seer that the world has to be fed stories in order to survive, and he knows that he must tell his. This tale ends with the line "And as I mouth the ending, I feel my heart beat, beat, stop." But then I've been reading Luis' work since he was an undergraduate student and I know his stories were always cryptic, puzzling, ambiguous. These tales, however, are much more fine, the work of the mature writer. They are short (some are only one paragraph long), carefully polished, exquisite, hard as diamonds and as brilliant. And they cut to the quick.
ADVERTISEMENT - CONTINUE READING BELOW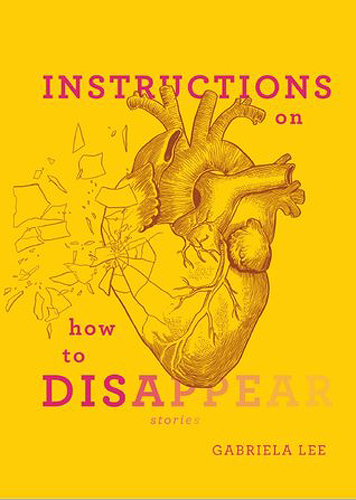 Instructions on How to Disappear (Visprint, 2016) by Gabriela Lee
Gabriela Lee's Instructions on How to Disappear shows us what speculative fiction can be like when it's done by someone who knows her business. These tales are about dangerous encounters in perilous times. And there is something terrifying about them. For me, it is the female characters who stand out: the young travel writer who bargains away everything that matters to become "the very best;" the young girl who goes into a clinic for an abortion, and wakes up with a strange wound in her midsection; the woman who finds herself in a stranger's wake, but cannot remember how she got there, or who she is... until she does; the beautiful photographer who might, or might not be a mythical monster; the leader of the survivors of the apocalypse, who must literally do battle with ghosts; the broken-hearted woman who is turning into glass... But what a long way we've come since those days—sometime in the mid-'90s, when the Carlos Palanca Literary Awards first created the category of "future fiction."
ADVERTISEMENT - CONTINUE READING BELOW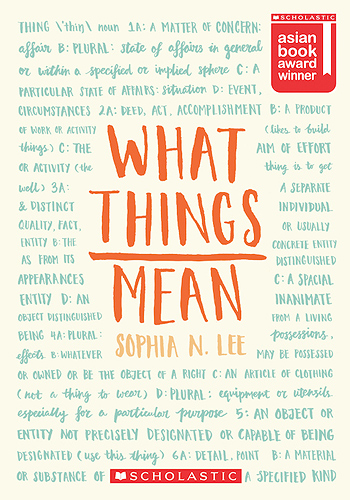 What Things Mean (Scholastic Asia, 2016) by Sophia Lee
When Sophia Lee was enrolled in my graduate creative writing workshops in UP, her interest was food writing. But she was also partial to telling stories that involved family and houses. Her first book, What Things Mean, is mainly about family, though food figures in it too. The novel is a winner of the Scholastic Asian Book Award, and is being marketed and reviewed as a novel for Young Adults. But I feel that it will appeal to adult readers as well, especially women. Like many narratives in this genre, it is a coming-of-age story. What distinguishes it from similar books is the quality of the writing. Sophie's narrator is an engaging young girl, awkward and innocent, but also, sometimes, wise beyond her years; her voice is clear and distinctive; the tone, humorous and unsentimental; the prose, limpid and precise. The device of beginning each chapter with dictionary definitions is most apt, given the book's title and the theme of the quest for meaning, the search for solutions to the puzzles that beleaguer the protagonist—why no one in her house speaks of her father, why she seems to be the elephant in the room, why she sometimes feels invisible, what infinity is... And the tentativeness of the ending is also a perfect fit.
ADVERTISEMENT - CONTINUE READING BELOW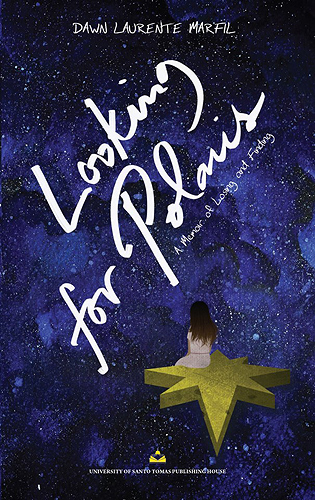 Looking for Polaris: A Memoir of Losing and Finding (UST Publishing House, 2016) by Dawn Laurente Nicole Marfil
Dawn Laurente Nicole Marfil's first book, Looking for Polaris: A Memoir of Losing and Finding will make the perfect Christmas gift for the bright millennials (many of whom, I know, are brighter than I can ever hope to be), though it will certainly be enjoyed by older people as well. The first thing that will strike the reader is how funny it is. And the second thing is how unfunny it actually is. Many years ago Walter Kerr wrote that comedy is actually more tragic than tragedy. The best comedy is always harsh. 'To be funny is to have been where agony was... The comic hero's reaction to the threatening universe is a decision to circumvent it.' We see this playing out in Marfil's narratives, which are all about loss. The greatest loss of all is the loss of the father. But that story is not part of the book. In its place, we have tales of other losses. For all the pain that underlies the laughter, this is not a dark book. Not just because of the laughter—sly, hilarious, ironic, but because of its optimism and gallant courage. This is a brave, new voice in our literature, and one I celebrate. For me, the best part of this book is Dawn's narrator, who was literally left to look after herself as a teenager, and thus became a spunky, tough, quirky, independent young woman, but never did get rid of her tender, vulnerable core. And it doesn't hurt one bit that she writes with the flair of someone to the language born.
ADVERTISEMENT - CONTINUE READING BELOW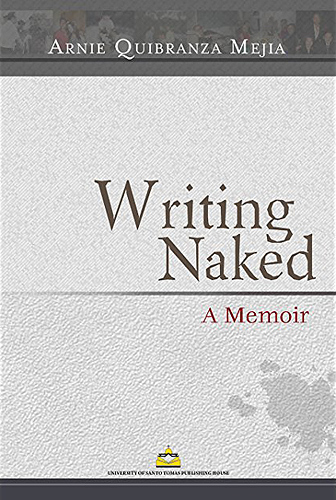 Writing Naked: A Memoir (UST Publishing House, 2016) by Arnie Quibranza Mejia
Writing Naked: A Memoir is Arnie Quibranza Mejia's first book, and, to my knowledge, it may be the first literary memoir which includes an account of a Filipino family's going into exile after People Power in 1986, because of its affiliations with the dictator Ferdinand Marcos (and what this exile meant in terms of dislocation, alienation, and a severely reduced income and social standing). This isn't the only aspect of his life that Arnie writes about with disarming honesty. His choice of title is spot-on, because these narratives do involve a stripping away of whatever masks or disguises he might have had to don in earlier years. Here, he comes clean, writing in clear, uncluttered prose, of what it has been like for him for the past thirty-some years in the U.S.—being mercilessly bullied as a kid for looking different and being different; struggling to accept his true sexuality; finding, at last, a beloved partner, then caring for him through his fatal illness and letting him go after the long, agonizing struggle; and uprooting and returning to the homeland he hardly knew. I met Arnie when he joined the UST National Writers' Workshop as a writing fellow. He was working on his MBA at the MLQU Graduate School, and running his family's logistics' company. He seemed easy in his skin. But after reading this book, the reader will understand how much it cost to get there.
ADVERTISEMENT - CONTINUE READING BELOW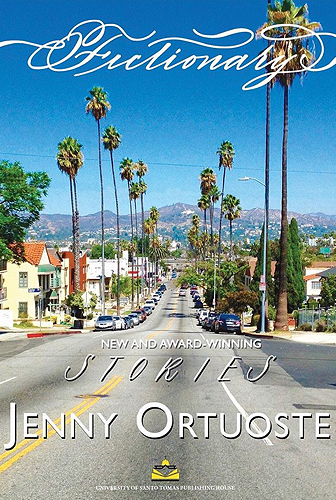 Fictionary (UST Publishing House, 2016) by Jenny Ortuoste
The narrator's voice in Jenny Ortuoste's Fictionary, particularly in the L.A. stories, is a familiar one. It is the voice I first encountered when she enrolled in a couple of my graduate writing courses in UP, and won a Palanca gold for the Essay on her first try—the sassy, spunky girl, who has toughened up because of the rough deals she has had to cope with, but who has remained a romantic at heart. But these stories are darker than her nonfiction; the humor, when it is present, more low-key. My favorites are perhaps the horse-racing stories, like "The Last Race." They have an authority that comes from years of both covering the races as a journalist in the old Sta. Ana racetrack, and having actually lived there. But the other stories have their own power, particularly "Barbie's Basement," which gives the lie to the narrator's earlier impressions of sunny L.A., and "Sire of Sires," with its restrained pathos. This is sparkling prose—at times crisp and gritty, at times gently cadenced and poetic. And, in the pieces she calls "drabbles," she slyly demonstrates what can really be done with "flash fiction."
ADVERTISEMENT - CONTINUE READING BELOW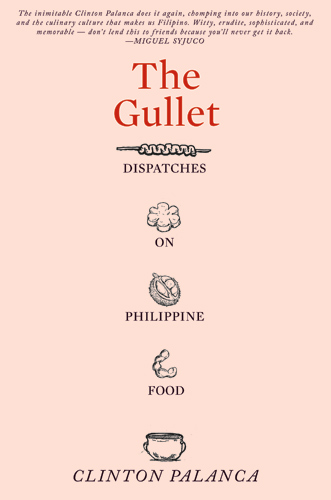 The Gullet: Dispatches on Philippine Food (Anvil Publishing, 2016) by Clinton Palanca
When I first met Clinton Palanca, he was a writing fellow of the UP National Writers' Workshop and an undergraduate philosophy major at the Ateneo. The last thing I imagined he would turn out to be was a chef. Of course, Clinton does other things besides what is now called "food writing." His long-running column in The Philippine Daily Inquirer was only ostensibly about food, and ranged far afield, with the author's tongue firmly planted in his cheek. He has published a short story collection, Landscapes (UP Press, 1998), and an excellent, little-known collection of short nonfiction that he called an "autobiography," The Mad Tea Party (Black Book, 2002). His third book The Gullet: Dispatches on Philippine Food is about food and cooking, about restaurants and dining out, about the art of writing food criticism. It is also about other things: friendship, ageing, travel...One chapter is an interview with Pico Iyer! Another one is a memoir on the restaurant he once set up and managed for a while (a favorite of mine, incidentally). Still another is a philosophical meditation on death, which the author manages imaginatively to connect to food. And at every turn, one is struck by the writer's erudition (without any of the pedantry that often accompanies it), by his wicked sense of humor, and by the elegance of his prose.
ADVERTISEMENT - CONTINUE READING BELOW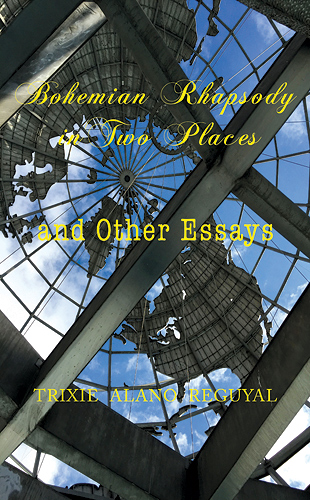 Bohemian Rhapsody in Two Places (UP Press, 2016) by Trixie Alano Reguyal
The author of Bohemian Rhapsody in Two Places, Trixie Alano Reguyal, was my student as an undergraduate in UP in the early '90s. She married shortly after that, and moved to the U.S. When her first book was released, I was surprised and disappointed that it did not attract more notice than it did. And this, despite the popularity of creative nonfiction these days. The book is a collection of personal essays and narratives: some are observations, reflections, anecdotes about Quezon City, originally written for one of the earliest, if not the first Filipino online magazine, legmanila; others are nostalgia pieces about the author's hometown, Cabanatuan; and still others are both travel essays and immigration narratives. Their simplicity—the apparent ordinariness of their subjects, which have to do with the everyday, the routine, the mundane ("food, family, books, music, and places")—is deceptive. There is a subtle sensibility at work here, and it has produced a nuanced, well-crafted work, which questions everything, including the author's own insights. Perhaps what is striking is its tentativeness. It is as if the author were testing out her impressions and her ideas. And many of the questions she poses remain unanswered.
ADVERTISEMENT - CONTINUE READING BELOW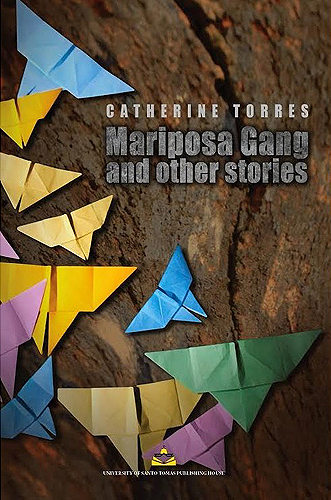 Mariposa Gang and Other Stories (UST Publishing House, 2016) by Catherine Torres
Mariposa Gang and Other Stories by Catherine Torres is the author's first book. She is a diplomat by profession, so it's hardly surprising that she writes mainly of displaced Filipinos, transported to different lands... or to dark corners in their own land... by persistent dreams, or dogged hopes, or by a simple absence of alternatives, and making do with what they find there, disenchanting though it might be. There is Amy serving as a maid in Singapore, whose birthday is never remembered, by either herself or the parents and siblings she left behind to benefit from her earnings... There is young Father Jules, fleeing to a remote village in India, to escape the memory of a lost love, and the temptations offered by nubile colegialas, only to be thwarted by his own alien-ness... There is the photographer Marco, jobless because he will not compromise his art by switching to digital cameras... There is the prisoner, who thinks he has found redemption in catching rare butterflies in the Palawan jungle, "that would grace the glass cabinets of museums and private collections..." These are quiet little stories, but in their stillness, there is a throbbing pain. (The National Book Development Board and the Manila Critics Circle have just announced that Mariposa Gang has won the National Book Award for the Short Story.)
ADVERTISEMENT - CONTINUE READING BELOW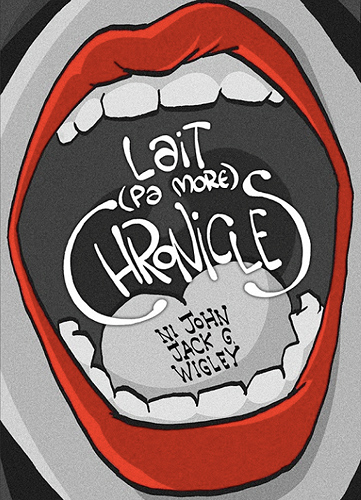 Lait Pa More (Visprint, 2016) by John Jack G. Wigley
Readers familiar with John Jack G. Wigley's first two books Falling into the Manhole (2013) and Home of the Ashfall (2014), both published by UST, will find the sudden shift in his next two books quite unexpected. The first book contained candid, touching, but funny narratives about difficulties endured by the author during his childhood, growing up poor, illegitimate, a half-breed, and gay; and during his early manhood, struggling to make his way in a world where he had no advantages save for his determination to survive and his unfailing sense of humor. The second followed him into his more mature years, as an academic and a writer, living in a Mandaluyong condo, and having an easier time of it, but still having to cope with the inevitable crises, physical and emotional. Both books are written in English.
Lait Chronicles (Visprint, 2015) and Lait Pa More (Visprint 2016), though nonfiction, have a narrator who appears to be someone else entirely. To start with, he is speaking in Filipino, and a very colloquial Filipino. I know that the pieces in the first one were originally status updates on Facebook, and the enthusiastic response they received was the reason for the decision to turn them into a book. Many of the short sketches in the first book are short dialogues between the persona and his kasambahay, who usually outsmarts him, and the rest are about his misadventures in the classroom with his students. The second deals with more varied situations, including encounters with taxi drivers and overheard conversations in restaurants, malls, etc. As in the earlier book, though this one contains panlalait, the joke is often turned against the narrator. The choice of Visprint as publisher, arguably the most dynamic and innovative of today's local publishers, is equally noteworthy. The decision is obviously aimed at reaching a wider audience and gaining more popular appeal, a welcome thing for our literature.
ADVERTISEMENT - CONTINUE READING BELOW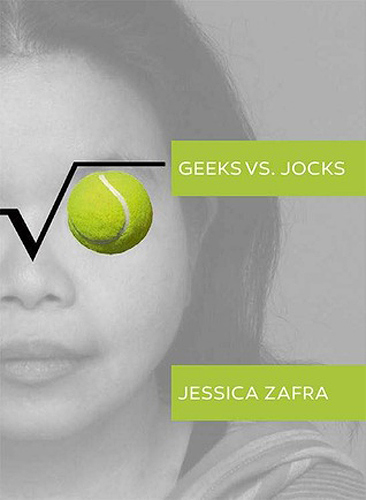 Geeks vs. Jocks (Anvil Publishing, 2016) by Jessica Zafra
Who doesn't know Jessica Zafra? I think she is the first writer to become a real national celebrity because of her writing, and only later because of her TV show. When I was still teaching undergraduate creative writing courses, all my female students were trying to write like her. I have myself tremendously enjoyed reading her books—the earlier volumes of the famous Twisted series, Manananggal Terrorizes Manila and Other Stories (Anvil, 1992), her only fiction collection, I think, and Twisted Travels (Anvil, 2007) her only travel book. Her humor is wacky and hilarious, but also intelligent and sharply ironic, and wonderfully irreverent. What drew me to her latest book, Geeks vs. Jocks, is the fact that I didn't know Jessica wrote about sports; and my impression that Jessica didn't even care about sports. But here's this book now. One section is devoted to tennis (to Roger Federer, in particular). Another section is all about rugby (including a piece on what happens when you put rugby players in skimpy undershorts on giant billboards on EDSA). The third is titled "Violence" and is a commentary on popular culture, like TV serials, films, TV interviews of celebrities, and Manny Pacquiao's last defeat. Jessica's as good as she ever was. I just wish she had cut down a bit on the lists.
ADVERTISEMENT - CONTINUE READING BELOW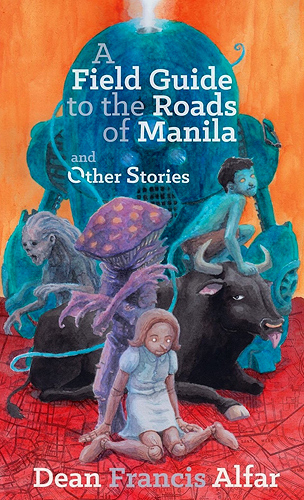 A Field Guide to the Roads of Manila and Other Stories (Anvil Publishing, 2015) by Dean Francis Alfar
Dean Francis Alfar is best known for having initiated a kind of movement toward "speculative fiction," which rapidly gained ground in the Philippines, and today may well be the genre of choice of most young Filipino writers. Aside from generously mentoring a whole generation of writers dedicated to exploring other dimensions and other realms, he has himself written two other collections of short stories—The Kite of Stars and Other Stories (Anvil Publishing, 2007), How to Traverse Terra Incognita (Visprint, 2014), a children's book and two graphical novels; won numerous awards, including the Palanca for his novel, Salamanca (Ateneo Press, 2007); edited and co-edited several anthologies, including the groundbreaking Philippine Speculative Fiction Series; and been widely anthologized, here and abroad.
In their anthology Extreme Fiction: Fabulists and Formalists, Robin Hemley and Michael Martone divide "nontraditional" stories into those which deviate from the familiar in their content, and those which deviate in their form. In his latest short story collection, A Field Guide to the Roads of Manila and Other Stories, Dean would fit into both categories. The title story, which starts out like a traditional realist story turns out to be perhaps the wildest in the book (fantasy? Sci-fi? detective story?). "City Crossing" is really an essay that reads like a love song to the immense variety of Metro Manila. "The Girl with the Gun," the quietest and most minimalist story, is, in some ways, the strongest. One story unfolds in a series of letters; another one in a series of emails; a third as a sequence of short, numbered paragraphs. "The New Daughter" is a sad little sequel to Pinnochio. And the last story "This is the Story" is a deconstruction of stories. Welcome to Dean Alfar's worlds.
ADVERTISEMENT - CONTINUE READING BELOW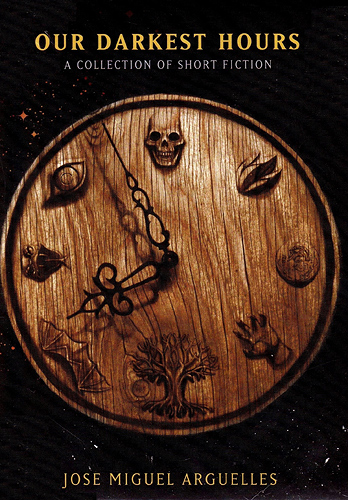 Our Darkest Hours (Visprint, 2015) by Jose Miguel Arguelles
Our Darkest Hours is Jose Miguel Arguelles' first book. In her blurb, Rosario Cruz-Lucero speaks of a "wealth of fictional subgenres... the tall tale, the well-made story, noir, horror, and the apocalyptic story–with elements and stylistic techniques derived from fabulation, marvelous realism, surrealism, and the psychological gothic." Paolo Manalo, in his blurb, promises "terror and urban madness." I found in this collection a heady brew indeed. Arguelles throws together familiar figures and situations with legend and fantasy; a frat war and a woman/python locked up in the basement of a mall; gang rape, abortion and a plane crashing in answer to the victim's prayer; a gang of mortuary employees who are necrophiliacs; Moslem separatists, Ateneo basketball players, and zombies... What to call this kind of fiction? Pinoy noir? One thing I know: this new voice in our literary scene is undoubtedly an interesting one.
ADVERTISEMENT - CONTINUE READING BELOW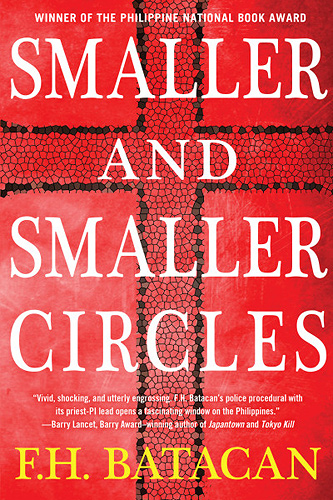 Smaller and Smaller Circles (Soho Press, 2015) by F.H. Batacan
I first got to know F.H. Batacan when she took a couple of my Creative Writing graduate courses as electives in UP, but I first read her novel when she submitted it to the Carlos Palanca Awards in 1999. I was serving as a member of the panel of judges for that year, and its winning the Grand Prize represented, for me, an exciting new direction for Philippine fiction in English, a departure from most award-winning fiction—a crime novel. Given the high crime rate in the country, and the prominence that crime is given by media, it was a wonder that no one had written one before this. In 2002, the UP Press, of which I was then director, published the novel, Smaller and Smaller Circles. After its publication, it won two more national awards—the Madrigal Gonzalez Best First Book Award and the National Book Award for the Novel. It is not a whodunit. The reader knows who did it.
ADVERTISEMENT - CONTINUE READING BELOW
"The suspense is created by following the process of the slow, painstaking uncovering, and the climax, is, of course, the shock of confrontation with what happens in the end. What Ichi had done is take a popular genre and produce a carefully researched, fast-paced, engrossing tale that did much more than recreate the stereotypes and conventions that such popular fiction is usually trapped in. She grounded her story in a local slum area, Payatas, and in the offices of the NBI, where 4 million pesos' worth of DNA-testing equipment could not be used because no database existed, and law enforcers refused to acknowledge that serial killings happened in the country. She also created characters who, hunters or hunted, were presented with sensitivity and sympathy. And she structured her story around a double vision: alternately following the two Jesuit priests (a forensic anthropologist and a clinical psychologist) who had been brought in to uncover the killer's identity, and fragments of the murderer's thoughts." (The above passage is from an earlier essay of mine "Genre Fiction, Pinay Style," in Over a Cup of Ginger Tea, UP Press, 2006) In 2015, a much-expanded version of Ichi's novel was published by Soho. The film, directed by Raya Martin, and just released in local theaters, is based on this version. Ichi lives and works in Singapore.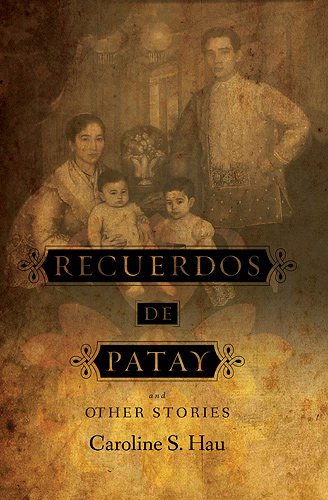 ADVERTISEMENT - CONTINUE READING BELOW
Recuerdos de Patay and Other Stories (UP Press, 2015) by Caroline S. Hau
I have known Caroline S. Hau since she was my student in UP, doing an MA in Comparative Literature, and through her excellent scholarly books, all published here, while she has been living and teaching overseas, including the award-winning Necessary Fictions: Philippine Literature and the Nation, 1946-1980 (Ateneo Press, 1999) and On the Subject of the Nation: Filipino Writings from the Margins, 1981-2004 (Ateneo Press, 2003). But she has kept her ties with Philippine creative writing, through the literary anthologies that she has edited and co-edited, like Intsik: An Anthology of Chinese Filipino Writing (Anvil Publishing, 1999), Querida: An Anthology (Anvil Publishing, 2013); and she has been publishing the occasional short story in journals and magazines, both national and international.
Two years ago, she finally collected her fiction in Recuerdos de Patay and Other Stories. The stories cover 22 years of the author's life—the earliest story published in 1988, the most recent, in 2010. Caroline is one of the very few "Chinay" literary writers in the country, and some of the stronger stories in the collection are about Chinese Filipinos. But there are other characters and situations as memorable: a group of college girls doing their practicum in a village confront a creature of mythology that they do not believe in; a suicide in a beautiful university campus in Ithaca forces a Filipina graduate student to recognize her own alienation; an artist works among ghosts and memories as he goes about his business of visiting the town's ancestral houses each time there is a death in the family, because it is his job to paint portraits of the dead... The constant in all these stories is the author's language, which Charlson Ong has described as "luminous," her restrained, understated narrative style, and the subtlety with which the reader is led to confront the dark mystery at the heart of each narrative.
ADVERTISEMENT - CONTINUE READING BELOW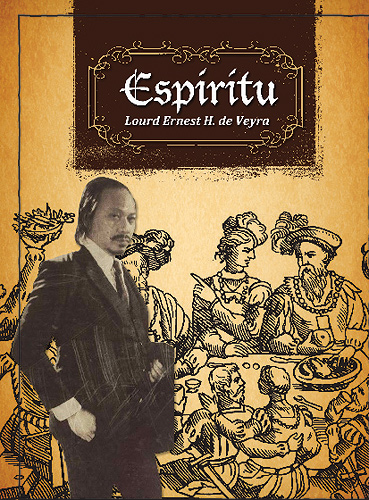 Espiritu (Anvil Publishing, 2014) by Lourd de Veyra
Most people know Lourd de Veyra as the celebrity host of several programs on TV5. Others know him also as the main man for the band Radioactive Sago Project. It's probably a smaller group of people who are familiar with his novel, Superpanalo Sounds (UST Publishing House, 2011), the first (and, to my knowledge, still the only) novel about the Philippine rock scene, and his three poetry collections, Subterranean Thought Parade (Anvil Publishing, 1998), Shadow Boxing in Headphones (UST Publishing House, 2001), and Insectissimo (UST Publishing House, 2011), and an essay collection The Best of This is a Crazy Planets (Summit Books, 2011). But even someone who is familiar with his other work—and therefore knows that with Lourd one should expect the unexpected—Espiritu, will come as a surprise. It is written in Filipino, unlike his earlier work, and it's one brash, madcap party all right: recipes for pulutan and recipes for cocktails; relief measures for hangovers; lists of the most famous drinking writers, the world's greatest drinkers, the types of drunks; the etiquette of imbibing; levels of kalasingan, and much more. It references Kingsley Amis, Ian Gately, Edilberto Alegre, and is sprinkled with quotations from philosophers and Nobel Prize winners. The book is highly intelligent, warmly companionable (the voice is unmistakably Lourd's), and extremely funny. It is part manual, part guidebook, part social history, part memoir. And entirely first-class entertainment.
ADVERTISEMENT - CONTINUE READING BELOW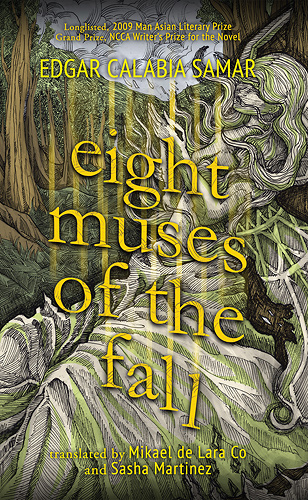 Eight Muses of the Fall (Anvil Publishing, 2013), translated into Filipino from Edgar Calabia Samar's Walong Diwata sa Pagkahulog
When Edgar Calabia Samar's first novel, Walong Diwata sa Pagkahulog, was published (Anvil Publishing, 2008), it was hailed by Jun Cruz Reyes as representing a whole new chapter in the history of narratives in Filipino. Was he saying that it may well be the first modern fabulist novel in Filipino? It made the long list for the Man Asian Literary Prize shortly after. Egay's second novel, Sa Kasunod ng 909, and book of personal and critical essays, Halos Isang Buhay: Ang Manananggal sa Pagsusulat ng Nobela, were published by UST in 2012. The terrific thing about his first novel being translated into English as Eight Muses of the Fall by Mikael De Lara Co and Sasha Martinez is that it is one more example of a most significant trend in our contemporary literary scene: the translation of English literary texts into Filipino by our own distinguished writers. (Not to mention the equally important work of translating our literature in English and other languages into Filipino.) And, of course, everyone knows about Egay's bestselling Janus Silang YA series. This young man may well be on his way to becoming one of our most influential literary figures, if he isn't already that even now.
ADVERTISEMENT - CONTINUE READING BELOW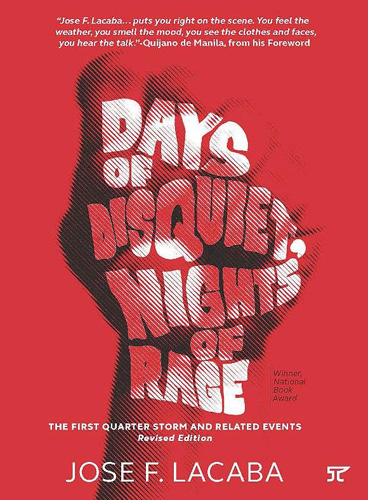 Days of Disquiet, Nights of Rage (Anvil Publishing, 2017) by Jose F. Lacaba
I close my list with Days of Disquiet, Nights of Rage by Jose F. Lacaba, which was first published in 1982, and is by now a classic. A new edition was published in 2003. Since then it has been out of print. The third edition (published by Anvil in 2017), is a revised edition. And its release at this time, is a godsend. For anyone, who wants to know "what it was like" in the months leading up to martial law, and why it is not possible "to move on," this is a must. During the long Marcos years, he was among those jailed and tortured. Pete was, first of all, a poet in English, and a wonderful one. He later became a poet in Filipino, perhaps one of the first to use deliberately prosaic language to produce poetry by turns moving and funny. He was (and still is) a first-rate journalist (one of the legendary team that belonged to the pre-martial law Philippines Free Press). He is also a writer of screenplays, and many times awarded for his poetry, his screenplays, and his literary journalism. I have a copy of the first edition, of course, a gift from the author, and I have just bought a copy of this revised edition, simply because I wish to remember.
ADVERTISEMENT - CONTINUE READING BELOW
See the original post on Facebook.
Share this story with your friends!
---
Help us make Spot.ph better!
Take the short survey
Load More Stories