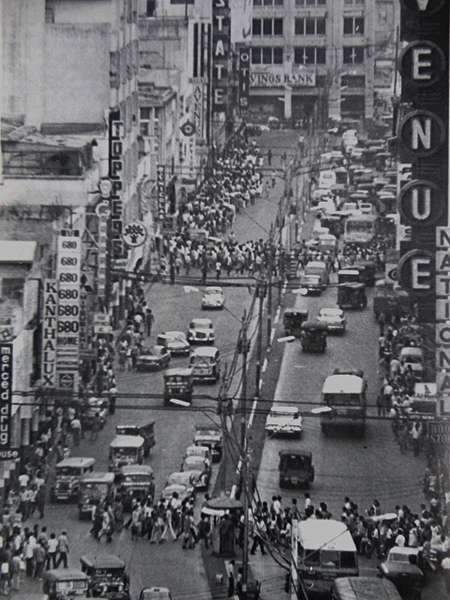 (SPOT.ph) In every Philippine town, you can find streets and roads named after Dr. Jose P. Rizal, but there is none as well-known perhaps as Rizal Avenue. Avenida Rizal or simply Avenida was practically the country's Main Street before the LRT took over, and before the rise of Greenhills and Ayala, which eventually stole the thunder from this bustling thoroughfare that never sleeps.
Not as flashy as its neighbor Escolta, Avenida had a life and energy all its own, populated by a melting pot of people from all walks of life—shoppers, workers, commuters, and streetwalkers—who come and go on this street, its sidewalks and its crossings, every day. Here's a look back at Avenida Rizal's heydays.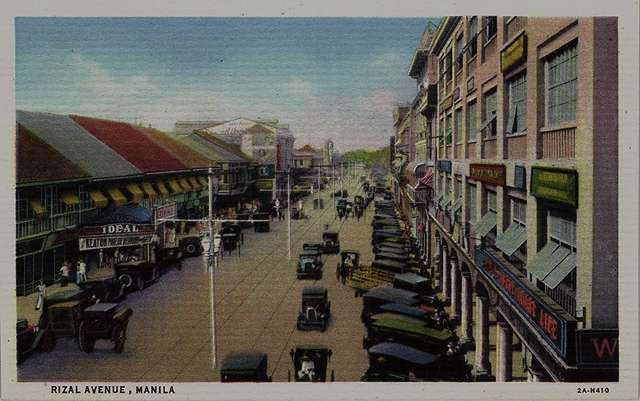 ADVERTISEMENT - CONTINUE READING BELOW
Avenida Rizal was formed from two streets in the Sta. Cruz district—Dulumbayan and Salcedo Streets. By the 1920s, the avenue was already a popular social destination.
Everyman's Avenida
The future Avenida Rizal was once called Calle Dulumbayan (dulo ng bayan) or the end of civilized territory as the Spaniards saw it then—that swampy, estuary-riddled stretch between Carriedo and  Azcarraga (now C.M. Recto), within the Sta. Cruz district. In 1911, Dulumbayan, along with a newly laid-out road called Salcedo past Carriedo, were joined and became Avenida Rizal.
Over time, Avenida would be extended past Azcarraga, passing Bambang Street, Batangas Street, all the way to Blumentritt. Beyond that, the avenue becomes Avenida Rizal Extension, ending at the foot of Bonifacio's Monumento in Grace Park, Caloocan, a distance of around 6.25 kilometers.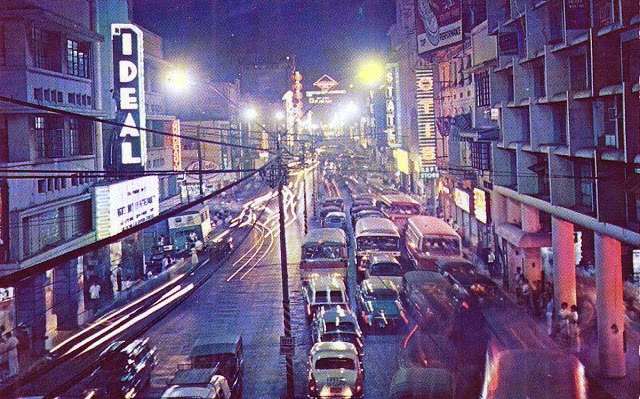 Avenida by Night, all lit up with blinding movie marquees and restaurant signs, early '60s
ADVERTISEMENT - CONTINUE READING BELOW
Recommended Videos
Avenida, When It Bustles
Avenida's commercial, entertainment, and leisure strip, even after the war, was less than a kilometer long, but it was crammed with shops, cinemas, retail stores, restaurants, and sidewalk stalls. Avenida clearly catered to the masses, as prices were low, shops were never intimidating as compared to elitist Escolta's, and the atmosphere more casual.
Straight as an arrow, the avenue was perfect for parades, for window shopping, and for gawking—it was lined with theaters that were architectural marvels, and an array of shops like Otis, Shoe Mart—now SM, Good Earth Emporium, and Manila COD.
In the early 1970s, you could divide Avenida into two territories: The left side facing Odeon was dominated by personal products (shoes, jewelry, cosmetics) as well as bookstores. Opposite that, one would find hardware, optical shops, and sports and athletic supply stores. Both sides were littered with stalls that sold anything from used Playboy magazines, and one-man service centers offering shoe repair, key duplications, and rubber-stamp and dry-seal making.
Avenida's Theaters
In the 1950s, Avenida was a veritable display of bright marquee lights what with its clutter of theaters, some built as early as the Commonwealth years, and a few designed by future National Artists.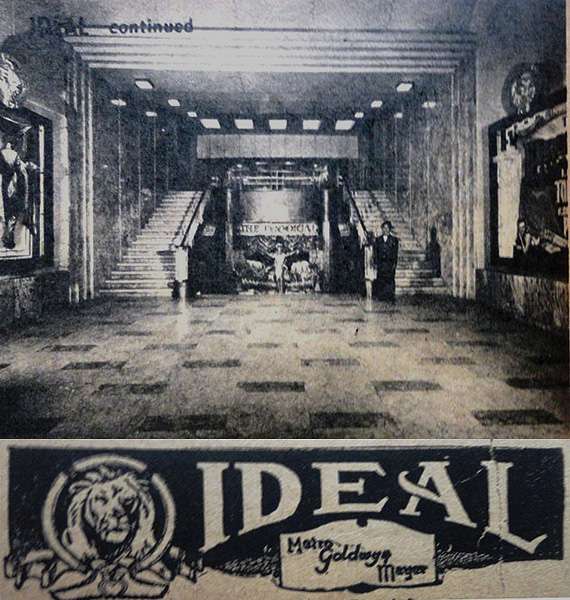 ADVERTISEMENT - CONTINUE READING BELOW
Ideal Theater's opulent lobby, after its 1955 restoration, one of the finest in the country.
Ideal Theater
Built in the last quarter of 1910, the old wooden Ideal Theater was founded by five Manila families—the Roceses, Tuazons, Teoticos, Guidotes, and Basas. It sat 400 people, with tickets at 20 centavos for the orchestra, and 40 centavos for the balcony. Ideal became known for its international offerings, beginning with The Exodus, a French production. It also showed Italian and American-made films of Fox, Universal, and Famous Players that were hits with moviegoers.
Its stature would rise in the 1920s when it was renovated and became an exclusive Metro-Goldwyn-Mayer cinema. It would be revamped in 1933, under the helm of Architect Pablo Antonio (now National Artist), who gave it a distinct Art Deco look. In 1955, its screen was widened, and its seating capacity was increased from 1,000 to 5,000.
At its prime, Ideal stood as one of the finest movie houses in the country, providing its patrons with maximum viewing enjoyment owing to its modern amenities and elegant features such as its spectacular lobby. The theater was closed in the 1970s, then was demolished to make way for the LRT in the 1980s, its place taken over by a shopping center.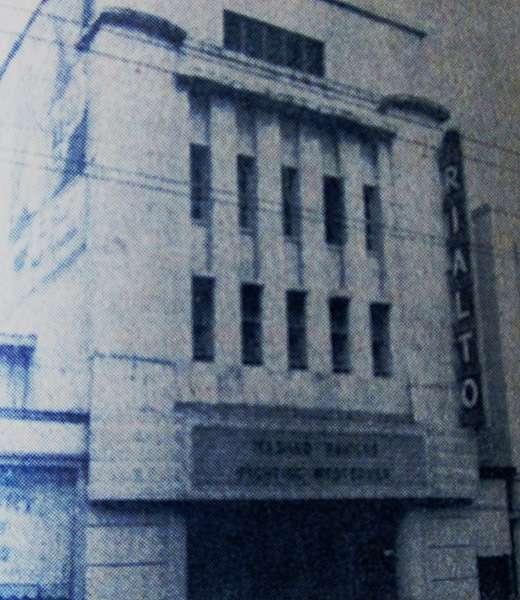 ADVERTISEMENT - CONTINUE READING BELOW
Rialto Theater in 1952. Just one of the many theaters owned by the Rufino family in Manila. It has been torn down to give way to a hotel.
Rialto Theater
Luzon Theaters, incorporated by the Rufino family, operated the biggest theater chain in Manila. Many of these theaters were built on land the Rufinos owned in Avenida and Ermita. Rialto Theater was one of their earliest buildings on Avenida, dating back to 1933. Rialto was known for its screening first-run films produced by Columbia Pictures.
When U.S. films were transferred to the State Theater in 1935, Rialto was renamed Grand Theater, and became the house of first-run Tagalog pictures. After the war, the theater was rebuilt in 1947 and it increased its seating capacity to more than 700. It reverted back to its old name, Rialto Theater. It was first converted into a commercial arcade, and now, a hotel.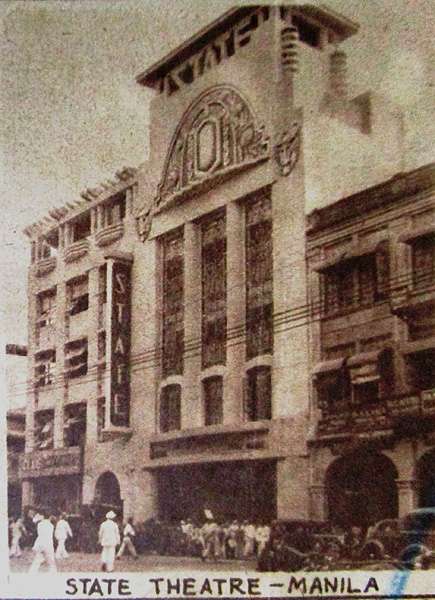 ADVERTISEMENT - CONTINUE READING BELOW
State Theater in 1952, another impressive Art Deco building by Architect Juan Nakpil. A mall now stands on its original site.
State Theater
Another popular Luzon Inc.-operated theater was the State Theater along Rizal Avenue and Bustos Street, designed by National Artist Juan Nakpil. It was done in modern Art Deco style in 1935. It suffered some damage after the war and was rebuilt in 1946 with a 1,000-plus seating capacity. It ceased operations in the 1990s and was totally torn down in 2001. Emerald Circle, a small mall, now stands at this location.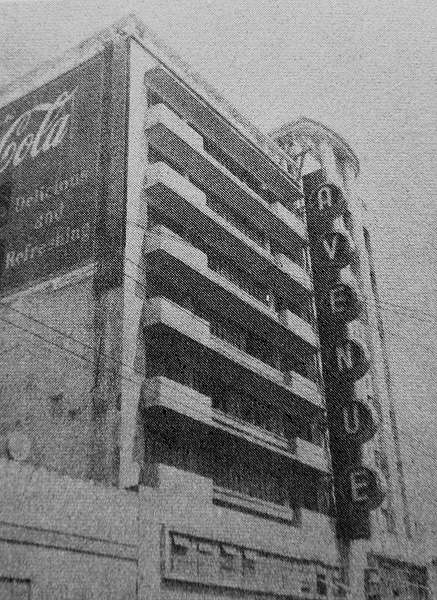 Avenida Theater in 1952, the Art Deco theater designed by the architect Juan Nakpil. In its place is now a parking lot.
Avenida Theater
Architect Juan Nakpil designed the high-rise Avenida Theater of Luzon Theaters Inc. which was inaugurated in 1939 by President and Mrs. Manuel L. Quezon. Damaged by the war, it was rebuilt in 1946, with an expanded seating capacity: The loge had 107 seats, the balcony had 396, and the ground floor had 1,066. The Art Deco, air-conditioned building was known for its first-run Paramount and RKO Radio pictures. In 2007, Avenue Theater was torn down and converted into a parking lot.
ADVERTISEMENT - CONTINUE READING BELOW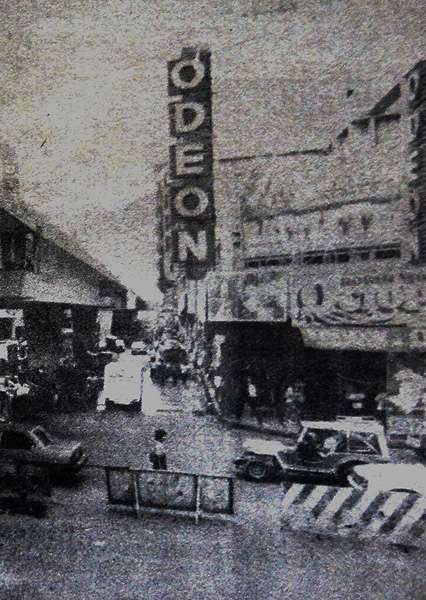 Odeon Theater in 1983, business as usual even with the LRT construction underway.
Odeon
At the corner of Recto and Avenida once stood the capacious Odeon Theater, which in its heyday was one of the country's biggest. The fully air-conditioned theater screened mostly United Artists movies. Odeon was torn down in the 1980s to give way to a mall linked with the Doroteo Jose-Recto LRT station walkway—the Odeon Terminal Mall.
Avenida's Stores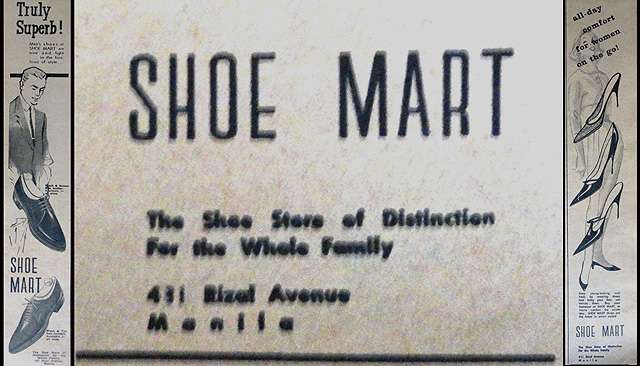 ADVERTISEMENT - CONTINUE READING BELOW
Early Shoe Mart strip ads, from 1959. Shoe Mart attracted crowds through its innovative display of shoes.
Shoe Mart
The Philippines' foremost malls—SM—began as a humble shoe store founded by the visionary entrepreneur, Henry Sy Sr. He also used to own a pharmacy, but it was the shoe store that he put up in a small space on 431 Rizal Avenue, on October 1958. With his unusual merchandising displays, Sy transformed Shoe Mart into a "shoe store of distinction for the whole family."
Shoe Mart would go on to open more branches, until in 1972, it became a successful full line, one-stop department store chain, offering a total shopping experience unlike any other. "We've got it all for you!"—they promised, which found full expression in its super malls—integrating merchants' store space, food courts, theaters and events, children's areas, activity centers, parking, transport hubs—in its complexes. With a target of 75 malls nationwide by 2018, SM has become very much a part of every Filipino's life.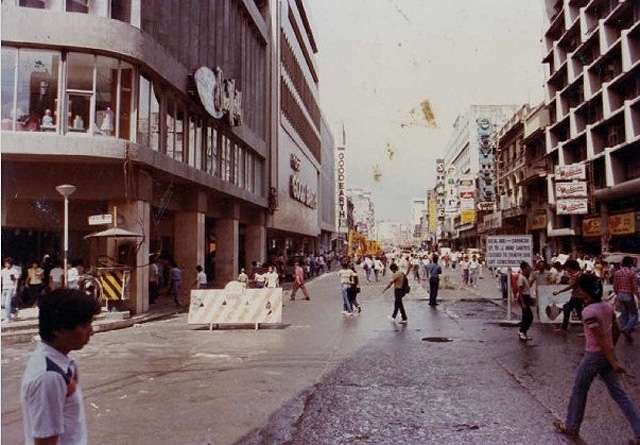 ADVERTISEMENT - CONTINUE READING BELOW
Good Earth Emporium, at corner Bustos Street in the 1980s. With five floors of shopping space, it was Avenida's biggest department store.
Good Earth Emporium
The first and largest department store along Avenida was the five-storey Good Earth Emporium, put up by Lim Ka Ping and partners in a building leased by Roces-Reyes Realty Inc. Located at the corner of Avenida and Bustos Streets, the department store pioneered the use of escalators in malls. It also had a captive market on weekends as Sta. Cruz churchgoers would flock to its coffee shop after Mass, to have their breakfasts before shopping.
Good Earth was popular for its ready-to-wear clothes and dresses, personal accessories, toys, novelty items, and athletic supplies. Severely affected by the shift in shoppers' preference and aggravated by the LRT construction, Good Earth was forced to accept other in-house commercial shops (Robinson's Supermarket was one) and was renamed as Good Earth Plaza.
It was also hounded by court cases filed by the lessor for non-payment of rent. Nevertheless, Good Earth continued to operate until 2008, when a fire burned down the building and closed its business permanently.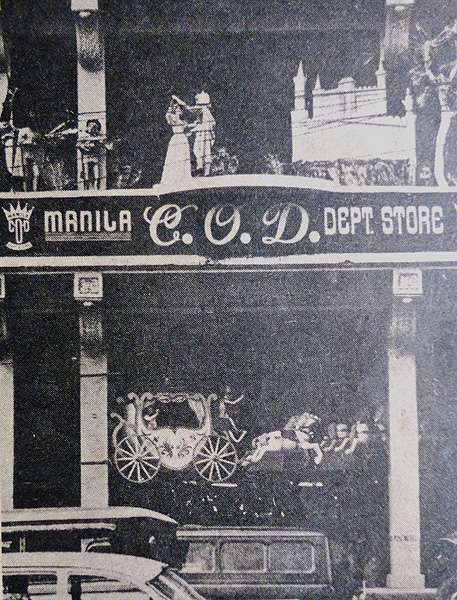 ADVERTISEMENT - CONTINUE READING BELOW
Manila COD, owned by two Jewish brothers, was bought by the Rosarios in 1948. It is known for its animated Christmas display, as shown here from 1962.
Manila COD
The original founders of Manila COD were two Jewish brothers, the Ipekdjians, and the store's wide inventory included jewelry regularly supplied by the Rosarios of Vigan. Due to import controls, the Ipekdjians had a hard time keeping the business, so they offered Manila COD for sale to the Rosarios, which the latter bought in 1948 for P100,000. Put in charge was the young Alex Rosario, who—for the next six years, tried to keep the business afloat; general merchandising in those days was controlled by the Chinese and Indians.
But Rosario persisted by carefully choosing his products, putting quality above all else. This was not lost on customers, who began patronizing the store by the thousands. Even Rosario's neighbors were impressed that they began asking him to sell their products. By 1962, Manila COD was an established department store. It opened a Cubao branch and in 1977, had a workforce of 500 employees.
Because Rosario had no money for advertising, he devised ways to drive traffic to his store by creating spectacular displays during the Christmas season. These became perennial crowd drawers. Like other single department stores that were affected by the rise of super malls, Manila COD, too, soon lost its patronage and closed in 2002.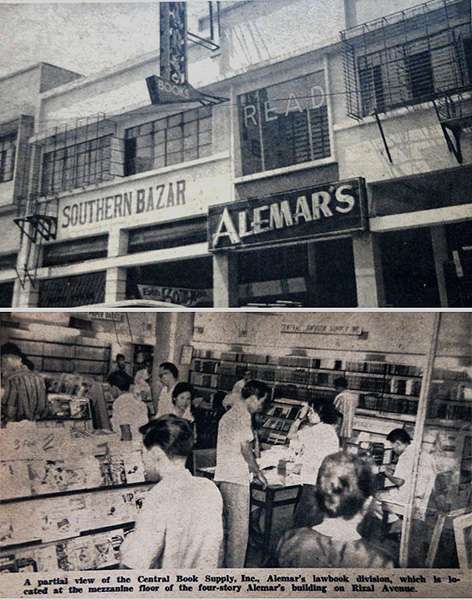 ADVERTISEMENT - CONTINUE READING BELOW
For many years, Alemar's was the go-to place for books, school supplies, and textbooks, until rival National Book Store came along. Circa 1961
Alemar's
One of the country's premier stores for school supplies and books began as a one-table store in 1945, selling American books in downtown Manila, manned by couple Dr. Ernesto and Alegria Sibal. The Sibals decided to put up their main office in Avenida and called their shop "Alemar's," derived from Mrs. Sibal's name—ALEgria, and the first given name of the Sibal daughters, MARia. Alemar's would be transformed into "the biggest and most modern bookstore in the Far East" in the '50s and '60s, with branches in Ermita, Recto, Quezon City, and Makati.
It ventured into printing and publishing in 1950, through its Phoenix Press and Phoenix Publishing House. Alemar's sold more than just books—it also carried imported textbooks, used books, office supplies, toys, men's, ladies' and children's wear, home accessories, magazines, and more. Central Book Supply, a division specializing in law books, was also put up. With more aggressive competition from National Bookstore and with heirs leaving for the United States, Alemar's started closing its shops in the 1980s.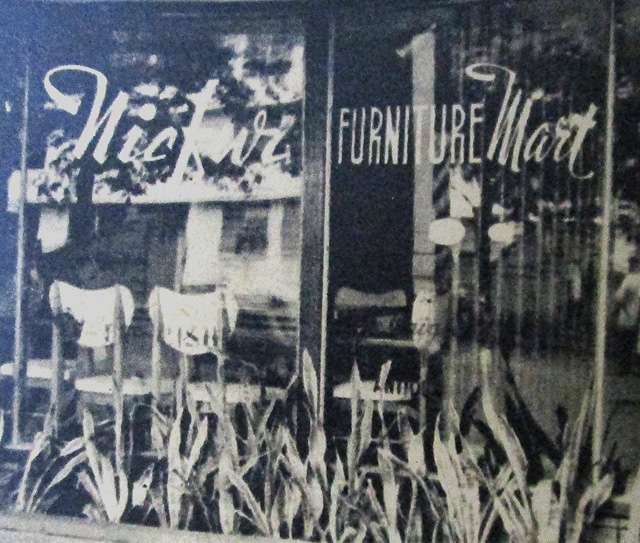 ADVERTISEMENT - CONTINUE READING BELOW
Nicfur's main office and its 900 square-meter showroom was housed in the first new building to rise on Avenida after the war.
NicFur
On 1624 to 1636 Rizal Avenue, just across San Lazaro Hospital, once stood the main showroom and office of Nicfur, one of the most popular quality makers of furniture in the Philippines. It started in 1934 as Nicolas Furniture in Casiguran, Sorsogon, founded by Antonio Nicolas with an initial investment of P500. Upon his passing, the business was continued by younger brother Francisco, who managed to capture the eastern Visayas market by 1941.
The war forced Francisco to evacuate to Manila, where he resumed furniture-making after the Liberation. He organized the burgeoning business into a corporation in 1945, and by the 1960s, was a byword in household and office furnishing and interior decoration. The Nicolas family later expanded into construction, lumber, and real estate. The Nicfur business flourishes to this day. American business tycoon Loida Nicolas-Lewis is the daughter of the late Francisco Nicolas.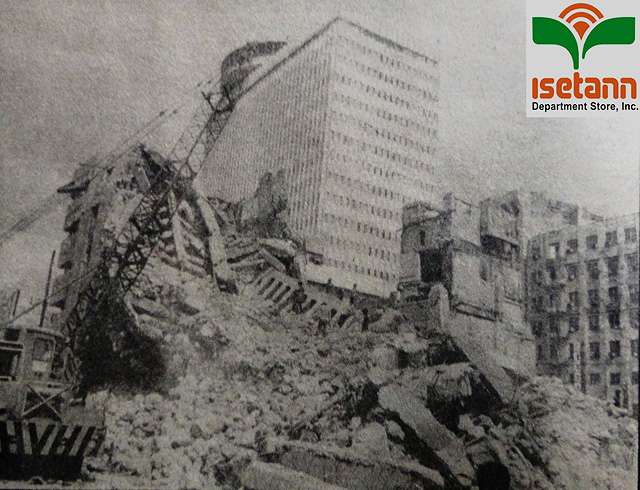 ADVERTISEMENT - CONTINUE READING BELOW
The fall of Isetann, as captured in this 1983 photo. The bulldozed building stood in the way of the planned Light Railway Transit tracks.
Isetann
The Isetann Department Store that used to face Avenida was one of the major casualties of the Light Railway Transit project in the 1980s. Isetann began as a corporation of Chinese businessmen Jorge Go and John Gobenghuy in 1980. The department store's predecessor was Joymart. In 1983, Isetann, which was in operations for just a few years, was among the buildings torn down to make way for the LRT.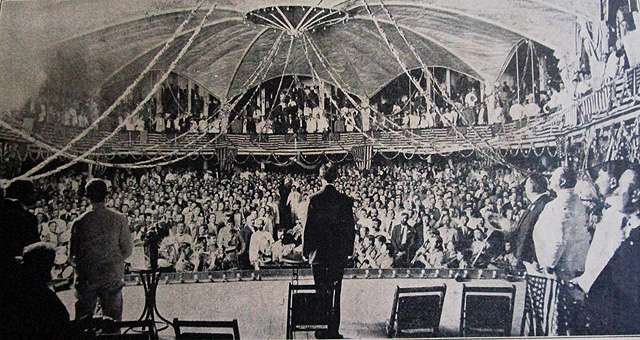 Manila Grand Opera House was the venue for the controversial "Flag Meeting," which drew 6,000 people in 1908. The meeting sought the banning of the display of the Philippine flag.
Manila Grand Opera House
Cosmopolitan Manila was no stranger to theatrical productions that were being presented as early as the 1890s. But as local theaters had limited facilities, a group of entrepreneurs pooled their resources to build the bigger Teatro Nacional. It, too, was deemed not up to modern standards, after Neil, Frawley & Co. performed there with dismal results. Escolta businessman N.T. Hashim then bought the theater, remodeled, enlarged and updated it, to become the Manila Grand Opera House.
ADVERTISEMENT - CONTINUE READING BELOW
This time, the Italian Grand Opera Co. performed in the new venue to a full house. The audience was thrilled to see a theater able to accommodate the largest scenery and with such great acoustics. Notable companies followed—Pollard's Lilliputian Opera Co., the Chinese Vaudeville, and the Bandmann Opera.
The Manila Grand Opera House was also used for mass meetings. The inauguration of the members of the First Philippine Assembly took place here on October 16, 1907. In years to come, the Manila Grand Opera House along Avenida, at the corner of Doroteo Jose Street—hosted stage productions, until "Ang Tibay" shoe magnate Toribio Teodoro bought the place in 1942 and turned it into his residence. Reconstructed after the War, it was relaunched in the 1950s as the "Theater with a History." The new Manila Grand Opera House, outfitted with the latest audio-visual equipment, screened movies, featured plays, concerts, and bodabils for years.
Diplomat Antonio Cabangon Chua acquired the property in the '60s and converted it into a plain cinema. It degenerated into a nightclub in the 1970s, with the unflattering name "Chicks o' Clock." Today, the building is gone, and in its place is an eight-storey hotel called Manila Grand Opera Hotel.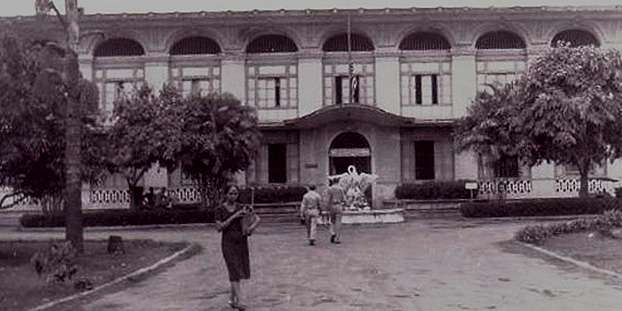 ADVERTISEMENT - CONTINUE READING BELOW
San Lazaro Hospital, then, as now, this 400-year-old hospital admitted patients with communicable and infectious diseases.
San Lazaro Hospital
One of the country's oldest hospitals—San Lazaro Hospital—began as a clinic in Intramuros in 1557, founded by Fray Juan Clemente. In 1578, it was a specialty hospital for leprosy patients. Located on Rizal Avenue, corner Quiricada Street, San Lazaro Hospital came under American management in 1898, and became a prime facility for contagious diseases. Today, it still serves those with infectious diseases like HIV and AIDS. It is also known as a hospital for rabies victims, and a government health care provider for under-privileged members of society.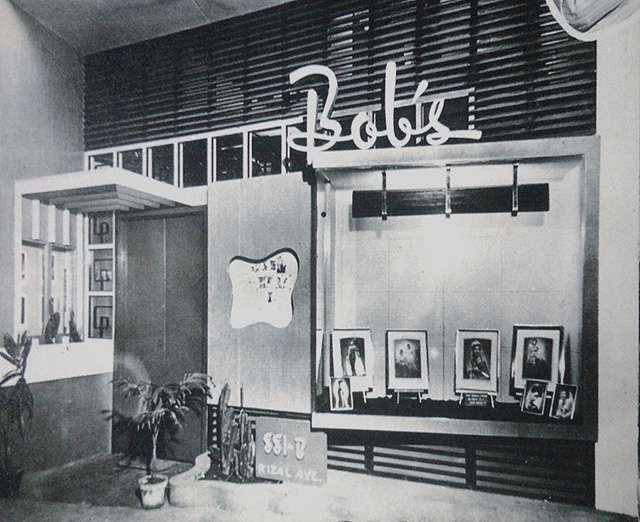 Bob's Studio was favored by Manila's high society people, for its glamorous portraiture services since it was set up along Avenida in 1946.
Bob's
By the "pistaym" (peacetime) era, commercial photography was enjoying a boom. Venus, Rialto, Triangulo, and Sun were the popular studios operating at Escolta and Avenida at that time, churning out portraits of Carnival Queens, debutantes, and politicos. Young Pablo "Bob" Razon, who had started as an artist in Escolta, had by this time, shifted his interest to photography. His American boss had asked him to take pictures for a change, and he surprised him with snapshots that looked professionally done. The war years temporarily halted his dream, but when it was time to rebuild, Bob Razon picked up from where others had left off and put up a studio on 881 Rizal Avenue, near the Manila Grand Opera House. He named it Bob's which had a captive clientele—the stars of the Opera led by Katy de la Cruz.
ADVERTISEMENT - CONTINUE READING BELOW
At first, Bob was just happy shooting pictures of bodabil artists, but later, his association with Society Editor Cita Trinidad put him in touch with high society personalities, including the rich and powerful at the posh Manila Hotel. Bob's golden age spanned the years 1950s to 1960s. He has photographed presidents, covered weddings of famous couples, beauty queens, glamor stars, and models. Bob, dubbed as the "Dean of Salon Photography," set up branches all over the city which met with much success till the 1990s. Bob Razon passed away at age 100.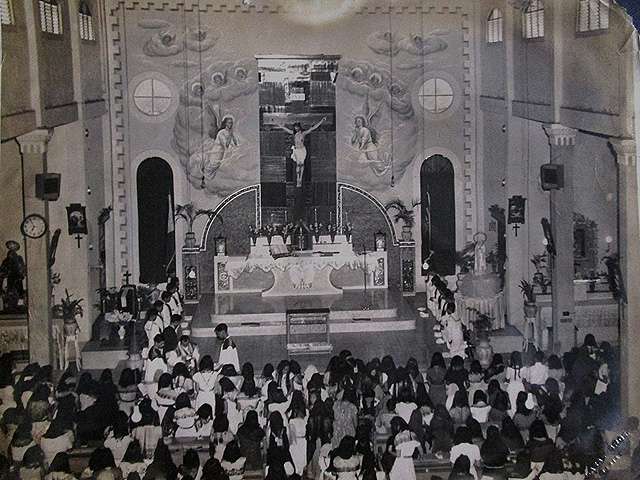 The interior of San Roque Church, with its altar. Ca. 1959.
San Roque Church and Rectory
Technically, Blumentritt marks the end-point of Rizal Avenue. Beyond that, it becomes Rizal Avenue Extension, all the way to Monumento. The San Roque Church (now located at 2430 to 2432 Rizal Avenue), serves as the landmark boundary. The church was founded by Mons. Manuel V. del Rosario, former La Loma chaplain, who also was its first parish priest. The long-serving monsignor (1951 to 1985) was responsible for the construction of the new church and rectory, completed and inaugurated by Vice President and Mrs. Diosdado P. Macapagal in 1958. The church, now known as San Roque de Manila, has been extensively renovated since.
ADVERTISEMENT - CONTINUE READING BELOW
Share this story with your friends!
---
Help us make Spot.ph better!
Take the short survey
Load More Stories