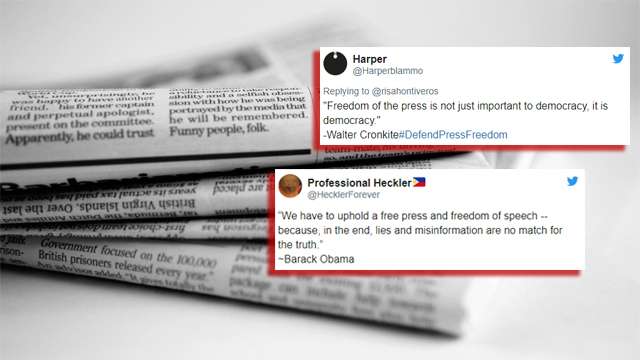 (SPOT.ph) The Securities and Exchange Commission, on January 15, announced the revocation of Rappler's certificate of incorporation. It's been alleged that the online media outlet has violated the Constitutional provision on foreign ownership of mass media. Rappler denied the agency's claim, stating that "Philippine Depositary Receipts (PDRs) do not indicate ownership. This means our foreign investors, Omidyar Network and North Base Media, do not own Rappler." 
It didn't take long for folks online to criticize the move, showing support for the news site with hashtags and quotes about press freedom:
"We have to uphold a free press and freedom of speech -- because, in the end, lies and misinformation are no match for the truth."
~Barack Obama

Good day world! (",)???? Good morning Philippines! ??????????????????

— Professional Heckler???????? (@HecklerForever) January 15, 2018
The Philippines is basically effectively under Martial Law, with politicians seeking nothing but to keep themselves in power, and we still have many people cheering for the ongoing oppression as if it's not going to come for them at some point.

— Lynn (@thegyozamonster) January 15, 2018
Fascism thrives in obscurity and darkness. ~ DaShanne Stokes#StandWithRappler pic.twitter.com/XuxPz5CjXX

— Dan Santos (@DanSantos8) January 15, 2018
Totoong usapin ang foreign ownership (at corporate interests) sa media. Pero iba ang agenda ni Duterte. Sa context ng Martial Law, tyranny, Cha-cha, at term extension, Rappler ngayon, lahat na ng media groups sa susunod. Press freedom ngayon, lahat na ng freedom sa susunod.

— Arnold Padilla (@arnoldpadilla) January 15, 2018
Philippine Media During Martial Law https://t.co/QRXLxL8gnZ

*Kudos to the person who made this Prezi in 2013. #StandWithRappler pic.twitter.com/qOPlgCNgRa

— Pe??α Gυ?esz (@DarwinAwardsPH) January 16, 2018
Welcome to the Philippines under it's new form of martial law. A critical lawmaker jailed for trumped up charges; A judiciary who's no longer independent; Media harassed or shut down for exposing Duterte's crimes. @nytimesworld @washingtonpost @NBCNews @BBCNews

— MrsHan (@MoxieLi) January 15, 2018
? Thousands dead
? Martial Law
? Marcos in Libingan ng mga Bayani
? Alliance with the Marcoses
? Cronyism
? Foreign Debt
? Fake News

And now,
? Suppressing press freedom #GalawangMarcos #IStandWithRappler

— Stewart ???? (@Stewart___O) January 15, 2018
Why can't people see that we are in a low-key martial law?

Media being shut down
People getting killed
Other people are being manipulated

Wake up Philippines

— Mega Star Wars for all season. (@DaleAlejandrov2) January 15, 2018
Our rights and freedom are taken by us day by day by state-sanctioned acts of stupidity and modern-age fascism sponsored by an ignorant populace. It's time to take that back. #StandWithRappler

— Immanuel Kent (@KentKerbyy) January 15, 2018
"Freedom of the press is not just important to democracy, it is democracy."
-Walter Cronkite#DefendPressFreedom

— Harper (@Harperblammo) January 15, 2018
CEO and Editor-in-Chief Maria Ressa stresses that the revocation doesn't mean Rappler is shutting down, saying, "What we will do is to prepare a fight. Our lawyers are preparing our next step. But it's business as usual." 


ADVERTISEMENT - CONTINUE READING BELOW
Share this story with your friends!
---
Help us make Spot.ph better!
Take the short survey
Load More Stories