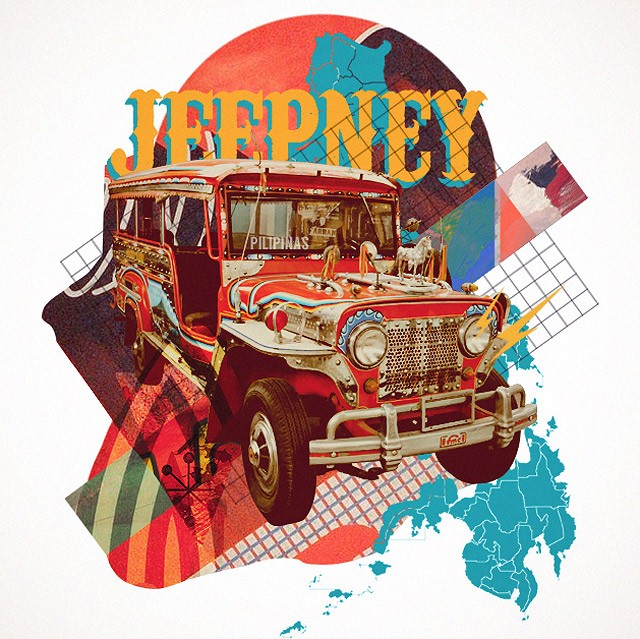 Why We Should Stop Using the Jeepney as a Cultural Symbol
by Clinton Palanca
(SPOT.ph) During fancy dinners for foreign dignitaries, at Philippine embassies in far-flung places, cultural attaches who have never had to take public transportation in their lives decorate their dinner tables with centerpieces that include little wooden sculptures of jeepneys. "Jeepney" is also the name of a Filipino restaurant in New York (though there's one in Maginhawa—not related, I believe). Whether we like it or not, the jeepney has become a cultural symbol of the Philippines. It is, according to some fanciful theorists, the motorized version of the balangay, the boat that purportedly gave its name to our basic tribal unit, the barangay. It is a symbol of Philippine ingenuity and resourcefulness.
ADVERTISEMENT - CONTINUE READING BELOW
When every last jeepney is gone, with their hand-written signs, their spray-painted gaudiness, their prancing horses, their cracked leatherette seats, their skull-cracking tin roofs, along with the skirt-peepers, knee-fondlers, the one woman having a very important conversation on her mobile phone at full volume for the length of the trip—perhaps I will be able to bring myself to shed a tear of nostalgia for the jeepney. Perhaps there will be a few that will be rented out for wedding parties, the way a few of London's Routemasters are used, or a few will ply tourists routes. The Peninsula will keep their handsome luxury jeepney in the brand's green livery. But as a mode of urban transportation this is a vehicle that has no place in a civilized society.
The jeepney, though, is proving unexpectedly difficult to kill. One reason is that the jeepney, as a physical thing, is virtually indestructible: there is, it seems, no coupling or alternator or flux capacitor that cannot be sourced, stolen, machined, soldered, or hammered out of stainless steel and replaced. There is an endless supply of diesel engines—if you've ever wondered, they are about 3300cc in displacement, not turbocharged—to replace the old ones. Not many new ones are being built, but the number of existing ones is not declining. In the meantime, last year alone 425,672 new vehicles were added to the roads. This is in addition to the 1.3 million new motorcycles that joined the fray in 2017, along with electric bicycles, motorized scooters, aggressive carbon-fibre bicycles driven by middle-aged men in lycra (a.k.a. MAMILs), buko carts, and kamagong skateboards that make our roads such a fun place to be. Those who program self-driving cars call this "multi-modal transport." We call it hell.
In Metro Manila, on major roads the jeepneys have given way to bigger jeepneys, known as buses. A brief lexicographical detour: in France, the same vehicle used for long-range transport are called "cars," while in Britain they are called "coaches;" when used within a city, they are known as a "bus" in both languages. (The origin of the word is French, from "omnibus," the first public transport system within a city, in Nantes in 1826.) This hints at the fact that it is not about the type of vehicle, but the way they are used, with set routes, set stops, and usually dedicated lanes. They do not decide suddenly to pick up a passenger and hurtle across five lanes of traffic with the conductor sticking his leg out to kick cars out of the way. Buses, as they exist now, are simply jeepneys in a larger form. E-Jeepneys, hybrid jeepneys which load from the side, and so on, are very nice stopgap solution at making the jeepney look different but it's the same problem, only a different shape, and almost invariably more expensive. An end to longitudinal seating will be a boon for safety, though it also limits the driver's optimism about the capacity of the passengers to defy the laws of physics.
ADVERTISEMENT - CONTINUE READING BELOW
This madness must stop. But every attempt at getting jeepneys to retire culminates in a blockade or a strike—which is debilitating enough to make everyone heave a sigh of relief when they go back to work the next day, and so everyone realizes they love jeepneys after all. And who can blame the drivers for the scepticism, after all? There has yet to be a scheme to give work to existing jeepney operators and shift passenger volume elsewhere that does not stink of some sort of kickback or cronyism. The ideal, of course, is to have either rail (overhead or underground) systems working in conjuction with a centralized, unified bus system. One foreign paper mocked the BRT as a bus that cannot change lanes, but after a bus pulling out of an undesignated stop crashed into a car with my family in it, I'm not sure that's a bad idea. Meanwhile, as of May 28 this year, transport secretary Arthur Tugade is still waffling on whether BRTs are a good idea, bringing us back to the bus vs rail debate.
ADVERTISEMENT - CONTINUE READING BELOW
The LRT and MRT, which everyone focuses on, are only the main arteries—a proper network should be as efficient, if not more efficient, than the system of feeder routes where the jeepneys are currently invaluable. There is also the jingoism to contend with: to be anti-jeepney is to be anti-poor. But this is bad logic. Jeepneys began their existence as a stopgap measure after the tranvia system was destroyed by the war; the rich bought cars, and the poor were left with the phenomenally unsafe converted jeeps. For the jeepney phaseout to work, it is necessary for the national government to shoulder the costs. It is also at the national level (because it must cut across cities and out into the neighbouring provinces) that a coherent, metropolis-wide system should be implemented.
Perhaps in the future, when high speed train links Manila to Ilocos, the locomotive can can be decked out to look like a Sarao jeepney, with klaxons and prancing horses, as a nod to our past. But until then, every time the jeepney is used as a cultural symbol, it's a symbol of how we are not able to escape our present because of our inability to think as a unit larger than the mythical balangay, and for the long term. It's a symbol of how, like the jeepney in traffic, the Philippines is stuck in the past, stuck in a rut, stuck with short-sighted leaders. We know where we want to go, but we don't quite know how to get there. To make the jeepney a cultural icon is to celebrate a mindset of mediocrity and to exalt as quaint the burden of those who have to travel in them.
ADVERTISEMENT - CONTINUE READING BELOW
--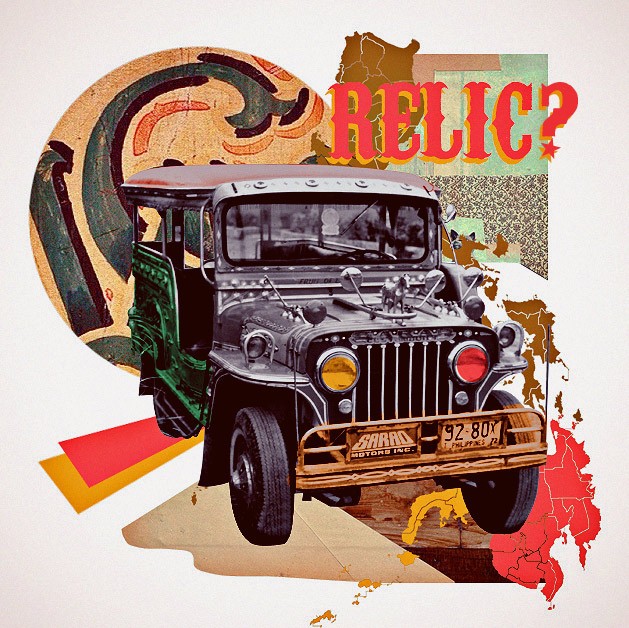 Why the Jeepney Should Still Be Considered a Cultural Symbol
by Marck Rimorin
(SPOT.ph) There's this old man in my head: his face weathered from the hot sun, and his eyes reddened by the warm soot from the streets. His shirt—worn and frayed from years of wear—bore the name of a small shop specializing in all sorts of auto repair and air conditioning. His fingernails are caked with oil and grease, and the smell of sweat you expect from blue-collar workers is replaced with the faint tinge of clutch fluid and diesel. Poets of days gone by once called the jeepney driver the "King of the Road;" but looking at the old man, there is no air of royalty or regality about him. He's but a relic in a world that demands professionalized driving. His jeepney—adorned with the names of his children, the chipping chrome paint revealing a body rusted out by years of plying his trade—is the castle being besieged by a collective sense of "modernity."
ADVERTISEMENT - CONTINUE READING BELOW
In his essay, my friend Clinton says that it's bad logic to say that "to be anti-jeepney is to be anti-poor." Maybe, but there's one thing implicit and pervasive in his persuasion: it seems that to be pro-jeepney is to be anti-modernity. If yesterday's poets once called the jeepney driver the "King of the Road," today's authors point to the jeepney as a metaphor for everything wrong with Filipino society. It is an example of how Filipinos unnecessarily cling to the past, while doing much damage to the present and future. What was once an ingenious vehicle is now just plain dangerous: in 2017, over 10,000 jeepneys were involved in Metro Manila crashes. Without counting colorum vehicles, there are almost 180,000 jeepneys in the Philippines, now serving almost 40% of commuters in the country. What was once a "cultural icon" is now seen as a public nuisance: a uniquely Pinoy irony that combines pop art and cultural quirks with urban decay and environmental damage.
ADVERTISEMENT - CONTINUE READING BELOW
This isn't the first time that people had ideas for jeepney modernization: electronic jeepneys have long been plying the side roads of the Makati Business District. In places in the Visayas, the typical jeepney—fashioned out of the design cues of a World War II-era Willys Jeep—has taken on decidedly more modern looks (and modern engines) from readily-available multicabs. The jeepney did evolve and innovate in more ways than it's given credit for: the patok jeeps with their booming sound systems and LED lights adorning the headboards, and the more practical improvements like additional front-facing seats and even air-conditioning. But the bulk of jeepneys remain the same: hulking, moving bric-à-brac that, for the longest time, served as the backbone of Filipino transportation. And it costs more to ride a modern jeepney, at that: when you work with a strict budget, and do more adding and subtracting at the end of the day than other people would, the difference adds up.
ADVERTISEMENT - CONTINUE READING BELOW
The thing is, people patronize jeepneys because—for the lack of planning and infrastructure programs that should guide our policies toward public transportation—they have been the most efficient at it. Those who consider the jeepney a nuisance are generally people who don't have to ride it: people who either have the choice of driving their own cars, or availing of better and more convenient public transport. But no one knows how efficient a jeepney is more than the working class who patronize it. The selling point of the jeep—the reason why it does not die and the reason why it's so loved—is because it offers the most accessible and affordable form of transport for a significant majority of people: the working class who know full well that their commuting peso can only spare so much for creature comforts. Sure, we all want aircon and WiFi and seats wrapped with rich Corinthian leather, but it's a bit too much to ask for that when all you have is eight pesos. And if you're a minimum wage worker who goes to work every day through a jeepney, that hits you hard on your monthly wages as it is.
ADVERTISEMENT - CONTINUE READING BELOW
With a more modern jeepney—even without all the trappings and amenities of the awesome public transport some of us are lucky to experience overseas—comes fare hikes and operational costs that its passenger base, its drivers, and operators can ill afford. Sure, we can say that the jeepney is a symbol of mediocrity, but for people who can only dream of having regular access to better transportation (I'm not talking about going to work in a Mercedes, but being able to afford a taxi ride every day), the jeepney is necessary. The rising costs of fuel, the shrinking buying power of the peso, and changing demands in work all inevitably and directly affect the jeepney. The further we need to go, the more time we spend on the road, and the less budget we can spare to spend on things like fare, the more we need things like the jeepney.
ADVERTISEMENT - CONTINUE READING BELOW
Then again, the more we need jeepneys, the more we need to ensure that jeepney drivers and operators can meet the demand for better transport. Katrina Stuart Santiago makes a great point: there must be a kinder, more compassionate way to make jeeps safer and better for the environment. The hefty and expensive task of modernizing the jeepney is left to the person we once called the "King of the Road," and not to the systems and structures around him that can remedy the situation far more efficiently than he alone can. Fares and the cost of operating a jeepney in the Philippines are enough challenges for one driver, not to mention all the other emerging forms of transport that have effectively kicked him out of his throne years ago.
If the end goal is to make the jeepney more modern and keep up with the times, there are ways to do so without forking over a million or so pesos (that drivers and operators almost certainly don't have) on a brand-new electric jeep, or installing luxury amenities (like, say, in-jeep Internet or what have you) that inevitably jack up the price of a jeepney ride. There's changing the engine, for one. Or mobilizing local government to create better jeepney terminals. Or empowering operators-and-drivers associations to take better care of their vehicles by making investments in common garages and workshops, as well as the practical education of jeepney drivers. All these seem like delicate acts—almost walking on eggshells when we can already build an ultra-modern rapid transport pod out of a Rolls-Royce if we wanted to—but besides being easier to do, they're a bit more mindful of the reality of the road.
ADVERTISEMENT - CONTINUE READING BELOW
I'm all for making a modern jeepney, or an alternative to the chaos of public transport today that's better than a jeepney. I'm all for keeping the bits and pieces that make it a true cultural icon: from the hand-painted pineapples and palm trees on the ceiling, to the airbrushed images of Jesus Christ and Guns N' Roses on the side panels, right down to the obligatory icon of Our Lady of Manaoag guiding the trip. I'd like to see the old man in my head driving an electric-powered tram with the speed of a bullet train, where passengers get to ride about in comfort and their fares collected by friendly androids, festooned and decorated with the familiar knick-knacks we all associate with jeepneys. I'd like for him to be the true King of the Road. But I want to see that progress accessible to him: I want to see him do so without his family starving, without him having to violate more laws in the name of more fares, without him taking out unreasonable and usurious loans for a shot at a better future.
ADVERTISEMENT - CONTINUE READING BELOW
See, the problem of the jeepney is far more systemic and more far-reaching than mere replacement. We all want him to be as modern as a smart Grab Premium driver, but expect him to do so with his limited means, and match that with our high expectations of public transport.
If anything, the jeepney problem is a microcosm of bigger things than our penchant for mediocrity or what have you: it's an example of how far-reaching our problems as a nation are. And how entrenched they are in our daily lives. More importantly, it shows how our challenges with modernity magnify the realities of class inequalities. After all, it's not just our feelings on the road that are at stake here, but the right of millions of others to fair and accessible transport. And a better future for hundreds of thousands of others who depend on the jeepney to put food on the table. A better future isn't something you secure out of one fell swoop: making things modern (or change, for that matter) isn't something that happens out of brute force or on a whim, but a delicate balancing act that seeks to uplift and not to destroy.
ADVERTISEMENT - CONTINUE READING BELOW
Share this story with your friends!
---
Help us make Spot.ph better!
Take the short survey
More Videos You Can Watch
Load More Stories