What's Behind All Those NDRRMC Alerts, Anyway?
Where are all those texts coming from, and why do we keep getting them?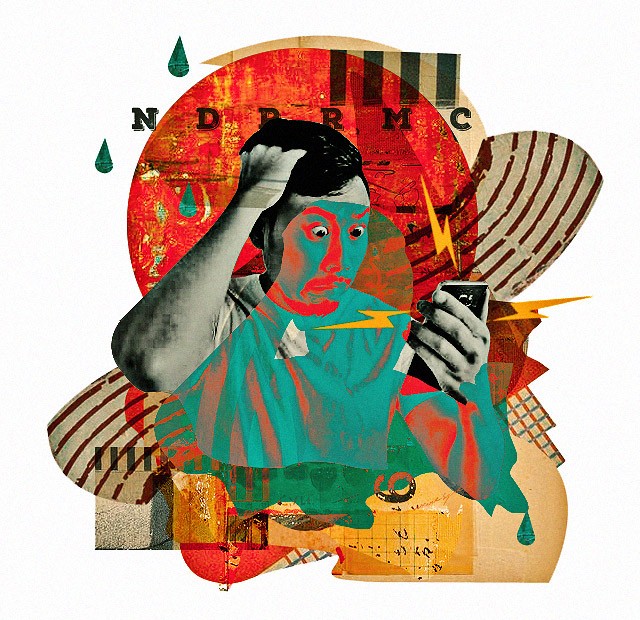 (SPOT.ph) This week, almost everyone discovered a hidden feature of their mobile phones when they came to life with a screech like a banshee and a notification flashed on the screen that heavy rains were expected. The first few emergency alerts were rather thrilling, even though the message was banal; it informed the user that it was raining, a fact that was easily verifiable by looking out the window. For people who live in underground bunkers (albeit with cellular reception), this was probably useful information.
ADVERTISEMENT - CONTINUE READING BELOW
The National Disaster Risk Reduction and Management Council or NDRRMC, which is the government body responsible for sending out these alerts, doubled down on their information overload by sending a confirmation by text message—so if you had dived under a table to anticipate an earthquake, you would have had to gingerly reach out a hand to see what further information was being sent. (Although I have a feeling that the first thing people would do in an earthquake is to get on social media and check if other people were experiencing the same thing.) The Philippine Atmospheric, Geophysical and Astronomical Services Administration, which we know and love from our childhood (Amado Pineda, you are remembered!), also sent out its own set of text messages. So all in all, people's phones have been fairly busy the last couple of days.
At this point I'd like to avoid being misunderstood and say that I'm well aware about the dangers that flooding can cause to those who live in low-lying areas—and Metro Manila has many of them. As we've learned from recent typhoons such as Yolanda and the seasonal habagat rains, it only takes a little rainfall to endanger lives and property, a problem that seems to be only getting worse, rather than better. Considering that rainy season comes with reliable regularity every year, we don't seem to be building a city that takes the annual flooding into consideration.
ADVERTISEMENT - CONTINUE READING BELOW
The NDRRMC was set up by the Arroyo administration as a response to Typhoon Ondoy, when it became clear that a nationwide system of urgently warning a large number of people who might or might not have television or radio reception was necessary. Those who lived through the Cold War years might remember the test broadcasts that would interrupt regular programming on the television, sometimes with instructions to duck and cover, in case of a nuclear strike—though exactly how that was supposed to help you survive a nuclear fallout was never quite clear. In the Midwest, where tornados are prevalent, sirens go off throughout cities and National Oceanic and Atmospheric Administration weather radios send out alerts on a specialized channel. But after 2001, another reason to get word out to people quickly became widespread: the likelihood of a terrorist attack.
By 2008, the capability for cell broadcast was embedded into the GSM standard, encompassing phones from 2G upwards—basically anybody with a mobile phone. Cell broadcast uses a different protocol from SMS because it doesn't have to reach a particular user, but instead needs to reach as many people as possible, turning every cellular tower into a radio transmitter to send out a simple text message. During the (second) Aquino administration, the NDRRMC tried to emulate the responsiveness of the Japanese earthquake early warning system, probably the most advanced system of this sort in the world: televisions and radios turn themselves on in poltergeist fashion, sirens blare, and mobile phones go off, with very little latency: the aim being to get people to safety in the few seconds between when an earthquake is detected to be imminent and when it actually occurs.
ADVERTISEMENT - CONTINUE READING BELOW
The NDRRMC was moderately successful in the years it has been around, though there were rumors of underspending its budget; but it's perhaps only last week, almost 10 years later, that most people became aware of its existence because of last week's trigger-happy use of the cell broadcasting function. Unfortunately for them (and, ultimately, for us), modern smartphones have a slider to actually override the klaxon-like warnings, so many people, myself included, simply turned them off to avoid leaping out of bed in the middle of the night. Meanwhile, the Philippine Atmospheric, Geophysical and Astronomical Services Administration (PAGASA) and the Philippine Institute of Volcanology and Seismology have taken to sending their own alerts for the two main risk factors in the Philippines, storms and volcanoes.
But cell broadcasting—used in conjunction with television, radio, and sirens for rural areas—has a wider range of dangers that need an efficient, and ideally centralized, emergency alert system. It's up to the NDRRMC to get its act together, so that we can turn our phone alerts back on. The next one might actually save your life. Unless it's another Orange Rainfall warning.
ADVERTISEMENT - CONTINUE READING BELOW
CONTINUE READING BELOW
Recommended Videos
Share this story with your friends!
---
Help us make Spot.ph better!
Take the short survey
Load More Stories