10 Lines That Stood Out From #SONA2018
"Why am I here? I am here because I love my country, and I love the people of the Philippines."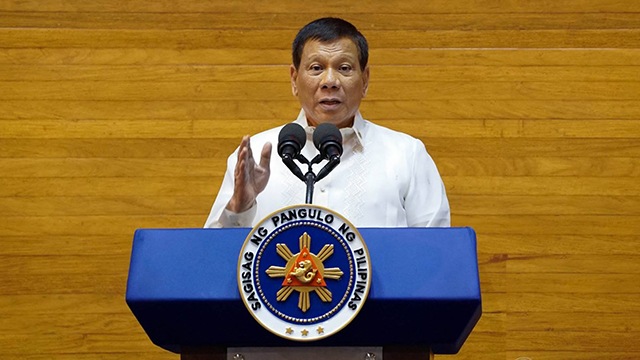 (SPOT.ph) Despite an hour-long delay due to an attempt by the House of Representatives to replace House Speaker Pantaleon Alvarez with Rep. Gloria Macapagal-Arroyo, this year's State of the Nation Address pushed through, although a little later than expected. With blockbuster film director Joyce Bernal at its helm, the annual presidential report on the country's current state didn't lack in liveliness.
ADVERTISEMENT - CONTINUE READING BELOW
CONTINUE READING BELOW
Recommended Videos
This was largely thanks to President Rodrigo Duterte himself. As promised, he kept his State of the Nation Address (SONA) speech short at just a little over the 35-minute mark. He also mostly kept to reading his prepared speech, which he peppered with a few off-the-cuff remarks. Here are 10 moments from his 2018 SONA that stood out.
"The illegal drugs war will not be sidelined—instead, it will be as relentless and chilling, if you will, as on the day it began."
Opening his speech with his controversial "war on drugs," President Duterte shows that he remains commited to ridding the country of illegal substances. Many critics have opposed this movement, most notably the United Nations, who in May urged the Philippine government to put an end to the drug-related extra-judicial killings.
"Your concern is human rights, mine is human lives."
According to the Human Rights Watch, an estimated 12,000 lives have been claimed in extra-judicial killings ever since President Duterte began his term in June 2016.
ADVERTISEMENT - CONTINUE READING BELOW
"I value friendship, make no mistake about it. But it has its limits. This is a lonely place I am hemmed in. Do not make it lonelier by forcing me to end our friendship because you gave me the reason to end it."
Recalling his appointees who were either fired or forced to resign, the president appeals to his friends to do their jobs well—"to help me in my cause"—to preserve their ties. He has controversially appointed several of his friends and supporters to leadership positions in the government, such as Mocha Uson, Martin Andanar, and Bong Go.
[On the Bangsamoro Basic Law] "I make the solemn commitment that this administration will never deny our Muslim brothers and sisters the basic legal tools to chart their own destiny…Give me 48 hours to sign it and ratify the law."
President Duterte makes a commitment to ensure the enactment of the Bangsamoro Basic Law. The law was expected to be signed by the president prior to the SONA.
ADVERTISEMENT - CONTINUE READING BELOW
[On ending contractualization] "I understand that this does not satisfy all sectors. I share their sentiment; I truly do. As much as I would like to do the impossible, that power is not vested upon me by the Constitution."
In May, labor groups were unhappy with Executive Order 51, which President Duterte signed in an effort to put an end to employee contractualization. Representatives of labor groups maintain that the order is just an ineffective rehash of existing labor policies.
[On the safety of overseas Filipino workers] "I am a worker of the government, and it is my vow to make sure that your well-being is our foremost foreign policy concern."
In June, the President was criticized for kissing a female overseas Filipino worker onstage in a speech in Seoul.
"Our improved relationship with China, however, does not mean that we will waver in our commitment to defend our interests in the West Philippine Sea."
President Duterte has stated in the past his intentions to avoid going to war with China, adding: "Why will soldiers fight a war they would lose?"
ADVERTISEMENT - CONTINUE READING BELOW
[On Boracay] "Boracay Island, widely regarded as one of our country's treasures and admired worldwide for its natural beauty, has sadly become the representation of the government's negligence, including mine."
In April, President Duterte ordered a six-month closure of Boracay to tourists. He cited the need to clean up and rehabilitate the island as the main reason, which he refers to as a "cesspool."
"I urge the passage of the Universal Healthcare Bill authored by Harry Roque. Strong determination, not political ambition, is the guiding light."
The President name-checked Roque, who authored in Congress the bill granting all Filipino citizens access to the full spectrum of healthcare, in his address. He also made mention of Special Assistant Bong Go in his speech. Go is rumored to have plans to run for a Senate seat in the 2019 elections.
"When I ran for public office I promised to do what it takes to give all Filipinos a comfortable life."
In October 2017, President Duterte was criticized for his comments telling transport groups "magtiis kayo sa hirap at gutom."
ADVERTISEMENT - CONTINUE READING BELOW
Load More Stories