Here's What You Need to Know About the Ongoing Voter Registration for the 2019 Elections
You only have until September 29.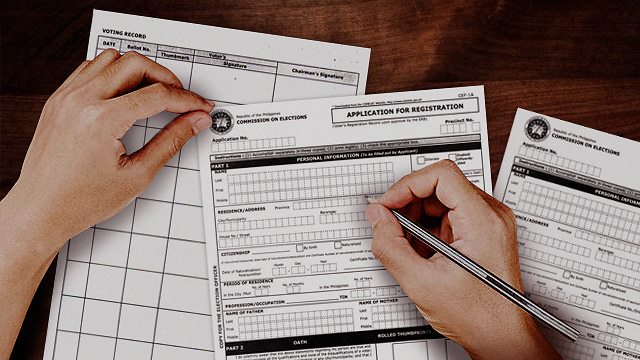 (SPOT.ph) In case you missed it, voter registration for the 2019 national elections is only until September 29—leaving you with roughly three-and-a-half weeks to file your application. It's your chance to have your say in who controls your taxes, so use it, and use it well. Seats in the House of Representatives, the Senate, and several local government positions will be decided upon in the election on May 13, 2019. Here's what you need to know about the ongoing voter's registration.
ADVERTISEMENT - CONTINUE READING BELOW
CONTINUE READING BELOW
Recommended Videos
For First-Time Voters
How to qualify:
The basic requirements for Filipino voters are simple: You must be at least 18 years old, a resident of the Philippines for at least one year, and a resident of the city or municipality where you intend to vote for at least six months prior to the election.
ADVERTISEMENT - CONTINUE READING BELOW
What to bring:
Bring a pen and a valid ID like a driver's license or passport, along with two photocopies of the front and back of your ID. You may also opt to download the application form from the Commission of Elections' website and accomplish it beforehand to save time, although you can only sign and affix your thumbmark on it before your assigned election officer. Remember to print three copies! No payment is required for voter registration.
When to go:
The Commission on Elections (COMELEC) has scheduled voter registration for the 2019 elections to take place from July 2, 2018 to September 29, 2018, during office hours, 8 a.m. to 5 p.m. on Mondays to Saturdays (including holidays).
Where to go:
Voter registration is done at your district's local COMELEC office, or the Offices of the Election Officer. Usually, the office is located at or nearby your city or municipality hall. Check out this directory to know where your city's COMELEC office is located.
ADVERTISEMENT - CONTINUE READING BELOW
What to wear:
Depending on the COMELEC office and the time you go, registration can take from half an hour to half a day or more. Wear light and comfy clothes and shoes to be on the safe side.
What to do:
As a first-time voter, you are required to appear personally at the Office of the Election Officer. Your identity will be verified with your valid ID, then the election officer will check their database to check if you have any previous voter records.
After your identity has been successfully verified, you will be asked to fill up three copies of the application form. Your biometrics and photo will then be digitally captured.
What to remember:
Make sure to ask for a copy of your acknowledgement receipt, which will prove you are a registered voter. And this year, don't expect to be issued a voter's ID—with the approval of the National Identification System Bill (which seeks to use only one ID for all government transactions), the COMELEC has currently put on hold the creation and distribution of voter's ID cards. Take note though: The voter's ID is not a requirement for voting. 
ADVERTISEMENT - CONTINUE READING BELOW
For Returning Voters
According to Section 4 of R.A No. 8189, a qualified voter only needs to register once. Your status as a voter is considered permanent, save for the following situations:
Change of Residence
If you moved to a new place anytime after the last election, you will need to visit your local COMELEC office and file an Application for Transfer if your assigned precinct has changed.
Deactivated Status
If your registration record has been deactivated, you may have failed to vote in two successive regular elections. A deactivated status can also be because you were imprisoned for more than one year, declared insane by the authorities, or convicted of any crime against national security and of disloyalty to the government. In these cases, you may apply for a Reactivation of Registration Record at your local COMELEC office.
Typo Errors and Change of Name
If your current registration record has typos or errors, sadly you'll need to go back to the COMELEC office to correct them in order to vote. You may file an Application for Change/Correction of Entries—this applies as well for recently married females who have changed their surnames.
ADVERTISEMENT - CONTINUE READING BELOW
For more information, call the COMELEC at 527-9624, or visit their website.
Load More Stories