10 Exciting Games We Can't Wait to Play This Year
Nostalgic titles and long-anticipated sequels are coming your way soon!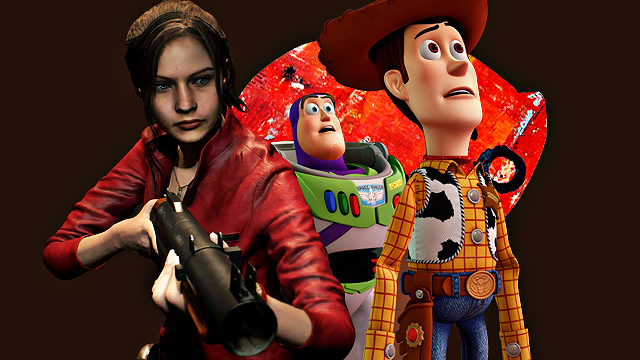 (SPOT.ph) Video games continue to take over our lives (we kid...kind of) as technology paves the way for better graphics and more complex gameplays. With both new and familiar titles coming this year, 2019 is looking to be an exciting year for gamers. Here are 10 video games we can't wait to get our hands on soon!
ADVERTISEMENT - CONTINUE READING BELOW
CONTINUE READING BELOW
Recommended Videos
New Super Mario Bros. U Deluxe
Release date: January 11
This classic gaming franchise comes back with two Super Mario games in one. With the addition of new characters and game modes paired with straightforward controls, the game looks enticing for both kids and kids-at-heart. The easy-to-use interface is perfect for introducing the younger generation to the game we all grew up playing.
Available for: Nintendo Switch
Resident Evil 2
Release date: January 25
Coming from a well-loved franchise, the remake of the 1998 game Resident Evil 2 is one of the most buzzworthy games of 2019. The revamped Resident Evil 2 comes back with familiar characters and storyline, buffed with top-notch graphics. Set during a zombie apocalypse, this survival horror game received critical acclaim for its presentation and gameplay. Older players are also pleased to find that it stayed true to the original.
Available for: Windows PC, PS4, and Xbox One
ADVERTISEMENT - CONTINUE READING BELOW
Kingdom Hearts 3
Release date: January 25
Players of the series have been waiting since 2005 for the next major Kingdom Hearts game to come out. Although there were others released under the franchise since then, they were made to build up the the main storyline, which is continued in Kingdom Hearts 3, where Sora, Donald, and Goofy travel and meet our favorite Disney-Pixar characters in their adventure. Players can look forward to seeing the worlds from Toy Story, Monsters Inc., and Frozen.
Available for: PS4 and Xbox One
Jump Force
Release date: February 15
You and your competitive friends will have fun battling each other using your favorite anime characters in Jump Force, a fighting game featuring various manga series from Shonen Jump: Bleach, Naruto, Dragon Ball, One Piece, and more! Take turns beating one another in three-on-three tag-team matches.
Available for: Windows PC, PS4, and Xbox One
ADVERTISEMENT - CONTINUE READING BELOW
Days Gone
Release date: April 26
Open-world games have steadily gained traction in the industry, and Days Gone will soon join this list of post-apocalyptic action-adventure games. Players will be able to explore as Deacon St. John, a bounty hunter fighting for survival in the harsh wilderness. The tragic setting paints a pretty heavy picture of humanity at its darkest moments, with millions of humans turning into mindless zombie-like creatures called "Freakers." As the monsters evolve and grow stronger, players will have to come up with different strategies making use of the environment, weather, and time to survive.
Available for: PS4
Devil May Cry 5
Release Date: March 8
After 11 years of waiting for the canon series to continue (not counting DmC: Devil May Cry in 2013), we're finally getting the next installment of the Devil May Cry series with Dante and Nero as playable characters, joined by a new one named "V." The gameplay will be similar to the other titles in the series, with players fighting off hordes of demons through flashy and "stylish" actions. The game is set a few years after the events of Devil May Cry 2.
Available for: Windows PC, PS4, and Xbox One
ADVERTISEMENT - CONTINUE READING BELOW
Sekiro: Shadows Die Twice
Release date: March 22
Hardcore gamers and fans of Bloodborne and Dark Souls are all waiting for the upcoming release of Sekiro: Shadows Die Twice. This action-adventure game, also from the same developer of the mentioned games, features gameplay similar to its predecessors. The game will be set in feudal Japan as players take on the role of Sekiro, a shinobi (ninja) who sets out to take revenge on a samurai who kidnapped his lord. This time, however, players will not have the option of customizing their avatar's face, but who's complaining? Sekiro is pretty badass.
Available for: Windows PC, PS4, and Xbox One
The Elder Scrolls: Blades
Release date: TBA (pegged as "early 2019")
Yes, you read that right: Another Elder Scrolls game is coming and this time, and it's set to be released as a free-to-play mobile game. It's the closest that fans of The Elder Scrolls 3 and 5 (Morrowind and Skyrim respectively) can get until the sixth installment comes out. Though it features similar gameplay, casual gamers can look forward to the mobile vertical gaming experience.
Available for: Android, iOS
ADVERTISEMENT - CONTINUE READING BELOW
Digimon Survive
Release date: TBA
Although it's not as popular to the younger generation now as it was before (at least, compared to its rival, Pokémon), Digimon Survive is sure to spark nostalgia and excitement among older players. The player will have to lead the main character, Takuma Momotsuka, out of the parallel world he's stranded in. It's marketed as a survival game where each choice and game flag decides the game's flow. There will be multiple endings—and they don't all lead to a good one.
Available for: Windows PC, PS4, Xbox One, and Nintendo Switch
Diablo 4
Release date: TBA
Although Diablo 4 isn't likely be released this year, we can't help but put it on the list. The first game in the series revolutionized the computer role-playing genre in 1996, introducing fast-paced combat. Despite the success of Diablo 3, developer Blizzard believes they can do better and has openly talked about doing their best to get Diablo 4 right. According to Screenrant, players can expect it to be "more social," incorporating elements often found in massive multiplayer online games. This hack-and-slash game will be big for core fans of the series and though it's still got a long way to go, it's definitely going to be worth the wait.
Available for: TBA
ADVERTISEMENT - CONTINUE READING BELOW
Load More Stories