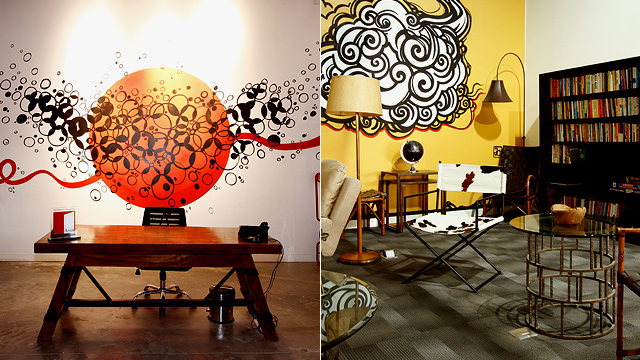 (SPOT.ph) From the outside, visitors would never expect what's waiting for them inside the white building at Western Bicutan's industrial district. Looking like a warehouse, in.hub, which is short for innovation hub, perfectly blends in with the background, surrounded by infrastructures so old they might as well serve as landmarks of Metro Manila. But as soon as you step into the building's lobby, you'll realize there's more to in.hub than what meets the eye.
ADVERTISEMENT - CONTINUE READING BELOW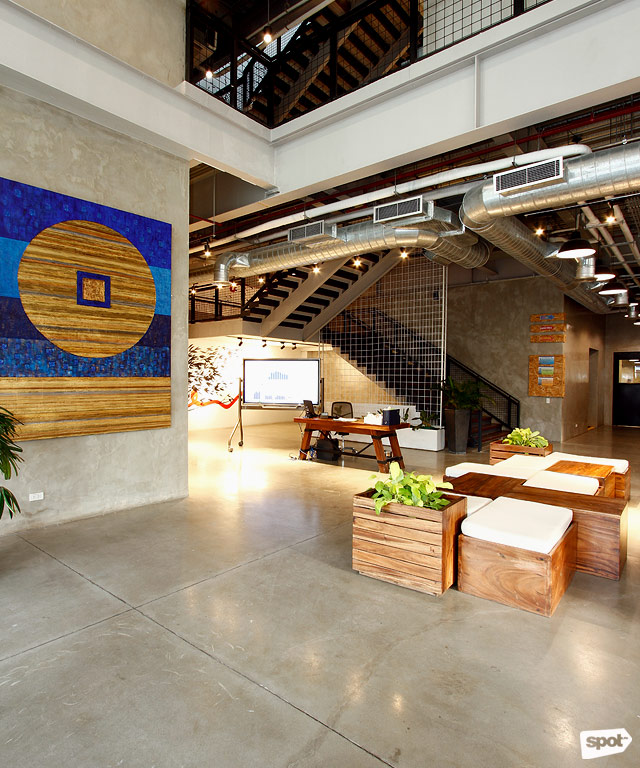 Located in a somewhat unexpected area, the in.hub office gives innovative spaces in the city's central business districts a run for their money. The converted warehouse is now a creative office space for employees of the Transnational Diversified Group, designed to foster the innovative spirit while keeping the daily hustle as fun as it can be.
ADVERTISEMENT - CONTINUE READING BELOW
Recommended Videos
"We knew we needed to create a space that would be appealing to our employees, who [are] mainly young technology professionals," says the company's Chief Innovation Officer Zaki Delgado. "We wanted it to have a lot of common areas and community-shared spaces to collaborate where people could work together rather than purely focus on traditional desk areas."
Modern meets industrial in every corner of in.hub. Exposed piping paired with concrete, steel, and hardwood details make up the space, with bright splashes of color breaking the monochromatic design in key places of the office. Delgado believes innovation begins with people, which is why he envisioned a venue for employees to exchange ideas and create seeds of innovation in a space that goes beyond the typical office cubicle setup.
"We had to keep in mind that many [young professionals work] in prestigious locations such as Makati and BGC, and in.hub was to be in an industrial area. We worked very closely with the design team of Leon Araneta and Arturo Tolentino," Delgado shares.
ADVERTISEMENT - CONTINUE READING BELOW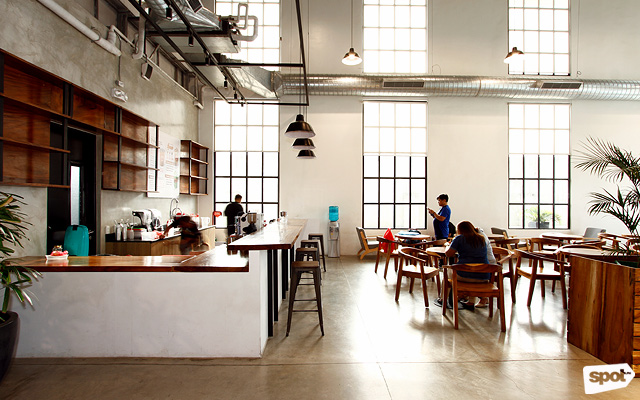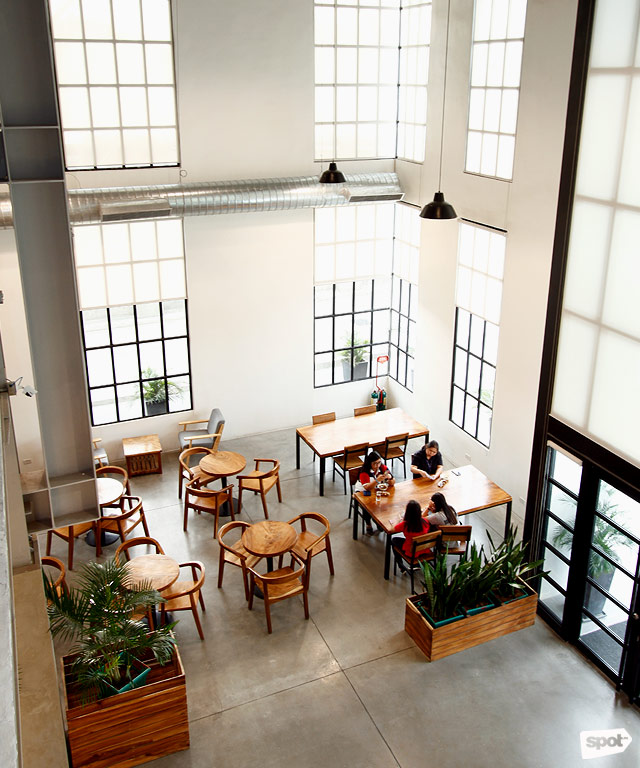 ADVERTISEMENT - CONTINUE READING BELOW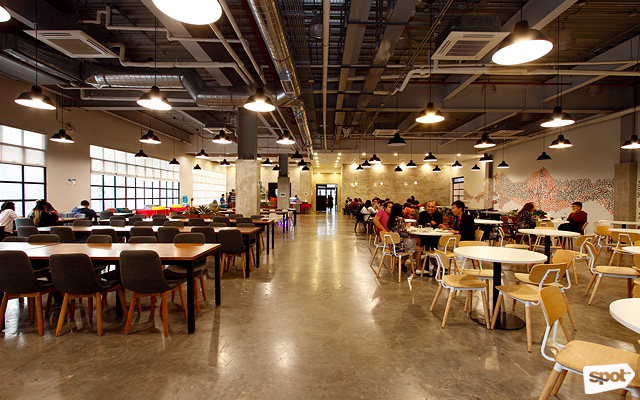 Kept bright by natural light pouring in from the tall glass windows, the café is the first sight to greet anyone who steps inside. Located on the first floor, the space serves as one of the many areas where workers can sit down with their laptops and work. Further into the first floor of the building is its impressive cafeteria. It's reminiscent of food halls often found in universities—some of its areas have longer tables,perfect for big group lunches, while some have circular tables for those who prefer smaller crowds.
ADVERTISEMENT - CONTINUE READING BELOW
The second floor houses the company's events space, as well as the recreational rooms that you wouldn't normally find in an office. Employees can take a midday nap at the sleeping quarters to keep their minds refreshed. In case they have some free time, they can also head to the playroom—there's an arcade machine with classic 8-bit games and a foosball table where they can play against each other. But when it comes to rest and relaxation, nothing can quite beat the comforts provided by the massage area, where each employee is entitled to a quick 15-minute massage from an in-house massage therapist every day.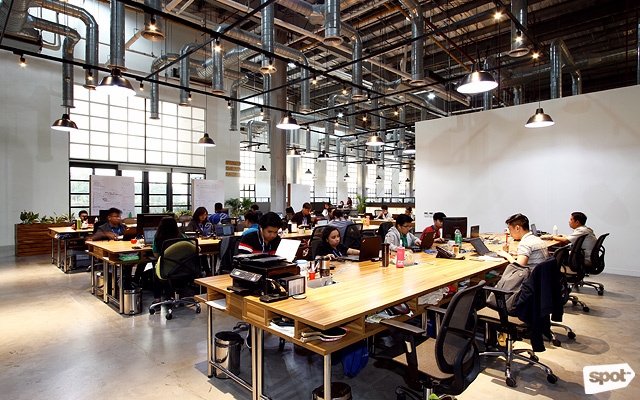 ADVERTISEMENT - CONTINUE READING BELOW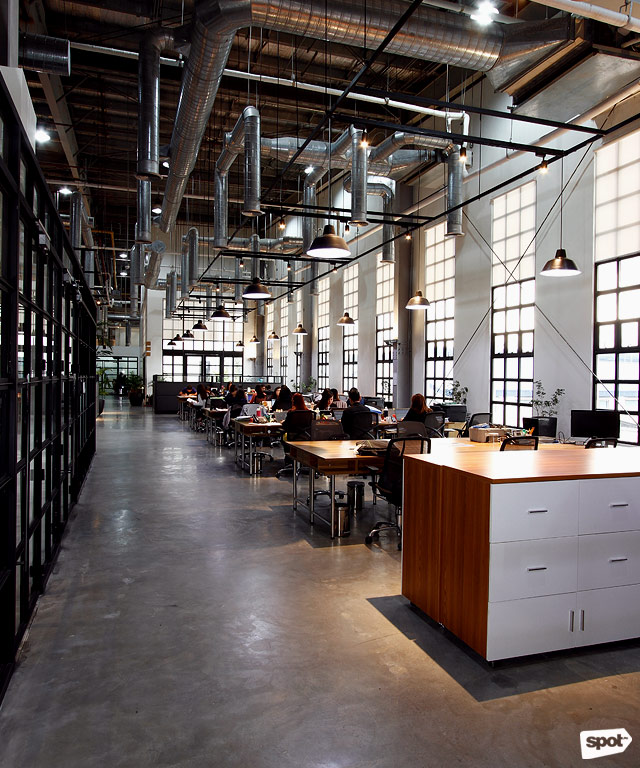 The industrial design manages to stay consistent throughout the building, but the working spaces of the third floor is where the unconventionality of the office really shines. 
"We put a value on design, because we wanted our TDGers to have a space [that's] reminiscent of Silicon Valley-type offices," Delgado explains, and one can clearly see that with one look at the third floor.
ADVERTISEMENT - CONTINUE READING BELOW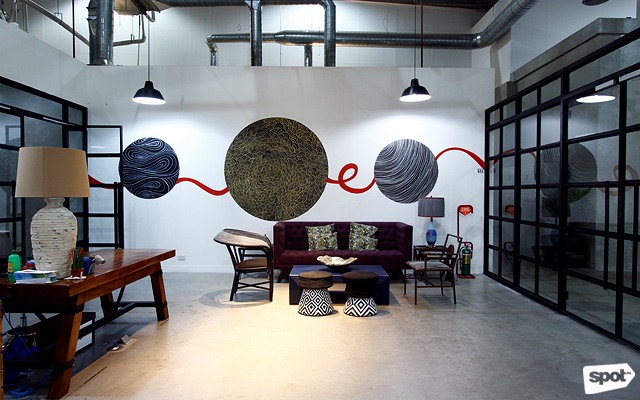 Employees can take their pick among varying desks and chairs. Comfy couches are also tucked in some of its corners. The space is spruced up with a lot of greenery and bright murals painted by artist Cesar Caballero.
ADVERTISEMENT - CONTINUE READING BELOW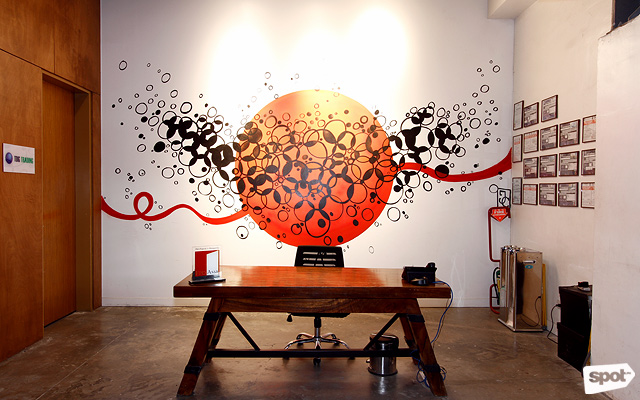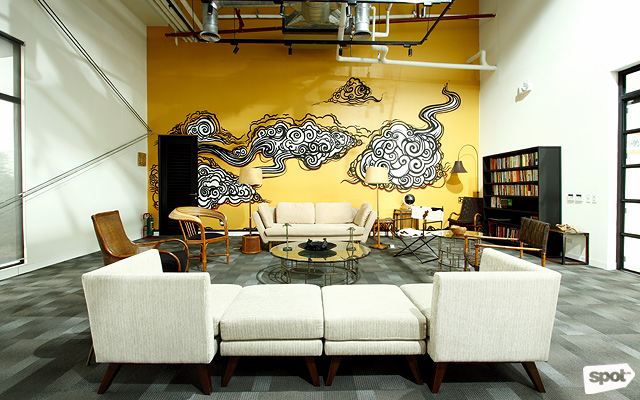 ADVERTISEMENT - CONTINUE READING BELOW
His bright works of art are scattered throughout the three stories of the building, tying each space together, representing in.hub's core values: technology, connectivity, the future, and collaboration, says Delgado. Intended to spark creativity, the murals add a completely different atmosphere to the office, with the bright colors bringing playfulness to the industrial elements.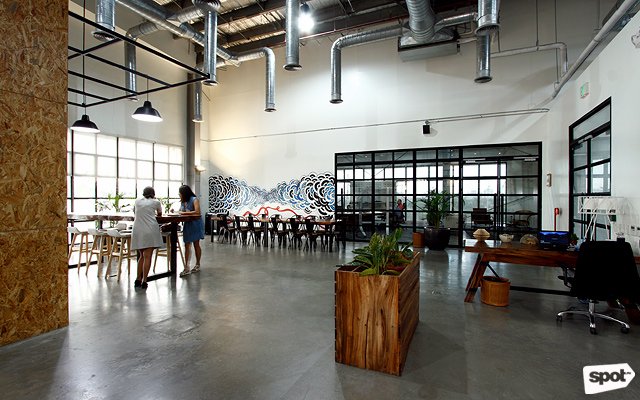 ADVERTISEMENT - CONTINUE READING BELOW
But the playfulness doesn't end there. The folks at in.hub get many opportunities to have fun thanks to many company-led initiatives. They have a schedule for yoga classes, Zumba sessions, and movie nights after work, and everyone's competitive spirit is put to the test whenever they hold their hackathons. Capping off a tiresome week is also made easy thanks to the office's below-zero fridges, where cans of beer are made available to the employees during Happy Hour.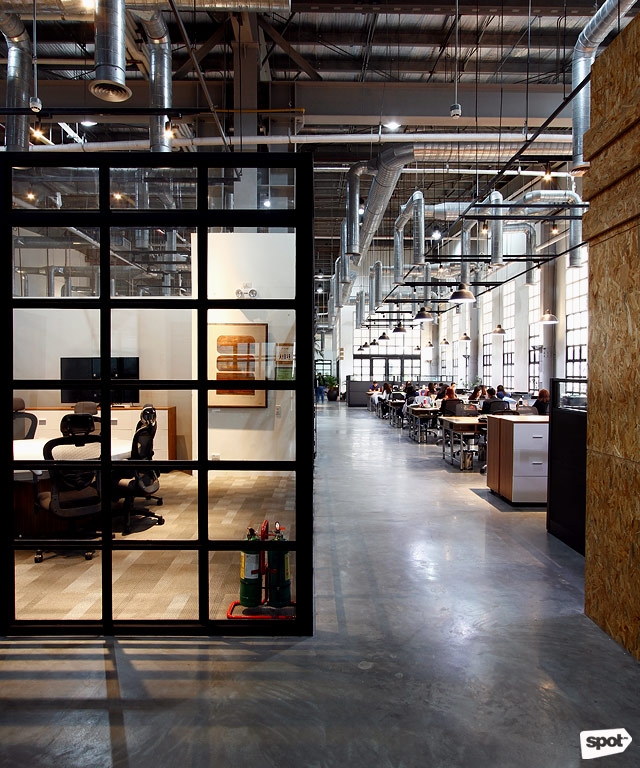 ADVERTISEMENT - CONTINUE READING BELOW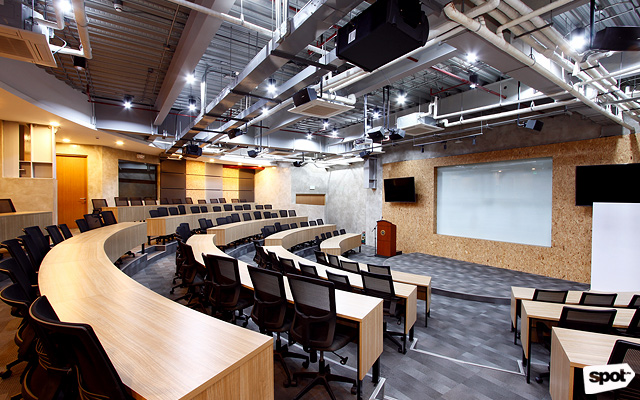 Every corner of in.hub is well thought-out and planned. The conference rooms feature round tables to make meetings easier and more inclusive, while the learning hall is assembled like a lecture hall, with seats placed along a semi-circle so everyone can see whoever's leading the discussion. Reserving a room is no headache either—their in-house IT team developed an app where everyone can see what's available and make reservations with just a few taps. As part of the company's green initiatives, the rooftop also features a solar power installation, which supplies 50% of the building's electric consumption. 
ADVERTISEMENT - CONTINUE READING BELOW
"TDG has a culture of innovation and openness to change throughout its 43 year history," Delgado says, and this is clearly reflected in everything that the unassuming warehouse-turned-office has to offer within its walls.
The office facilities are top-notch, keeping up with the demands of the fast-paced digital age, but more than any of its unique rooms and quirks, what really sets in.hub apart is TDG's readiness to provide freedom and flexibility for anyone who steps through their doors.
Photos by Vincent Coscolluela
Share this story with your friends!
---
Help us make Spot.ph better!
Take the short survey
Load More Stories