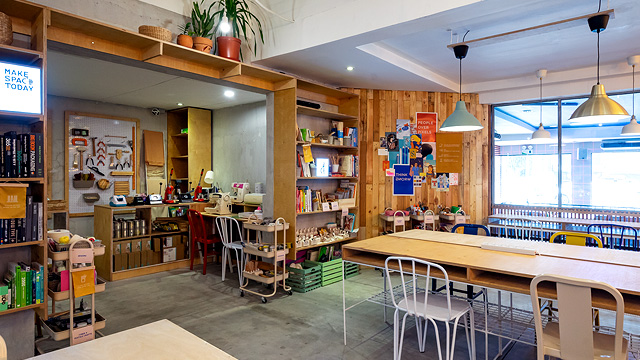 (SPOT.ph) While coworking spaces are a dime a dozen these days, we haven't yet seen a dedicated workplace suited to a specialized, growing niche in Metro Manila's artists' community: the makers. "Making" is a pretty broad term and rightly so—it encompasses freelancers, small business owners, and people working side hustles all having to do with creativity and working with one's hands to create not just tchotchkes, but artful and functional items, too. Manila's makers these days secure their audiences and clients through self-built Instagram shops or through retail outlets that back up small businesses, like the widely successful Common Room.
ADVERTISEMENT - CONTINUE READING BELOW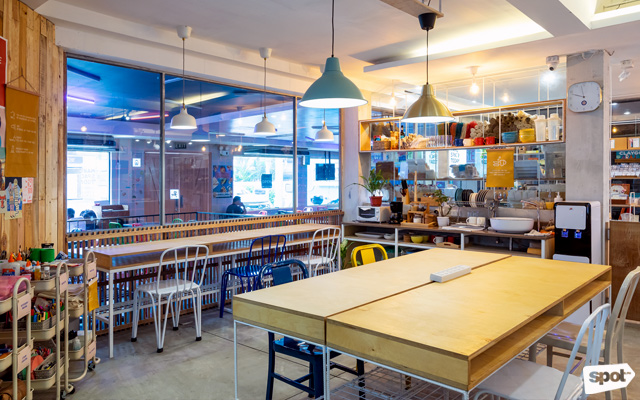 Make Space Today, a light-filled, vibrant spot situated within Malingap Food Hall, offers makers not just an area to work, create, and collaborate with other artists, it also offers unlimited access to different crafting and artists' tools, machines, and supplies, as well as backdrop-ready areas to shoot your wares for Instagram. There's also a shop space where, with your membership, you can test what it feels like to actually have a retail spot (versus the more typical online shop that most makers are known to have). It's open from Tuesdays to Sundays, 9 a.m. to 9 p.m.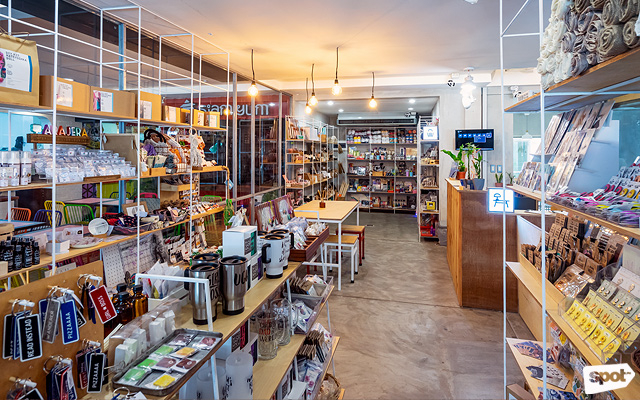 Designed by Anais Silvestre, the 120-square-meter space is fashioned completely out of light materials. "We wanted to use natural wood without any varnish, white metal, and cement because we needed a space that would be light, bright, [and] most importantly neutral," says the designer. The Make Space Today partners wanted makers' products to be the highlight of the co-making space, which is why they resorted to a clean palette. The space benefits from a variety of wall finishes too—palochina, red brick, white brick, plain white walls—all ready to double as DIY photo backdrops, no studio lighting required.
ADVERTISEMENT - CONTINUE READING BELOW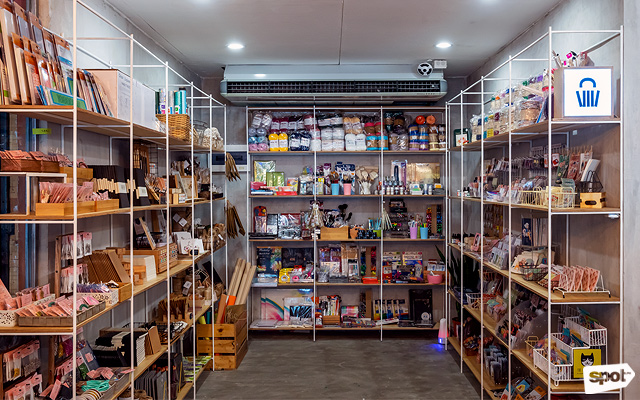 One remarkable design element of Make Space Today is its smart space planning. Once you step in through the doors, you walk into the Retail Incubator space, which will look familiar to Common Room's frequent customers. Shelves proliferate the perimeter of the area, each dedicated to a specific maker who can test out the retail experience for three months at a time. This area is open to the public so anyone can drop in and shop.
ADVERTISEMENT - CONTINUE READING BELOW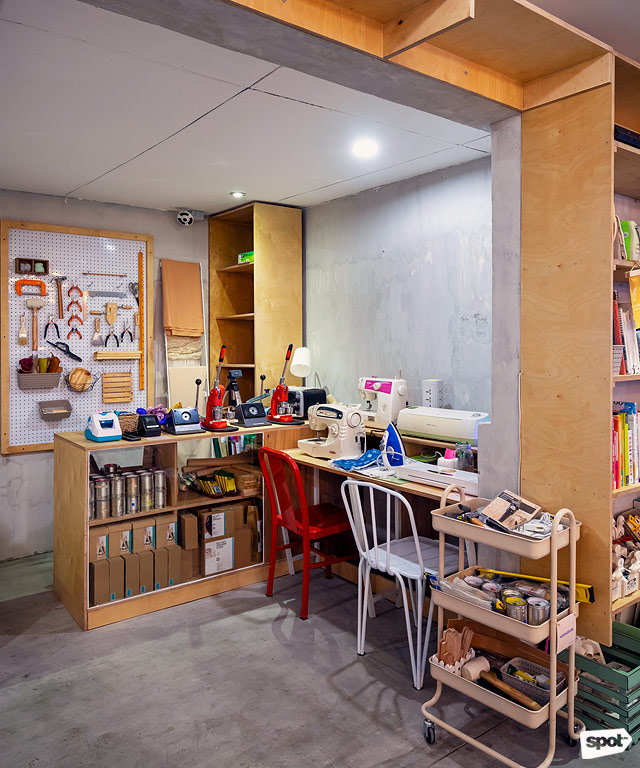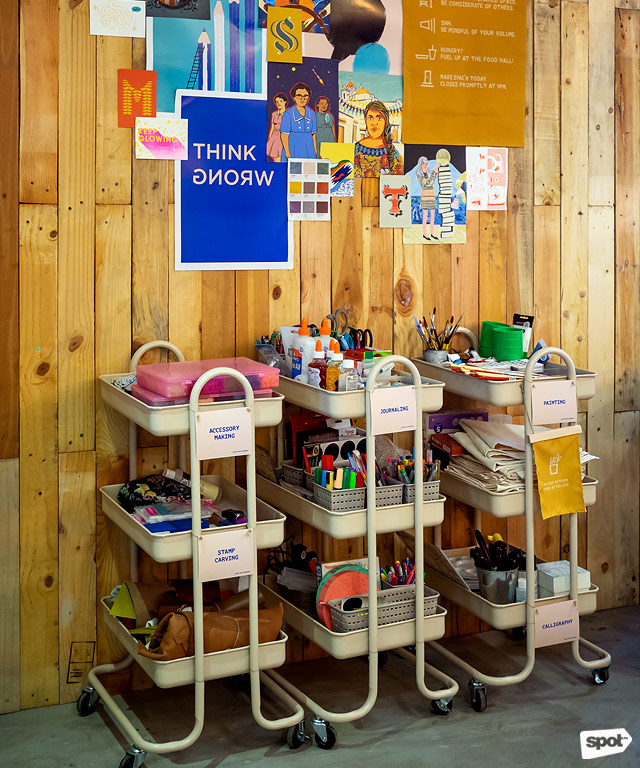 ADVERTISEMENT - CONTINUE READING BELOW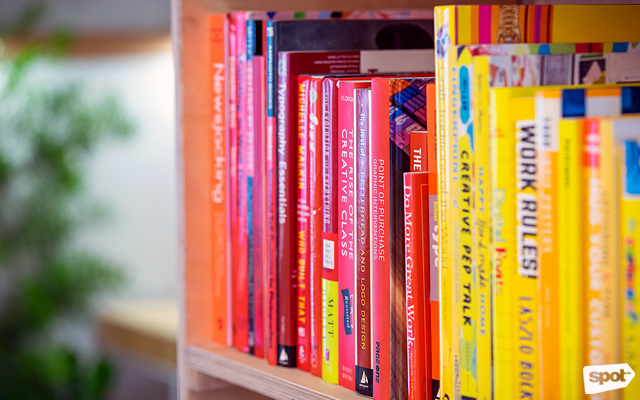 Make Space Today's members, or those carrying Day Passes (P550/day) can walk in past the Retail Incubator and make use of the 25-seat Co-Making Space. The open plan "office" offers you a seat with a cubbyhole, and shelf space below your worktop. The tables are light and can be moved around to make way for events or community gatherings. Several IKEA trolleys are found throughout the Co-Making Space, each housing specific tools for journaling, crafting, calligraphy, etc. The space also has a dedicated machine room offering everything from sewing machines to a mold-making machine (designed by a Filipino!), heat press, Cricut, and more. A library filled with art, design, and business books is also accessible by co-makers. 
ADVERTISEMENT - CONTINUE READING BELOW
Roma Agsalud, one of Common Room's partners, is passionate about supporting this community of makers. Frequently in touch with the shop owners who sell their wares at Common Room, she was able to hear their gripes about the challenges of being a creative, sustaining a creative business, and the difficulties of working on your own. Along with seven other partners, Agsalud envisioned a co-making space that merged the shared work environment of a coworking space, but with specialized tools, machines, worktops, and areas that most makers would need.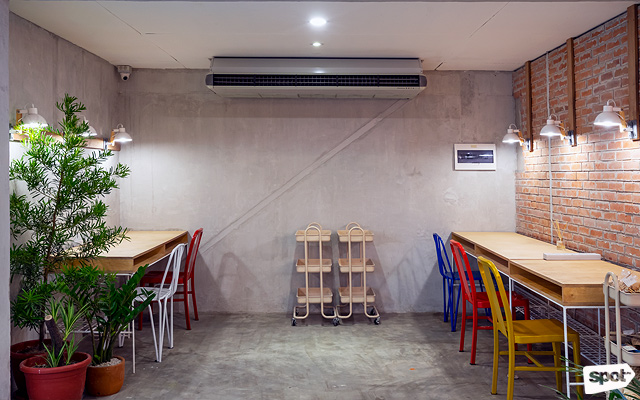 ADVERTISEMENT - CONTINUE READING BELOW
Business is an important part of Make Space Today—Agsalud and her partners think it's important to support small businesses by offering a Creative Catalog and a Maker's MBA membership. These special packages involve workshops that don't just involve the usual how-to's most makers are known for—they are focused on developing one's business through branding, pricing, packaging, et cetera, so every maker learns how to turn their creative hustle into a sustainable and profitable business. "All of us partners really value having more than one stream of income as creatives," explains Alessa Lanot of Life After Breakfast, another partner at Make Space Today. "We want to help legitimize creative businesses and show that it's a business industry that can thrive—it's not 'just' a trend."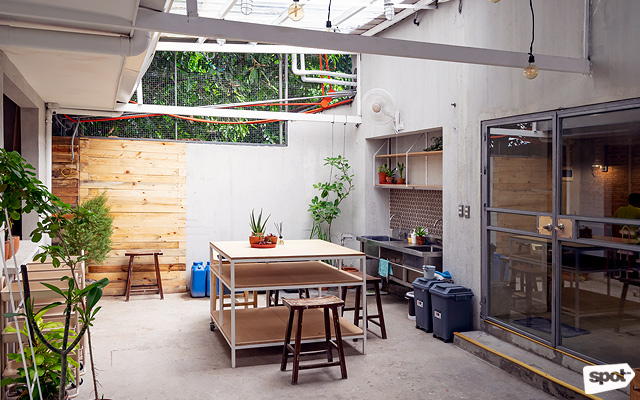 ADVERTISEMENT - CONTINUE READING BELOW
Make Space Today's workshops are held in a separate conference room—located just beside a charming outdoor space—which is perfect for shooting photos that require natural light. Apart from having your pick of styling props in the outdoor area, makers also can make use of a "messy" crafting area which has an island worktop, a sink, and natural ventilation.
"Even if the space looks pretty and put together, the main driver behind it is function," says Silvestre. "Everything was designed to take care of the needs of the freelance and creative market." Make Space Today is a blank canvas that's rife with potential for people who really want to tap into the spirit of making.
Make Space Today is at 40 Malingap Street, Teachers Village, Quezon City. For more information, e-mail hello@makespacetoday.com or visit their website.

Photos by Toto Labrador
Share this story with your friends!
---
Help us make Spot.ph better!
Take the short survey
More Videos You Can Watch
Load More Stories