(SPOT.ph) While many people complain about rallyists causing traffic on major thoroughfares or "[creating] chaos and disturbance and sometimes violence," it is without a doubt that massive political protests have given us most of the rights that we enjoy today. Women's right to vote was won after suffragists and suffragettes stormed government offices in New York and Great Britain in the 19th century, the fall of the Berlin Wall—a symbol of the suppression of human rights during the Cold War—was started by activists in 1989, and Ferdinand Marcos' oppressive Martial Law regime was overthrown by the People Power Revolution in 1986.
The 21st century is no different, as we've seen in a record-breaking protest that started on June 9 in Hong Kong to rally against a controversial extradition bill that would allow for the territory's residents to be tried in mainland China. With people being more informed and mobilizations easier to initiate through social media, citizens are quick to call out their government, especially when lives are at stake.
ADVERTISEMENT - CONTINUE READING BELOW
We list down massive protests around the world that continue to inspire us:
Prague versus Prime Minister Andrej Babiš (June 2019)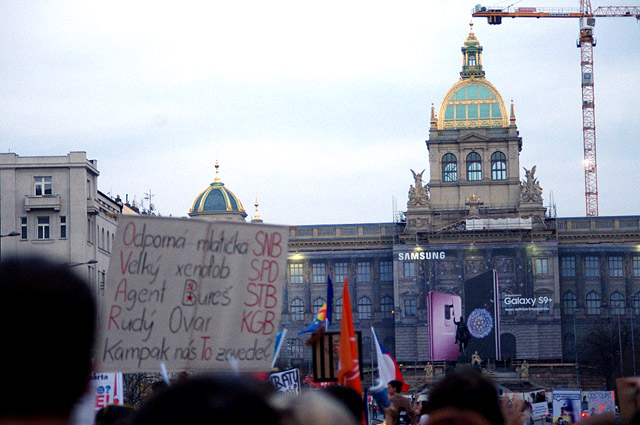 In what is described as "the biggest protest since the fall of Communism," an estimated 250,000 demonstrators gathered at Letná Park in Prague on June 23 to demand the resignation of Czech Prime Minister Andrej Babiš. They're calling him the "Czech Trump" and you can easily see why. The billionaire tycoon is allegedly funneling millions from a European Union grant into his own companies, instead of small businesses in his country. In April, police investigations showed that there's enough evidence to indict the prime minister on fraud charges. Other issues raised during the demonstration include transparency in government, conflicts of interest, and abuse of power—none of which seems to be Babiš' strong suit.
ADVERTISEMENT - CONTINUE READING BELOW
Recommended Videos
People's Vote and Brexit March (March 2019)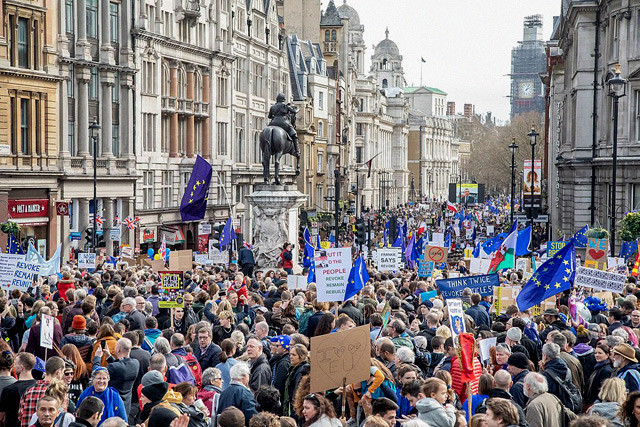 The United Kingdom, unlike the Philippines, follows a parliamentary democracy form of government where elected officials represent a group of people—and thus, decide for them. (Well, if you put it that way it's not entirely the opposite of our country, is it?) So when an issue as big as the Brexit—shorthand for Britain's exit from the European Union—came to the table, the United Kingdom's people wanted to be heard and given their own seats so to speak. A campaign group called People's Vote started demanding for a public vote on the final Brexit deal. A series of protests took place since it was formed on April 15, 2018: a march from Piccadilly to Parliament Square on June 23, 2018; another march from Park Lane to Parliament Square on October 20, 2018; a rally at the Methodist Central Hall on November 13, 2018; and the latest—a huge "Put it to the People" march on March 23, 2019.
ADVERTISEMENT - CONTINUE READING BELOW
South Korea's Candlelight Revolution (2016)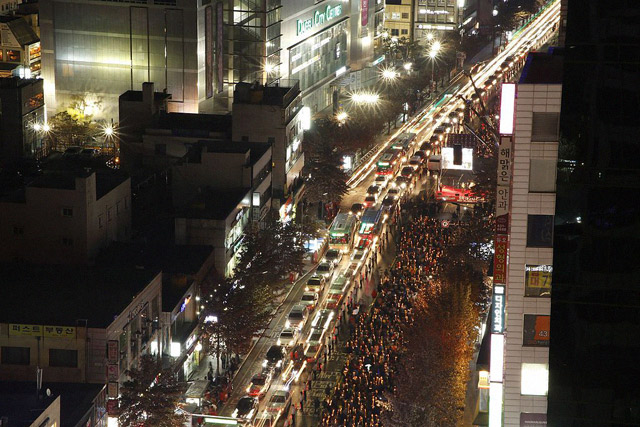 South Koreans in 2016 successfully toppled their corrupt-ridden government through candlelight. Citizens across the country and across generations started a series of mass demonstrations in Seoul on October 29, 2016, to call for the immediate resignation of their scandal-plagued president Park Geun-hye. This was followed by a series of Saturday-night rallies running until March 2017, when she was finally impeached on the grounds of corruption alongside her close friend and adviser, Choi Soon-sil. After losing her immunity, Park was charged with bribery, abuse of power, and leaking state secrets, and coercion; and sentenced to 25 years in prison. Choi was sentenced to 20 years in jail for using her presidential connections to embezzle millions of dollars from multinational companies and funnel it into her non-profit foundations.
ADVERTISEMENT - CONTINUE READING BELOW
Malaysia's Bersih Movement (2007 onwards)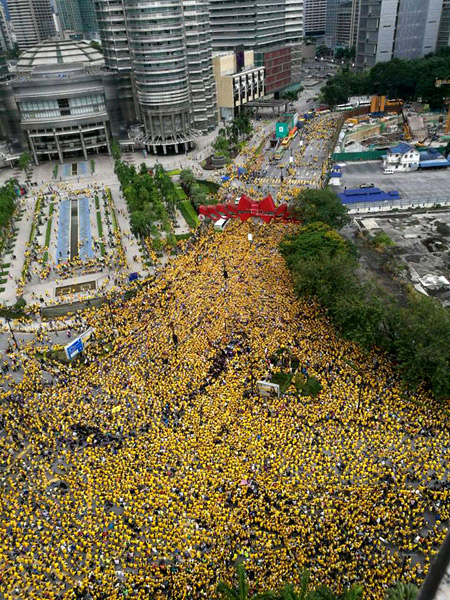 "Bersih," which means "clean" in Malay, refers to the Coalition for Clean and Fair Elections—a movement calling for a reform in the Malaysia's electoral protest. It started in 2007 at Dataran Merdeka in Kuala Lumpur when an estimated 40,000 protesters demanded four things: the removal of ghost voters, the use of indelible ink, the abolition of postal voting for military and police, and fair access to mass media for all parties. Similar campaigns happened in 2011, 2012, 2015, and 2016. The number of demonstrators increased every year and spread across the globe through simultaneous protests, thanks to social media.
ADVERTISEMENT - CONTINUE READING BELOW
Taiwan's Sunflower Student Movement (2014)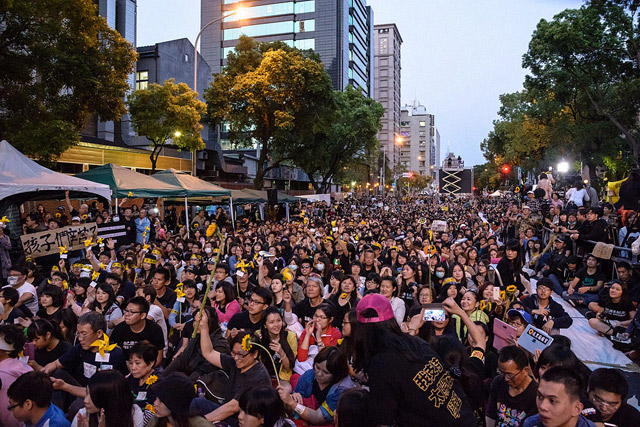 "Save Democracy, Don't Sell Our Country," protesters shouted on the streets in an effort to keep China away from their shores. (Sounds familiar, right?) The Sunflower Student Movement, which transpired from March to April 2014, was initiated by students and civic groups who occupied the Taiwanese legislature for 24 days. Some 100,000 demonstrators, most of them wearing black and holding sunflowers to symbolize hope, were against the government's rushed deal to open 80 of China's service sectors to Taiwan, while 64 Taiwanese sectors will do the same to China. Some of them were also calling for the resignation of Taiwan's China-friendly president Ma Ying-jeou. Though bilateral agreements were still signed after the rally, activism was reignited among the Taiwanese: the pro-China ruling party lost in the November 2014 elections, people pushed for reforms to their referendum law, and new organizations that emphasize social justice were formed.
ADVERTISEMENT - CONTINUE READING BELOW
Arab Spring (2010 to 2012)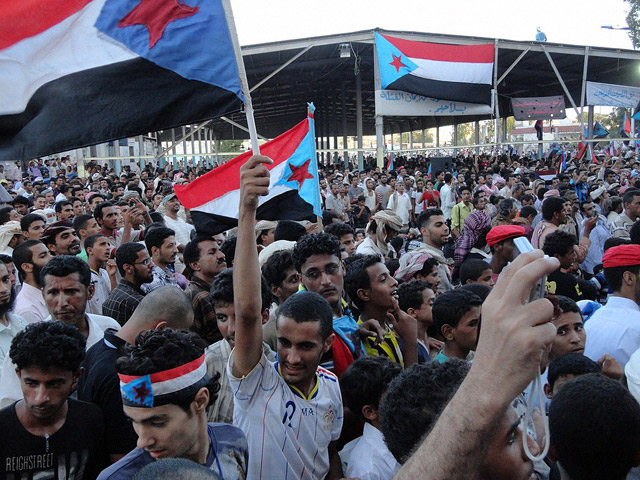 When 26-year-old Mohamed Bouazizi, a Tunisian street vendor, lit himself on fire in January 2011 right in front of a government building, he added momentum to an already brewing revolution. His self-immolation came after harassment from police officers and the forced shutdown of his business—proof of the government's corruption and power of autocratic president Zine el-Abidine Ben Ali. Tunisians across the country called upon the national leader to step down, which he did, a month later.
ADVERTISEMENT - CONTINUE READING BELOW
The movement spread throughout North Africa and the Middle East: Jordan had a change of government (January 2011), Egypt pushed their corrupt president out of office (February 2011), and Yemen's prime minister resigned (February 2012), among others. There are debates, however, on the phrase "Arab Spring," with some saying that this is a "Western ideal pushed on Islamist movements." The revolution didn't do much, especially since the autocratic governments eventually regained power and some nations are still in crisis or in the middle of a civil war; but National Geographic concludes that it "showed autocratic governments—and the rest of the world—that millions of people living in Islamic nations believe in free expression and democratic governance."
Sudan versus Omar al-Bashir (April 2019)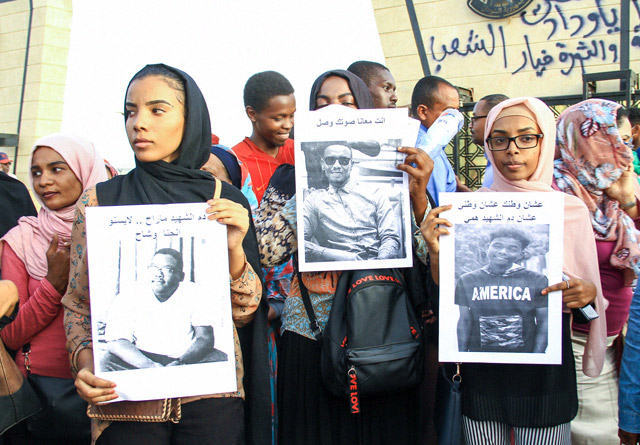 ADVERTISEMENT - CONTINUE READING BELOW
Since December 2018, another series of massive anti-government protests have been happening in Arab countries, starting in Sudan—which is now dubbed the New Arab Spring. On the morning of April 11, the country overthrew their dictator Omar al-Bashir whose administration was responsible for the detainment of hundreds of rights activities and opposition party members, media censorship, sexual violence against women, and a crackdown on non-Muslims. A seven-member Transitional Military Council is now in charge, but pro-democracy protesters are calling for a transition to civilian rule.
The topic, which obviously has global impact, was covered by Hasan Minhaj in the political-comedy series Patriot Act: "This is a critical moment for Sudan. This is a country with major geopolitical significance and what happens in the coming weeks will set the course for an entire generation."
Occupy Wall Street (2011)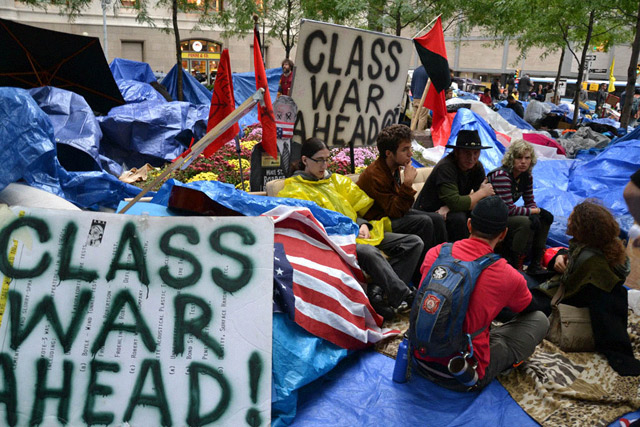 ADVERTISEMENT - CONTINUE READING BELOW
"We are the 99%" was the political slogan widely used during Occupy Wall Street, a left-wing non-violent movement that started on September 17, 2011, at Zuccotti Park in New York. It all started with a blog post by Adbusters two months prior, calling for "a shift in revolutionary tactics," which is basically to camp out at the city's financial district—Wall Street. Weeks later, the Occupy Wall Street website was launched while Twitter and Facebook announced the planned demonstration. By October, protests had gone beyond Manhattan and were simultaneously held in other cities. Protesters left Zuccotti Park on October 12, but the Occupy movement has since gained momentum, inspiring protest camps all over the world.
Gezi Park Protests in Turkey (2013)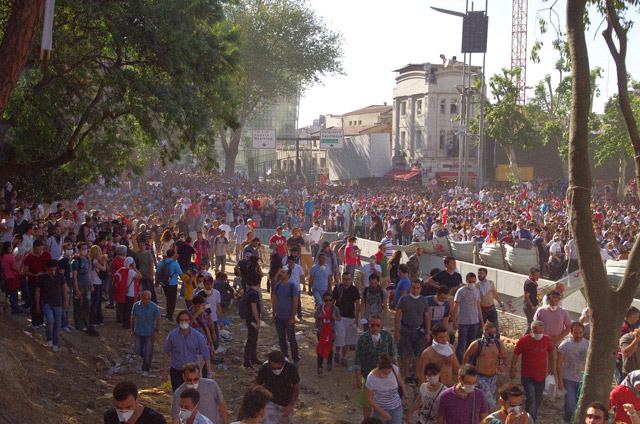 ADVERTISEMENT - CONTINUE READING BELOW
People in Turkey do appreciate their green spaces—especially if it's one of the last ones that haven't succumbed to so-called development. So on May 28, 2013, protesters gathered at Gezi Park to rally against a demolition that would have paved the way for a new shopping center. The government also wanted to tear down nearby Atatürk Cultural Center within Taksim Square, and replace it with military barracks. For most Turks, it was less about the issue of urban redevelopment than it was about the alarming increase of authoritarianism. The peaceful protest eventually became a violent demonstration after the riot police moved in with tear gas and water cannons on May 31, 2013. Rallies spread across Turkey, from silent protests to 5,000-people-strong marches. Prime Minister Recep Tayyip Erdo?an announced on June 14, 2013, that he would suspend plans pending a government court appeal.
Since 2015, the Istanbul Pride March—which started in 2003—has been banned at Taksim Square and elsewhere in the city. But still, members of the LGBTQ+ community come together at Gezi Park every June. The 2019 parade was met with the police's tear gas and plastic bullets.
ADVERTISEMENT - CONTINUE READING BELOW
Hong Kong's Protest Against Extradition Bill (June 2019)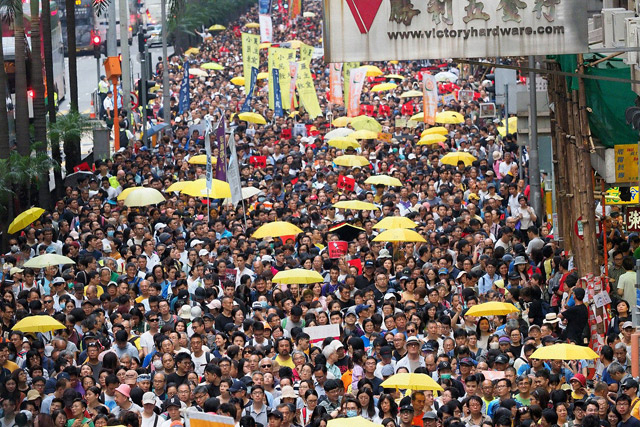 Hundreds of thousands of people on June 9 marched through central Hong Kong to oppose amendments to the Fugitives Offenders Ordinance bill, which would allow criminal suspects to be sent to mainland China for trial. Opponents to this legislation say that the changes would put them at the mercy of Chinese courts, which don't really have a clean record when it comes to fairness.
ADVERTISEMENT - CONTINUE READING BELOW
Crowd estimates have been a point of cotention with organizers claiming that about 550,000 people attended while the police said that there were only 190,000 at most. Researchers, through artificial intelligence and manual counting, concluded the number to be at 265,000. But just the same, it's one of the largest pro-democracy protests that the country has seen since they gained sovereignty in 1997. Riot police steps in with rubber bullets and tear gas on June 12. On July 1, protesters stormed the Legislative Council and other rallies broke out in other parts of the city. Hong Kong's leader Carrie Lam on July 9 said in a press conference that "the bill is dead," but an official withdrawal of the proposal is yet to be carried out.
Your guide to thriving in
this
strange new world.
Share this story with your friends!
---
Help us make Spot.ph better!
Take the short survey
Load More Stories