Ortigas Center Has Become a Walkable District, and We Didn't Even Notice It
The CBD is giving the streets back to the people.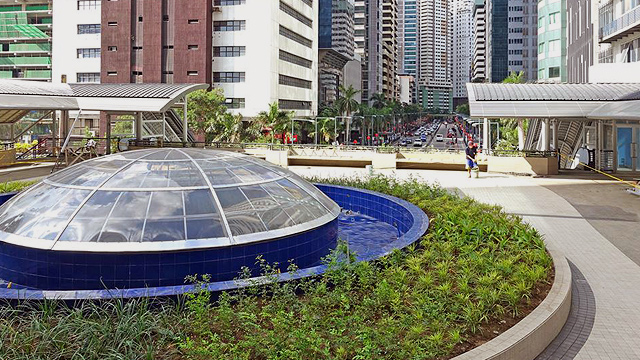 (SPOT.ph) My memories of Ortigas Center were always of walking. In the 1990s, I'd stroll with my media buddies from their Strata 100 Building office along Emerald Avenue (now F. Ortigas Jr. Avenue), crossing open lots of talahib to get to a new-ish SM Megamall. From the seventh floor of the office, you could get a glimpse of Payanig sa Pasig's ferris wheel at the end of Meralco Avenue. Parking was free—you could park anywhere, but with extreme caution at night, as the unlit grassy lots were dangerous. And you always had to walk with a friend.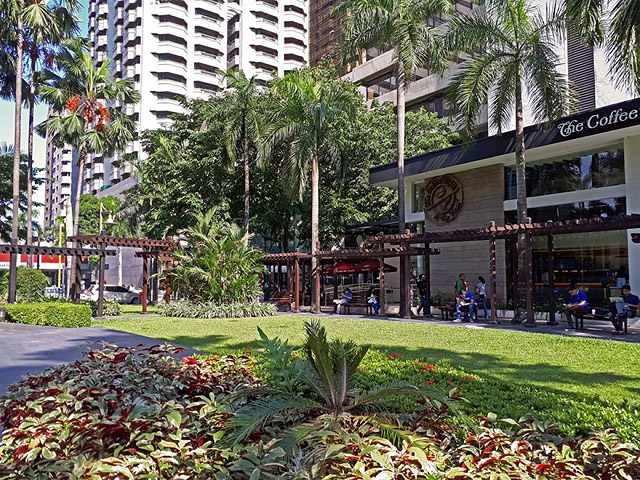 ADVERTISEMENT - CONTINUE READING BELOW
Today, the talahib is gone, and Ortigas Center is dense with malls, low-rise buildings, and skyscrapers; parking isn't free, and Payanig sa Pasig is now Metrowalk. But one thing remains: I still walk, simply because—even after extensive development—Ortigas has remained walkable.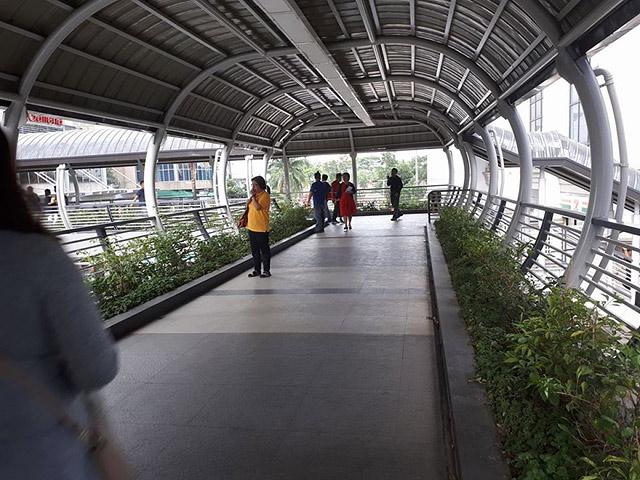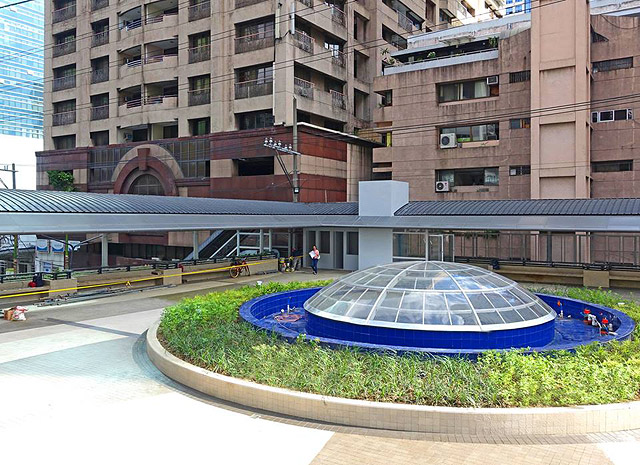 CONTINUE READING BELOW
Recommended Videos
Walking from Robinsons Galleria at the corner of EDSA to Tektite near San Miguel Avenue is way more comfortable than, say, walking from the Philippine General Hospital to Manila City Hall (both approximately one kilometer in distance). In Ortigas Center, roads are plentiful but narrower, with proper crosswalks, and with lower volume of vehicles. There are trees, sidewalk railings, a park that you can walk through, and buildings you can make shortcuts in. And because Emerald Avenue has underground cabling and the absence of ugly spaghetti wires, it's nicer to look at.
More importantly, there are elevated walkways linking the major streets. Thor Balanon, a writer and resident of Ortigas Center for almost 15 years, enjoys this infrastructure. "I take long walks during the weekends. The elevated walkways, with a plaza in the center, are convenient when I walk to Megamall," he shares. "I often walk down Emerald Avenue to clear my head, and it's always pleasant."
Walk This Way
These walkways are the rudimentary beginnings of the Ortigas Walkway Project. Architect Paulo Alcazaren, whose company PGAA works with the Asian Development Bank and the Department of Transportation on this project, explains it: "The Ortigas pedestrian system improvement project seeks to make the district walkable, safe, and convenient. It looks at cutting the time it takes to get to offices or condos from the MRT, bus, and FX depots. This comprehensive system also seeks to discourage car use within the district." 
The initial stage of the walkway links traffic-riddled Julia Vargas to busy F. Ortigas Jr. Avenue. The walkway, which is roofed to protect pedestrians from rain, culminates in an elevated plaza, with a soothing water feature and landscaping in the middle.
ADVERTISEMENT - CONTINUE READING BELOW
When completed, the Ortigas Walkway and Ortigas Greenways Projects could make a rather walkable Ortigas Center even more pedestrian-friendly. In this video of the auxiliary project Ortigas Greenways, the proposed 3D walkthrough shows how it will fully connect EDSA MRT to Guadix, Poveda, and Robinsons Galleria to the North and SM Megamall, ADB, Opal Road, Onyx, F. Ortigas Jr. and Meralco Avenues to the East with continuous pedestrian walkways and stairs that descend into landscaped areas or parks.
Ortigas Greenway shows all three malls—Robinsons Galleria, SM Megamall, and Shangri-La Plaza—connected directly to each other and to the MRT Ortigas station along EDSA. This interconnection would be instant relief for commuters, who have long suffered from inadequate pedestrian access to and from each mall, and from the lack of connectivity to public transport in the area.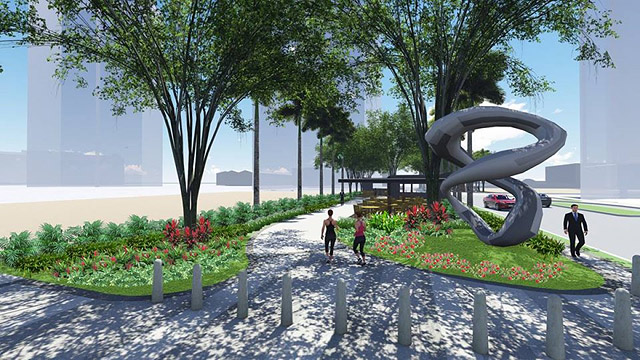 ADVERTISEMENT - CONTINUE READING BELOW
"The last time I was in Ortigas Center, I walked from Galleria to Podium, and then back to Ortigas MRT, and the last leg of my walk was not so good," admits architect Amillah Rodil, an urban planner and member of the Philippine Institute of Environmental Planners. "I didn't want to pass inside Megamall, but instead passed by the side of the building, which was the back of the mall with a narrow sidewalk lined with aircon compressor fans and a driveway for vehicles. I'm not sure about its plans, but the MRT pedestrian connection is still something to improve on."
Alcazaren stresses that they have been working with local government units and other associations to implement the entire project. "Yes, there are plans for elevated walkways along EDSA to connect Megamall and Robinsons to the section leading to the center of the CBD," he assures us, adding that "…the Ortigas Center Association, Inc., as well as the ADB, are working to get our designs approved for the implementation by the LGUs of Mandaluyong and Pasig."
Bringing It Back to the People
Another lure of Ortigas Center for condo dwellers is the fact that some streets are closed off to traffic on weekends, giving residents a few days of peace and quiet and a spot for affordable recreation, with bicycles for rent and a food market on the side.
Peter Pilar, a father of one who resides in nearby San Antonio Village, makes it a point to bring his son to a car-less Ortigas Center on weekends to go biking or eat at the Banchetto market. "Our family enjoys spending our weekends at Emerald Avenue. It's blocked off during Saturdays and Sundays so that people can walk their dogs, skateboard, or go biking," he says. "In a Metro that doesn't have a good number of parks and available for children to play in and enjoy, this district has made a concrete jungle into something special."
ADVERTISEMENT - CONTINUE READING BELOW
A Pearl of an Idea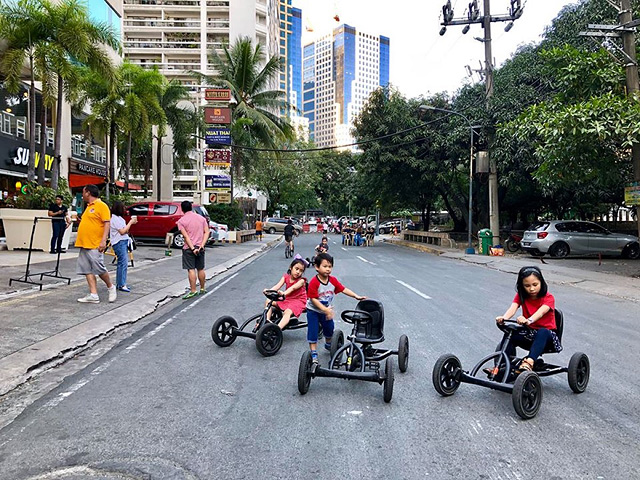 Another adapter of car-less weekends in Ortigas Center is Pearl Drive, which also closes to vehicular traffic on Sundays. This street crosses the University of Asia and Pacific and ends at Tektite Towers, and usually sees a steady stream of traffic from office workers and students driving into the area, with sidewalks blocked by parked cars.

It is currently the focus of a community-driven program called Pearl Project, with the main goal of giving the car-dominated pathways back to the pedestrians, and to give everyone the chance to walk safely and comfortably from San Antonio Village all the way to Tektike Towers.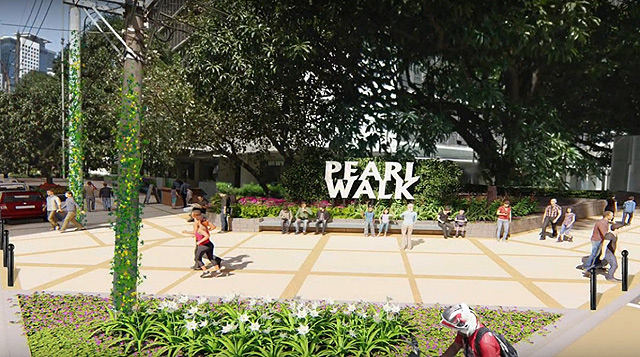 ADVERTISEMENT - CONTINUE READING BELOW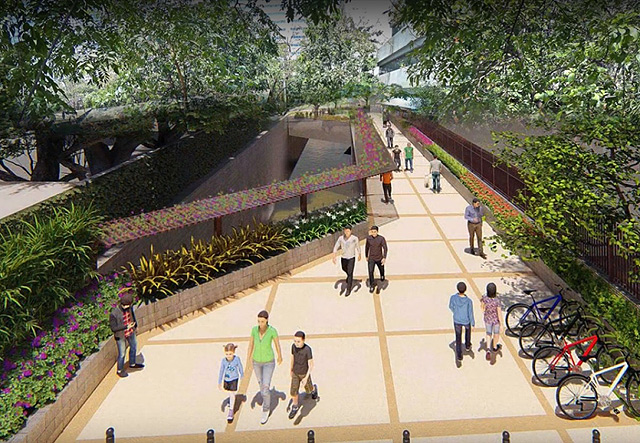 PGAA is also working with the Pearl Project group to design a high-quality pedestrian promenade called Pearl Walk, which will feature a wide speed table and crosswalk at Escriva Drive, well-paved pedestrian pathways across the Creekside by Gold Loop, and a landscaped promenade across University of Asia and the Pacific that replaces the informal car park. The community asked Mayor Vico Sotto for his support for the project last July.
Convenience and accessibility are at least two things that would come out of those projects, but there's one likely result that's equally important: quality of life.
After all, the proof of the success of Ortigas Center lies not only in its businesses, but in its signs of life after all the work is done. If at the end of a workweek you see a little boy on a bicycle, a couple strolling down a shaded sidewalk, or a cat snoozing on a park bench, these are signs that the area is thriving and healthy, and that a city does not depend on the rat race alone.
ADVERTISEMENT - CONTINUE READING BELOW
Rachelle Medina is a licensed interior designer, heritage enthusiast, and the former editor-in-chief of Real Living. She spends her free time exploring museums and decaying old buildings. Rachelle Medina is a licensed interior designer, heritage enthusiast, and the former editor-in-chief of Real Living. She spends her free time exploring museums and decaying old buildings. Follow Rachelle's adventures on Instagram @goldosmom.
Your guide to thriving in
this
strange new world.
Share this story with your friends!
---
Help us make Spot.ph better!
Take the short survey
Load More Stories