Escolta 101: How to Save a Historic Street
We talk to a creative about the past, present, and future of this Manila landmark.
(SPOT.ph) Escolta, Manila's street of commerce for more than three centuries, is also a street of ever-changing memories and experiences. My 83-year-old mother has happy ones, like visiting lolo at the Philippine Education Company in Natividad Building, then hitting Soriente-Santos to buy shirts for dad in the 1950s.
I have grittier experiences in the area. One was when I joined Carlos Celdran's tour of a decrepit downtown Manila in 2002. Escolta, with its buildings in various stages of decay, was empty, save for office workers at Calvo Building. Celdran encouraged us to enter Capitol Theater, Juan Nakpil's Art Deco masterpiece, but we couldn't—stagnant flood water filled the lobby, right up to our ankles.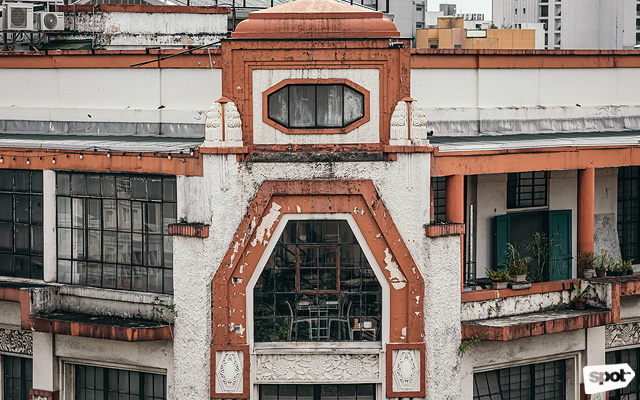 ADVERTISEMENT - CONTINUE READING BELOW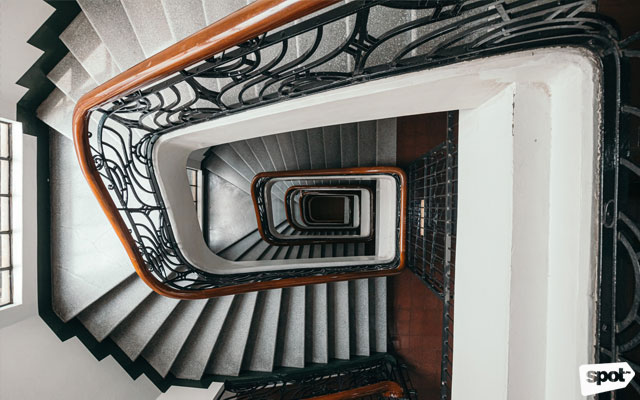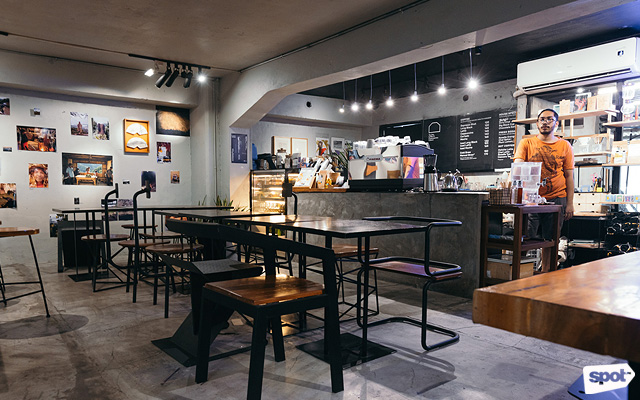 ADVERTISEMENT - CONTINUE READING BELOW
Recommended Videos
Seventeen years later, I am in Escolta again, in the air-conditioned comfort of The Den café at the 91-year-old First United Building. The scene is vastly different from a decade ago as the area now bustles with activity. A young fashion designer sets up her wares beside the coffee shop. Men are lining up to get their hip haircuts done at Folk Barbershop. Outside on the next corner, a brand-new building is undergoing its finishing touches, shrouded from view.
But how do you revive a street?
Gabriel Villegas, one of the former founding members of 98B COLLABoratory—the group of artists whose programs are responsible for the renewed interest in the area—explains how this came to be from the time they moved from Cubao to Escolta in 2012, up until now.
With a Simple Idea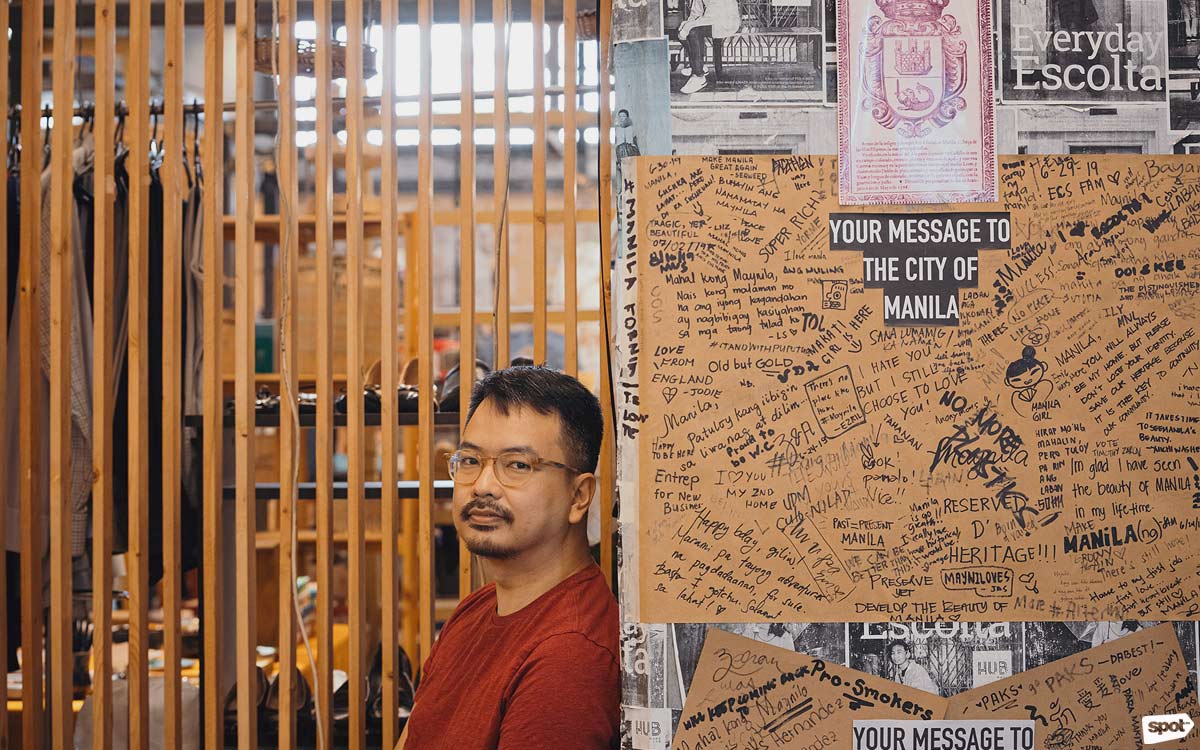 "We didn't expect this much reception, really; we just wanted to do our art projects and programs," Villegas admits.
PHOTO:

Jilson Tiu
It was 98B's goal to make contemporary art accessible to everyone by launching exhibits, workshops, selling events, and planned installations, all within Escolta, to encourage people to visit the area.
ADVERTISEMENT - CONTINUE READING BELOW
When asked if the art activities at First United Building (FUB) and with the community served as a catalyst for the revitalization of Escolta, Villegas responds: "Definitely, because the FUB owners [the Syliantengs] took a risk. Parang: Sige, pagbigyan na natin ang gusto ng mga baliw na artists!" This was definitely a risk, as previous tenants were usually small agencies and customs brokers.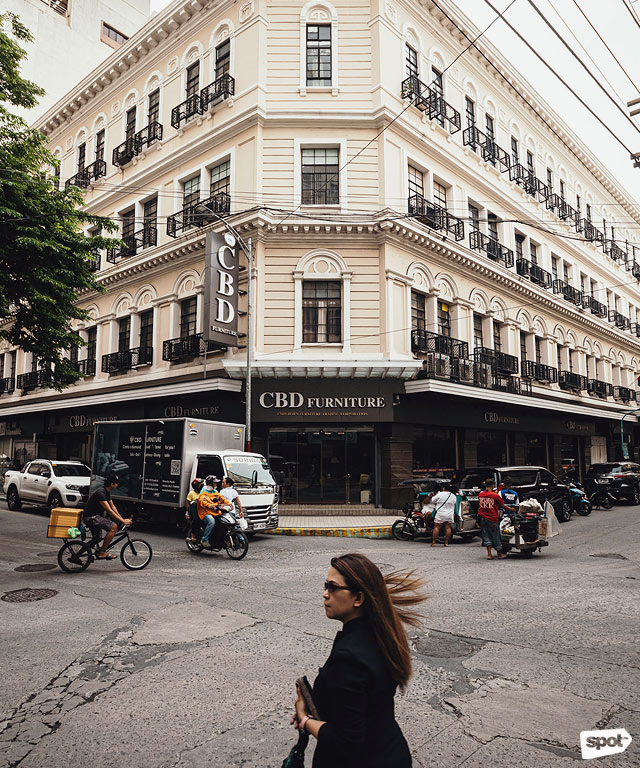 ADVERTISEMENT - CONTINUE READING BELOW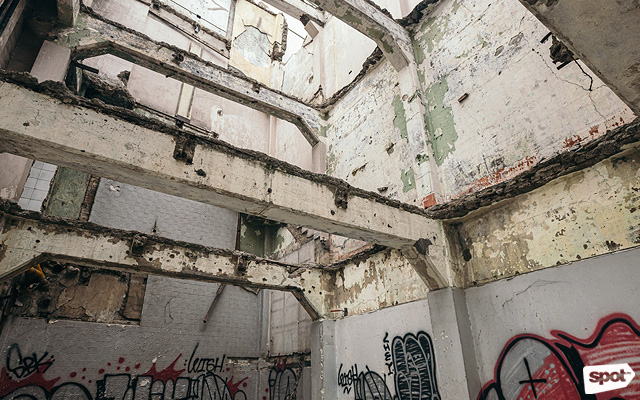 But on the other hand, occupancy rates for Escolta buildings at that time were only around 40%, so what was there to lose? "The neighborhood association, the Escolta Commercial Association, Inc. they were trying different things before we arrived: they tried converting the old buildings into BPO-ready facilities, they tried organizing different things, but I think their initiatives lacked something that would catch the public's interest."
ADVERTISEMENT - CONTINUE READING BELOW
With Getting to Know the Neighbors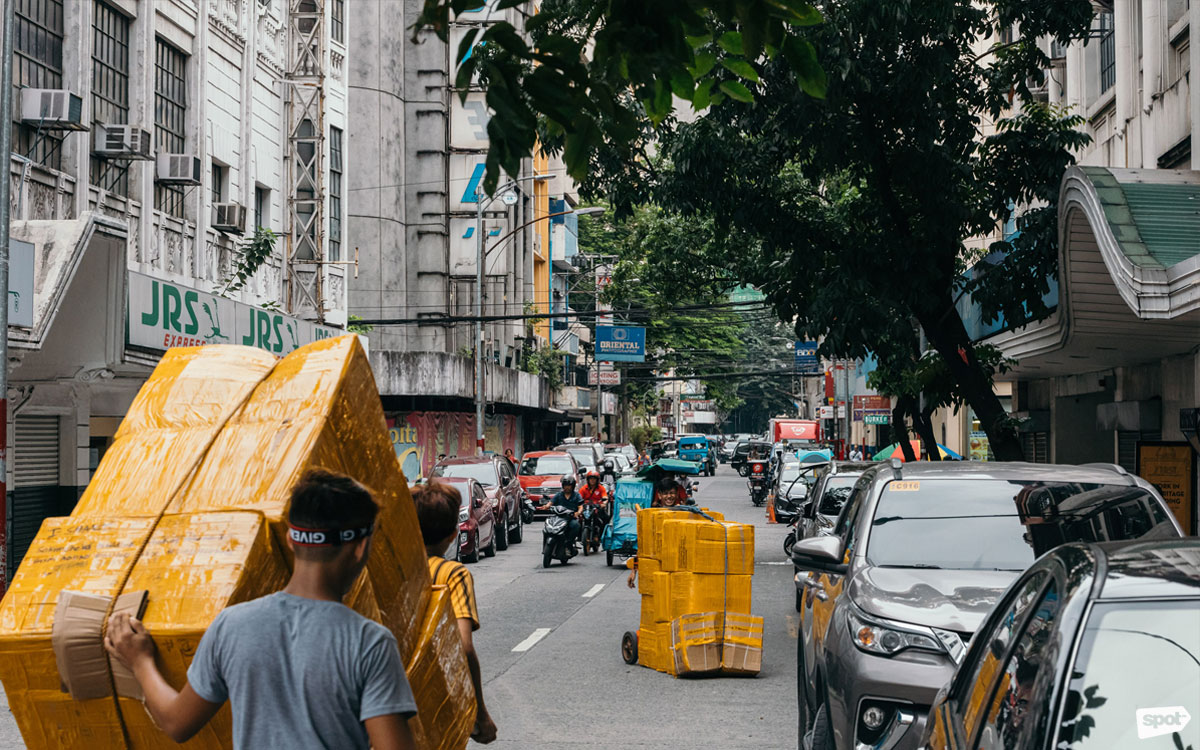 While planning their art programs and block parties, Villegas said that 98B took into consideration the other tenants and street vendors in Escolta. "Gentrification in Escolta's context would be displacing the people who made all this possible, and these people should not be displaced," he says.
PHOTO:

Jilson Tiu
While stewing over what to do next, the artists made an effort to get to know everyone in the neighborhood. "By definition of 'neighborhood,' it means the business owners, the transients, the people who live here, the street vendors, the barangay. We can't just come in, do our projects and programming and then impose all of these on what's happening here," says Villegas, who added that organizing the programs was a learning process for both parties. "When we relocated here, the building owners couldn't understand: Ano ba ang art installation? Ano ang experimental art? Through the years it has been about educating each other. Like for us, we didn't know anything about running a building, or maintaining a heritage building."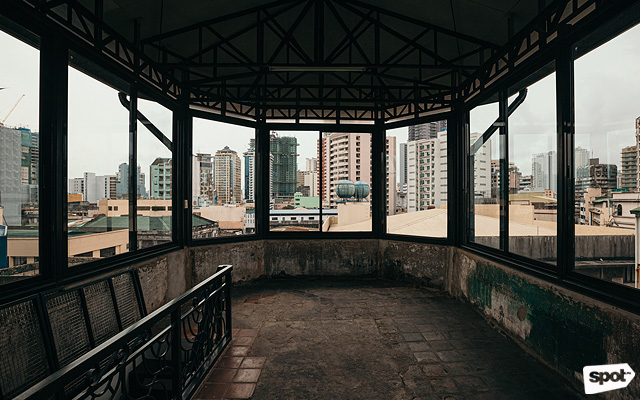 ADVERTISEMENT - CONTINUE READING BELOW
Villegas still recalls the state of the building back then. The original Art Deco features of the 1928, Andres Luna de San Pedro-designed building were well-maintained, but the ground floor was completely stripped bare, with no provisions for shops. There was also hardly any foot traffic from consumers in the area. "Active lang siya during the morning, and then pagdating ng gabi and weekends, dead na." The group's solution was to make the most of the empty ground floor space.
With Commerce Through Art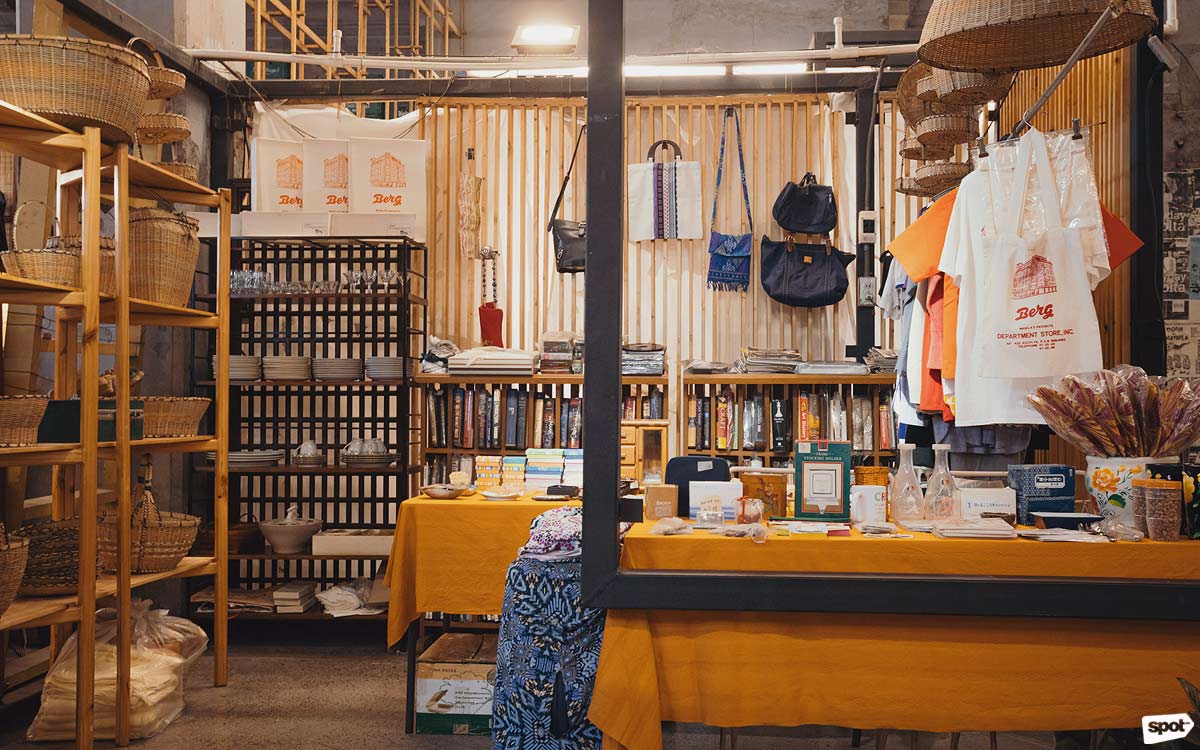 "After getting to know everyone, we started the talks, the workshops, the art exhibits," says Villegas about opening up the ground floor of FUB for retail.
PHOTO:

Jilson Tiu
Gone were the luxury stores of a post-war Escolta, but the members of 98B wanted to introduce some form of retail to bring life to the street in their own culture-centric, artistic way. So, they set up the Saturday x Future Market at First United's raw, ground floor space in March 2013.
Surprisingly, people showed up. It wasn't the usual Escolta crowd—they were mostly students, artists, and curious office workers. It was packed with sellers without actual selling tables, just sacks to plop their merchandise on. The toilets were still being fixed, but there were abstract paintings selling for P2,000 each, and Marcel Proust books for P10.
ADVERTISEMENT - CONTINUE READING BELOW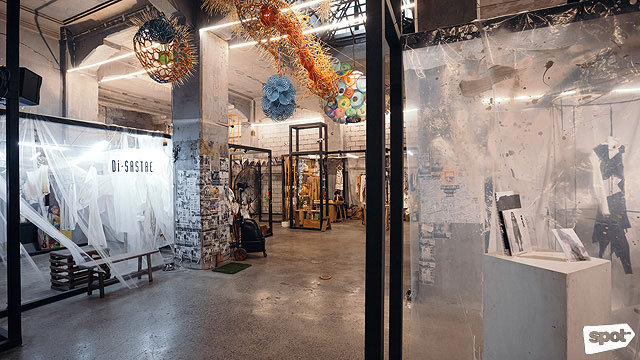 The energy grew with each succeeding leg of the market, until HUB|Make Lab was established in 2016, offering a more permanent selling space for makers and startups. In a way, HUB pays its respects to Berg's, one of the popular department stores formerly located in the building. Other tenants followed, including a coworking space, an NGO, coffee shops, a bar, and a design studio, with each putting their own modern spin while maintaining the building's original details of the building.
ADVERTISEMENT - CONTINUE READING BELOW
Today, the Escolta building's occupancy rate ("Of FUB, at least," says Villegas) is now at 90 to 100%. The regular foot traffic from the HUB, cafes, block parties, and workshops energizes the street. And more creatives and artists now take interest in the area, with some holding office there. "Na-inspire sila [the other building owners]; they became more open to hosting creatives as tenants or to opening up their spaces to creative projects when before they wouldn't consider that notion."
With a Balance of Progress and Respect for the Past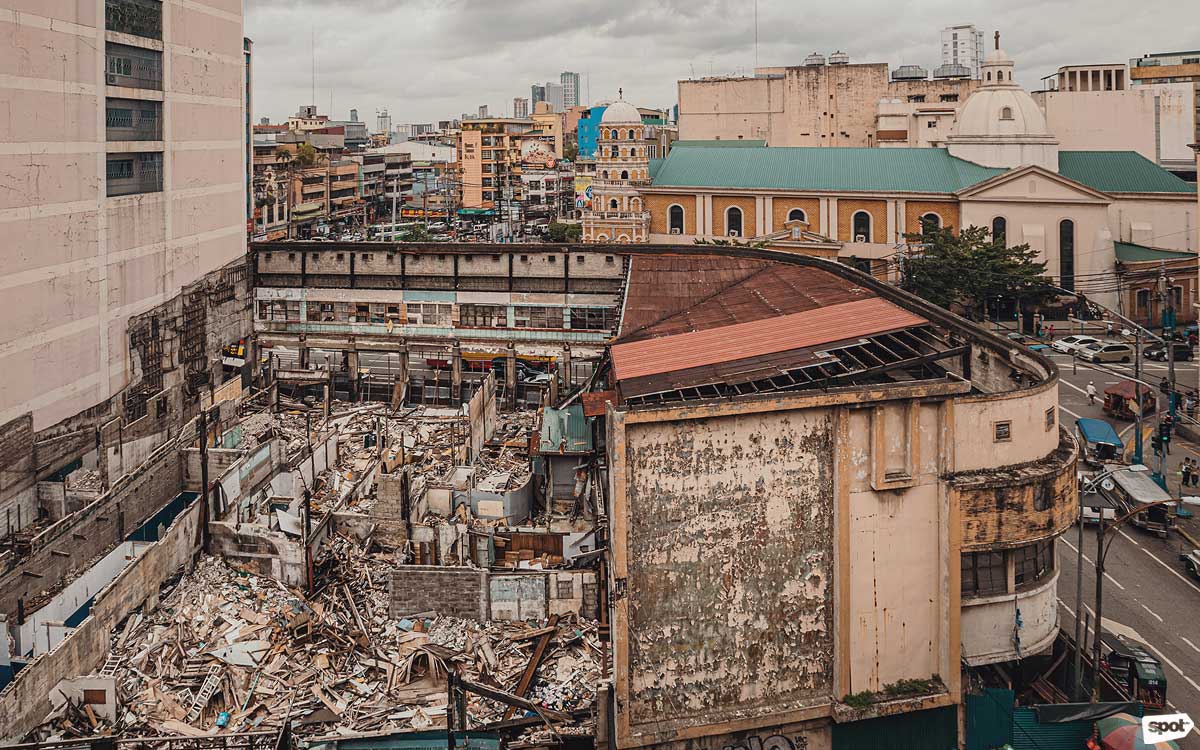 In three years, five heritage structures in Escolta have been demolished to make way for new buildings.
PHOTO:

Jilson Tiu
The Syliantengs are very diligent in conserving their own building, going so far as to open the First United Building Community Museum in its mezzanine to show its history. But not all of the building owners share the same interest. It is the heritage buildings that have ironically become the victims of Escolta's renewal.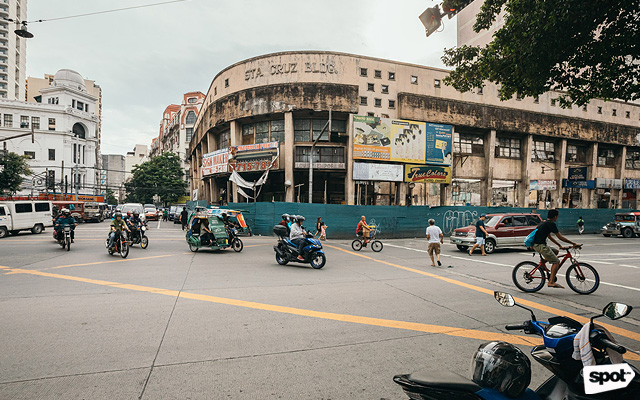 ADVERTISEMENT - CONTINUE READING BELOW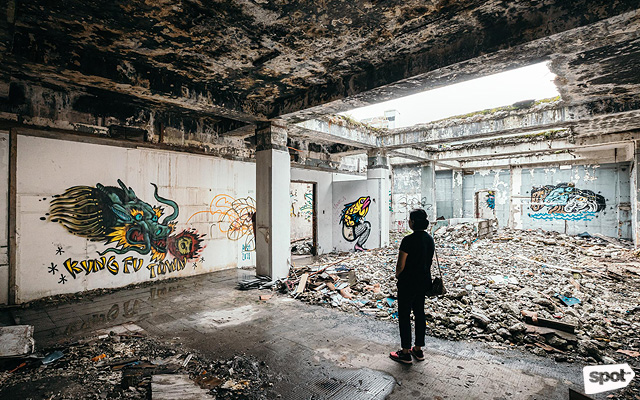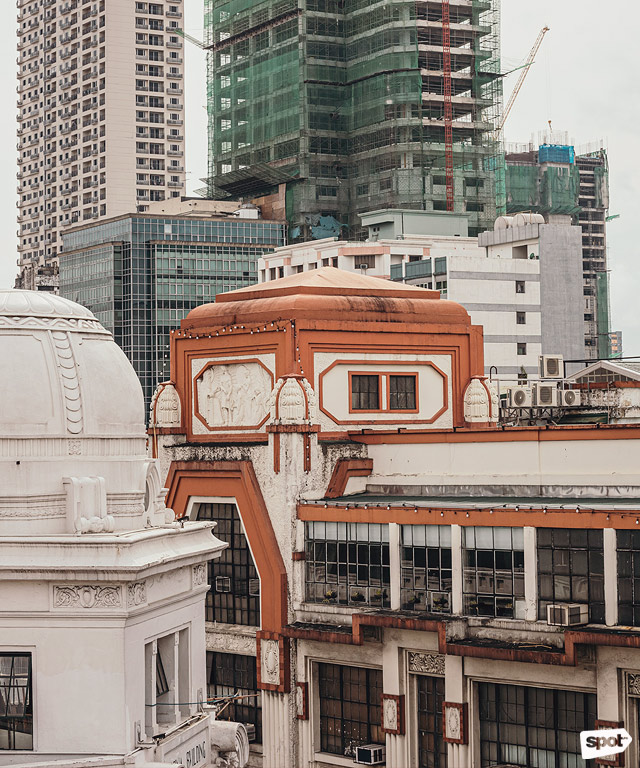 ADVERTISEMENT - CONTINUE READING BELOW
Four buildings in the area were demolished within a span of three years: PNB, American Chamber of Commerce Building, Sta. Cruz Building, and the Capitol Theater (reports say developers are maintaining the façade). This is deeply unsettling, because the street is lined with architectural gems by the likes of Andres Luna de San Pedro, Tomas Arguelles, and Juan Nakpil.
"There are downsides to the renewal. Dalawa ang nag-trigger, one is the renewed interest in the area, the other is the rising influx of Mainland Chinese, who are buying properties here," Villegas admits. "And sadly, this affects the heritage buildings. Owners choose to sell their buildings, or demolish them. And there are currently no incentives from the government to help owners with the upkeep or restoration of their heritage buildings."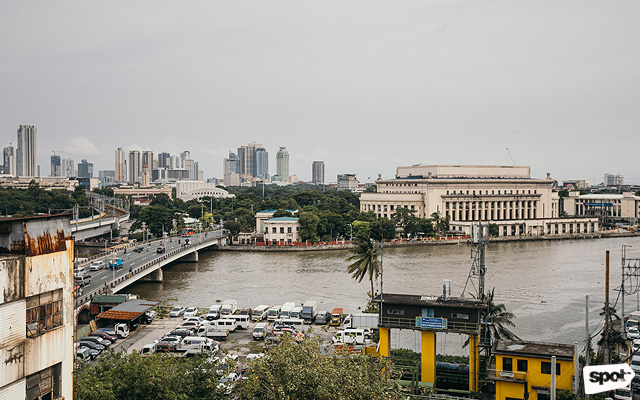 ADVERTISEMENT - CONTINUE READING BELOW
When asked if Mayor Isko Moreno Domagoso had any specific plans for Escolta, Villegas replies: "He has been very vocal in his interviews that he wants to revive the neighborhood, but our hope is that reviving it still maintains the community and the people responsible for bringing the renewed attention to it, and not just serve commercial developer interests."
With Memories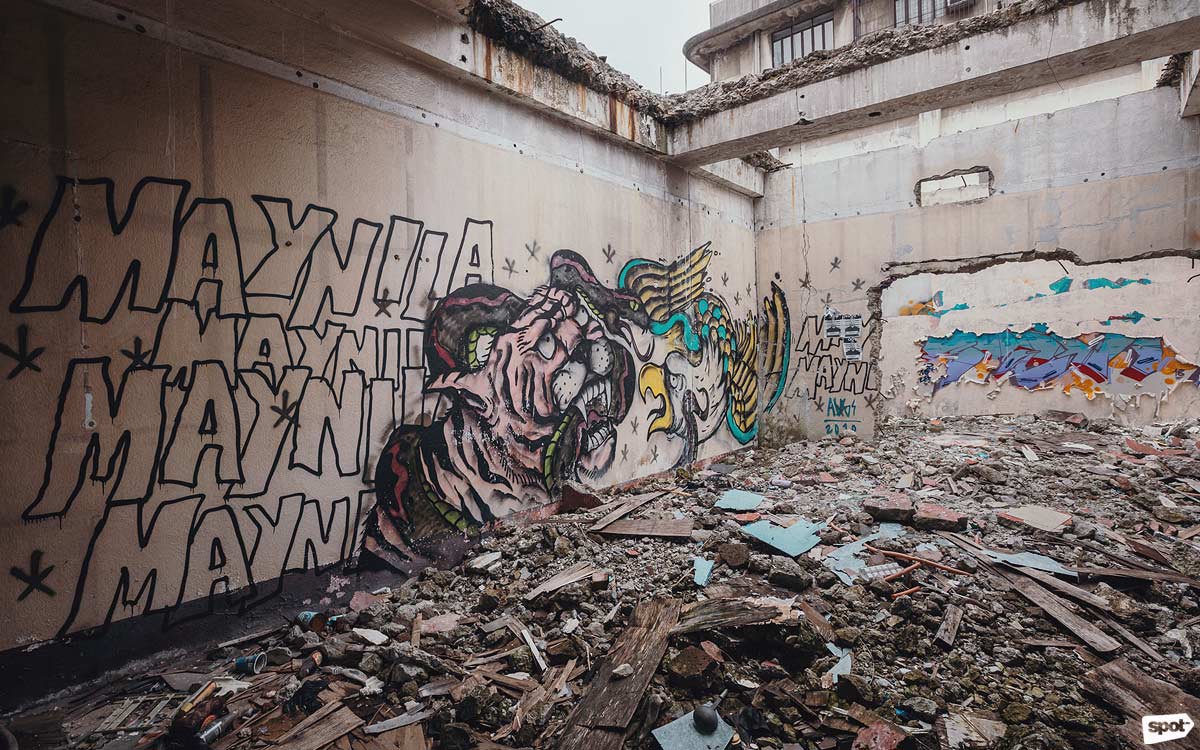 Graffiti artist Augie Fontanilla paint-bombed the walls of the semi-demolished American Chamber of Commerce building over a series of several weeks.
PHOTO:

Jilson Tiu
But the key to Escolta's survival, Villegas enthuses, is to create new memories. "Our realization through the years is that young people need to make new memories here for them to truly care about the heritage structures, and about the neighborhood and community," he says. "Kasi kung wala kang memories attached to it, you don't care about it. We are happy about the younger set coming back for the HUB, the parties, and the workshops, creating their own memories. In the end, they become advocates for the area."
ADVERTISEMENT - CONTINUE READING BELOW
Some visitors comment that Escolta is still rundown, and not at all like it was in its heyday. One must take into consideration that the central business district had already moved to Makati back in the 1960s. Escolta may never be the same way again; but it will evolve, like everything else.
For more information, visit the 98B COLLABoratory Facebook Page; visit HUB|Make Lab at G/F First United Building, 413 Escolta Street, Binondo, Manila; or follow them on Facebook for workshop and exhibit schedules.
Photos by Jilson Tiu
Rachelle Medina is a licensed interior designer, heritage enthusiast, and the former editor-in-chief of Real Living. She spends her free time exploring museums and decaying old buildings. Follow Rachelle on Instagram @goldosmom.