(SPOT.ph) Good coffee can do more than just give you your daily dose of caffeine. When done right, a perfectly made steaming cup of java hits you right where your heart is. But artisan-level coffee isn't exactly easy to come by—unless you're willing to splurge every single day—and so people all across the globe have looked for and developed easier, more accessible ways to get their caffeine fix.
One easy method is by using coffee capsules. Easy enough to get a machine, load up on the single-serve pods, and with the push of a button, have your favorite brew in a warmed cup. As always though, convenience comes with a price. With the rising popularity of these pod-powered coffee machines grows the number of capsules that are thrown into trash bins worldwide, adding to our constantly-growing waste management problem. Around 39,000 capsules are made every minute globally, with three-fourths ending up in landfills, according to a report by Wired.
Despite these looming numbers, one company is looking towards a more responsible method of selling their capsules. Coffee company Nespresso, which is part of the Swiss multinational Nestlé, has made it part of their job to take back their used products—in this case, used aluminum coffee capsules, grounds and all.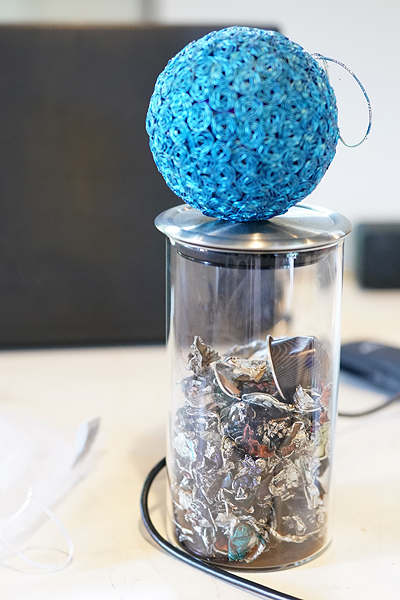 ADVERTISEMENT - CONTINUE READING BELOW
"It's the market's responsibility to recycle their products," says Mia Silva of Novateur Coffee Concepts Inc., the official distributor of Nespresso in the Philippines. "We're actually one of the few markets who launched the recycling program right after we launched the business," explains Silva in a conversation with SPOT.ph. In 2017, Nespresso already had a market in 39 countries worldwide.
Novateur had it in their plans to set up a recycling program as soon as their market was set up, and so just a few months after they launched locally in 2017, they began working on finding the right partners. Nespresso capsules are made with aluminum, which can be recycled and reused in many different ways. The used capsules are separated into two main parts: the aluminum casing, and the coffee grounds, which means that each component goes to a different facility to be given new life.
In the Philippines, the Nespresso market turned to the Katipunan Metal Corp., which is in charge of taking the aluminum and turning it into raw material for reuse. "They are our partners in the aluminum-melting process," explains Silva. "[Aluminum capsules are] melted and turned into ingots. Those can be made into bike parts, computer parts, kitchenware, and even automotive parts."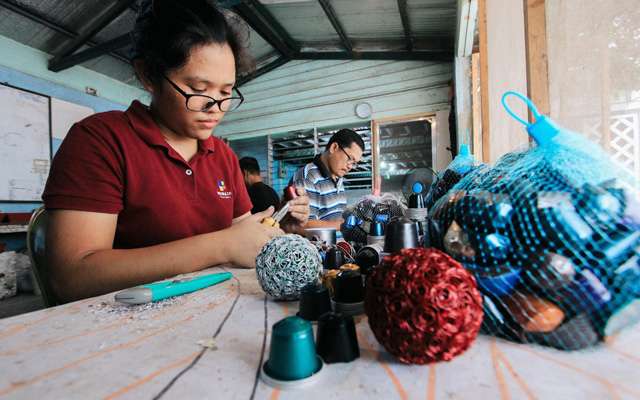 CONTINUE READING BELOW
Recommended Videos
The capsules can also be upcycled, and this is where Negrense Volunteers for Change, a foundation that focuses on providing sustainable livelihood, comes in. Under their directive, artisans upcycle the aluminum capsules into wonderful and useful works of art. They make anything from holiday baubles, to jewelry, to ornaments, all in a bid to turn trash into treasure. Plus, the benefits they make from selling these products are given to the artisans themselves and are used as as funds for the foundation's Mingo Feeding Program.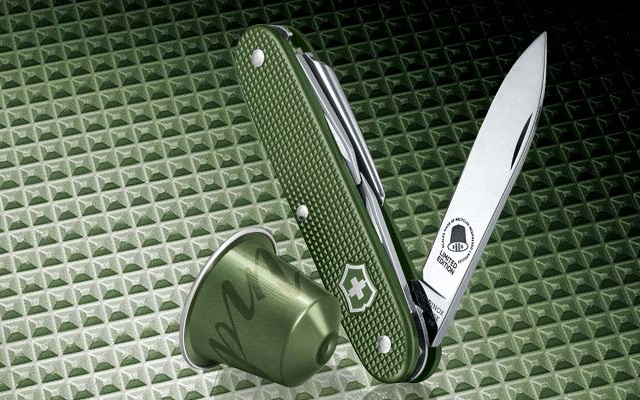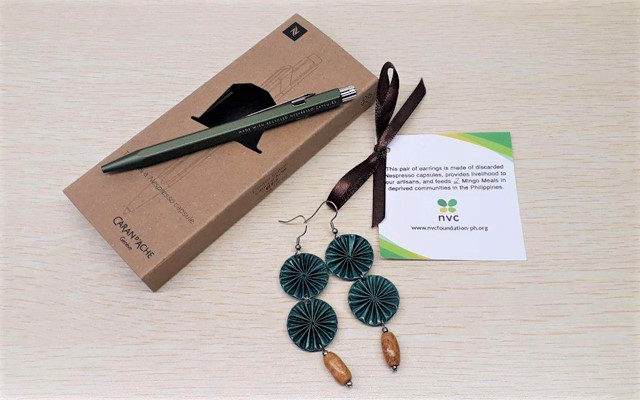 ADVERTISEMENT - CONTINUE READING BELOW
Plus, Nespresso has also partnered up with international companies to push recycled products on a global scale. Swiss company Victorinox—yes, the one famous for their Swiss Army Knives—made a limited edition Pioneer Nespresso Knife using recycled aluminum capsules. Another Swiss company, Caran d'Ache, also lent a helping hand with the creation of the 849 Nespresso ballpoint pen.
The second component of the capsule, the coffee grounds, are also handed over to partners that would greatly benefit from it. Nespresso has teamed up with the likes of Holy Carabao Holistic Farms as a way to give back to the Earth, literally. A 7,500-square-meter farm in Sta. Rosa, Laguna, that focuses on sustainable farming, Holy Carabao takes the used coffee grounds and feeds them back to the soil. This composting helps bring what may be dusty, infertile soil back to life.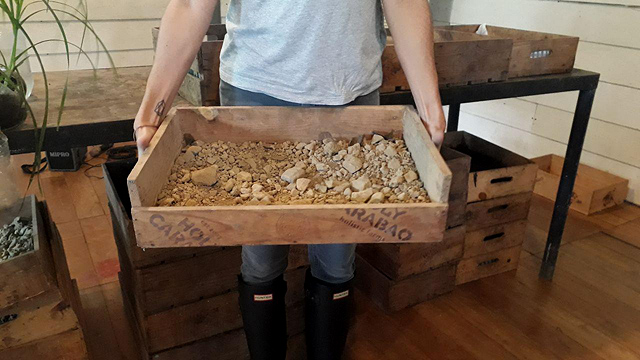 ADVERTISEMENT - CONTINUE READING BELOW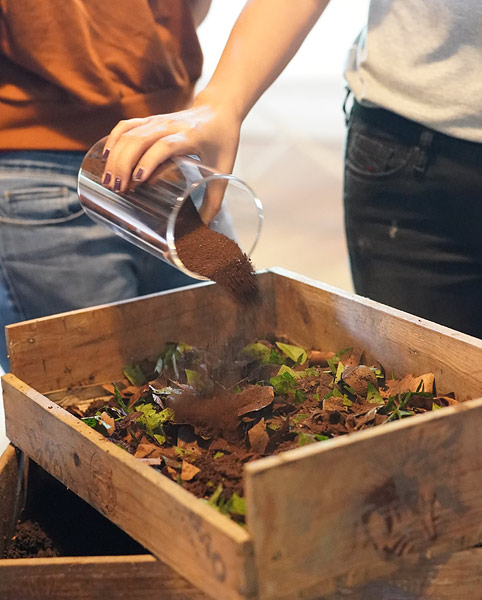 The composting process itself is only natural, according to Melanie Teng-Go, co-founder of Holy Carabao, in a conversation with SPOT.ph. All they do in the farm is help the soil return to its natural state: practically alive and capable of giving life as well. The coffee grounds from Nespresso are composted with several other biodegradable materials like food waste (but not the greasy kind, Teng-Co and co-founder Hindy Weber clarify) and dried leaves, before being returned to the soil.
"We're not supposed to throw [the waste] out because that's food for the soil. So just put it back into the soil and around your trees and under your plants," says Teng-Co. "Nature is just amazing. It's so simple," she continues, and adds that with the help of the coffee grounds, composting and bringing arid soil back to a fertile state could take just 30 days.
ADVERTISEMENT - CONTINUE READING BELOW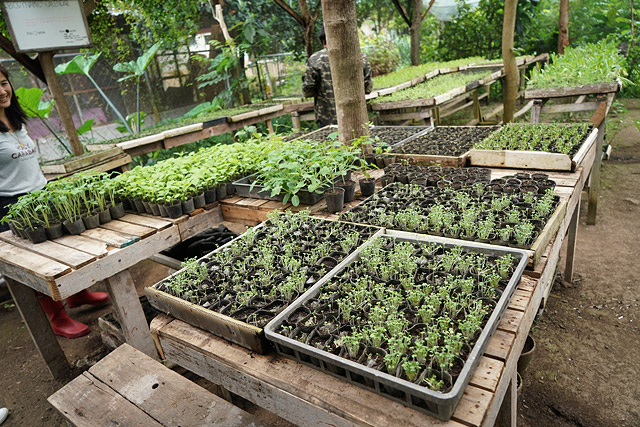 "When we launched this recycling program, it was important that we found the correct partners so that we can do it properly, continuously, consistently," says Silva. What was important for them was that the capsules not only made its way back to Nespresso, but ultimately became something new. For this, of course, the only missing step is for the buyers themselves to help return the capsules, and not just throw them away.
"When a buyer returns a capsule, it's also a way for us to help in turn," says Silva. Each returned capsule is one less in a landfill, and with Nespresso leading the way, both buyers and corporations alike could learn a thing or two.
You can bring your used aluminum capsules to the following collection points:
Nespresso Boutique at the Power Plant Mall, Rockwell, Nespresso Pop-Up Stores at The Podium, Greenbelt, and One Bonifacio High Street; and Rustan's Department Stores (Makati, Shangri-La, Alabang). Home pick up is available for orders made through the Nespresso PH Website, while direct collection is available for business-to-business accounts.
ADVERTISEMENT - CONTINUE READING BELOW
Share this story with your friends!
---
Help us make Spot.ph better!
Take the short survey
Load More Stories