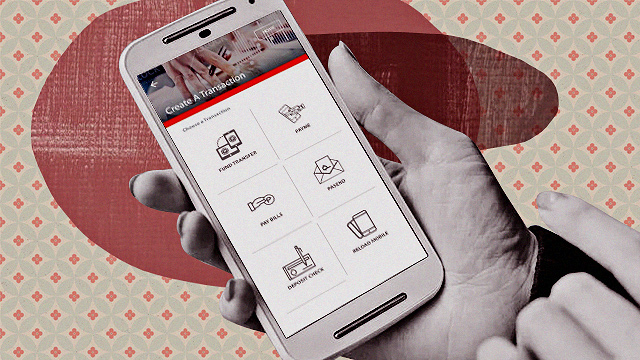 (SPOT.ph) A surefire way to raise your stress level on a workday is to sneak to the bank during your lunch break—and then end up in line behind 15 other people. The next thing you know, an hour has passed before you get to a teller, and she's grouchy AF. Sure you get your transaction done, but why waste time and effort when you could skip the line—and the human interaction—and do it online?
There will always be the notion that brick-and-mortar banks are more trustworthy and dependable than online services, but that idea is slowly turning. More and more people are relying on online services—not just for banks but for other cashless wallet services as well. If you're into saving time and effort, then online is one way to go.
When doing online banking or any other kind of online wallet service, a few words of caution. Never access the online portal or app through a public WiFi network, where hackers can weasel their way into the site and gain access to your password or PIN. Secure your password (and remember it—write it down somewhere safe!).
ADVERTISEMENT - CONTINUE READING BELOW
Employ all the possible online security measures. These may include the following: receiving a one-time PIN for transactions, getting an e-mail or SMS notification for any transaction or changes done to your account, or an automatic log-out when there's inactivity for a few minutes.
Also, remember that no one—either via e-mail or via call—has the right to ask for your username, password, or even your one-time-PIN. Some stealthy people have managed to create websites, e-mail addresses, or text messages that look legit, so take a long hard look and check the URL or sender's e-mail address or number before proceeding. These precautions may get annoying sometimes, but it's for your own protection!
Here are 10 online services you can use for managing your money :
BDO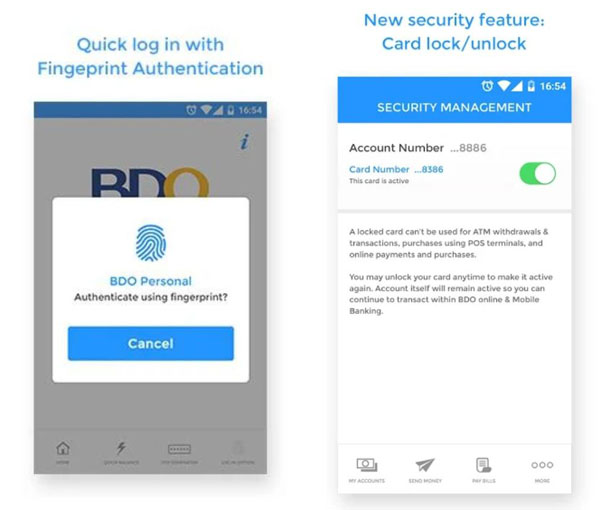 Banco de Oro, or better known as BDO, has the online banking experience that you would expect from one of the most recognizable banks in the country. The bank has the online banking basics covered: You can check your account balance in real time, view past transactions, pay bills and schedule future payments, and send money to other third-party accounts (third-party account means an account from other banks). You may also opt to check your e-Statement of Account, or eSOA, online. You can even reload prepaid accounts to all networks (Globe, Smart, Talk 'N Text, Touch Mobile).
ADVERTISEMENT - CONTINUE READING BELOW
Recommended Videos
Overseas Filipino Workers would also find it convenient that BDO has a remittance service you can access and monitor online as well.
One thing that BDO has that isn't found in most online-banking services is the way they handle their checks. Most banks would only reflect your issued check in your online account in numbers, but BDO lets you see the images of your issued checks online.
Enroll by logging on to their website, then head out to any BDO ATM to activate. After activation, you'll be able to log in after one banking day. You can also download the app for on-the-go banking.
Access the BDO online portal. Download the BDO mobile app for iOS, Android.
BPI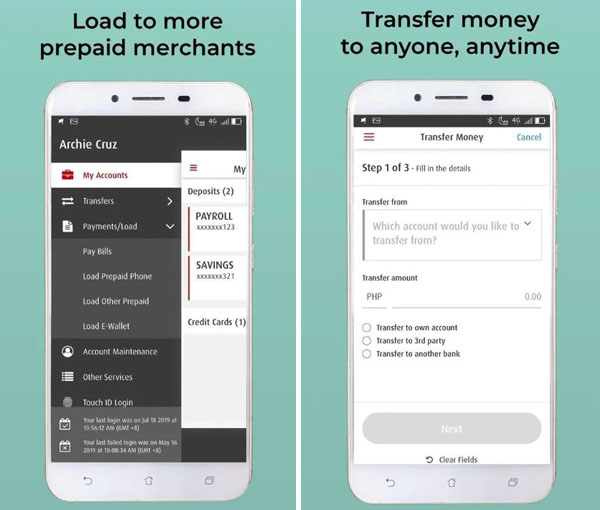 The oldest bank in the Philippines does not disappoint with their online capabilities. Their online-banking services are complete—it lets you send money to third-party accounts, pay your bills, reload prepaid mobile accounts to all networks, and you can accept foreign remittances straight to your account. For eSOAs, you can also access it online and download it.
ADVERTISEMENT - CONTINUE READING BELOW
They have a one up from the rest because they are able to reload e-wallets, like Sweep RFID, Easy Trip, Beep, GCash, Paymaya, and Smart Padala. You can load your Lazada Wallet, too!
Another thing unique to BPI is their app's ability to generate a QR code based on your account number. This way, you don't need to send that super long account number to others—just send them your QR code for any fund transfers.
Enroll by filling out their form online, activate via ATM, then you can log into their online banking website or app five minutes after activation.
Access the BPI online portal. Download the BPI mobile app for iOS, Android.
Landbank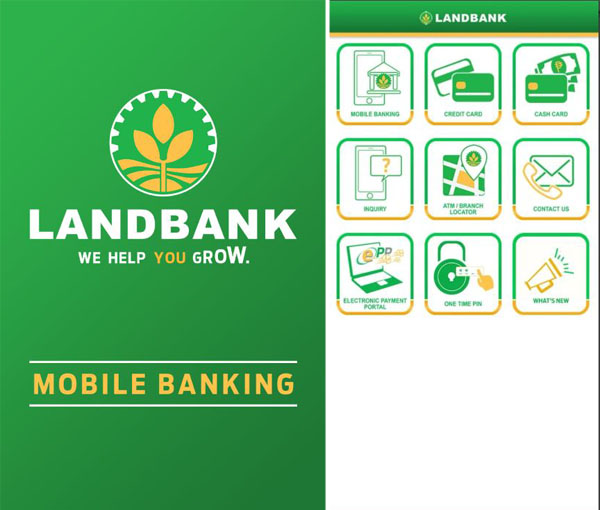 Landbank's online banking offers the basic services, such as bills payments, fund transfers, and checking the status of issued checks and your account balance, all of which you could do both on their website or via their dedicated app. Their leg-up from other banks is that Landbank is the only bank run by the government, so you can be slightly more assured of their stability.
ADVERTISEMENT - CONTINUE READING BELOW
To apply, you can choose to do it online, or visit the Landbank branch near you to submit the necessary forms. Applying online has their limits though, you will only be able to check your account balance and transaction details, or report a lost or stolen ATM card. If you want to enjoy the full benefits of their online-banking service, it's best to visit the branch and go through the application process there.
Access the Landbank online portal. Download the Landbank mobile app for iOS, Android.
Metrobank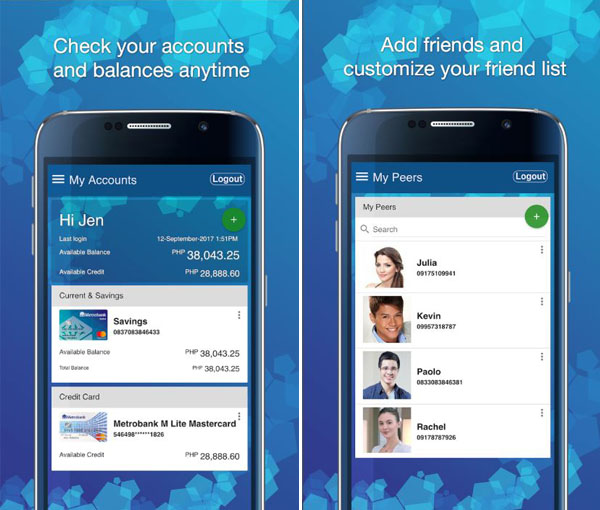 Metrobank showed off a fresh rebranding mid-2019, and with their new "meaningful banking" mantra, the bank has undertaken more than the usual online-banking essentials. There's no problem when it comes to checking your account balance, viewing transactions, paying bills, sending money to third-party accounts, and viewing your eSOA online.
Metrobank's mobile banking app comes with a few extra bells and whistles compared to their online portal. It's only through the app wherein you can do prepaid reloading to all networks, and apply for a car or home loan. You get to check out the latest Metrobank promos via the app. And hold up—there's a social aspect to it too, with the ability to add "friends" to chat with right inside the app. The app can take the place of your card when withdrawing at a Metrobank ATM, because let's face it, you can forget your wallet at home, but never your smartphone.
ADVERTISEMENT - CONTINUE READING BELOW
Enrolling is done via an online form (or through any branch), ATM activation, and give it a few minutes, then you're good to go.
Access the Metrobank online portal. Download the Metrobank mobile app for iOS, Android.
PSBank Online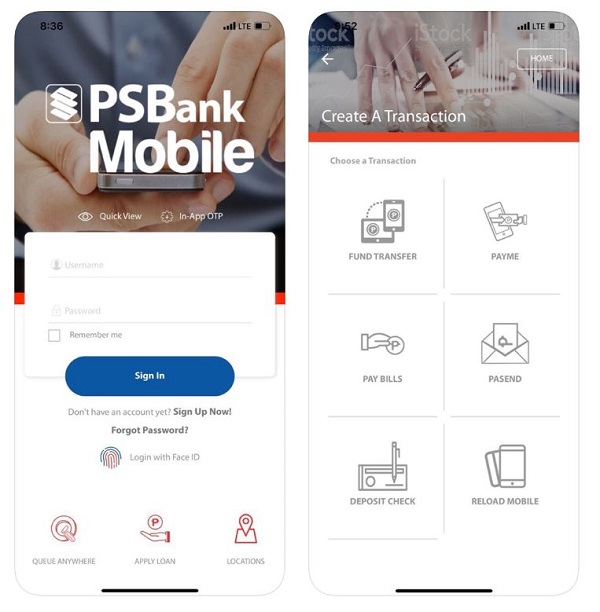 PSBank keeps things simple with their online services. It covers all the basics: from queuing online to transferring funds and paying bills at any time, it's a no-frills service that focuses on getting things done. You can also keep an eye on your accounts whenever, wherever, which is great if you're always pressed for time. Plus, there's no need to go to the bank to enroll an account online; just have your email address and account details ready.
You can also keep these services—and a bit more—with you all the time by putting it in your phone. The PSBank mobile app comes with the standard features, plus, it allows you to deposit checks using image capture, send money to others using PaSend Instant Cash Padala, and even lock and unlock your ATM for added security.
ADVERTISEMENT - CONTINUE READING BELOW
Access the PSBank online portal. Download the PSBank mobile app for iOS, Android.
Unionbank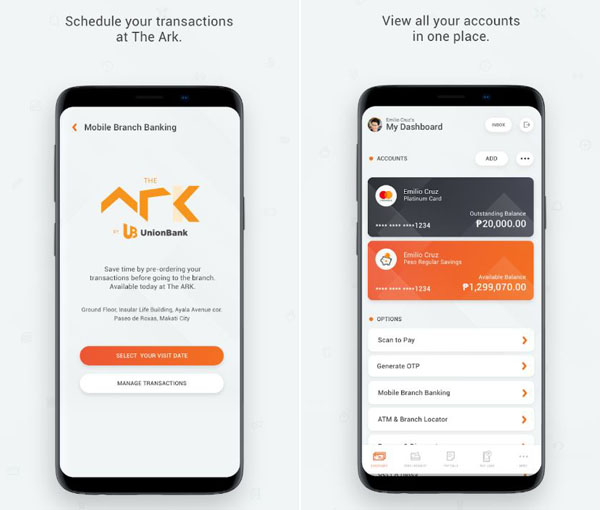 Unionbank has unveiled a hip new logo, complete with ads showing models that look like they're fresh out of college. Clients will find that they can do practically anything online: see their account balance, view transactions, pay bills, send money to other accounts, and do prepaid reloading.
Unionbank (or UB, if based on their new logo) has also adapted the whole "take a check pic" concept too: Sign your check, take a picture of it, and send the photo via the mobile app. Another cool thing about UB is you can refresh your credit card limit whenever you can. Simply pay the amount due, and bam! You have a fresh credit line in seconds.
Enrolling can be done via online, or through the app. No need to search for an ATM to activate it—you'll be done in minutes!
ADVERTISEMENT - CONTINUE READING BELOW
Access the Unionbank online portal. Download the Unionbank mobile app for iOS, Android.
Security Bank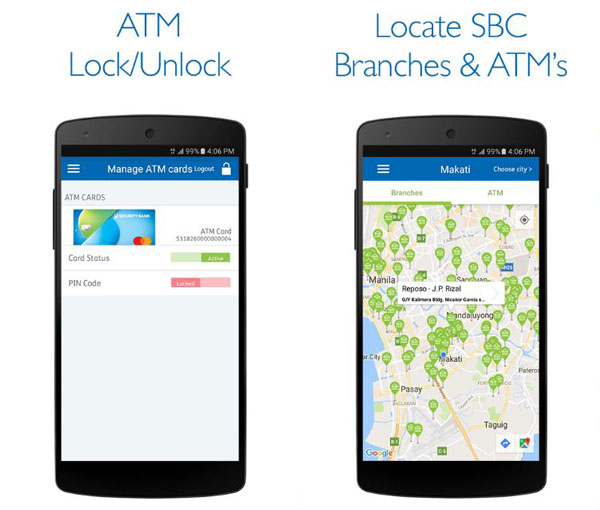 If the cuteness of Scarlet Snow Belo's endorsement wasn't enough to sway you to do "better banking" with Security Bank, maybe these will. The necessities are present—being able to check your account balance in seconds, view transactions, pay bills, send money to third party accounts, and do prepaid reloading.
Security Bank has an eGiveCash feature, where you can send money to anyone with an SMS number. Another unique feature is the eSecure Savings (eSS), which is a purely online savings account, that is offered to their existing Peso Casa clients. The eSS comes with a higher interest rate, making your account earn faster.
Applying for the bank's online banking can be done online, or through submitting the form to the closest branch. Upon approval, you'll be able to log in to the portal and app in one to three banking days.
ADVERTISEMENT - CONTINUE READING BELOW
Access the Security Bank online portal. Download the Security Bank mobile app for iOS, Android.
PayMaya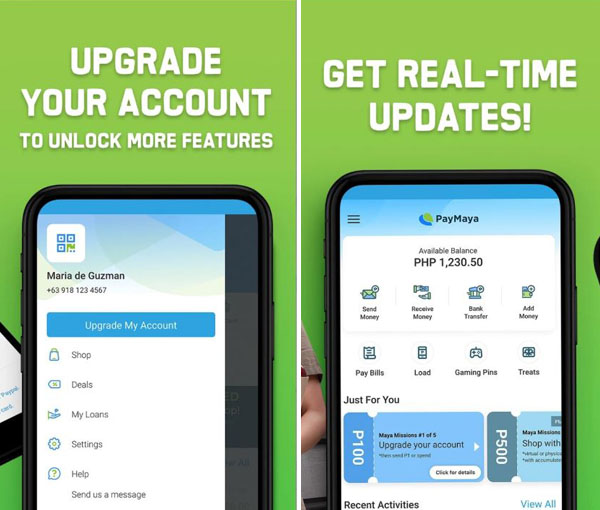 PayMaya takes the whole mobile baking a step further by giving you your own Virtual Card. When you download the PayMaya app, just provide the necessary details, then you get either a Visa or Mastercard, ASAP.
And shopping isn't just what PayMaya is all about. You add money to your account through several of their money channels, and after which you could avail of their services. You can do bills payment, bank transfers, send and receive money, and it lets you buy movie tickets, too.
Like other mobile-wallet apps, all you need to do to pay in the store is to scan their QR code. If you want to make that virtual payment IRL, you can opt to avail of a tangible PayMaya EMV card. You can use the card at any Bancnet ATM, or to pay at any local or international establishment that accepts debit or credit cards.
ADVERTISEMENT - CONTINUE READING BELOW
Visit the PayMaya website. Download the PayMaya mobile app for iOS, Android.
GCash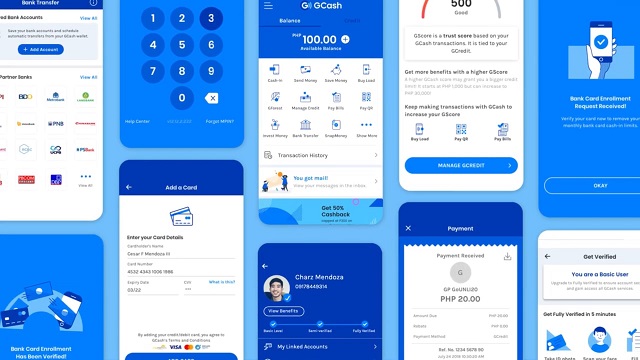 Powered by one of the country's leading telecommunications companies, GCash can practically stand for "Good as Cash," too! The mobile wallet lets you do so many things: send money through bank transfers (42 banks and counting—all free of any bank charge!), or send and receive through fellow GCash users—all you need is to input their mobile number and send it out. You can also pay bills, buy or borrow load; you can even split the bill with friends via their KKB service, or send Ang Pao!
The app (iOS, Android) offers a few other services, like being able to book and pay for movie ticket bookings and growing your own "GCash Forest" by continuously using the app.
If you need to load up your GCash balance, you can choose to "Cash in" via machine, pawnshops, payment facilities, or an 7-11. You can also choose to cash in via online banking by linking your bank account, or your MasterCard or Visa Bank Card.
ADVERTISEMENT - CONTINUE READING BELOW
To use your GCash balance to pay for goods, look for the GCash QR Code of the store, scan the QR, input the amount, and show the cashier the confirmation page.
Visit the GCash website. Download the GCash mobile app for iOS, Android.
ING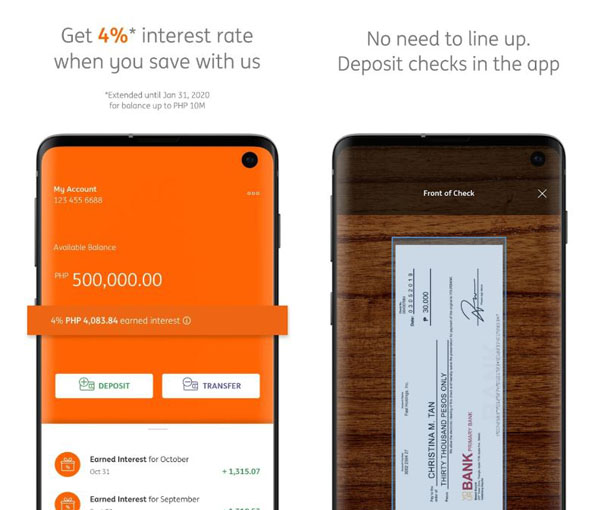 ING is the first all-digital bank in the Philippines, and it's hard to ignore their appeal of a 4% interest rate per annum on your ING savings account—until January 31, 2020, that is. For reference, most banks offer 0.25% to 1.75% interest rate per annum.
Since its arrival on our shores, you can do the following through ING's app: Check your balance, view transactions, send money to other accounts via PESONet, and receive money via instaPay or other authorized banks. ING also lets you deposit checks just by taking clear pictures of it, and once approved, it will be reflected in your account. What they are yet to accomplish is being able to pay bills via the app.
ADVERTISEMENT - CONTINUE READING BELOW
Since they don't have a brick-and-mortar bank, you apply for a savings account via the app—all you have to do is provide your information (and snap a photo of yourself!) using your smartphone.
Wondering how you can withdraw money from a digital bank with no ATM? You'll need to transfer your money from your ING account to another bank account. According to their website, ING is working on another bank product that will feature an ATM card to make withdrawals easier.
Visit the ING PH website. Download the ING mobile app for iOS, Android.
Share this story with your friends!
---
Help us make Spot.ph better!
Take the short survey
Load More Stories