(SPOT.ph) The Philippine Red Cross signed a historic partnership with Zipline, the world's first national-scale drone delivery service, that will soon allow the on-demand and emergency delivery of blood and life-saving medical supplies to the country's hard-to-reach areas. The announcement was made during a simple press conference at the Philippine Red Cross (PRC) headquarters along EDSA on December 10. In attendance were PRC Chairman, Senator Richard Gordon; Zipline Chief Executive Officer and co-founder Keller Rinaudo, U.S. Ambassador to the Philippines Sung Kim; and U2 frontman and Zipline boardmember, Bono, who, understandably, stole the limelight.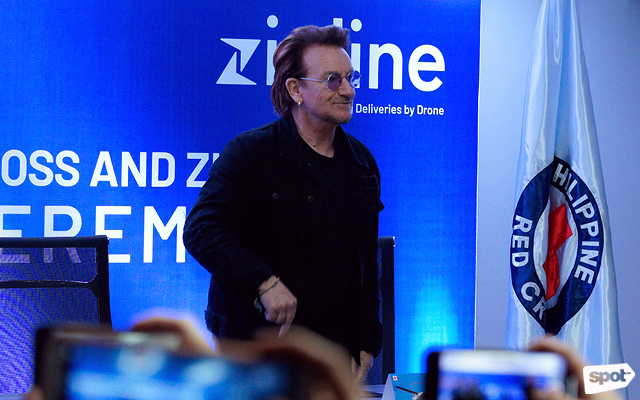 ADVERTISEMENT - CONTINUE READING BELOW
In a room packed with journalists, Red Cross volunteers, government officials, and fans of the band U2, Bono said a few words concerning his connection to the project: "You know, music's my passion, but actually Zipline is where all my other passions come together, which is the idea that commerce should serve people, not people serve commerce. The idea that the brightest minds shine even brighter when they work for the vulnerable; vulnerable lives."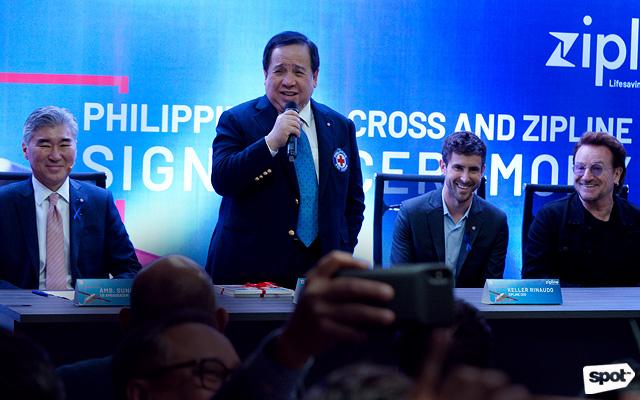 Rinaudo, the Harvard-educated co-founder of Zipline, praised how the Philippines is embracing new technology to address its logistical challenges. "The Philippines is an amazing country with amazing challenges when it comes to disaster response, and the things that the team is already doing is really what inspired us to come here in the first place," he said. Rinaudo thanked Ambassador Kim for his leadership and vision, and for helping set up "this collaboration between the Philippines and United States which we hope will really blossom and be a role model for other partnerships throughout Southeast Asia."
ADVERTISEMENT - CONTINUE READING BELOW
The loudest cheers were reserved for Rinaudo's comments about his famous employee ("Keller's my boss," quipped Bono during the press conference). "Zipline wouldn't exist if it weren't for Bono. The only thing that really gave us the audacity to even try something as crazy as what we're doing was some of the work that you've done in Africa."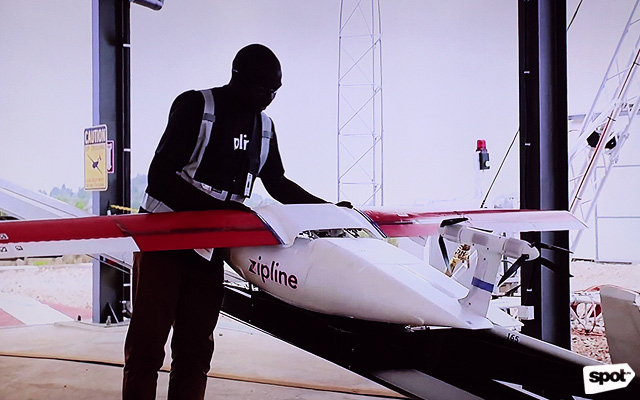 ADVERTISEMENT - CONTINUE READING BELOW
Among his many humanitarian causes, Bono has championed debt relief for the world's poorest nations, HIV awareness, and universal human rights. While it's his first time in the country, his band was involved with "Songs for the Philippines," a digital music album which raised funds for the victims of Typhoon Yolanda in 2013. Proceeds from the downloads of the album, which included the U2 song "In a Little While," were donated to the Philippine Red Cross.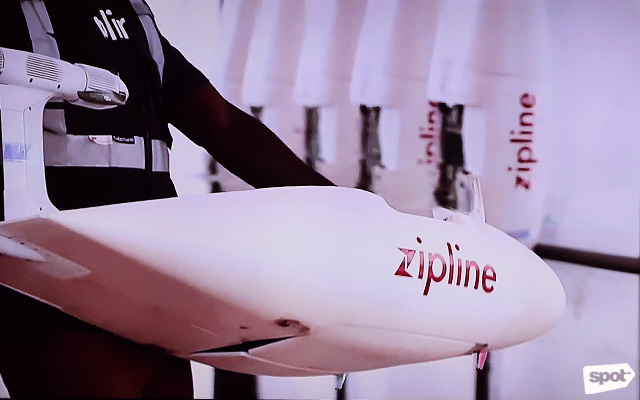 ADVERTISEMENT - CONTINUE READING BELOW
Drone use has grown over the years, evolving from being a military tool primarily, to being a form of technology that even ordinary civilians can benefit from. Low-cost drones that can take hi-res photos and video are especially popular these days, and in the very near future, e-commerce sites will likely be using drones to deliver packages directly to customers. Through drone technology, Rinaudo and Keenan Wyrobek, Zipline's other co-founder, have ingeniously solved medicine's so-called "last-mile" problem—getting medical supplies to the people in far-flung areas who desperately need them.
"A lot of people were telling us for those first few years that we started developing the technology that this was a bad idea, it would never work, it was completely insane. There's no way that any government partner or someone like the Red Cross would ever take the risk on Zipline to try to do this. Luckily, we basically just ignored them, and we listened to visionaries like Senator Gordon, who are willing to try something new and that gives us an opportunity to save lives," said Rinaudo.
ADVERTISEMENT - CONTINUE READING BELOW
Photos by Toto Labrador.
Share this story with your friends!
---
Help us make Spot.ph better!
Take the short survey
More Videos You Can Watch
Load More Stories