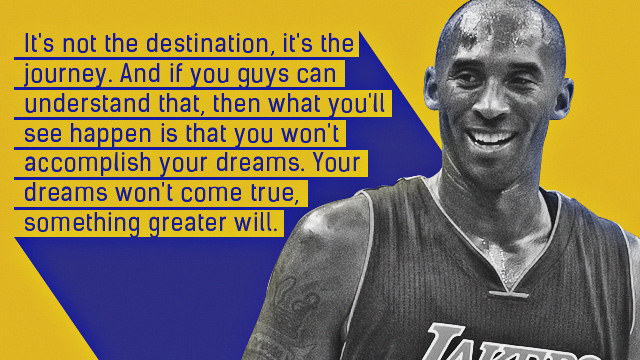 (SPOT.ph) Kobe Bryant, NBA superstar and all-around legend, was one of the passengers in a fatal helicopter crash on January 26 in Calabasas, California. Reports say that the 41-year-old was on his way to the Mamba Sports Academy, a school he opened in 2016 for young athletes, along with eight other passengers. With him was his 13-year-old daughter Gianna, also an aspiring basketball player.
ADVERTISEMENT - CONTINUE READING BELOW
The sudden loss of Bryant and his daughter has shaken more than just the world of sports. Bryant played for the Los Angeles Lakers for 20 years before retiring in 2016; at that time he was the third leading scorer in NBA history. He also won an Academy Award for his animated short Dear Basketball in 2018. The short film was based on a poem of the same name that he wrote. 
We take a look at some of the most defining quotes from the legendary Black Mamba's life. Whether about his career, his friends, or his family, his words prove that Bryant and Gianna won't be forgotten.
10 quotes that defined Kobe Bryant's life:
"I don't want to be the next Michael Jordan, I only want to be Kobe Bryant."
Bryant made his mark early on in his NBA career. He deflected any comparisons to fellow superstar Michael Jordan, and went on to prove that he was in a class of his own. 
"I'm not a player that is just going to come and go. I'm not a player that is going to make an All-Star team one time, two times. I'm here to be an all-time great."
In a 2015 documentary entitled Muse, Bryant revealed a lot about his then 18-year career with the Lakers. It's clear the Black Mamba knew what he was destined to be from the get-go. 
"I remember feeling the silence. I remember feeling the fear. I'm like, 'This could be a wrap.' And that's what the silence was. It was like, 'This could really be a wrap for you.'"
Also from the documentary, Bryant talked about all the times he thought his latest injury spelled his last. The legend put his body through a lot, but he kept coming back anyway. 
ADVERTISEMENT - CONTINUE READING BELOW
"I had to organize things. So I created the 'Black Mamba'. So Kobe has to deal with these issues, all the personal challenges. The Black Mamba steps on the court and does what he does. I'm destroying everybody that steps on the court."
His alter-ego, Black Mamba, was something he created to separate his life on the court from everything else. As he explains in Muse, everything else disappears when he's playing, allowing him to focus on one thing: Winning.
"You wake up at 3 a.m., train at 4, 4 a.m. to 6 a.m. Come home, eat breakfast, relax. Now you're back at it again, 9 a.m. to 11 a.m. Relax... back at it again, 2 p.m. to 4 p.m. Now you're back at it again, 7 p.m. to 9 p.m."
ADVERTISEMENT - CONTINUE READING BELOW
Bryant was not known for taking it easy. The player was almost always on the court, and his training schedule showed it. And the #MambaMentality was there to help him along.
"As basketball players we're really supposed to shut up and dribble but I'm glad we did a little bit more than that."
For his Oscar's speech in 2018 for the animated short Dear Basketball, Bryant managed to slide in a little dig at Fox News' Laura Ingraham. The television host had reportedly told Bryant to "shut up and dribble," after he had been vocal about his political opinions, something the legend wasn't going to take quietly.
"If you want to be great at something ... you have to make the inherent sacrifices that come along with that."
Bryant knew a lot about sacrifices. As he said in a video for CBS Showtime, he had to give up a lot, including, "Family time, hanging out with friends, being a great friend, being a great son, nephew, whatever the case may be," on the road to success.
ADVERTISEMENT - CONTINUE READING BELOW
"I'll do whatever it takes to win games, whether it's sitting on a bench waving a towel, handing a cup of water to a teammate, or hitting the game-winning shot."
Proving once again how determined he was to win every game, Bryant talked about how he was willing to do whatever it took to do so. 
"I have nothing in common with lazy people who blame others for their lack of success. Great things come from hard work and perseverance. No excuses."
The Black Mamba had a little something against laziness—and excuses. As he wrote on Facebook in 2012, he didn't believe in blaming others for his own failures, and he didn't appreciate others who did.
"It's not the destination, it's the journey. And if you guys can understand that, then what you'll see happen is that you won't accomplish your dreams. Your dreams won't come true, something greater will."
ADVERTISEMENT - CONTINUE READING BELOW
In 2017, Bryant had this to say to his daughters during a speech at an NBA game. After seeing his Lakers' jerseys lifted up to the rafters, Bryant spoke of "the dream." He talked about moments when "you're too tired [and] you dont want to push yourself but you do it anyway," being the real goal. He ended his speech with, "And if you guys can understand that, then I'm doing my job as a father." 
Share this story with your friends!
---
Help us make Spot.ph better!
Take the short survey
More Videos You Can Watch
Load More Stories