There's a New App That's About All Things Pinoy
Check out Calamansi, a new platform geared towards Filipino content.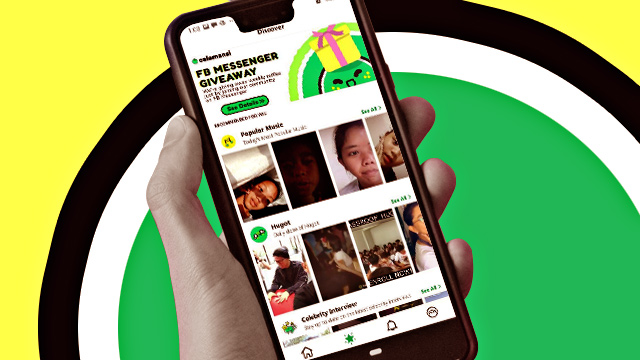 (SPOT.ph) Filipinos know social media. We were crowned the world's heaviest Internet users in 2019, beating out all other countries in terms of time spent online with an average of 10 hours and two minutes daily—around four hours of that spent on social media. Heck, even before social media was a thing (yes, such a time existed), we were already known as the texting capital of the world. We don't know if Pinoys have the worst case of culturally ingrained FOMO ever or it's our intense need to stay connected to the people around us; whatever it is, the Internet has become our new kind of tambayan.
Feeding right into this tick of ours is the Calamansi app, a social media platform made especially for Pinoys to hang out, create content—from videos to general meme-ery and everything in between—and just have fun. 
ADVERTISEMENT - CONTINUE READING BELOW
A New Kind of Tambayan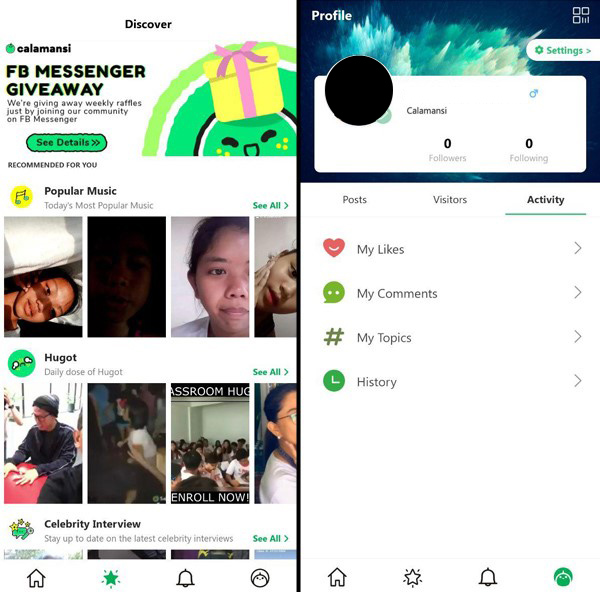 CONTINUE READING BELOW
Recommended Videos
"At Calamansi, it is our objective to create a Filipino-friendly environment that stimulates local users' creativity and expression," says operations head Chen Wang in an online conversation with SPOT.ph. Much like other apps that have taken the world by storm, Calamansi is a platform where you can show off your creativity and share some quality content—or just plain funny memes (or both). What gives Calamansi it's edge is that it's aimed at everything and everyone Pinoy.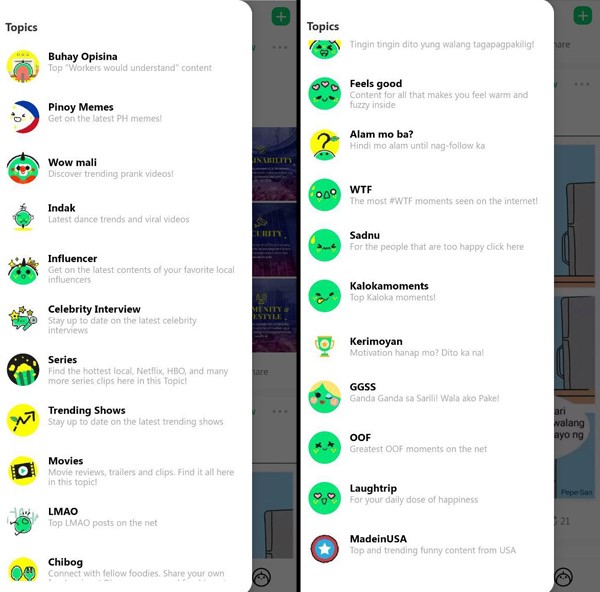 ADVERTISEMENT - CONTINUE READING BELOW
Just check out all the topics you can find on the platform. While you can choose to pick certain hashtags you'd like to see on your main feed—plus, Wang explains, the app will listen to your likes and dislikes based on your activity to curate it—the topics put together all content related to typical Pinoy favorites. So you've got specific feeds for everything from selfies to prank videos to, unsurprisingly, pictures of food (dubbed the Chibog page, too!). Just think of it like your old college days when you would hang out with your org mates at your tambayan, except this time, it's on an app.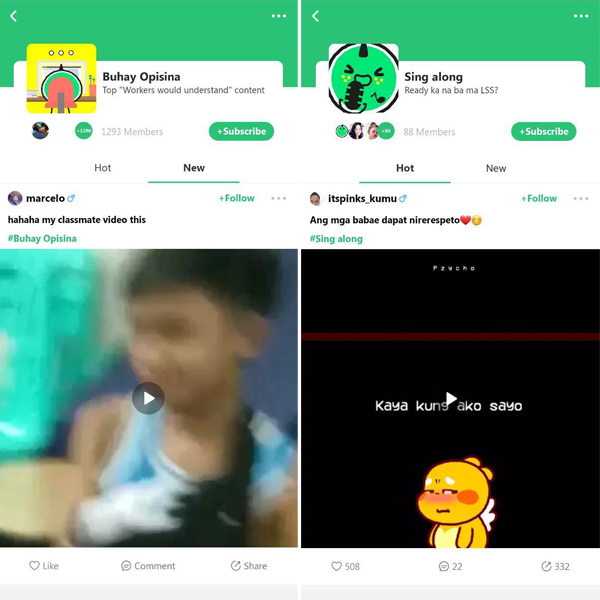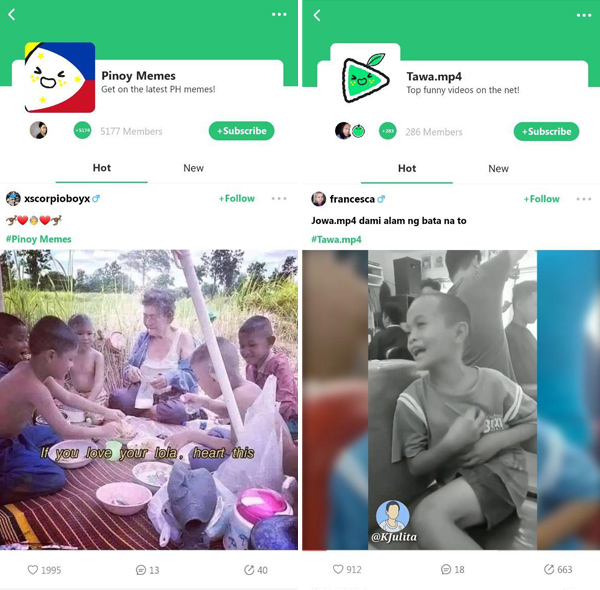 ADVERTISEMENT - CONTINUE READING BELOW
You can check out content tagged Buhay opisina to see what everybody on the daily grind is up to. Head on over to the Sing Along group to see clips and pictures that will help you get your karaoke on. There's also the cult favorite Pinoy Memes where you can get your daily dose of quality meme-ery or head on over to Tawa.mp4 to see funny Pinoy videos.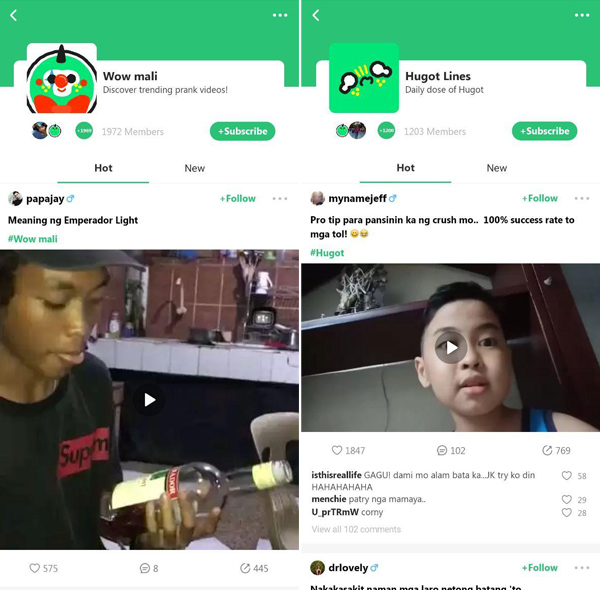 And because nobody can resist a good prank, there's also the Wow mali thread, where people upload clips of other people being played—in a mostly funny way (for the people watching that is). Last but not least is the unofficial Pinoy sublanguage of Hugot Lines.
Aside from just laughing at your feed, Calamansi is also where you can get creative with your own content and push it out there. The app will "always prioritize original Filipino content," says Wang, who also shares that there are plans to bring in influencers to really get the ball rolling on the fresh platform. You can upload your own videos, pictures, and whatnot and share what you can with fellow Pinoys, or those who think like Filipinos, online. Plus, you can always get to talking with other users—and possible friends—through the comments section.
ADVERTISEMENT - CONTINUE READING BELOW
Planting the Seeds for Calamansi
In a world where most platforms are about making the world feel smaller, Calamansi is all about "building a home for each Filipino," says Wang. Eventually, the creators behind this startup see the app as the go-to for Pinoys when looking for a bit of fun—the same way most look to Calamansi to zest up a meal.
Fairly new on the market, Calamansi has racked up over 100,000 users since November 2019. Behind it are China-based Wang, his colleagues, and Summit Media. "There is no online community for the Philippines, a known hub for social media users," says Wang. This was the first thing he and his friends, all of whom have worked with huge digital movers like Alibaba and TikTok, noticed and set out to address. Wang also adds that today's Gen Z kids are some of the most creative when it comes to digital content, and it's about time Pinoy kids are given the space for that.
So you may want to keep watch on this app. If anything, it might just be the country's next tambayan, a playing field for Filipinos in the digital age. You can use it for anything from laughing at those Captain America memes to pushing your own original content to a wider audience. It all depends on how you use it.
Share this story with your friends!
---
Help us make Spot.ph better!
Take the short survey
Load More Stories