(SPOT.ph) We all have goals in life, and some can be grander than the rest. Maybe you want to be the catalyst for change that finally achieves world peace for all, maybe you want to end world hunger, maybe you want to find someone to come home to, or maybe you just want to be able to drink a lot of alcohol and not be shitfaced in the morning. Hey, goals are goals and to be fair, we think we might actually be able to help you with that last one.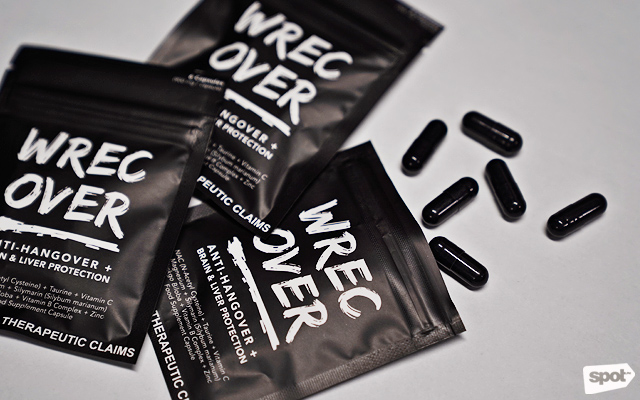 A new anti-hangover pill is officially here in the Philippines: WrecOver. "It's the first [Food and Drug Administration]-approved food supplement capsule in the Philippines," says Anne Flores, marketing manager of Nutriplus Laboratories Corporation, in a conversation with SPOT.ph. The dual-purpose pill, she adds with a hint of pride, "is a Filipino product."
It took the Pampanga-based pharmaceutical company around two to three years to get the pill just right—and approved by the Food and Drug Administration, giving you one less thing to worry about as you're downing shots at the bar. WrecOver was officially launched in February 2020, and while it's available to order online, Flores says there are also plans to bring it to brick-and-mortar stores. "Hopefully soon," she says.
ADVERTISEMENT - CONTINUE READING BELOW
How the Anti-Hangover Pill Works
The WrecOver pills come in black sachets. Each cool-looking little bag contains six pills: to prevent hangovers, you take three, ideally right before your first sip of alcohol, and another three before sleeping. We know it sounds like a lot, but the promise of waking up feeling like you didn't imbibe several bottles of alcohol then sent your ex a drunk text sounds like fair trade to us (we know it doesn't change the fact that you did, but you get our point, right?).
WrecOver contains "multivitamins, anti-oxidants, minerals," and a lot of other good stuff, explains Flores. If you want to get into the nitty-gritty of it, that's vitamin B complex, vitamin C, zinc gluconate, ginkgo biloba, silymarin, calcium phosphate, taurine, and N-acetyl-cysteine, a.k.a. NAC. You may want to pay attention to that last one; NAC is a type of supplement of cysteine, an amino acid that helps your liver detoxify all the bad stuff you're taking in.
ADVERTISEMENT - CONTINUE READING BELOW
Recommended Videos
So, recalling our basic anatomy lessons from elementary school, the good ol' liver is responsible for filtering blood from the digestive system. The problem is "the liver can only break down around a glass of wine per hour," explains Flores—whereas some people, not excluding ourselves, can drink an entire bottle in the same amount of time. Armed with NAC and all the other vitamins, "WrecOver helps [the liver] detoxify alcohol faster," which is how the three pills before partying help you out.
As for the three pills after drinking and before sleeping, those are meant to help you replenish whatever nutrients you lost while downing shot after shot. You may have noticed that the more alcohol you drink, the more you need to use the bathroom, which means "you flush out the toxins and also the nutrients," says Flores. WrecOver will help well, recover, the nutrients lost while you sleep, while again, helping your liver detoxify and break down the alcohol.
Where You Can Get This Pill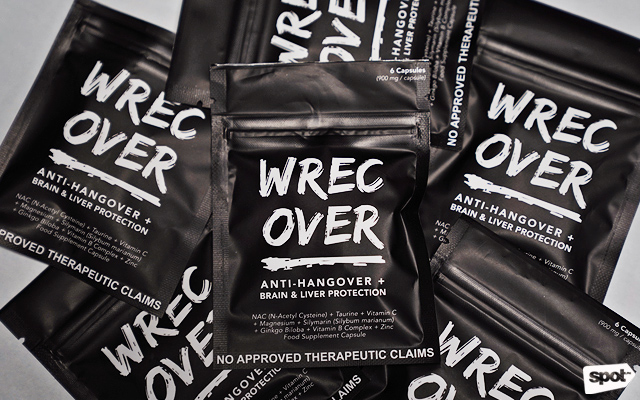 ADVERTISEMENT - CONTINUE READING BELOW
Anti-hangover pills sound like a thing that could have only come from this day and age (though we think the older generations may relate; where else would we have gotten our partying skills?). Since it's been on the market, though, people have used it as a travel essential and daily supplements as well. A pill or two a day is meant to help with brain and liver protection, adds Flores. The anti-hangover aspect of it is kind of like a plus—and while there are no side effects, says Flores, everything else you do while partying is all on you, she clarifies cheekily.
So far, you can order WrecOver pills through Lazada, Shopee, Beauty MNL, and Boozy.ph. Each packet costs P99; note that doesn't include shipping fees yet. Summer's right around the corner, and we're sure family and friends are already cooking up get-togethers and drinking sessions where the anti-hangover pills might just come in handy. Just remember to drink responsibly!
For more information, log on to Wrecover's site.
Share this story with your friends!
---
Help us make Spot.ph better!
Take the short survey
Load More Stories