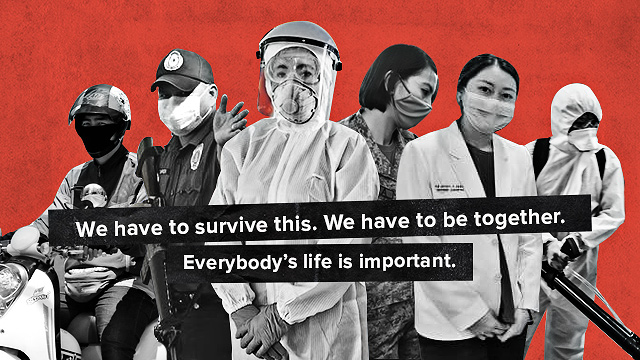 (SPOT.ph) The COVID-19 pandemic has caused the world to grind to a halt. As shops and establishments shut their doors temporarily, we are given a reminder—at painful costs—of which businesses are truly the backbone of society. The workers at the front lines of this epidemic—doctors, nurses, admin officers, cleaners, security guards, delivery men and women—have gone beyond their call of duty and shown that, hey, maybe they should be paid more than rock stars, basketball players, and actors. 
Also read:
These Local Restaurants Are Helping Feed Frontliners
Read some of the most moving soundbites from medical frontliners:
"Medyo pagod, medyo masakit, pero may pang-haplos naman. But because of my commitment and dedication to the job, balewala na."
The first few days of the quarantine were a logistical nightmare, to put it mildly. The sudden public mass-transport ban left many without any other option but to walk to work—56-year-old Mary Daisy Nietes included. On the first day of the quarantine, Nietes left her house in Bacoor, Cavite at 2:30 a.m. to make it to her 6 a.m. shift at the PGH in Manila where she works as a head nurse, she told Manila Bulletin. Several kilometers worth of walking, a lucky taxi ride, and messy checkpoints later, she arrived at her destination and got to work.
ADVERTISEMENT - CONTINUE READING BELOW
"All of these faces you don't see on TV are here to serve you and the country. Fueled by nothing more than caffeine, donated food packs, and sheer determination to fight the disease in their own way."
All of these faces you don't see on TV are here to serve you and the country. Fueled by nothing more than caffeine, donated food packs, and sheer determination to fight the disease in their own way.

— Geli Blanco (@gelibeans1) March 29, 2020
The Research Institute for Tropical Medicine has been leading the way for COVID-19 tests—and the pressure on the facility's employees are sure to be something else (especially after VIPs were reported to have elbowed their way in for special treatment). Geli Blanco, who works with their communications team, shared an inspiring story of hope on Twitter. Despite running on empty, our healthcare workers, security guards, custodians, and all the people at facilities like the Research Institute for Tropical Medicine (RITM) are here to fight the good fight.
"We plead and urge everyone to do his share in quelling the spread of this infection—especially our nation's duly elected leaders."
ADVERTISEMENT - CONTINUE READING BELOW
Recommended Videos
The story of Senator Koko Pimentel's admitted breach of quarantine protocol is likely to find its own place in Philippine history (or at least until the 2022 elections, ideally). But here's one good thing that came out of that debacle: Makati Medical Center Medical Director Saturnino P. Javier's statement denouncing the senator's lapse. In an uncharacteristic move for a private entity, the doctor's words cemented what should be painfully obvious: a public servant's role is to serve the people, not themselves.
"Instead of turning our backs on them and hurting them because we are scared of getting infected, we need to give them thanks and celebrate them. There is no match for their dedication and service to our country."
As the face and voice of the Department of Health amidst this crisis, undersecretary Maria Rosario Vergeire has remained calm and collected. Her no-nonsense approach has earned her respect online and she used her position to be very, very clear about one thing: health workers deserve no stigma for doing their work. As reports of discrimination surfaced, Vergeire reminded all that "Our healthcare workers and other frontliners are helping our country survive this crisis."
"The front line of this epidemic is you, the people in the community, tasked with the challenge of keeping each other safe."
ADVERTISEMENT - CONTINUE READING BELOW
The accepted narrative is that medical workers are at the front line of the COVID-19 pandemic—but this doctor is here to offer a sobering take. Dr. Michelle Au, an anesthesiologist at Emory St. Joseph's Hospital in Atlanta, Georgia, points out that the first line of defense against COVID-19 starts with each and every one of us. Sounds cliché, we know, but it's true; we are responsible for not getting ourselves and others sick. "We as healthcare workers stand in the back. We're the last line of defense."
"We're in this together, to do the right things with calm and protect the citizens of the world. It's doable."
What's in a name? The decision to characterize the global spread of the COVID-19 disease by the World Health Organization as a pandemic is not without politics. The agency was heavily criticized for the same move during the 2009 swine flu pandemic with people saying that the word caused more panic than necessary—but as the World Health Organization director general explained in his opening speech to the media, the word "pandemic" is a call to action. "We cannot say this loudly enough, or clearly enough, or often enough: All countries can still change the course of this pandemic," he added.
"I'm ready but not well-equipped [but] it's my duty to help in this time of pandemic."
Outside of Metro Manila, barangay health workers make do with what they can to monitor the potential spread of COVID-19. Midwife April Abrias walks nearly 10 kilometers every day to check on her patients, according to a CNN article. Abrias does not have the necessary protective equipment nor the proper training, but she continues monitoring possible COVID-19 cases in her area, fully aware of the risks. 
ADVERTISEMENT - CONTINUE READING BELOW
"We have to survive this. We have to be together. Everybody's life is important."
It's easy to forget that behind all the numbers and hard data are human beings. A small moment during an interview between CNN Philippines' AC Nicholls and Dr. Glenn Paraso, executive director of the Mary Johnston Hospital, Inc. in Tondo, Manila, proves the many moral and ethical issues that our frontliners face every day. Paraso, who specializes in public health, also called for the admittedly "draconian measures" of a lockdown. "I'm not anti-social. I'm pro-life."
 "We do not wish to be glorified by this job, we only wish to do it well."
ADVERTISEMENT - CONTINUE READING BELOW
A few days after the WHO declared a pandemic, Dr. Paula Erika Reyes of the Philippine Heart Center sent out a message of thanks for all frontliners, whether working in the medical field or not. Amid all the words being flung around, her message of hope and unity among all frontliners stood out. Said the doctor in a Facebook post, "This morning as we prepared to go to work, we had this fear—fear of the uncertain, the indefinite, the unknown. But we were greeted by smiling security guards, vibrant nurses and aids, courteous and diligent housekeepers."
"Let us do this because deep in our hearts—devoid of fear and anger—it is the right thing to do."
As generals used to call on their soldiers before a fight, so did Dr. Gerardo D. Legaspi, director of the Philippine General Hospital in a moving statement. As the government hospital was designated as one of the COVID-19 centers, Legaspi called on the institution to remember its legacy of public service and to identify the true enemy: not the virus, but fear. He added, "This task is daunting but it will be surmountable if we all band together as one."
ADVERTISEMENT - CONTINUE READING BELOW
Share this story with your friends!
---
Help us make Spot.ph better!
Take the short survey
Load More Stories