What Do You Miss Most About Pre-Quarantine Metro Manila?
Some things are unlikely to stay the same.
(SPOT.ph) It's not a novel sentiment—the people who live in Metro Manila tend to love and hate it in equal measure. And the things we hate about it tend to be universal: the terrible traffic is a cop-out answer by now, a knee-jerk reaction that always sits in the forefront of your mind. How could it not when it's everywhere and it only seems to get worse every month? The grime, and how it seems to put a gray cast over everything, might be another. But then there are the bright spots: the theater scene and its mix of thought-provoking local shows and larger-than-life international productions, the fact that there are art fairs being held in parking garages and malls. Or just the idea of being able to meet up with friends for dinner at a good hole-in-the-wall after a long day at work.
"I miss the vibrancy and diversity of the Metro Manila scene—not just in food but in all sorts of persuasions," says Nowie Potenciano, proprietor of The Sunny Side Group. "All sorts of niche passions are finding homes in Manila, from specialty coffee to stickers cons, from craft cocktails to vinyl. I hope that when we recover from this, Manila retains that energy."
Lots of local coffee spots have popped up in the last few years, in some cases standing comfortably side by side with big chains and fueling many urban dwellers' workdays. A few of them, like Commune in Poblacion, regularly play host to arts and crafts workshops that have fostered many of Manila's makers.
ADVERTISEMENT - CONTINUE READING BELOW
And since the Metro doesn't lack for places where you can get a good cup of joe, there's always a place for getting things done. "I try to spend at least one day a week working from coffee shops. I found that a change of scenery does wonders for productivity. Now that we're all stuck at home, it's hard to map out 'sacred' spaces around the house to split up work, leisure, and rest. I always feel like I'm both working all the time and not working enough," says freelance writer Nikki Francisco.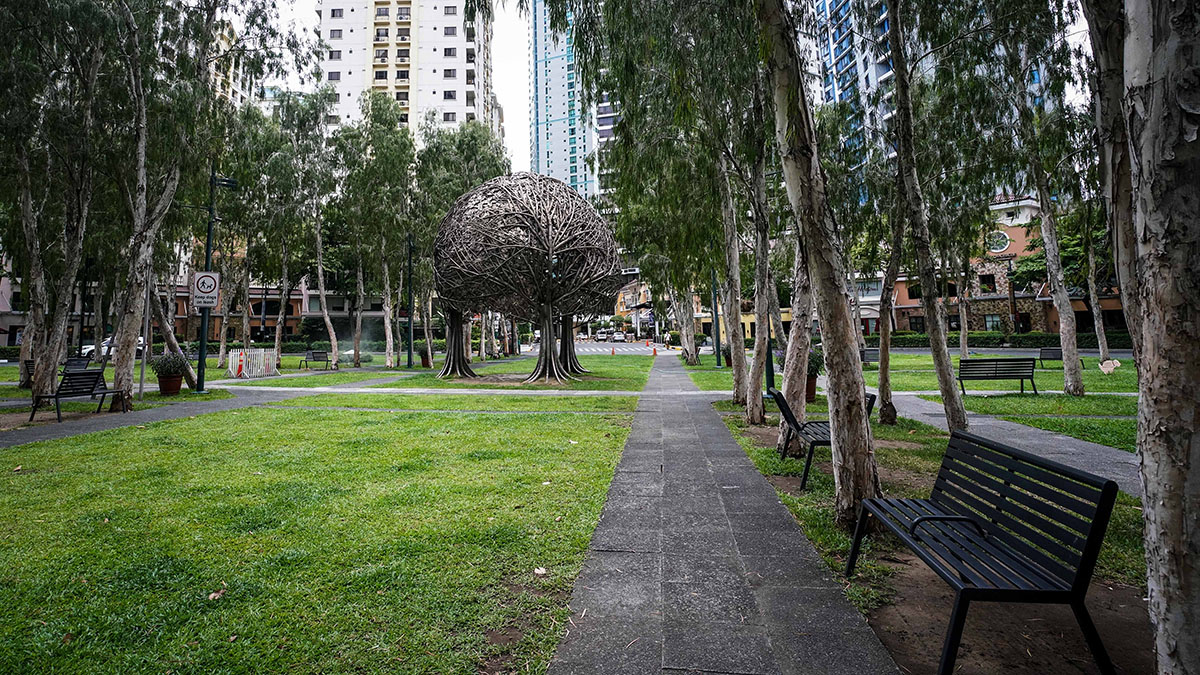 An empty Burgos Circle, April 27, 2020.
PHOTO:

Jerome Ascano
The sheer number of new restaurants constantly popping up always made it easy to go from office hours to off-hours. "I miss having dinner with friends!" Christine Ko, book publisher, made it a point to meet friends for dinner three times a week. "Sure, we can keep in touch via text or call and video calls but it's still different when it's face to face." It's a sentiment that's shared by Dindin Araneta, arts patron and one of the people behind the annual Art Fair Philippines: "What I miss most about Metro Manila pre-quarantine are the spontaneous get-togethers I have with artist and curator friends. We either get a drink, have coffee or watch a film. I realize more than ever how much I miss their company and conversation."
CONTINUE READING BELOW
Recommended Videos
"I miss being able to go to museums outside Quezon City, [where I live]. Driving along Roxas Boulevard and seeing Manila Bay," says editor Lynn Lopez.
ADVERTISEMENT - CONTINUE READING BELOW
Manila's contemporary arts scene arguably just started to gain its footing in recent years, but theater has been a fixture for a bit longer: in the '80s it meant catching a matinee by Repertory Philippines, and these days it could mean having dinner before a show at The Theatre at Solaire, but even university students are known to regularly put on productions well worth the trek to their campuses.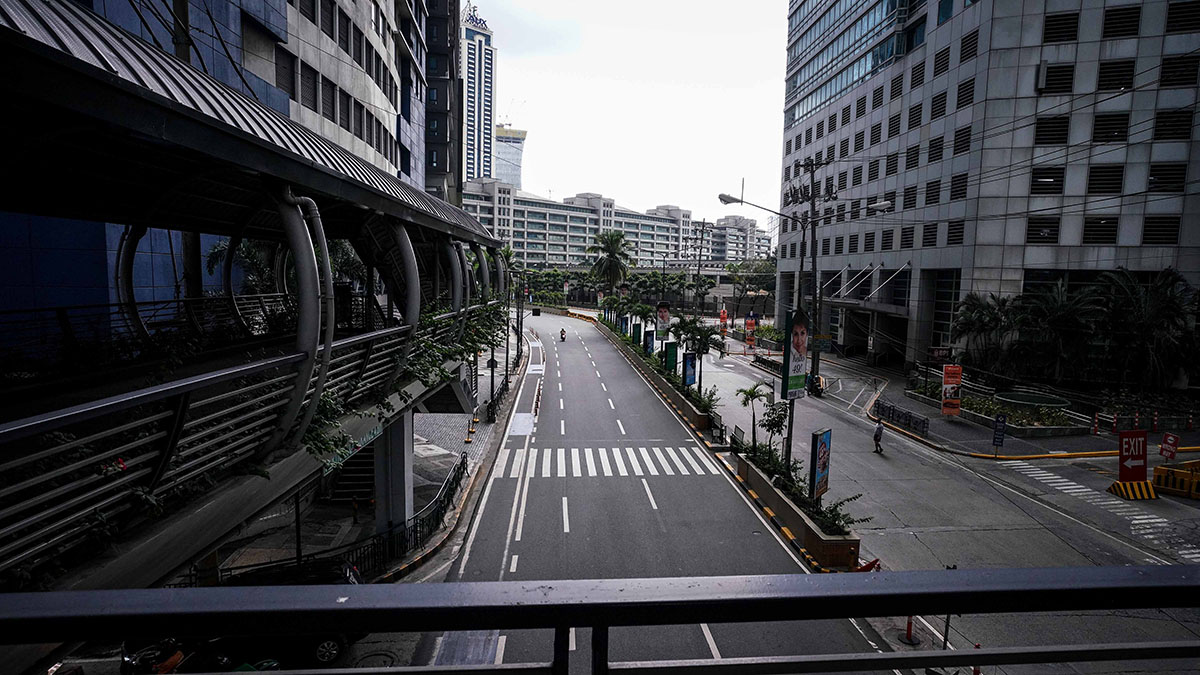 Ortigas Center on April 27, 2020.
PHOTO:

Jerome Ascano
"I miss being inside the theater. I miss the rush of a live show—whether as a theater artist or as an audience member," says Missy Maramara, theater artist and professor at the Ateneo de Manila University. "I miss the palpable pain and pleasure of human interaction, especially when it is sublimated and elevated into an artform for communal contemplation. Definitely not the traffic!"
But Metro Manila has many different dimensions, where even interests that aren't very common can find a place to thrive. Including one as out-of-the-ordinary as businessman Apa Ongpin's: "I used to go sailing about twice a month, more if the wind was good.  It's one of those small pleasures that is available in Manila if you know how to find it. You don't even have to own a boat or be a member of the Manila Yacht Club, just be friends with someone who is... When you get about two miles away from Roxas Boulevard, you see the Manila skyline, and it's quite beautiful. It's a perspective of our city that few get to see and appreciate."
ADVERTISEMENT - CONTINUE READING BELOW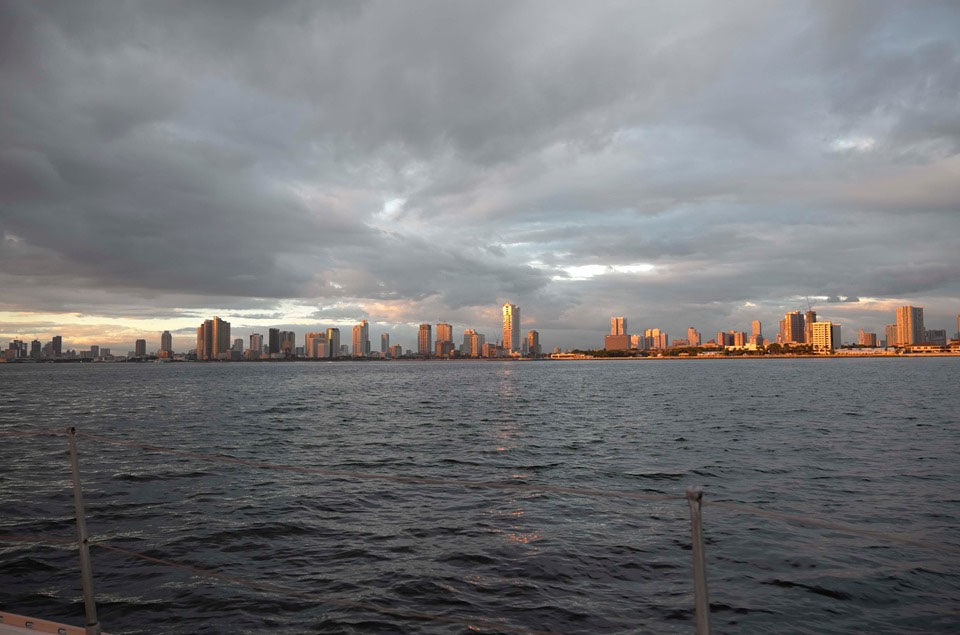 Of course, no one says Metro Manila is perfect. It's an always-chaotic, usually challenging place to live, one that's not without its faults or frustrations. But even when the enhanced community quarantine—already dubbed the world's longest—is lifted, everyday life in this megalopolis isn't likely to ever go back to exactly the way it was. Whether that's a good thing or not is mostly up to us.
"Some days I hate it. The pollution, the ridiculous amount of time it takes to get from point A to point B," says Jay Carlos, a call center manager. "But it is what we make it, right?"