Why "Mass Testing" Doesn't Mean What You Might Think
We have so far tested 0.19% of the population.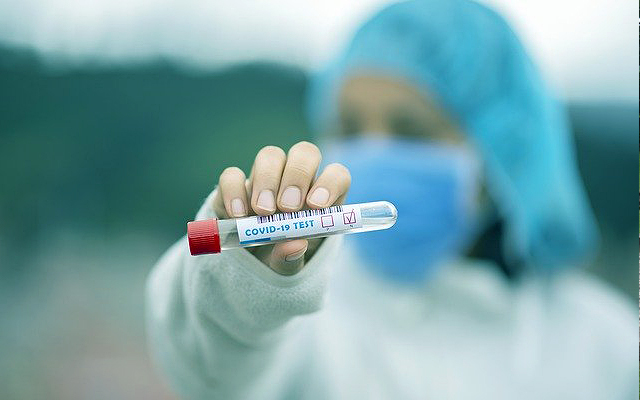 (SPOT.ph) As early as March—three months after the COVID-19 outbreak started in Wuhan and two months after an infected Chinese national arrived in the Philippines, various sectors in the Philippines have been calling for mass testing. But President Duterte's spokesperson, Harry Roque, said on May 19: "Wala pong bansa sa buong mundo na tinetest ang lahat ng kanilang mamamayan. Kaya nga po mali ang terminong mass testing."
"From the very beginning, the groups who have been calling for mass testing have been very clear on the definition. No one actually wants to test all Filipinos; the only people who have said that are the ones who distort the definition of mass testing to make a fallacious straw man argument against it. It's very telling that in other countries, we never saw them have any disputes over what mass testing means," Joshua Miguel Danac, science research specialist at the University of the Philippines in Diliman, tells SPOT.ph. Danac is a BS Molecular Biology and Biotechnology summa cum laude graduate and a volunteer at the subnational laboratory at the Lung Center of the Philippines.
ADVERTISEMENT - CONTINUE READING BELOW
"We have been very clear about what we mean by mass testing, which is: to have sufficient RT-PCR capacity to enable free and accessible testing for those who need it, i.e., people with possible COVID-19 symptoms (suspect cases), the close contacts or people with exposure, whether symptomatic or asymptomatic, frontline healthcare workers who need regular testing, and those in high-risk communities or vulnerable populations. And of course, those tests should have timely results, no backlogs or delays," the scientist adds.
Danac also explains that "what the government is currently doing (targeted expanded testing) may sound like [what] the mass testing is calling for, but it hasn't actually materialized on the ground—we do not have free, accessible testing for all suspect cases, no regular testing for all frontline health care workers, no surveillance testing in high-risk communities or vulnerable populations; just thousands of backlogs. And this is due to a lack of testing capacity—so what the government should do is ramp up capacity to cater to all that demand."
CONTINUE READING BELOW
Recommended Videos
What Kind of Testing Is Currently Being Done in the Philippines?
World Health Organization Director-General Dr. Tedros Adhanom Ghebreyesus said on March 16 that "the most effective way to prevent infections and save lives is breaking the chains of transmission. And to do that, you must test and isolate."
The Department of Health responded by implementing a triage where the only individuals tested are those who have history of travel in high-risk countries in the preceding 14 days, and have a history of exposure to a confirmed case. And even then, there's a third qualification to get tested: he/she must be experiencing severe manifestations of symptoms (a.k.a. difficulty in breathing), and not just fever, dry cough, sore throat, headache, chills, nausea, nasal congestion, and diarrhea—all of which are ruled as symptoms of COVID-19.
ADVERTISEMENT - CONTINUE READING BELOW
On April 14, the Philippine government rolled out "progressive" testing, which aims to reach 8,000 tests per day and prioritize high-risk patients. This includes people with severe flu-like symptoms, the elderly with pre-existing health conditions, pregnant women with mild symptoms, and healthcare workers with respiratory symptoms. The next wave was supposed to test constantly exposed healthcare workers with no symptoms.
However, the Palace admitted on May 11 through Roque: "Unang-una po, hindi ko madi-dispute na medyo hindi natin nakamit yung goal na by April 30, meron nang 8,000 na daily testing ang Department of Health (DOH), na-delay po tayo."
"Right now, we're trying to follow the footsteps of South Korea. That is why the goal is to test 1.5 to 2% of the total population. You can't test 110 million persons, but in any case, no country in the world can test every single citizen they have," Roque said on May 19.
To date, 207,823 individuals have been tested—which is 0.19% of total Philippine population.
Mass Testing at the City Level
Local government units have been coming up with their own efforts to allow more people to get tested, and go above and beyond the national government's protocols.
When modified enhanced community quarantine was enforced in the National Capital Region, Marikina City started conducting rapid antibody testing for at least 6,000 tricycle drivers who have resumed plying the roads. "'Yong mga driver natin—hindi naman mandatory at di rin naman kondisyon para makabiyahe—sila ay sina-subject natin, as a matter of precaution, sa rapid testing na ginagawa ng Marikina ngayon," Mayor Marcelino Teodoro said on May 19.
ADVERTISEMENT - CONTINUE READING BELOW
Since April, Pasig City and Makati City have been conducting rapid antibody testing for their medical frontliners.
The downside is that "rapid antibody tests are not reliable for diagnosis," Danac explains. Antibody tests—unlike RT-PCR testing—check for antibodies produced by the body, which doesn't quickly happen when you contract the disease. "And during that window period when there are no antibodies yet, you could already have the virus and be contagious, but you would get a false negative result. That would give someone a false sense of security that they don't have the virus. On the other hand, these tests are also prone to false positives, especially if used on asymptomatic people—the test might give a false positive saying you already recovered from COVID-19, which may lead someone to think they are already immune, when in reality they are still vulnerable," he adds.
But this doesn't mean that we can do without this kind of testing. "Antibody testing is useful for epidemiological surveillance," or in other words, for checking how far the virus has spread in an area. "For that, we need more accurate tests than the rapid tests available now," says Danac. 
Also read: Nose Swabs, PCRs + What Exactly Happens During a COVID-19 Test
Can Asymptomatic COVID-19 Patients Spread the Disease or Not?
Valenzuela City in April started testing even asymptomatic cases that had completed the required 14-day quarantine and found that these individuals were positive with the virus. They were persons under monitoring, who—under DOH protocols—should not have been tested.
ADVERTISEMENT - CONTINUE READING BELOW
"Ang mas nababahala kasi kami dito, 'yong category na sinabi nila na monitoring lang at wag na nating i-swab, parang dapat they have to revisit that policy, sa nakikita namin dito dahil nga nauna kami sa localized mass testing, e nagpa-positive 'yong mga persons under monitoring," Valenzuela City Mayor Rex Gatchalian suggested to the health agency.
DOH Secretary Francisco Duque III said on May 20 that there is no evidence to show that people who are positive for COVID-19 but do not manifest symptoms can infect others. "Ang World Health Organization, hanggang ngayon po, wala po silang ulat o ebidensyang nakakalap na magpapakita na nakakahawa ang mga asymptomatic," the health official said.
"Actually, what we know from the current scientific literature on COVID-19 is that there is significant transmission from people who are asymptomatic or pre-symptomatic—those who don't have symptoms yet," Danac explains about this issue.
The Centers for Disease Control and Prevention in the U.S. said in a study that "epidemiologic, virologic, and modeling reports support the possibility of severe acute respiratory syndrome coronavirus 2 (SARS-CoV-2) transmission from persons who are pre-symptomatic (SARS-CoV-2 detected before symptom onset) or asymptomatic (SARS-CoV-2 detected but symptoms never develop)." Research conducted by the Guangzhou Medical University and University of Hong Kong also reported about "viral shedding and transmissibility" of COVID-19, while an article from the University of California concluded that asymptomatic transmission is the "Achilles' heel" of current strategies to control the pandemic.
Why the Call for Mass Testing Continues
"To achieve mass testing, it's necessary to quickly build our testing capacity. That means setting up more labs that can do PCR testing, hiring and training more personnel to run the tests, and coordinating the procurement of not just test kits, but also the other needed reagents and supplies for the PCR tests. So in terms of the capacity of the health care system, the onus is on the government to use their resources to expand our testing capacity. And it's not easy, but definitely something that they can achieve. Because otherwise, if the virus outbreak worsens then our health care system will definitely be overwhelmed," Danac points out.
ADVERTISEMENT - CONTINUE READING BELOW
As of May 21, there are 31 licensed laboratories equipped to perform the RT-PCR test for COVID-19.
The Philippines has a total of 13,434 COVID-19 positive patients, with 846 fatalities and 3,000 recovered.
Main image used for illustrative purposes only.
Share this story with your friends!
---
Help us make Spot.ph better!
Take the short survey
Load More Stories