(SPOT.ph) Biking along major roads in Metro Manila is one heck of an extreme sport—but with the limited transport options during quarantine, it's the best choice some people have. The Metropolitan Manila Development Authority is no longer suing or fining a cycling group that took it upon themselves to create a makeshift bike lane along Commonwealth Avenue, but that doesn't mean they're giving pop-up lanes the green light.
ADVERTISEMENT - CONTINUE READING BELOW
"You cannot just improvise bike lanes along major roads without permission from the [Metropolitan Manila Development Authority (MMDA)] or the local government units," Celine Pialago, MMDA spokesperson, was quoted as saying in an Inquirer.net report. 
Yes to Elevated Bike Lanes, Not Pop-Up Ones
During earlier discussions on how Metro Manila's transport situation should change post-pandemic, the MMDA said bike lanes were always in the plans—the elevated kind, that is.  "We do not want it at-grade, we want it elevated to the point that we want it [level with] our elevated walkways," MMDA traffic czar Bong Nebrija said in a CNN Philippines report.
This means that the proper bike lanes the MMDA has in mind would have to be constructed, "although the priority is the fight on COVID-19 and putting up infrastructures [sic] will be the least of the list," added Nebrija.
The MMDA did do a dry run of an at-grade bike lane along EDSA on May 25. The lane they set up was bound by traffic cones, much the same way most pop-up lanes are. 
ADVERTISEMENT - CONTINUE READING BELOW
Recommended Videos
Nebrija then explained that logistically speaking, they cannot make the bike lane a permanent fixture. "We have distributed our barriers and cones to [local governments]. Really, we do not have something like that to put up a pop-up bike lane in EDSA [sic]," said Nebrija.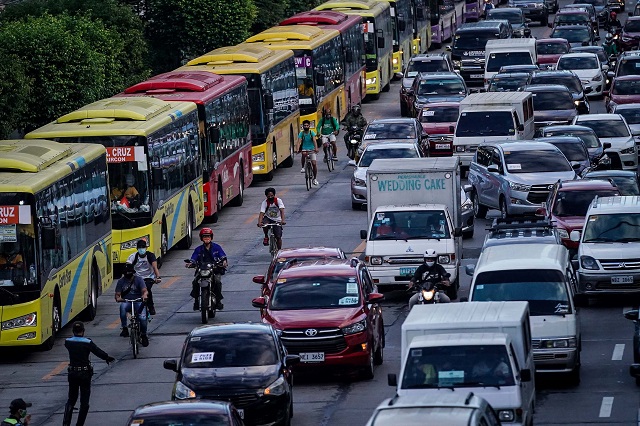 ADVERTISEMENT - CONTINUE READING BELOW
More and more cyclists have popped up during the quarantine. The Department of Transportation has promoted the use of non-motorized vehicles while the MMDA has also allowed them on major thoroughfares in the Metro. With the lack of designated lanes, Pialago said that bikers will have to make do with sidewalks for now.
Metro Manila Cities Set Up Own Pop-Up Bike Lanes
ADVERTISEMENT - CONTINUE READING BELOW
On June 3, World Bicycle Day, several local governments announced their plans to make pop-up bike lanes a fixture in their respective areas. Taguig City set up temporary bike lanes defined by traffic cones along Cayetano Boulevard and Bayani Road. The protected bike lane along C-6 Road was also fixed up for permanent use. The Active Transport Office is looking to create a bike lending program for government employees.
ADVERTISEMENT - CONTINUE READING BELOW
Meanwhile, San Juan City has plans to establish bike lanes that span around 15 kilometers. The first four kilometers going from N. Domingo Street to Ortigas Avenue is already in use. Once complete, you can get from Pasig River to Greenhills Shopping Centre on a bike alone using the planned bike lanes (and a lot of stamina). 
ADVERTISEMENT - CONTINUE READING BELOW
Pasig City announced plans for a "High Priority Bicycle Corridor" on June 3. These are also at-grade, protected bike lanes set up along usually congested major roads. Loans for government employees to buy their own set of non-motorized wheels are in the pipeline as well.
Share this story with your friends!
---
Help us make Spot.ph better!
Take the short survey
Load More Stories