Beyond the Gems: The Lowdown on Lyka
The social-media app seems to be everywhere; here's what you need to know.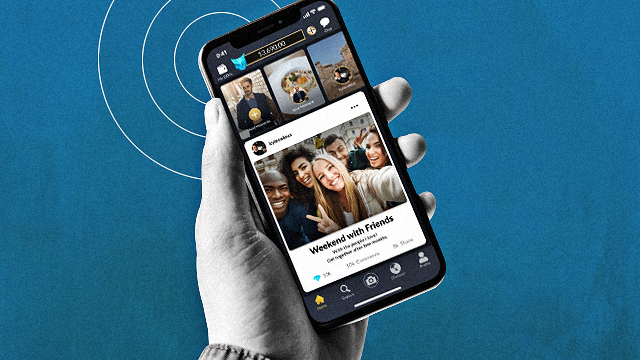 (SPOT.ph) You might have come across restaurants and shops in the Metro that accept payment in the form of "Lyka GEMs." And no, this doesn't mean you'd be seeing people bringing sacks and counting gemstones at the counter to pay for their purchases. It's actually one of the most popular features of the new social media app, Lyka, which has been getting a lot of buzz recently.
Since its launch in Southeast Asia in March 2019, Lyka, which is based in Silicon Valley and Hong Kong, has been steadily attracting a new generation of new and old social-media users because of how it keeps users engaged on the platform. Instead of just relying on a user's FOMO (fear of missing out) to encourage app stickiness, Lyka offers rewards for its users in the form of redeemable GEMs (Gift card in Electronic Mode) which function as an electronic currency when used with partner shops. Because of an extensive network of partner merchants, Lyka users can use their GEMs as e-cash when purchasing anything from food, services, clothing, gadgets, appliances, and even vehicles such as scooters and cars. The list of merchants that accept Lyka GEMs is growing, ranging from sneaker shops, restaurant chains and salons, to gyms.
ADVERTISEMENT - CONTINUE READING BELOW
Setting Up an account on Lyka app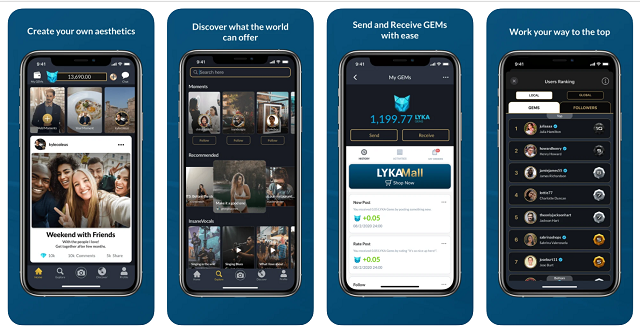 CONTINUE READING BELOW
Recommended Videos
Getting onboard Lyka is as easy as installing the app on Android and iOS. The app asks you for your profile name, and you have to register your e-mail address and phone number.  Within the app, there's the social media functionality such as uploading your photos and videos as well as following other users. To differentiate itself from other social media apps, Lyka rewards you with a fraction of a GEM when you interact such as posting or liking a photo or video.
In the first few minutes that we used the app, we earned 0.22 gems just from posting and max rating a photo, which is the equivalent of a Like in other apps.  When you post a photo, you get 0.05 GEMs. Giving a max rating (MR) to another user's photo will earn you 0.02 GEMs as well as earn the original poster the same amount. At the current exchange rate, 1 Lyka GEM is equivalent to 1 Peso. This means that if a Lyka merchant is selling something for 50 pesos, you have to pay the same amount in GEMs.
ADVERTISEMENT - CONTINUE READING BELOW
This year, Lyka has been in the headlines because of high-profile influencers and celebrities who have earned enough GEMs to buy big-ticket items like an SUV or a Vespa scooter. Because of the sheer number of their followers in the millions, it's no stretch to imagine how many of them are earning plenty of GEMs. Another thing that's very compelling for Lyka users is how some influencers can reward their followers with GEMs. There are some Lyka influencers who give GEMs to followers for leaving a comment. Of course, within the Lyka system, GEMs can be freely exchanged among its users. GEMs can also be purchased from Lyka starting from a minimum amount of 200 GEMS which can be paid using regular payment channels such as credit card or other accepted digital payments.
Potential Issues
While you can't deny the allure of earning virtual money on a social-media app as a reward for social-media activity, using Lyka may have its downsides. Recently, Computer Professionals' Union, an organization from the information and technology sector that's been around since 2001, has issued a statement warning users on the dangers of Lyka. The Computer Professionals' Union (CPU) says that users may end up giving Lyka full access to their personal information. As with any app, users are encouraged to read the fine print. CPU's statement focuses on two sections on Lyka's privacy policy. 
ADVERTISEMENT - CONTINUE READING BELOW
According to CPU: "Section A of Lyka's privacy policy details the information the app will collect from its users, including names, addresses, contact details, and even IDs and bank details. All these data, when collated together, form a very clear picture of someone's identity and allows unscrupulous users to use these data for nefarious means." In Section C, Lyka may disclose the user's personal data to other users, partners, and service providers. In the event of a merger or acquisition, Lyka may also share user data with other interested parties.
CPU lists other potential issues with the app including Lyka's access to the camera, the inability to delete or deactivate a Lyka account, and not being able to convert GEMs to cash. CPU also takes issue with the fact that there's no transparency with regards to who has access to the user's data or how the data will be handled.
ADVERTISEMENT - CONTINUE READING BELOW
Upon installation, the app does ask permission for access to the camera, location, microphone, storage, contacts, and phone app. While this may be concerning, it is also not unique since most social media apps ask for similar permissions. In order to better educate users on what exactly the Lyka app does, it's really good practice to fully understand and read the app's terms of service. We wouldn't be surprised if hardly anyone does just that, since typically these documents are extremely long-winded and difficult to read especially on a tiny screen.
In its statement, CPU offers really sensible advice that may also apply to other apps that require personal data: "Treat your personal information as the gems that they are and remember that 'free' doesn't truly exist when it comes to social media. If you didn't have to pay money to use an app, you pay with your personal data and privacy instead. As the saying goes: if it seems too good to be true, it probably is."
The Choice Is in the Hands of the User
It's been said that for most social-media apps, the product is the user.  Aggregated data and user behavior are valuable products for a lot of companies which use them for other purposes such as market research, business intelligence, targeted advertising, and analytics to name a few. Another data point that can be tracked and analyzed is consumer behavior. In an e-commerce platform, it's possible that companies can have data on a user's purchase history: what goods they prefer, what time they bought it, what items they will likely buy. This data is usually anonymized and kept under several layers of security.
ADVERTISEMENT - CONTINUE READING BELOW
Lyka's CEO has issued a statement assuring its users of keeping their data confidential as well as ensuring that they will never put their security at risk. They have also been constantly improving their app to enhance its security. As of writing, there hasn't been any reported or verified breach on Lyka's platform.
If users still have doubts how their data is used, opting out and uninstalling the app are valid choices. This is true for other apps as well.

Hey, Spotters! Check us out on Viber to join our Community and subscribe to our Chatbot.
Share this story with your friends!
---
Help us make Spot.ph better!
Take the short survey
Load More Stories