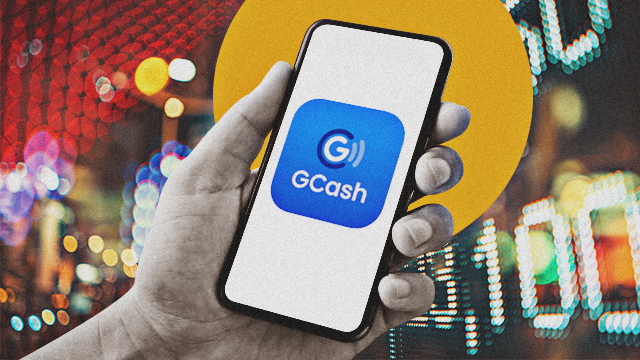 (SPOT.ph) We've heard of people investing their money on stocks, bonds, bitcoins, and even NFTs, and doubling or tripling what they initially spent. But if you're like most of us, it's easy to get intimidated by all the numbers, green and red arrows, and line graphs going up and down. Not to mention the huge amount of money involved in just setting up an account.
GCash, a popular mobile wallet app especially in this era of cashless transactions, came up with a way to make money investment simpler and more affordable (a.k.a. less numbers and easier-to-understand graphs). GInvest, as it is called, is a digital investment feature that rolled out to the public in the first quarter of 2021. It's the icon with a seedling on a pot on your app, possibly still under the "Show More" button if you haven't added it yet to your dashboard. You can invest as small as P50, which is just one-third the amount of milk tea you've been spending on almost every day, and just wait for it to grow—thus, the seedling icon.
ADVERTISEMENT - CONTINUE READING BELOW
Also read: Which Mobile Wallet Is the Handiest?
How to Get Started on Your GCash Investment
Once you have a fully verified GCash account, you can go ahead and click on GInvest. It starts with a short questionnaire to determine your risk profile or risk appetite (a.k.a. what type of investor you are): conservative, moderate, or aggressive. Remember, investing is a lot like gambling. High risks provide high returns, but are also prone to high loss; low risk has low returns, but also a more stable movement.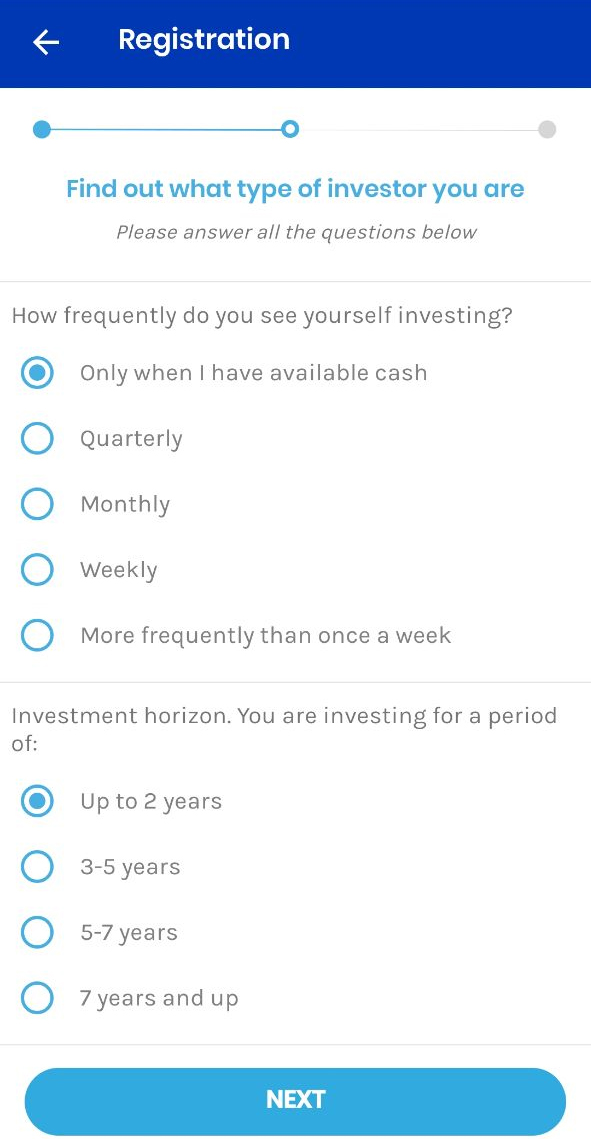 To determine what kind of a risk-taker you are, there are questions on how regularly you're willing to put in some money, how often you're withdrawing from your investment, how much drop in the value of your investment you can accept, and your purpose in investing. After filling out the questionnaire, you get an approval through a text message to your GCash number.
ADVERTISEMENT - CONTINUE READING BELOW
Recommended Videos
Now, here comes the semi-hard part—a definition of terms:
Subscription - This is your investment or the amount of money taken from your GCash wallet and transferred to your GInvest. Subscribing for an investment takes three to four banking days before it clears out.
Redemption - After some time, you may want to pull out or withdraw your investment (which either earned or lost) and this is called redeeming. This also takes a few banking days because you're basically selling your investment before you get your money via GCash.
Seedbox Philippines - They're one of the two existing partners of GCash for GInvest. Seedbox Philippines is a digital platform that lets you invest funds online. They basically facilitate GInvest's system to let you subscribe and redeem your investment.
ATRAM - ATRAM or ATR Asset Management Group is the other partner of GCash. They're known for managing portfolios consisting of mutual funds, trust assets, insurance portfolios, and real estate for proprietary and third-party clients. They make sure that there are products available through GInvest so you can invest your money.
ADVERTISEMENT - CONTINUE READING BELOW
Where to Put Your Money
As of writing, GInvest has five investment products that are made available through ATRAM. If you have some extra funds on your GCash, you can buy a few units from these products that have a minimum investment amount of either P50 or P1,000. After your initial investment, you can add more money as much as you want/can in the following days/weeks/months. You can also see through the app how much you've earned or lost in your investment.
GInvest also indicates the risk classification of every product so you know if it suits your risk appetite. For example, your risk profile as determined by the questionnaire is conservative. You can still invest your cash in the Global Technology Feeder Fund, which has an aggressive risk classification, but you have to be really, really sure about the risks you're going to take.
Aside from the risk classification, there's a quick overview for every product. There's a short description, the percentage of return in the last year, and an easy-to-understand line graph that shows the rise or fall of the Net Asset Value Per Unit (or the per unit price of a fund) in Philippine peso in the past 12 weeks. ATRAM, however, warns: "Past performance is not a guide to future performance. Investors may not get back the full amount invested."
If you wish to go deep into the performance of every investment product, there's also a button on GInvest that brings you to a PDF with in-depth information.
ADVERTISEMENT - CONTINUE READING BELOW

Here are the five investment products on GInvest:
Peso Money Market Fund
Risk classification: Conservative
Minimum investment amount: P50
This Philippine-based fixed-income fund has the objective of maximizing your income and achieving higher returns compared to regular bank deposits. ATRAM's Peso Money Market Fund includes time deposit placements in BPI and RCBC, and treasury bonds (as of February 26).
By definition, a money market fund is a kind of mutual fund that invests in cash and cash equivalent securities. Because of this nature, it has a fixed income and is very liquid (a.k.a. can be quickly turned into cash without losing value)—therefore, is a low-risk investment. You aren't going to lose much, but you're not going to earn much either.
Total Return Peso Bond Fund
Risk classification: Moderate
Minimum investment amount: P50
To explain Total Return Peso Bond, let's get into what a bond is. When you buy a bond (or in this case, invest in a Total Return Peso Bond), a company or a government is indebted to you or took a loan from you. In the case of ATRAM's Total Return Peso Bond Fund, what's involved is the retail treasury bond and fixed rate treasury notes (as of February 26). Since it is a loan, they will pay you with interest, which will be part of your earnings aside from the full amount of the bond. It's different from stocks, which represent partial ownership or equity in a company. Bonds earn because of the fixed interest over time, while stocks earn because of the appreciation of value that's sold and resold later on the stock market.
ADVERTISEMENT - CONTINUE READING BELOW
To give you an idea, we put our lunch money (P350) to this investment product and earned one peso a month later. Sometimes, we'd lose a few centavos, but earn a few back again; so it's best not to keep looking at it every day. (Although we won't blame you if you do.) Of course, our earnings would be far more significant if we invest a bigger amount of money and go for the more agressive funds.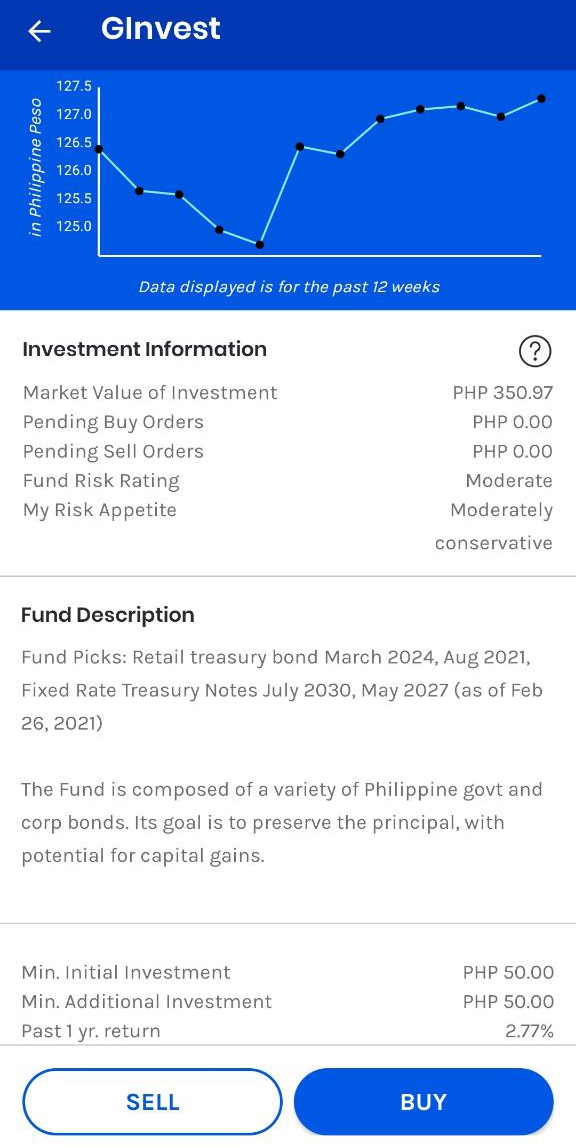 Philippine Equity Smart Index Fund
Risk classification: Aggressive
Minimum investment amount: P50
In stock market parlance, equity and stocks are used interchangeably. They both represent ownership of a company and are both traded through the stock market. ATRAM's Philippine Equity Smart Index Fund has the objective of outperforming the Philippine Stock Exchange Index, and it already did in 2020—just four years after it was launched, according to Valens Research. Its Net Asset Value Per Unit (NAVPU) can get exponentially high on a good day, but it can also suddenly drop, especially in this economic recession. Philippine Equity Smart Index Fund involves equities in companies like Globe Telecom, Ayala Corp, SM Investment, and Universal Robina Corp, which technically gives you (very, very) partial ownership of these.
ADVERTISEMENT - CONTINUE READING BELOW
Global Technology Feeder Fund
Risk classification: Aggressive
Minimum investment amount: P1,000
Feeder funds work through a collective investment scheme. When you put your money in a feeder fund, your investment goes into a pool of money that's invested to a master fund, where profits are generated. The earnings then go back to all the feeders below it. In this case, ATRAM's Global Technology Feeder Fund invests in equity securities of tech-related companies like Microsoft, Apple, Alphabet, and Samsung (as of January 29). Its risk classification is aggressive, which means you can lose a few hundred pesos in just a few days then earn it back in a few days (as long as you invest in thousands).
Global Consumer Trends Feeder Fund
Risk classification: Aggressive
Minimum investment amount: P1,000
ATRAM's Global Consumer Trends Feeder Fund works the same way as the Global Technology Feeder Fund. But the former involves collective investment in retail and commerce brands like Amazon, Alibaba, Shopee, and Sony (as of January 29).
Whatever product you choose, know that returns are not guaranteed. Earnings are always dependent on the fund manager performance, volatility of the market, and other trends in the economy. Most investors say that the wise thing to do is put in the money that you're not scared to lose. And if you have an extra P50 that's just sitting around on your GCash wallet, then why not just invest it, right?
Hey, Spotters! Check us out on Viber to join our Community and subscribe to our Chatbot.
ADVERTISEMENT - CONTINUE READING BELOW
We are now on Quento! Download the app and enjoy more articles and videos from SPOT.ph and other Summit Media websites.
We are now on Quento! Download the app and enjoy more articles and videos from SPOT.ph and other Summit Media websites.
Share this story with your friends!
---
Help us make Spot.ph better!
Take the short survey
Load More Stories