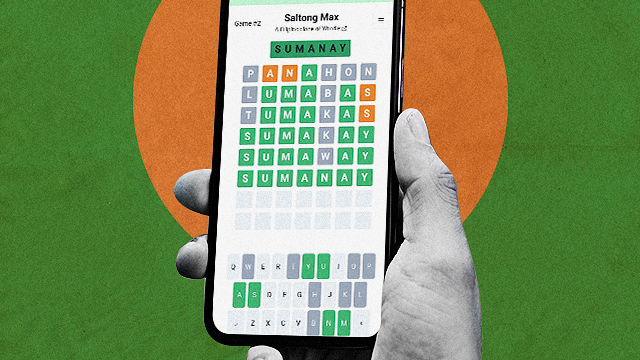 (SPOT.ph) If you've been seeing rows of green and yellow squares on your feed, then your friends have been trying their hand on the latest Internet trend: Wordle, a web-based word game created by Josh Wardle and released in October 2021. The goal is to guess the five-letter English word of the day within six tries, where the colors of the boxes are your clues. Green means you have the correct letter while yellow or orange means you're on the right track but misplaced the letter—thus the rows of colored squares on social media. And if your brain cells can take in more action, you might want to try out Saltong, which is described as "a Filipino clone of Wordle."
ADVERTISEMENT - CONTINUE READING BELOW
Saltong, the Filipino Version of Wordle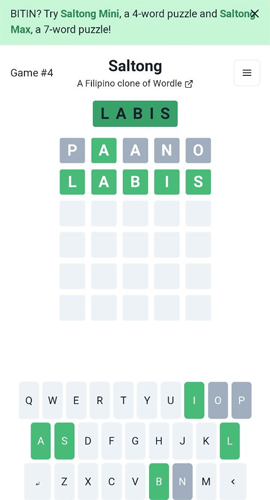 Like the OG version, Saltong is web-based and doesn't require you to download an app. It also doesn't ask for your name, contact information, and other personal details. There are no annoying pop-up ads, no video clips you have to watch, and no social media requirements. Plus, you don't get a new word until the next day, so you don't have to worry about going down that rabbit hole. Aside from the standard five-letter puzzle, Saltong also has a "Mini" version (four-letter puzzle with five tries) and a "Max" version (seven-letter puzzle with eight tries).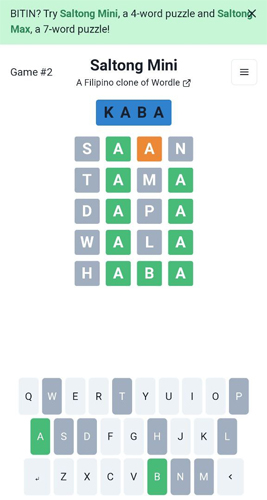 This Filipino Wordle was created by Carl de Guia, a University of the Philippines graduate and application development lead at Accenture. He's also taking his master's degree in electrical engineering with focus on artificial intelligence, digital signal processing, and computer vision. According to the game's about page, the word list is parsed from tagalog.pinoydictionary.com. Coding is housed at GitHub.
ADVERTISEMENT - CONTINUE READING BELOW
"I had been playing Wordle for a few days when I thought that it would be funny if someone created a Filipino version and named it Saltong—a combination of "salita" and "bugtong", after I assumed that Wordle is a combination of "word" and "riddle". And then the weekend came, and I had nothing to do, so I tried making it myself for fun. I deployed it intending only to share the prototype with friends, until I noticed that other people were also already sharing their results on Twitter," de Guia told SPOT.ph in an online exchange. It was released just last Friday, January 14.
The app creator surmised that one of the reasons why Wordle became viral is that "it has a fun premise of being easy to try, but still challenging enough to require a bit of thought." He added that the "colored block emojis" added a veil of mystery and the limitation of having only one word to solve a day adds to that excitement. "Especially in these times, it helps to keep busy that's not just from work," he said.
ADVERTISEMENT - CONTINUE READING BELOW
If you want to play the Filipino clone of Wordle, visit saltong.vercel.app.
UPDATED (January 17, 7 p.m.): This article has been edited to include an interview with Saltong creator Carl de Guia.
Share this story with your friends!
---
Help us make Spot.ph better!
Take the short survey
More Videos You Can Watch
Load More Stories