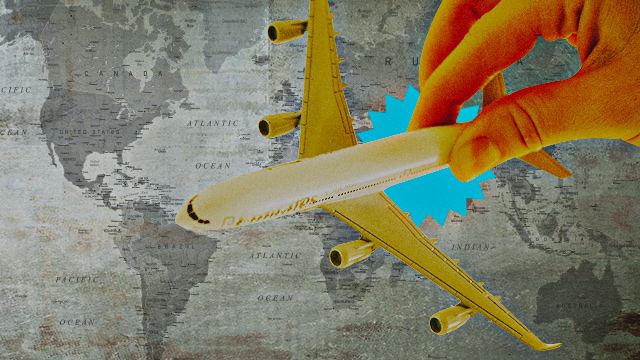 (SPOT.ph) The joy of flying a commercial airliner begins as soon as the wheels are up, but it's not always smooth sailing. (Pardon the mixed puns.) It's almost always a toss-coin on whether or not your flight will be leaving on time, so much more if the boarding time on your pass will be followed.
Also read: It's Not a Bus: Here's Why the Back Seats of a Plane Are Best
Common Causes of Flight Delay
Bad weather
Even in the age of modern aviation, the number one thing to spoil any trip is bad weather. There are times when it is hot and sunny in your place of origin, but thunderstorms are prevailing over the vicinity of your destination airport causing low visibility. As we always say in aviation: Safety first. Depending on the runway features (airport lighting aids and radar capabilities), airport facilities available at your destination, and the aircraft type being utilized by the airline, pilots may opt to delay the flight until the weather improves. Also, when there is an airport lightning warning in effect, all ground personnel (cargo, catering, fuel, maintenance, etc.) are barred from working in the airport ramp area (a.k.a. tarmac). 
ADVERTISEMENT - CONTINUE READING BELOW
Airport congestion
In Manila, for example, there are only two runways at the Ninoy Aquino International Airport—the country's main international gateway—and they can only handle somewhere between 40 to 50 aircraft movements (takeoffs and landings) per hour. Both runways can accommodate commercial, cargo, general aviation (private planes and helicopters), and even military/police flights. Priority is given to arriving flights (as departing planes are still on the ground). 
Aircraft situation and maintenance
Most of the time, especially for domestic flights, the plane that will bring you to your destination is the same aircraft arriving from another. This is what we call a turnaround flight, where both the plane and crew do a roundtrip flight without staying. Once the arriving plane parks at the airport terminal, a sequence of events ensues like clockwork: The jetway (tube) is attached, passengers start to deplane, aircraft cleaning personnel starts..well, cleaning, the inflight catering crew replenishes food and beverages. While all that is happening, the plane's cargo and fuel (if needed) are loaded. Once these are done, that's the only time departing passengers are called to board the plane. If the aircraft to be utilized for your flight arrives late, expect that your flight's departure is not on time. 
Crew legalities
Depending on the airline and its country of origin, the flight crew—pilots and cabin crew—follow a maximum number of hours to legally operate the flight. Some refer to this as the minimum rest period and flight time limitations. There are times that it is required to wait for a new set of flight crew to operate the aircraft following a flight delay. 
CONTINUE READING BELOW
Recommended Videos
Cargo loading
Simple as it may seem, loading cargo items to an aircraft needs the services of highly skilled personnel to ensure that the plane is within its center of gravity envelope. Aircraft load balancing is key to safe flight operations. Airline load planning officers (or load/flight controllers) strategize on how to load cargo and sit passengers in an aircraft for it to take off, fly, and land safely with less fuel burn. The weather can also affect cargo loading operations. 
Waiting for connecting passengers
There are times when airlines decide to delay the departure of flights to wait for connecting passengers, especially if they belong to a tour group traveling overseas. Chances are the baggage of these connecting passengers was loaded into the aircraft already, and offloading both the passengers and their belongings will cost the airline further delays. 
No-go items
It may sound petty, but for some airlines, a missing emergency information card (the ones found in the seat pocket in front of you), a wet carpet (especially near an exit door), a broken light cover, or even an inoperative onboard coffee machine (that may lead to grumpy passengers) are considered as no-go items. Until the no-go items are produced or fixed, the flight will go nowhere. 
Airport incidents
A stalled aircraft (big or small) alongside the runway can cause a creeping delay to flights scheduled to depart or arrive after it. If there are incidents or accidents involving any aircraft within an airport's movement area that will require a thorough investigation, please expect your flight to be delayed or worst canceled. 
ADVERTISEMENT - CONTINUE READING BELOW
Employee strikes or labor disputes
When airline employees decide to go on strike due to a labor dispute, expect a chaotic situation inside airport terminals. Imagine, there will be no airline ground crew to check you in, clean and maintain the aircraft, man the boarding gates, cabin crew to assist passengers, and pilots to fly the plane. Thankfully, this has not happened in the Philippines for more than a decade now. 
What to Do in Case of a Flight Delay
If your flight gets delayed, just be calm—remember, it is not yet canceled. Do the airline personnel a favor by not being too demanding, as they might be very busy coordinating with airport authorities and other internal departments following their failure to get you on board the flight on time.
Based on the Air Passenger Bill of Rights, if a flight is delayed for at least six hours after the estimated time of departure, the passenger may consider the flight canceled. According to this, if the cancellation of a flight is attributable to the airline, a passenger shall have the right to: 
Be notified beforehand via public announcement, written/published notice, and flight status update service.
 Be provided with sufficient refreshments or meals if the passenger is already at the airport at the time of the flight cancellation announcement. The passenger is also eligible for hotel accommodation; transportation from the airport to the hotel (and vice-versa); free phone calls, texts, or emails; and first aid, if necessary.
Reimbursement of the value of the fare, including taxes and surcharges of the sector/s canceled or all sectors in case the passenger decides not to fly the ticket.
Be endorsed to another airline without paying any fare difference.
Rebook the ticket, without additional charge, to the next available flight or within 30 from the original date of departure. 
ADVERTISEMENT - CONTINUE READING BELOW
Flight delays will always be part of air travel. Airlines do not want their flights to be delayed, as they get charged additionally by airport operators plus their OTP (On-Time Performance) records fall. But as they say in the aviation industry: It's better for a flight to be delayed than canceled. 
Robert "Bob" Reyes is an AvGeek (aviation enthusiast), planespotter (an AvGeek who loves taking photos of planes), and technologist (who represents the global non-profit Mozilla in the Philippines). He spent more than two decades of his life as an aviation support professional for a conglomerate and CTO of an aviation college.
We are now on Quento! Download the app and enjoy more articles and videos from SPOT.ph and other Summit Media websites.
Share this story with your friends!
---
Help us make Spot.ph better!
Take the short survey
Load More Stories