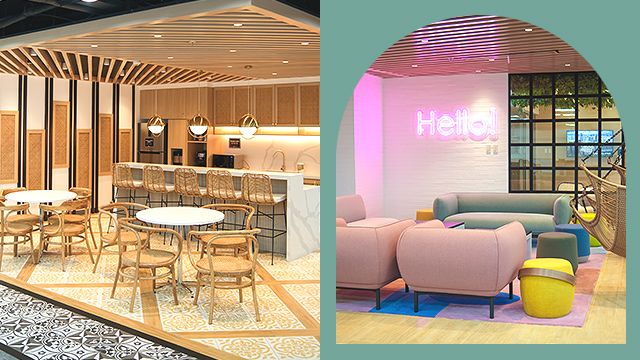 (SPOT.ph) While remote work (a.k.a. work-from-home) is nothing new, this employment arrangement was on the rise at the height of the COVID-19 pandemic in 2020 and 2021. Businesses were forced to adjust, especially given restrictions in room capacity and physical distancing as well as challenges in commuting to and from work. The past couple of years also begged the question/s: Home or office? Which place is more productive? Both sides have a case to make with both parties having their own lists of pros and cons. 
For Robinsons Offices, an office-space provider for Business Process Outsourcing companies in the country, it's all about having an office that people would want to come to. They are in the business of workspaces, after all; and their new office echoes the kind of service that they provide.
Also read: 10 Nifty Work-From-Home Essentials That Aren't Gadgets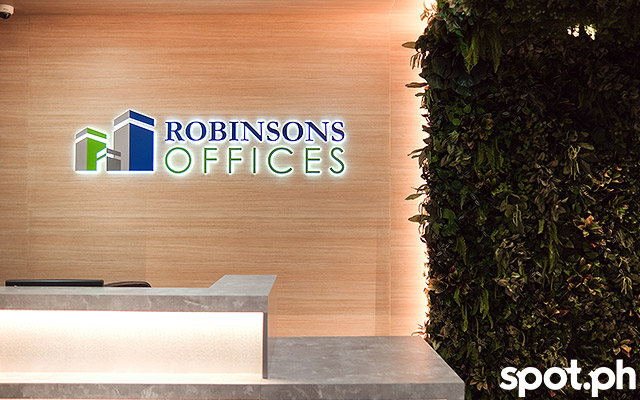 ADVERTISEMENT - CONTINUE READING BELOW
Robinsons Offices' Big Move to Cyberscape Alpha 
Robinsons Offices, a division of Robinsons Land Corporation, was originally housed at the Robinsons Equitable Tower in Ortigas Center. In the middle of 2019, Robinsons Land Corporation President and CEO Frederick D. Go gave the directive to consolidate all business units of the real estate company at Robinsons Cyberscape Alpha. Robinsons Offices is to be housed on the 25th floor, which is 800 square meters of space that needs to be transformed into a workspace that can accommodate up to 150 employees. 
"And then the pandemic hit, that was in early 2020. So, it made us think about what our new office space should be and would be. Initially, it if were just before the pandemic, then probably the purpose would be to have a dense set-up in the workplace and pack as many people in as much as possible. But then the pandemic happened and there were issues on health and safety; and people are, of course, at the height of the pandemic, somewhat concerned about going back to the office because of the number of cases in terms of infection. So we took note of all of those, this is our business [after all], office development. We wanted to make sure that the workplace that we'll have will be the workplace that will be adopted moving forward," explains Senior Vice President and Robinsons Offices General Manager Jericho Go in an interview with SPOT.ph.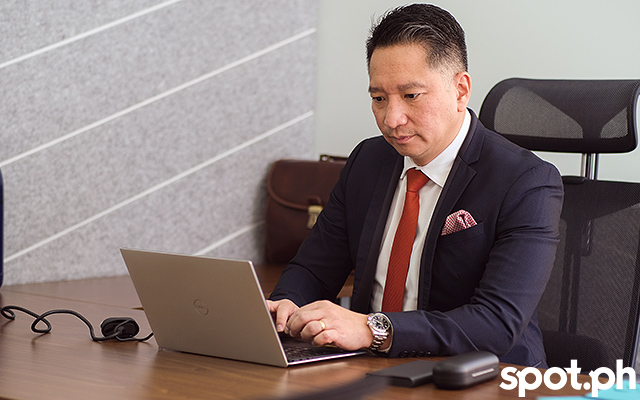 CONTINUE READING BELOW
Recommended Videos
Planning took about a year, especially with all the restrictions on office spaces that the government imposed during the pandemic. Various factors were in play: SARS-CoV-2 was initially thought not to be airborne until it is; acrylic barriers were initially used until it was found out that it was just making things worse; and so forth. 
"There were so many iterations in terms of the space that we were designing. Until finally, we felt that we probably already have the right mix. So we sat down with our designer, DB&B Philippines, and we told them, 'Okay, moving forward, this is what we're trying to achieve.''" Go adds. In the middle of 2020, the division was ready to march into the so-called "better normal." 
From planning to designing to construction, the whole thing was two years in the making. By the first quarter of 2022, Robinsons Offices moved to their new workspace on the 25th floor.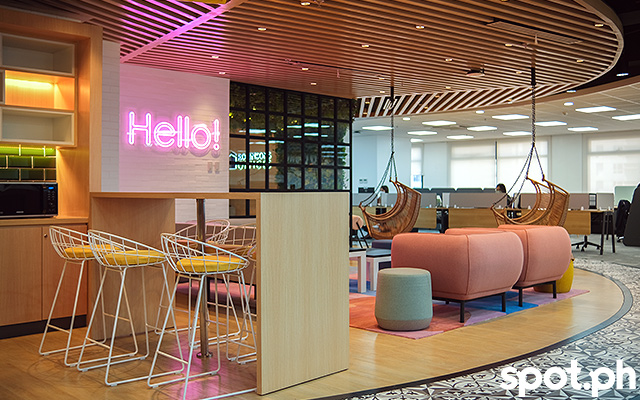 ADVERTISEMENT - CONTINUE READING BELOW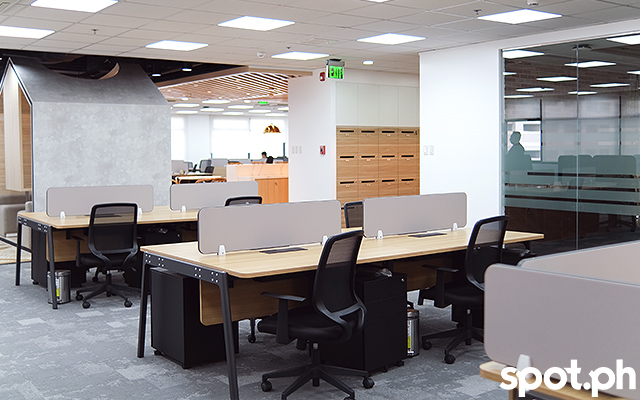 Blurring the Lines Between Work and Home…Literally 
For Go, "the best part of this [new] office is actually the part that you do not see." He was referring to the ducts hidden in the ceiling, which ensures that the airflow rate is within the one prescribed by the Department of Labor and Employment. For enclosed spaces like offices, it is important that there is a high exchange rate by which stale air is taken out and fresh air is coming into the premises. 
"As a matter of fact, when we had our engineers calculate, we were exceeding the prescribed standard of Department of Labor and Employment by times three to times four." 
This isn't only beneficial in this period of the pandemic, but also important for the general wellbeing of Robinsons Offices' employees. Stale air doesn't only cause viruses, bacteria, and other contaminants to build up, but it also has an unpleasant smell. This is also why spaces without proper circulation are often stuffy and humid. 
ADVERTISEMENT - CONTINUE READING BELOW
Aside from this well-thought-out tech behind the scenes, the new office also takes pride in its design with a purpose.
The first thing that guests and employees see when they enter is the reception area, which—in the case of Robinsons Offices—is called the "Veranda." It features a vertical garden with plastic leaves that crawl up the ceiling and a glass window that gives a peek into a common area, giving a feel of a front porch that welcomes you into a home.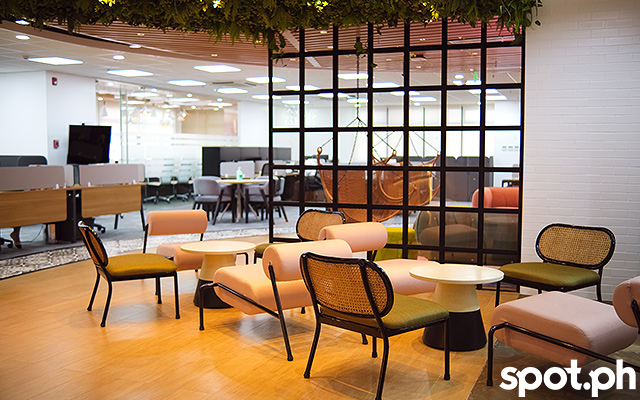 And just like a house, the Veranda leads to the Sala, which has ergonomicallyy designed couches with fun and hip pastel hues. This set-up is matched by the bright pink LED neon lights that spell out "Hello" on the wall and the bright-colored carpet on the floor. And if employees want to take a break (or take a nap), they can just lounge around on one of the swing seats made of rattan. Don't worry, Go said, it can carry a fully grown person.
ADVERTISEMENT - CONTINUE READING BELOW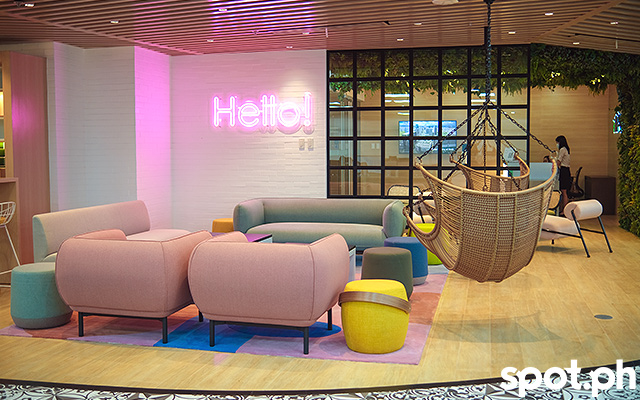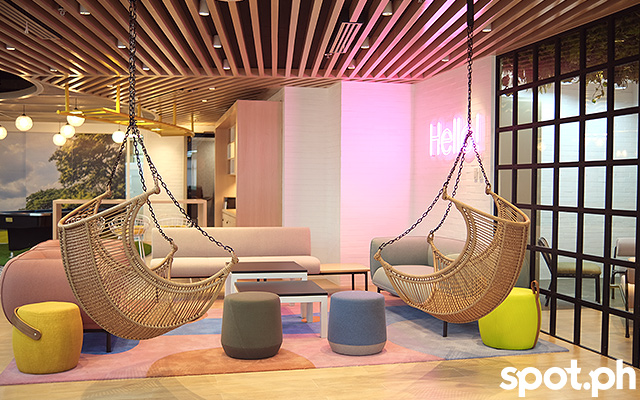 Right next to the Sala is the Playground, which has foosball, a billiard table, and a pingpong table. Go originally wanted a full-blown playground with a slide and all, but safety concerns sprang up. Instead, designers went for a yellow-colored monkey bar set that not only adds playfulness to the space but is also actually functional as a workout fixture. For those not into physical activities, they also have board games that employees can set up on the high table with bar stools.
ADVERTISEMENT - CONTINUE READING BELOW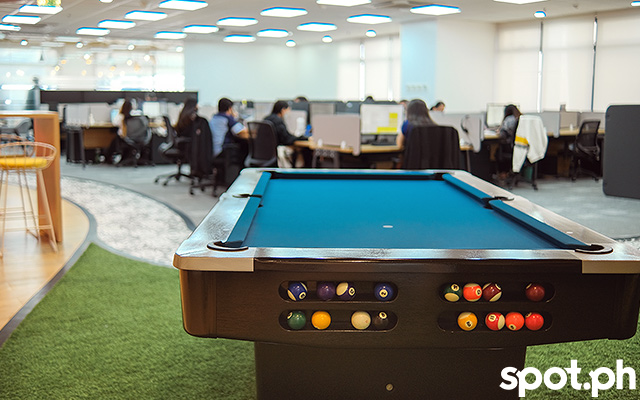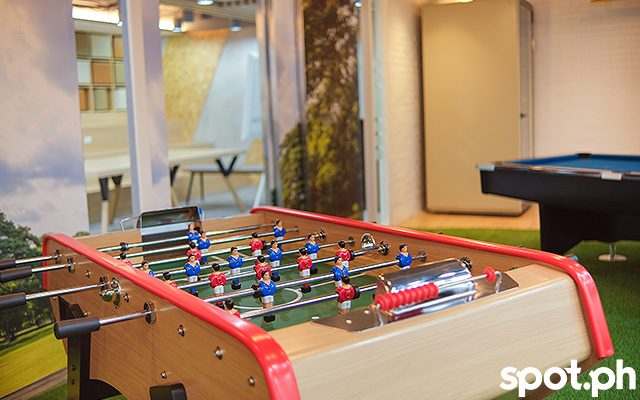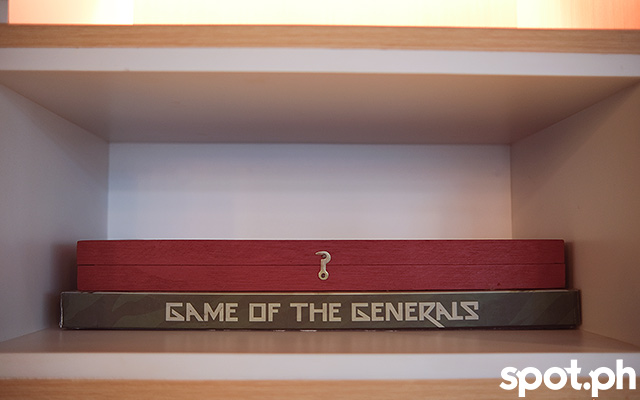 ADVERTISEMENT - CONTINUE READING BELOW
On the other side of the Veranda is the office pantry. The ochre Machuca tiles on the floor are complemented by the wooden slabs on the ceiling, rattan chairs and barstools, and light brown wooden cabinets with solihiya details. It has a microwave, a water dispenser, and a coffee maker. There's an office budget for their monthly supply of coffee beans, Go explained, but employees also bring their own and share with their colleagues.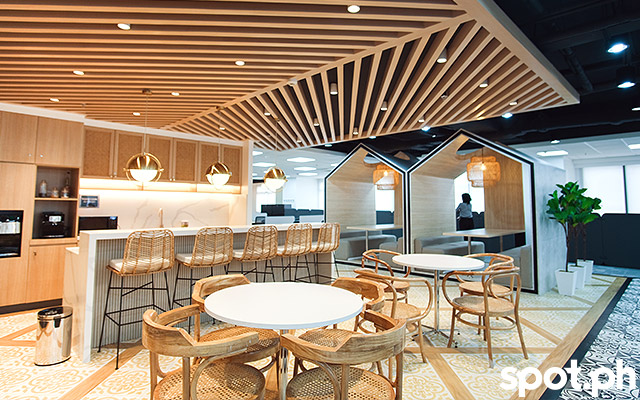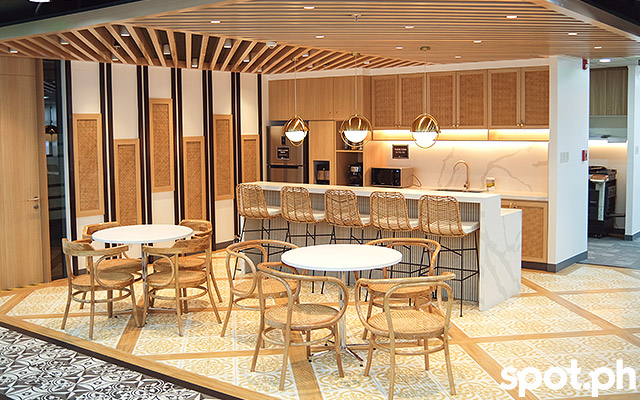 ADVERTISEMENT - CONTINUE READING BELOW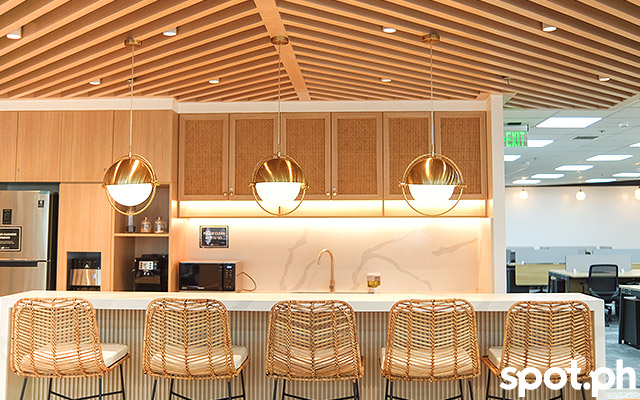 People are slowly transitioning to working at the office full time following years of being cooped up in their houses; and the 25th floor's Veranda, Sala, Playground, and pantry all give a sense that somehow they're still in a very comfortable space. The lights in these four spaces are more yellow than bright white, imitating the warm glow that most people have at home.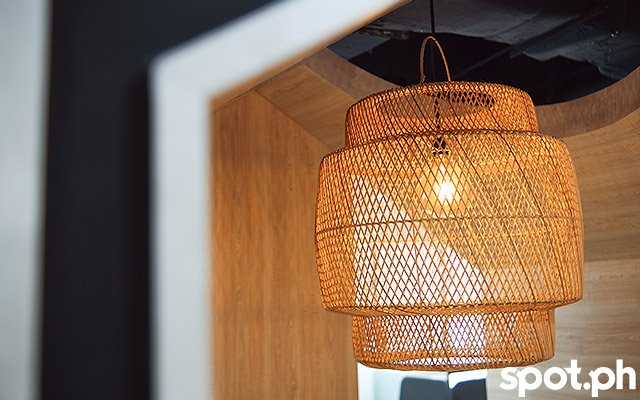 ADVERTISEMENT - CONTINUE READING BELOW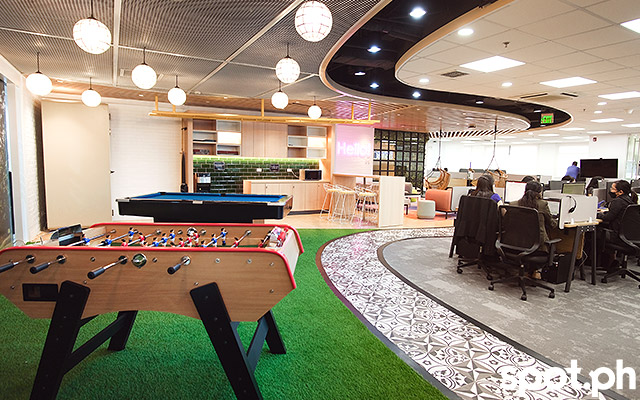 And this transition is physically depicted in the difference in tiles, ceiling, and lights between the 25th floor's common areas and the work areas. A curved walkway with black-and-white Machuca tiles divides the two spaces, almost blurring the line between work and home.
While the work-from-home era treated this as a less than desirable effect of bringing the stress of the office to the safe space of your house, Robinsons Offices wants to bank on its convenience. You can get out of the work area with just a couple of steps, instead of going all the way down the building (elevator time included) to take a much-needed break. This saves employees a lot of precious minutes, which they could have used sipping their coffee, talking to their friends, playing a game or two of billiards during lunch, or just taking a power nap.
ADVERTISEMENT - CONTINUE READING BELOW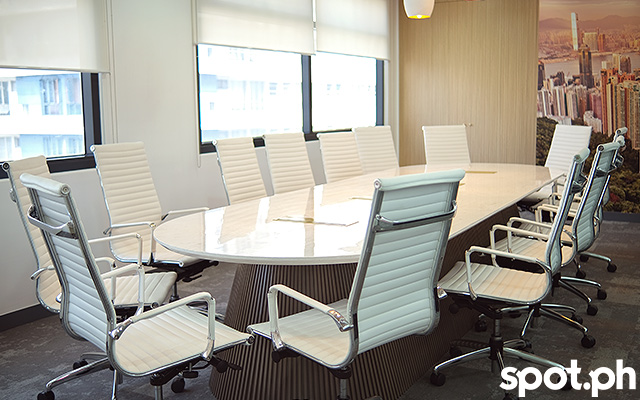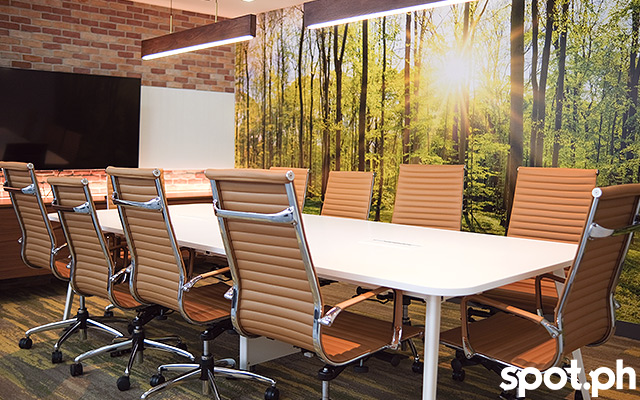 ADVERTISEMENT - CONTINUE READING BELOW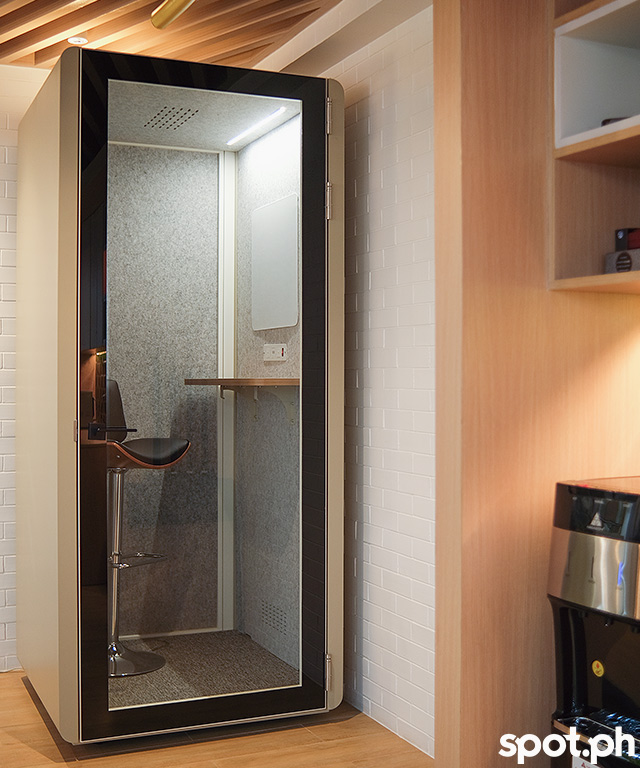 Elevating the Company Culture 
Robinsons Offices' big move didn't just entail the "hardware," as Go pointed out. Beyond installing the couches and game tables and implementing an open office plan, there's also the factor of making the most out of their 800-square-meter space. The "software," he said. 
The division frequently holds tournaments, where winning teams get a trophy, a cash prize, and—of course—bragging rights. So in preparation for these competitions, employees are encouraged to practice at the office after work hours. 
"If you're going to go home early, traffic naman. Why don't you just shoot some pool?"
The sharing of coffee beans at the pantry is also a great conversation starter, especially among colleagues who only meet once in a while because they're working in the field.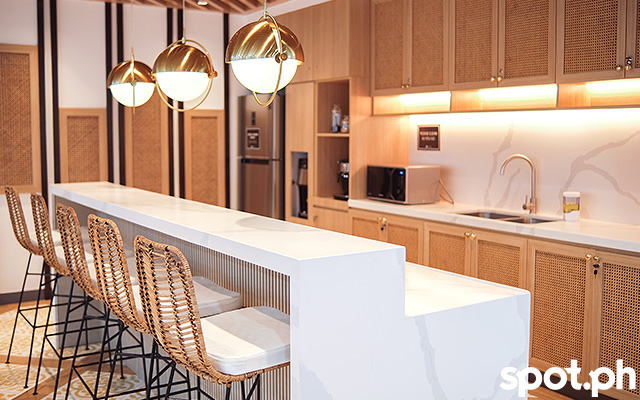 ADVERTISEMENT - CONTINUE READING BELOW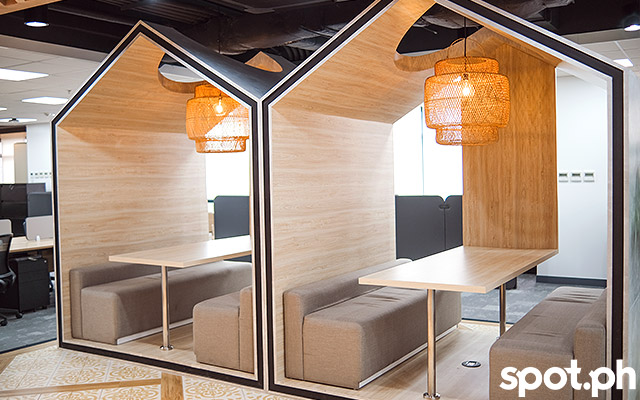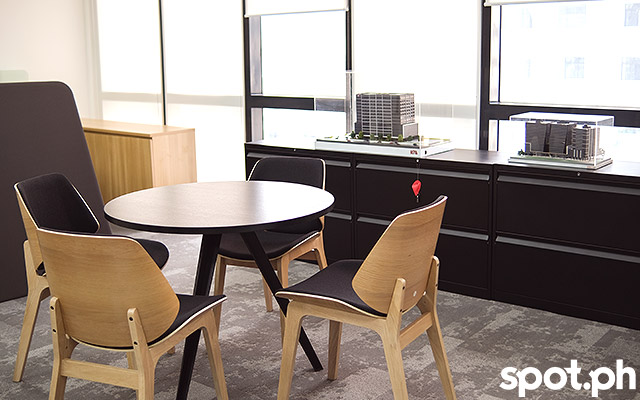 An integral part of their new office is the Townhall, which is located right next to the Playground. The big challenge was that the space is only 80 square meters, but needs to fit up to 150 people for general assemblies. As a solution, three-tiered stadium-style risers were installed; and the wall-mounted shelves have 72 stools that can be placed on the floor when necessary. The boxy seats can be put back into place after a meeting, which serves a dual purpose: keeping the space clutter-free and having a brown-hued aesthetic on the walls.
ADVERTISEMENT - CONTINUE READING BELOW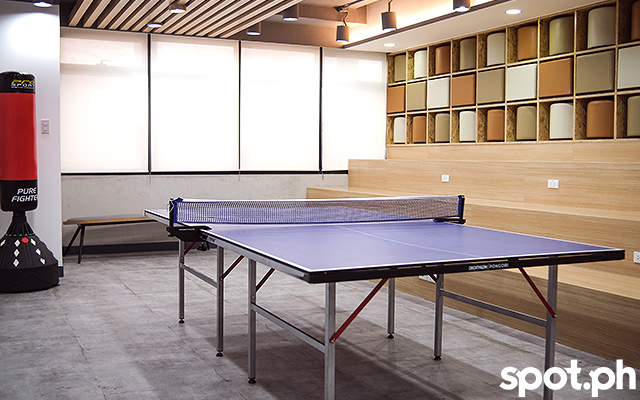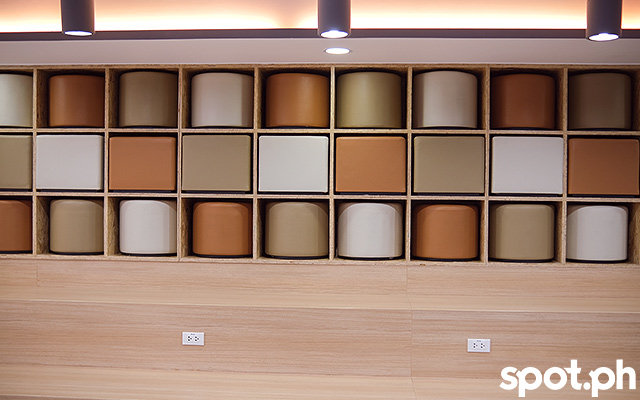 The Townhall also serves as the venue for their First Friday Mass, which is attended by other employees from Robinsons Land Corporation. 
ADVERTISEMENT - CONTINUE READING BELOW
Whether it's a quick brainstorming among three people, a board meeting with the higher-ups, or sharing lunch with a colleague, there's a place for everyone at the new Robinsons Office.
"Essentially, the advantage is when you have employees that are very much engaged, it will show in their productivity. Hopefully, more so now than ever. Gano'n lang yung cycle niya. We just invest in people, invest in the workspace. Hopefully, it translates into better productivity and revenues," Go concludes.
Robinsons Offices is at 25/F Robinsons Cyberscape Alpha, Garnet Road, Ortigas Center, Pasig City.
We are now on Quento! Download the app and enjoy more articles and videos from SPOT.ph and other Summit Media websites.
Share this story with your friends!
---
Help us make Spot.ph better!
Take the short survey
Load More Stories