Warning: This article contains Turning Red spoilers.
(SPOT.ph) Towards the end of the new Disney Pixar film Turning Red, a coming-of-age tale about a quirky Asian teenager who shapeshifts into a giant red panda when faced with big, negative emotions, a mother apologizes to her daughter.
"I'm changing, mom. I'm finally figuring out who I am but I'm scared it'll take me away from you," the main character opens up to her mother. 
"Me too," mother Ming Lee says in response. "I see you, Mei Mei. You try to make everyone happy but are so hard on yourself. And if I taught you that, I'm sorry."
Also read: 10 Must-Watch Titles on Disney+ to Stream ASAP
Now sparking conversations for all the things it is doing for Asian and female representation, the last two words in particular struck a chord with thousands on the internet, who jokingly agreed that this was the film's "most unrealistic part".
ADVERTISEMENT - CONTINUE READING BELOW
Parents, especially Asian ones, generally don't say sorry for the wrong things they do to their children. Many grew up not knowing apologies could go that way, and so when this happened in a film that's specifically made for children, even adults teared up. 
How Turning Red makes children feel seen
Turning Red adds to a recent spate of films in Hollywood that takes on the difficult theme of "intergenerational trauma" through child-friendly storytelling.
ADVERTISEMENT - CONTINUE READING BELOW
Recommended Videos
In Encanto, members of the magical Madrigal family are pressured by the expectations of their formidable matriarch, Abuela, who is the way she is because she remains haunted by the grief of losing her husband, which gave their clan the superhuman talents that she's now trying so hard to preserve. In Raya and the Last Dragon, an orphaned warrior princess attempts to fix her broken kingdom, all while dealing with survivor's guilt and confronting her childhood trauma. 
Although the premise of a child turning into this red-furred mythical creature isn't exactly the most realistic part of Pixar's latest offering to kids (after all, the audience is known for their penchant for fantasy), the film is largely seen to succeed in tackling the growing pains that typically define adolescence.
ADVERTISEMENT - CONTINUE READING BELOW
More than its entertaining depiction of periods, raging hormones, and teen rebellion, Turning Red takes further its task of discussing the uncomfortable by placing parents at the foreground, and how the way they were brought up as children tend to mirror how they end up treating their offspring. 
"When one experiences misattunement, neglect, or mistreatment as a child, they tend to live with the trauma and end up passing it on to the next generation," clinical psychologist Joseph Marquez said, explaining how intergenerational trauma works. First studied extensively among children of Holocaust survivors, the concept sheds light on psychological distress that is inherited within families when left unaddressed.
While Turning Red is about a Chinese immigrant family residing in Toronto, Canada, it is still relatable to Filipino audiences, given how universal some family dynamics can be. "'Yung nakalakihan natin culturally-speaking, it's a normal thing na our parents are usually unconfrontational with us as children," Marquez said, recalling for instance how many were able to relate to the Colombian Madrigal family when they did not want to talk about "Bruno".
ADVERTISEMENT - CONTINUE READING BELOW
In Turning Red, it took a gigantic outburst for Mei Lee to admit just how pressured she was by her mother's expectations and that as a result, she had been concealing parts of herself she loved over fear of disapproval. "Even though the parent is physically present, but because they're not emotionally connected and available, preventing a child from expressing their full emotions, parents cause their children pain," Marquez said.
ADVERTISEMENT - CONTINUE READING BELOW
Also read: EXPLAINER: How a "Breakup Haircut" Helps You Move On
Healing mothers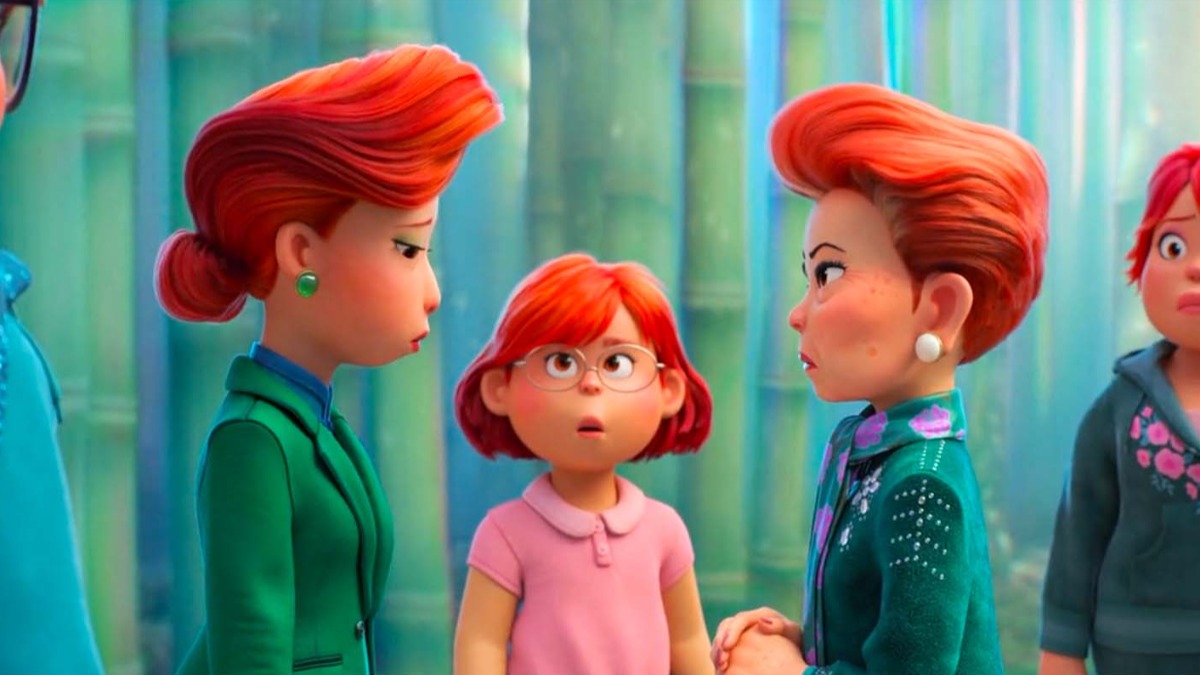 When it was later revealed how Ming, the mother, experienced the same from their family matriarch, as did her sisters, the film touched on a more specific kind of trauma: the mother wound. 
ADVERTISEMENT - CONTINUE READING BELOW
As seen in the film, immigrant mothers in Western countries are stereotyped as overbearing and overly-critical of their children, a result of their desire for their children to succeed. "Ang mindset kasi, ginawa nila lahat to move to that country mabigyan lang ng magandang kinabukasan anak nila, so they expect the same effort if not more from their children, without knowing how much pressure they're putting them through", Marquez explained.
"Meron din namang mga batang lalake, pero usually, these things, daughters experience," he added, noting how this type of generational pain is passed down between grandmothers, mothers, and daughters in cultures that are largely oppressive towards women and is therefore not limited to the immigrant family experience. 
"You don't have to apologize. I'm your mother," Ming's mother had told her in the movie, showing much-needed validation after years of her feeling sorry over the thought that she would never be good enough for her own mom. 
ADVERTISEMENT - CONTINUE READING BELOW
Also read: 
Why the film needs to be seen by parents, of all people
Parents generally don't understand how much of what they do affect their children, Marquez says, explaining why for this reason, Turning Red is a must-watch for both kids AND parents. 
"'Yung mga adults kasi, they don't want to feel na they're a bad parent once they recognize from the film na it's something they also do unknowingly and not. This is a wake-up call for them," he said.
"For the current generation, mental health is very important and 'yung refusal to talk about it by some parents isn't helping mend relationships. Since bata nga 'yung mga nanonood, they wouldn't fully understand what is happening," Marquez said.
In these animated films for children, the burden of ending the cycle of trauma seems to fall on the shoulders of the traumatized child (usually female) who recognize it, as shown by Mei, Mirabel, and Raya. But whose responsibility should it be? "Parents, of course. Their child's feelings would help them understand but at the end of the day, the problem is not for a child to fix," Marquez said. 
ADVERTISEMENT - CONTINUE READING BELOW
Clinical psychologist Joseph Marquez is based in Taytay, Rizal. His services can be accessed online. You may contact him through his page.
Share this story with your friends!
---
Help us make Spot.ph better!
Take the short survey
Load More Stories