UPDATE (March 2, 2023, 8:55 p.m.): The TV Patrol meme in a tweet by Twitter user whatsupjared_ has been removed from this article and accompanying main image to prevent confusion, as the edit was a composite video of a December 7, 2020 newscast and the viral 2 x 2 photo of BGYO member Gelo Rivera shown in a February 28, 2023 newscast.
(SPOT.ph) There are just some days you see Twitter's trending list and wonder why some keywords are there. For fans of local boy group BGYO, their faves' TV Patrol appearance triggered laughter amongst the fandom, which has since cascaded to the rest of the Internet to become a funny viral moment, this time involving its esteemed newscasters.
If this is your first time hearing about BGYO, allow us to give you a quick intro: the five-member group comprises Akira Morishita, Gelo Rivera, JL Toreliza, Mikki Claver, and Nate Porcalla and debuted in 2021 under ABS-CBN's Star Magic.
ADVERTISEMENT - CONTINUE READING BELOW
We like to think you know of TV Patrol, but in case you didn't, it's a television newscast produced by ABS-CBN News. It is ABS-CBN's flagship newscast and its March 2, 1987 premiere makes it the longest-running Filipino language evening newscast at exactly 36 years old today.
Also read: The Ricoa Chocolate Factory Along EDSA Is Trending, Here's What the Buzz Is All About
Why is BGYO trending alongside TV Patrol?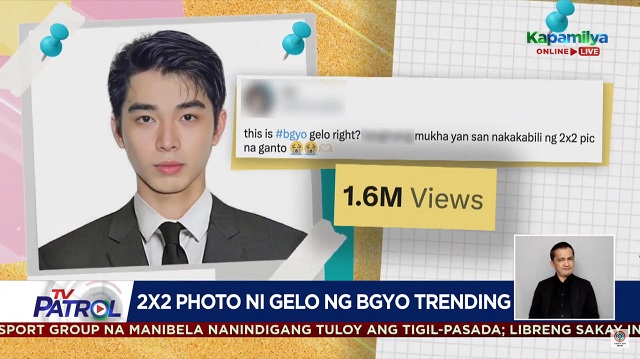 The Filipino boy group is loved by fans for their songs, performance, and team dynamics, but for this particular instance, leader and center Rivera went viral for his 2 x 2 ID photo. The photograph, which shows Rivera in corporate attire against a white background, has been described as looking better than the usual ID photo taken in a rush.
ADVERTISEMENT - CONTINUE READING BELOW
The tweet from user sakumadiku has since been viewed 1.8 million times according to Twitter's view counter, and its virality has landed it in a live report on the news program TV Patrol.
The Star Patrol segment discussing the viral 2x2 photo was expected to go as usual, except for one surprising incident during Gretchen Fullido's report.
No one is entirely sure if it's intentional or not, but fellow newscaster Noli "Kabayan" De Castro stole the show when studio mics were able to pick up his side comment that brought the house down: "Henry, mas cute ka d'yan [Rivera]." 
ADVERTISEMENT - CONTINUE READING BELOW
The Henry in question is another TV Patrol anchor, Henry Omaga-Diaz. The unexpected compliment for his friend was heard in broadcast, and has been circulated amongst ACEs (what BGYO fans call their fandom), later on extending to Filipinos who have never seen the group before.
The show went on until the reporters had to recite their usual outro. Newscasters Karen Davila and Omaga-Diaz could barely get their spiels out after De Castro's comment, and reporter Bernadette Sembrano was in stitches just trying to finish the program. De Castro, who seemed to be in tears watching his colleagues fumble their spiels, whipped out a tissue before reciting his unmistakable greeting of "Magandang gabi, bayan."
ADVERTISEMENT - CONTINUE READING BELOW
Also read: Why You Think of Selling Your Kidneys for Your Dream Concert Tickets
Fans celebrate BGYO's appearance on TV Patrol
The highest levels of professionalism are expected of journalists, especially during a live broadcast, but the lighthearted blooper trapped fans and casual watchers in a laugh trip.
ACEs actually have an account called BGYOPatrol—a parody of TV Patrol, that reports on BGYO's schedules, performances, achievements, and more. Even its bio, location, and the occasional tweet are formatted similar to TV Patrol.
ADVERTISEMENT - CONTINUE READING BELOW
Rivera going viral for his visuals and ending up on a newscast is a big win for ACEs working hard to get their faves more recognition, but it also seems they've been manifesting this TV Patrol cameo for a while now.
The members of BGYO have their own content where they reference local pop culture and media, which includes the ever-familiar format of TV Patrol. Fans have been making edits of the boys in a would-be live report. Just check out this one made by a fan, Jared, who's followed the team of boys pre-debut since 2020, when they were still known as Star Hunt Academy Boys.
ADVERTISEMENT - CONTINUE READING BELOW
Also read: TikTok Trend "Rage Applying" Could Be Your Ticket Out of An Unsatisfying Workplace
How Gelo Rivera's viral 2 x 2 photo came to be
In a recent live, BGYO's Rivera revealed that the boys actually took those photos in a rush as part of the documents required by the U.S. Embassy for visa application.
ADVERTISEMENT - CONTINUE READING BELOW
He said he was wearing a different set of clothes while the photo was taken at the members' lodging. To comply with embassy regulations, they edited the corporate attire onto Rivera, and pasted him on a white background. Still, it didn't seem to pass the U.S. Embassy's standards.
The viral photo prompted BGYO's management to release the other members' pictures. Rivera, who posted it to his Instagram months earlier in July 2022, said the virality was unexpected but added he was happy that it was helping non-fans discover not just him, but his group and fellow members.
"Sana ma-check niyo din 'yung group namin, kasi ako 'yung pinakamasaya sa mundo pag nangyayari 'yon," he said.
ADVERTISEMENT - CONTINUE READING BELOW
Also read: 10 LOL-Worthy Moments From the News
Share this story with your friends!
---
Help us make Spot.ph better!
Take the short survey
More Videos You Can Watch
Load More Stories